100% Working Methods to Record Fortnite Gameplay on PC 2023
Fortnite is an online video game developed by Epic Games and released in 2017. It is always free and evolving the most popular multiplayer game for PC, Xbox, PS4 and more. There are a lot of gameplay videos you can find online. If you want to share your strategies too, you'd better record Fortnite gameplay on PC. Fortunately, there are lots of gameplay recorders on market and this article will show you the best methods to save your Fortnite gameplay on PC for sharing on social platforms.

Part 1: Best Way to Record Fortnite on PC
What you need to record Fortnite on PC is a powerful game recorder. It should be able to capture Fortnite in full screen or any dimensions. Moreover, the output quality is also an important element. From this point, we recommend Vidmore Screen Recorder.
Record Fortnite and other video games on PC simply.
Lightweight and do not take much CPU power.
Preview the gameplay recording with the built-in media player.
Control the game recording with hotkeys.
Offer a wide range of custom options for advanced users.
Needless to say, it is the easiest way to record Fortnite on PC as well as on Mac OS X.
How to Record Fortnite on Windows 10/8/7
Step 1: Set up Fortnite recorder
Run the best gameplay recorder after you install it on your PC. There is another version for Mac. Then pick Video Recorder from the home interface to start setting up it. Click the Gear icon at the upper right side to open the Preferences dialog. Then customize output format, hotkeys and more.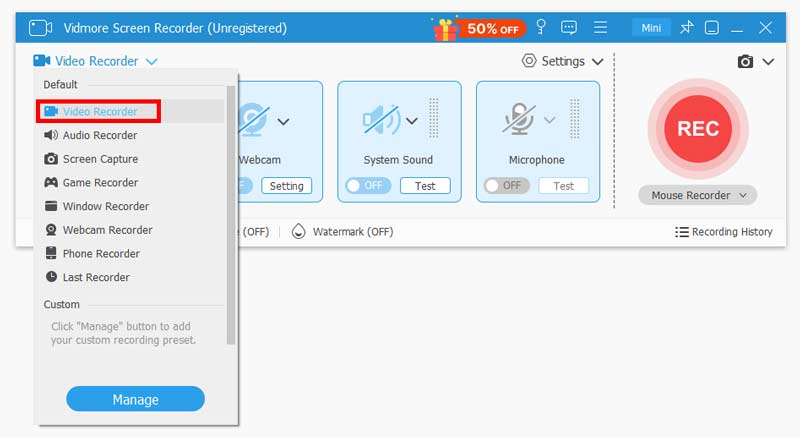 Step 2: Record Fortnite on PC
Turn on the Display option and set the recording area by hitting the Full button. To record a specific area, select Custom and set it manually. Then enable the System Sound option and adjust the volume. If you want to add your reaction and voice to the game recording, enable Webcam and Microphone; otherwise disable them. Start Fortnite on PC and record it by hitting the REC button.

Step 3: Preview and save game recording
Hit the Camera icon at the important moment, so you can take a screenshot while recording. When gameplay is done, click the Stop icon to open the preview window. Here you can view the recording and remove unwanted footage with the Clip tool. Finally, hit the Save button to save it to your hard drive.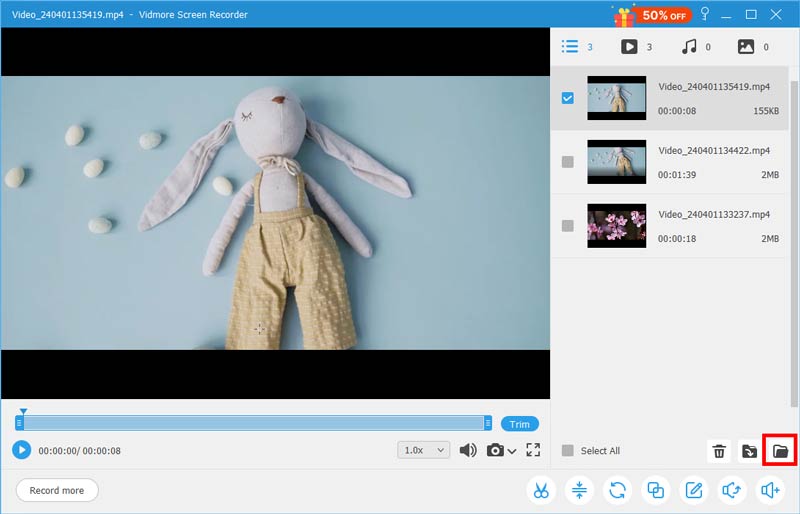 Part 2: How to Record Fortnite on Windows 10 with Game DVR
If you have updated your system to Windows 10, you are lucky since you can record Fortnite on PC with Game DVR. This feature was the game recorder for Xbox. Now, Microsoft has migrated it into Windows 10. In another word, you can use it without installation or payment. The downside is that Game DVR cannot capture your face during Fortnite recording on PC.
Step 1: Go to the Start menu, click the Settings option with a gear icon, and select Gaming to open the Settings dialog.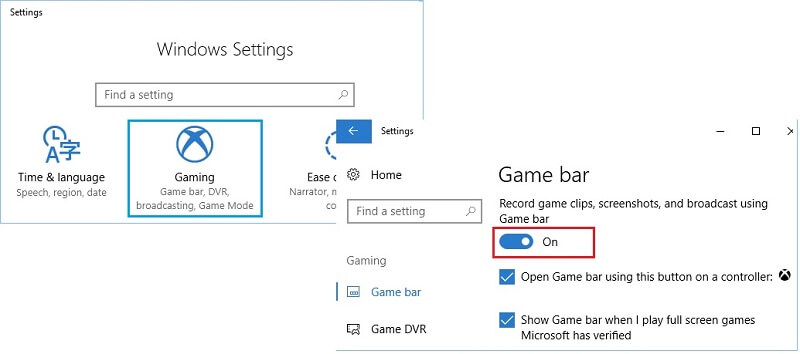 Step 2: Head to the Game Mode and toggle on Use Game Mode. Then move to the Game bar tab and put the switch to On side. It will turn on the Fortnite recorder feature on PC.
Tip: Game Mode is a new feature for Windows 10 that focuses your GPU and CPU.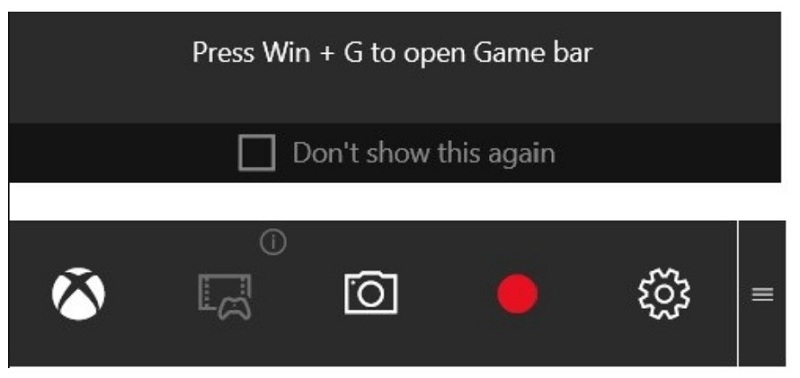 Step 3: Press Windows + G keys on your keyboard to bring up the Game Bar. When prompted, check Yes, this is a game. Now, you can set up the game recorder by hitting the Gear icon.
Step 4: Now, once you begin playing your game, click the Red Circle icon on Game Bar to initiate game recording. Then you will see a timer at the top right corner of your game window. To make a screenshot while recording Fortnite on PC, hit the Camera icon on the menu bar.
Step 5: When game recording finishes, click the Stop icon or press Windows + Alt + R keys. By default, the game recordings are saved in a Captures folder in Videos library.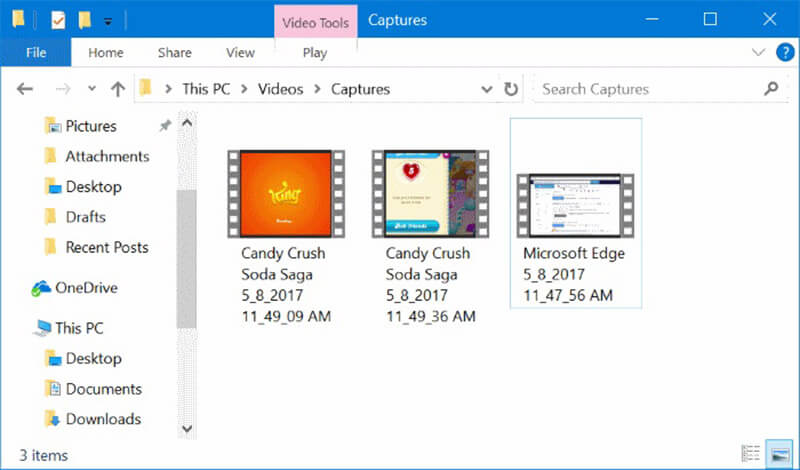 Note: According to our research, it is able to record up to 2 hours 59 minutes 59 seconds. However, we suggest that you do not record your game for more than an hour.
Conclusion
This guide has shared two methods to record Fortnite on PC running Windows 10/8/7. As a popular video game, Fortnite has attracted oceans of players and audiences around the world. Of course, you can monetize through your gameplay videos. Game DVR is the pre-installed game recorder for Windows 10. If you want to create engagement videos, Vidmore Screen Recorder is the best option. Encounter other troubles when recording Fortnite? Please leave a message below this post.