What You Can Do When OBS Encoding Overloaded Issue Happens
OBS, short for Open Broadcaster Software, is one of the most popular screen recording and streaming software. A lot of vloggers and game players use OBS to produce high quality screen recordings. However, it is not a perfect application. OBS encoding overloaded is one of the most common errors that occurs when recording screen or gameplay. This article will talk about the issue and share you verified solutions to fix OBS encoder overloading.

Part 1: 4 Solutions to Fix OBS Encoder Overload
You might unfortunately receive an error message said Encoding overloaded when you are streaming screens or games on OBS. This error indicates that your computer cannot encode video fast enough. It may be caused by few CPU resources, low disk storage or high screen resolution. Anyway, you can fix this problem following the solutions below.
Solution 1: Reduce Output Resolution
The biggest problem of OBS is CPU usage, partly because the high output resolution. If OBS encoder overloads, the first thing you should do is to reduce output resolution.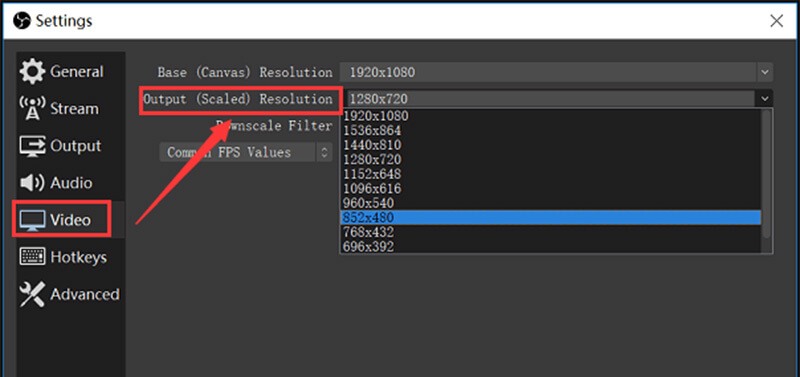 Step 1: Click the Settings button at the bottom right side when encoder overloading message pops up.
Step 2: Go to the Video tab from the left sidebar on the Settings dialog. Then click the drop-down of Output Resolution and choose a smaller resolution.
Step 3: Click OK and try screen recording again.
Solution 2: Downscale Frame Rate
The frame rate decides the frames per second for the output recording. High frame rate may lead to OBS encoder overloading issue due to GPU usage. Fortunately, you can change it following steps below.

Step 1: Also, go to the Settings dialog in OBS, and head to the Video tab.
Step 2: Click and expand the Common FPS Values option, and reduce to 30 or lower. It won't affect the output quality very much.
Step 3: Press OK and check if the problem disappears.
Solution 3: Adjust Encoder Preset
Another solution to fix the issue that OBS encoder overloads is to adjust the encoder preset.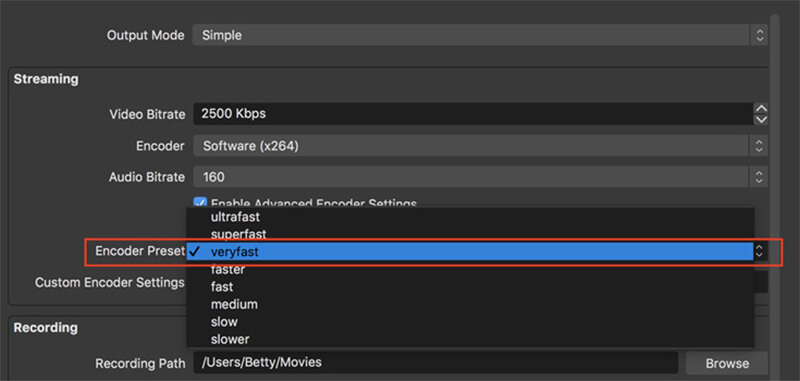 Step 1: Open OBS, go to the Settings dialog, and head to the Output tab.
Step 2: Locate the Streaming section. Check Enable Advanced Encoder Settings and set Encoder as Software(x264).
Step 3: Confirm the change by hitting OK button.
Solution 4: Free up Space in Disk
As mentioned previously, limited disk storage may be responsible for OBS encoding overloaded issue. So, you should free up space when it happens.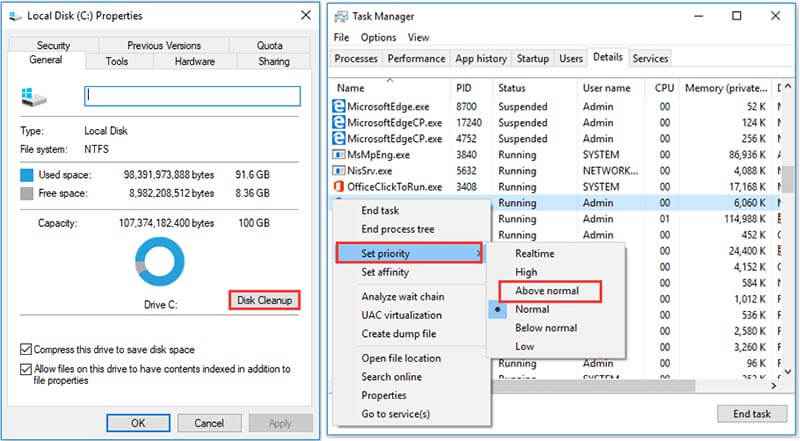 Step 1: To free up space, close all programs except OBS.
Step 2: Then right-click on the disk where OBS installed, and choose Properties.
Step 3: Go to the General tab, click Disk Cleanup button and follow the onscreen instructions to free up space.
Here you may like: 4 Simple Ways to Fix OBS Game Capture Black Screen (2020 New Post)
Part 2: Best Alternatives to OBS
If you have performed the fixes above and OBS encoder overloading problem persists, it may be the time to try OBS alternatives.
Option 1: Vidmore Screen Recorder
When OBS encoder overloading occurs, you'd better try another screen recorder application, such as Vidmore Screen Recorder. It is more stable than OBS.
Main Features of the Best Alternative to OBS
Record everything on your desktop with audio.
Capture webcam and microphone while recording screen.
Use hardware and software acceleration.
How to Record Screen with Alternative to OBS
Step 1: Set up alternative to OBS
Launch the best alternative to OBS when encoder overloading happens once you install it to your computer. It is compatible with PC and Mac. Then choose Video Recorder to open the main interface.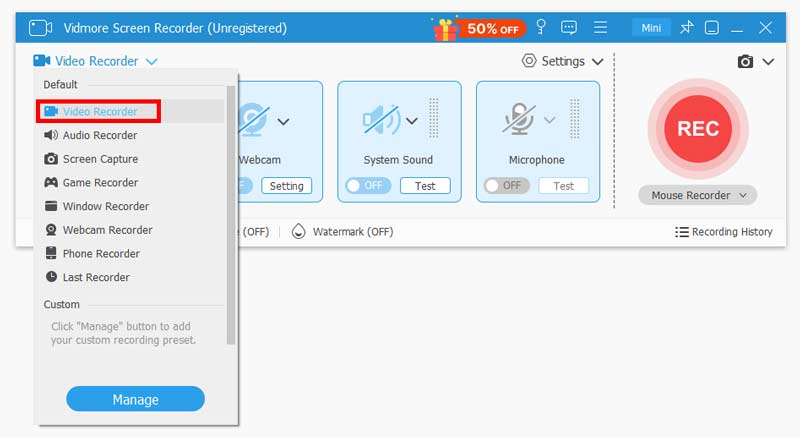 Step 2: Record screen in high quality video
To record screen, turn on Display and set the recording region, and toggle on System Sound, while disable Webcam and Microphone. If you wish to add your face and voice to the screen recording, enable all of them. Click the REC button to start recording screen when OBS encoder is overloading.

Step 3: Export screen recording
When screen recording is done, click the Stop button. Then you will be presented the preview window. Play the recording and cut unwanted parts by Clip tool. If you are satisfied, click Save button to export it to your hard drive.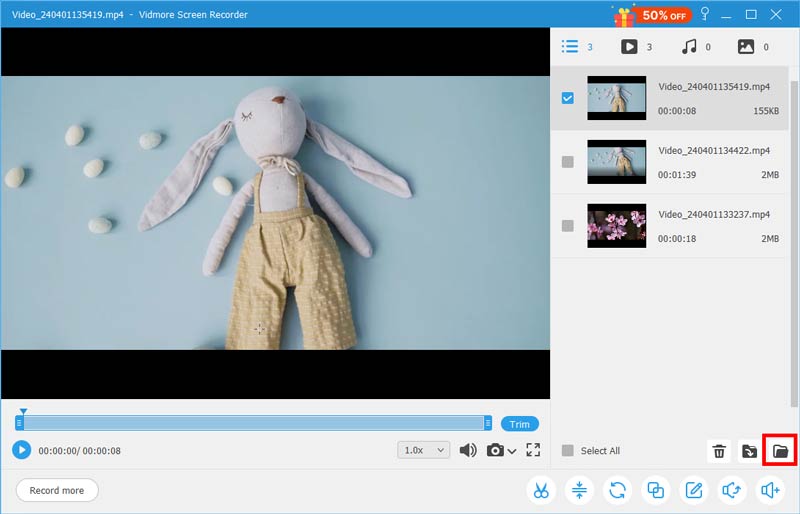 Option 2: Vidmore Free Online Screen Recorder
If you look for a portable alternative to OBS in order to overtake the encoder overloading issue, Vidmore Free Online Screen Recorder is a good choice.
Basic Features of Best Portable Alternative to OBS
Record screen with audio online.
Add your reactions to screen recording.
Completely free to use with no watermark.
How to Record Screen with the Portable Alternative to OBS
Step 1: Visit https://www.vidmore.com/free-online-screen-recorder/ in a browser. Click Launch Free Recorder to download the launcher.

Step 2: There are four icons on the launcher, Display, Webcam, System audio and Microphone, to record corresponding source. Set up them based on your need.

Step 3: Press REC button to initiate screen recording without OBS. When you click Stop button, the recording will stop. Then download it to your computer.

Part 3: FAQs about OBS Encoder Overload
What is encoder overloading?
It means your settings are too high for your PC to handle. Your hardware and software combination results in the thresholds for how high you can go. You have to find a sweet spot for your system.
How do I change my encoder in OBS?
OBS supports more than just the standard CPU encoder using x264. You can change it to Quick Sync or Nvidia NVENC under Video Encoding section on Settings dialog.
Does OBS use GPU or CPU?
OBS require some GPU and CPU resources when recording or streaming your screen.
Conclusion
This article has helped you to fix the problem that OBS encoder is overloading. It is one of the most common problems in OBS. You can fix it, although the common solutions require some technical skills. For average people, we suggest you to try an alternative, Vidmore Screen Recorder. It provides pro-level features in the way that everyone can learn quickly. If you have other questions, please write them down below this post.