How to Convert Your DVD Collection to MP4 with the Best DVD to MP4 Converters
There are a lot of ways to convert DVD to MP4 on your PC or Mac, but if you are looking for the most powerful option, you can get it in this post. You are living in a digital world. Almost everything is available on your digital devices, from music to shopping, from communication to social network.
It makes sense that you wish DVD movies digitize for enjoying on your computer or mobile anywhere and anytime. The process is easy if you pick up your favorite tool and follow our guide below.

Part 1: Ultimate Way to Rip DVD to MP4
When ripping a DVD to MP4 files, video quality is the biggest concern. On the other hand, most professional software are expansive and hard to master. From this point, we recommend Vidmore DVD Monster.
Rip any video DVD to MP4 video files in one click.
Support a wide range of output formats including MP4, AVI, MOV, etc.
Convert DVD to MP4 for playback on iPhone, iPad, or Android device.
Process multiple DVD videos at the same time using multi-thread technology.
Optimize video and audio quality automatically while ripping.
In a word, it is the best way to convert your DVD collection to MP4 files on computer quickly.
How to Rip a DVD to MP4 Videos
Step 1: Install the best DVD ripping software
When you want to digitize your movie DVDs, download the best DVD ripping software and install it on your PC. It is compatible with Windows 10/8/8.1/7/XP and Vista. Then put the optical disc into your DVD drive, launch the software, click Load DVD -> Load DVD Disc and select your disc to scan your optical disc. Then you can decide to import all titles or certain titles.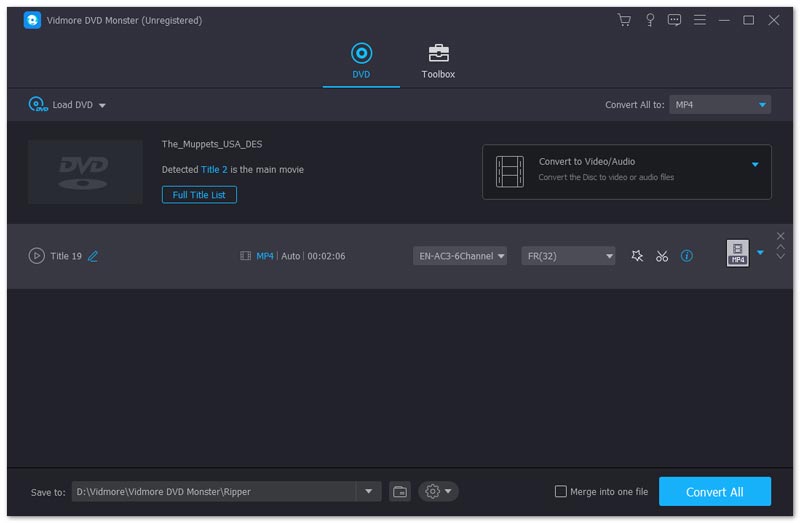 Step 2: Set MP4 as the output format
To set the output format, select the DVD video, expand the drop-down menu next to Rip All to, go to the Video tab, choose MP4 from the left side, and select a proper quality. If you intend to play DVD videos on your portable device, go to the Device tab, select the manufacturer and choose your device model.
Tip: If you want to shorten or edit a DVD video, click the Cut or Edit icon under the video to open it in the editor window.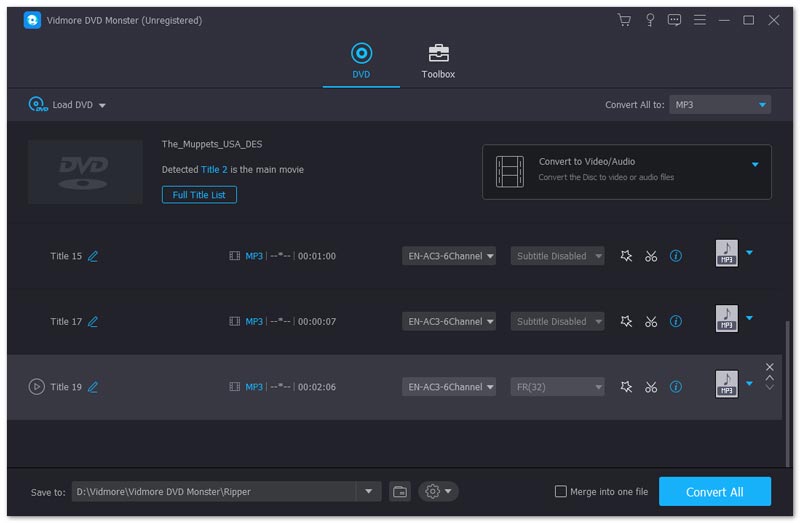 Step 3: Convert DVD to MP4
Move to the bottom area, and click the Settings button with a gear icon. Go to the Ripper tab, set the Output Folder by hitting the Reset button. Click OK to confirm it and go back to the home interface. If you are ready, click the Rip All button at the bottom right side to start ripping DVD to MP4.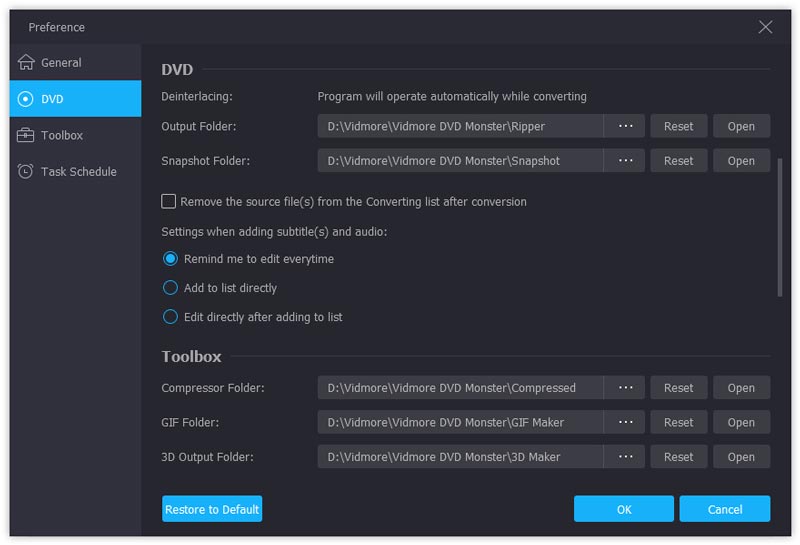 Part 2: Convert DVD to MP4 for Free
There are several free DVD ripper programs can help you to convert DVD to MP4 without paying a penny. However, the freeware usually has some drawbacks. If you have limited budget and not mind the downsides, here are the simple way to convert DVD to MP4 for free.
Method 1: Rip DVD to MP4 with HandBrake
HandBrake is an open-source DVD ripping program, so everyone can use it for free. However, it contains various custom options that may confuse beginners and average people. To increase the success rate of DVD to MP4 ripping, you'd better follow the steps below.
Step 1: Since HandBrake cannot handle encrypted commercial DVDs, so you need to download libdvdcss to your computer from the website(http://download.videolan.org/pub/libdvdcss/1.2.11/win64/libdvdcss-2.dll). Then put the .dll file to your HandBrake program folder.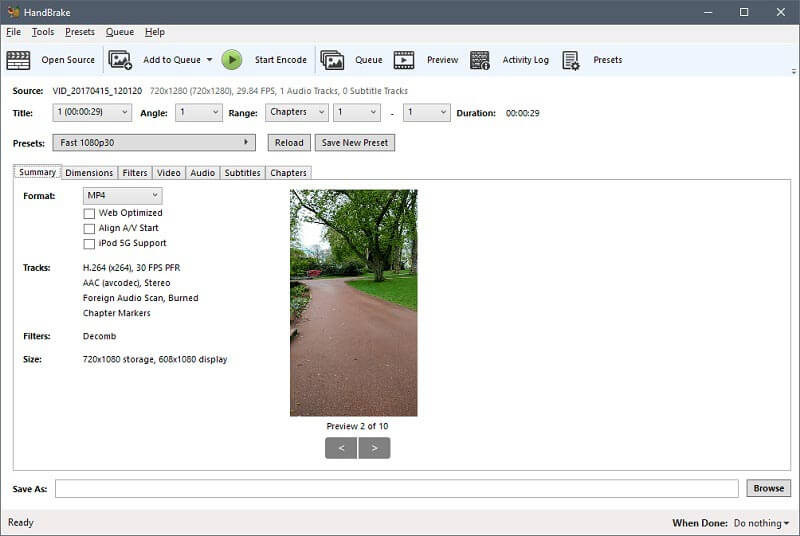 Step 2: Next, insert your DVD into your computer. Run the DVD to MP4 ripper. Run HandBrake, click Open Source at the upper left corner, and select your DVD drive. It takes a moment to scan the videos and titles on your DVD.
Step 3: Set the chapter or title to rip in Source section; otherwise, HandBrake will convert the entire disc. Click the Browse button to set a specific folder to save the MP4 videos.
Step 4: Go to the Summary tab and make sure to choose MP4 from the dropdown list. Then go to the Presets panel on the right side and select a proper resolution.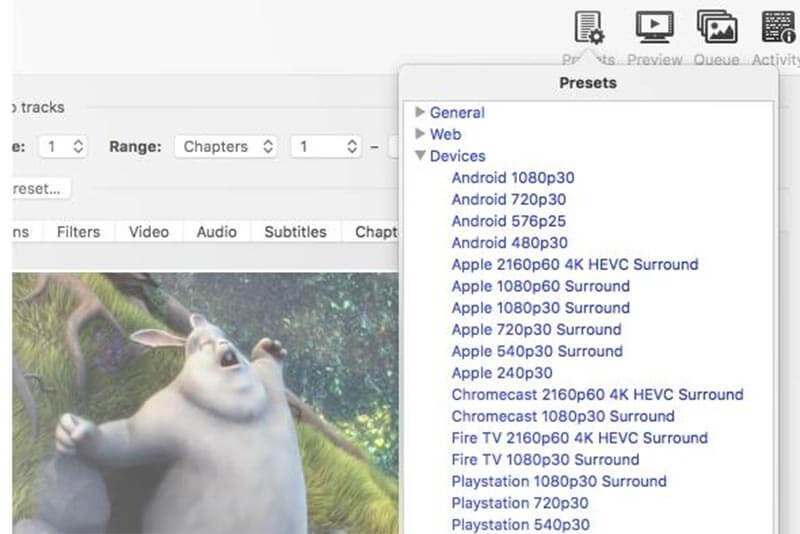 Step 5: To modify the bitrate, frame rate, resolution and other parameters related to video, enter the Video tab. Plus, you can find other custom options in the Audio, Subtitles, Chapters, and Filters tabs.
Step 6: Finally, click the Start Encode button to start ripping DVD to MP4 videos.
Note: HandBrake is available to Windows, Mac and Linux, but you'd better download it from the official website. Otherwise, the software may contain malware.
Method 2: Convert DVD to MP4 by VLC
VLC Media Player is a popular media player available to Mac, Windows and Linux. Similar to HandBrake, VLC is an open-source project and totally free of charge. In addition to play videos, VLC provides extensive bonus features, including convert DVD to MP4. Considering the workflow is complicated, we share the guide below.
Step 1: Install both VLC and libdvdcss to your computer if you want to rip a commercial DVD. Put the DVD into your computer and open VLC.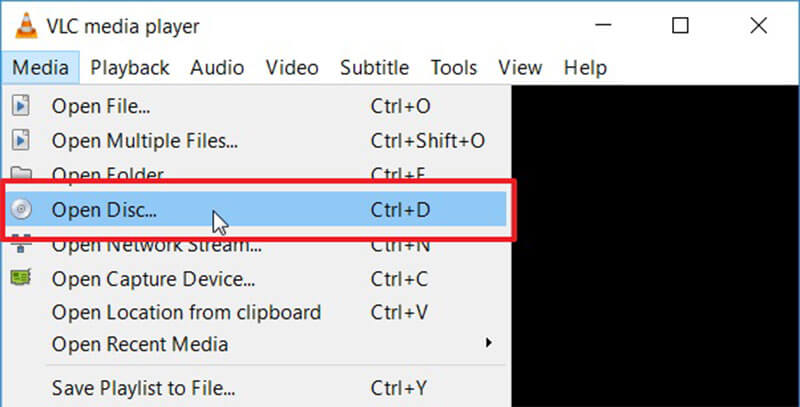 Step 2: Click Media -> Open Disc to trigger the open-media dialog. Then go to the Disc tab, select DVD and choose your DVD from the Disc device drop-down list. If your disc is not detected, click the Browse button and set it manually.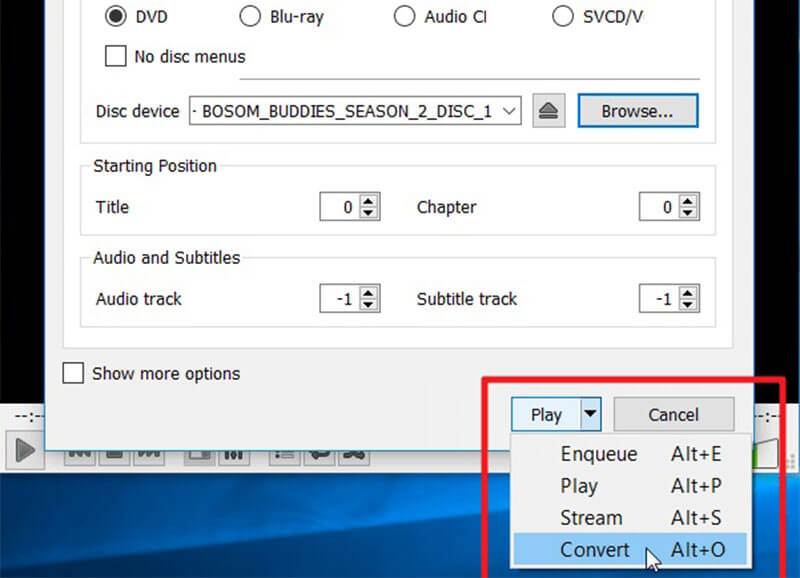 Step 3: Hit the Arrow icon next to the button at bottom, and choose Convert to open the DVD to MP4 converter dialog. Select Convert in the Settings area. Unfold the dropdown list next to Profile and choose MP4 format. Click the Browse button to select a specific directory to save your videos.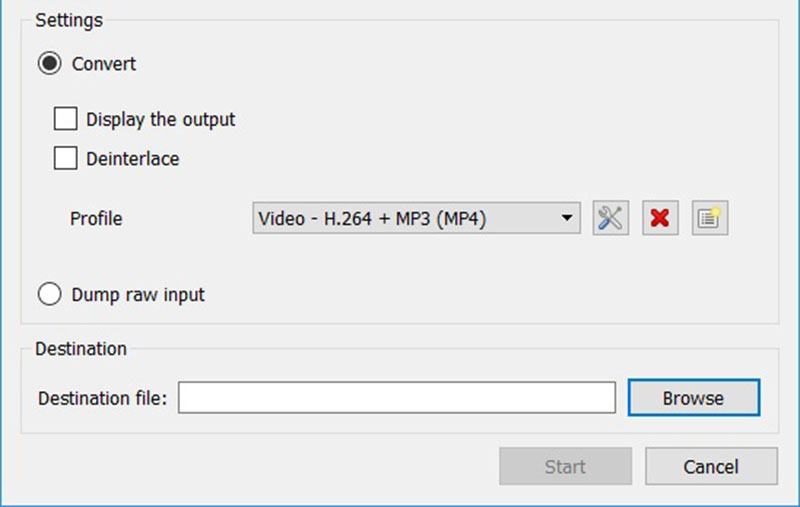 Step 4: Now, click the Start button to initiate converting DVD to MP4 files. It takes a moment to convert an entire disc with VLC.
Note: If you want to customize video codec, audio codec and subtitles, click the Advanced button with a mall document icon next to the Profile drop on the Convert dialog.
Method 3: Rip DVD to MP4 Using Freemake Video Converter
Though Freemake Video Converter is a powerful video converting program, it is able to convert DVD to MP4 or other video formats. At the beginning, Freemake is a paid program. Now, the developer allows people to use it for free.
Step 1: Open the free DVD to MP4 ripper after you install it on your computer. It is available to Windows 10/8/7. Unfortunately, it does not support Mac. According to our test, it spends more than half an hour to install Freemake.
Tip: Some antivirus software may treat Freemake as virus, so you need to disable your antivirus software when installing it.
Step 2: Also, insert the DVD into your ROM drive and run Freemake Video Converter. Click the DVD button on the top of the window, select your DVD drive and hit OK. Then Freemake will start analyzing and decrypting your DVD.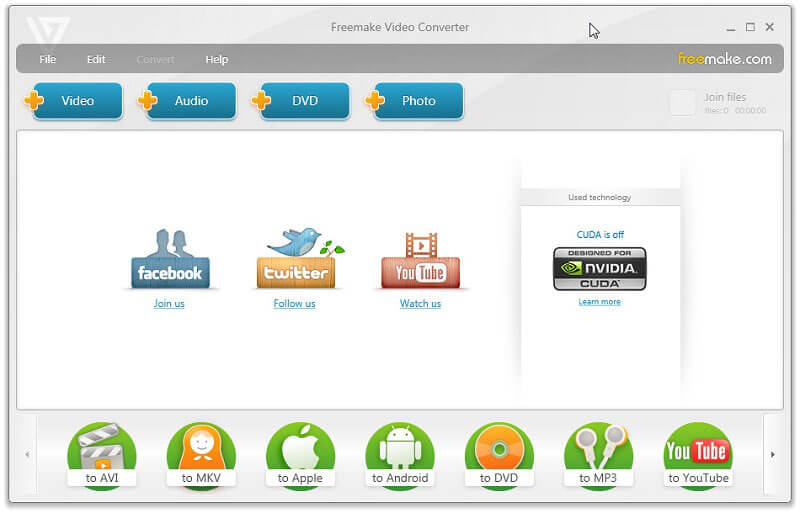 Step 3: When it is done, the titles will appear and you can select all or certain titles. Click OK and the selected titles will be added to the task window. Then you can edit audio track, subtitle and cut DVD videos.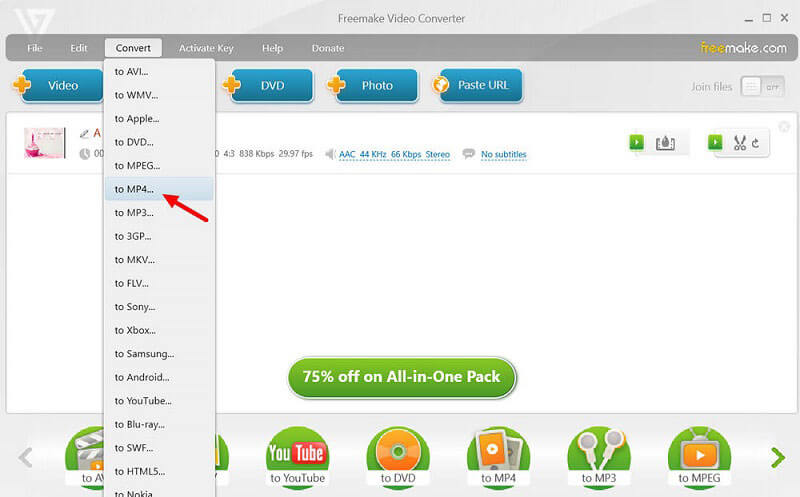 Step 4: Select to MP4 on the bottom. If you cannot find it, click to MP4 from the Convert menu on the top menu bar. Then set frame rate, video codec, and other options on the pop-up. Finally, click the Convert button to initiate DVD to MP4 conversion process.
Part 3: Convert DVD Video to MP4 Online
Web apps are convenient to perform various tasks including convert VOB, which is the DVD video format, to MP4. They cannot handle large video files, but you do not need to install any software. If you can find the VOB files on your DVD, try the web apps directly.
Method 1: Rip VOB to MP4 with Vidmore Free Online Video Converter
Vidmore Free Online Video Converter simple way to convert VOB to MP4 online. It can convert multiple VOB files to MP4 videos in batch. Moreover, the output quality is pretty good.
Step 1: Copy and paste https://www.vidmore.com/free-online-video-converter/ into the address bar of your browser. Click Add files to convert button on the page to download the launcher.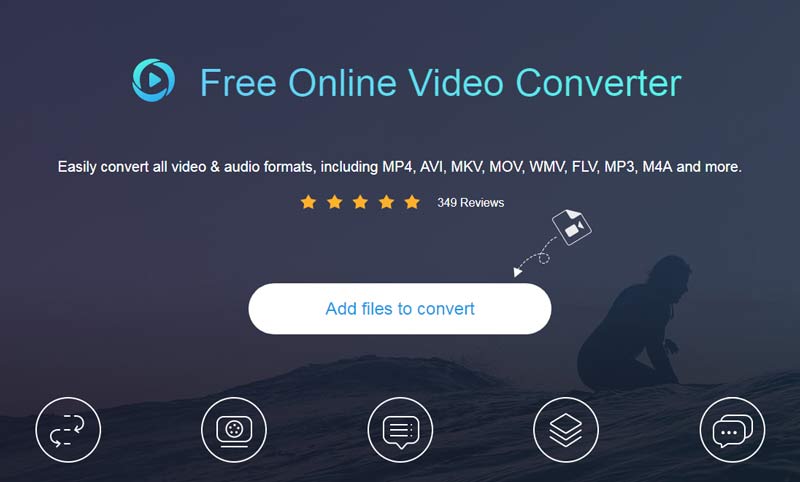 Step 2: After downloading, the launcher will pop up automatically. Insert the video DVD into your drive, click the Add File button on the launcher, and import the VOB files from DVD.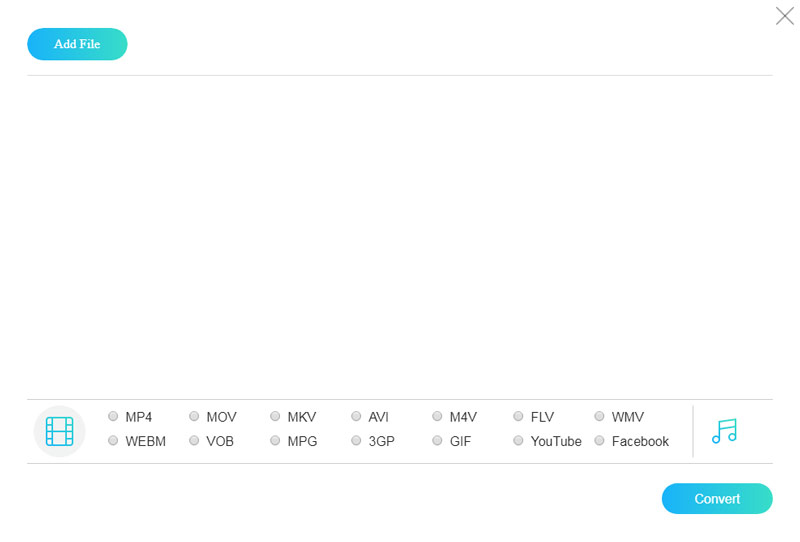 Step 3: To customize options in video settings and audio settings, click the Gear icon next to each video. Locate the bottom area on the launcher, choose MP4 and click the Convert button. When you see the Conversion-complete dialog, click OK to complete it.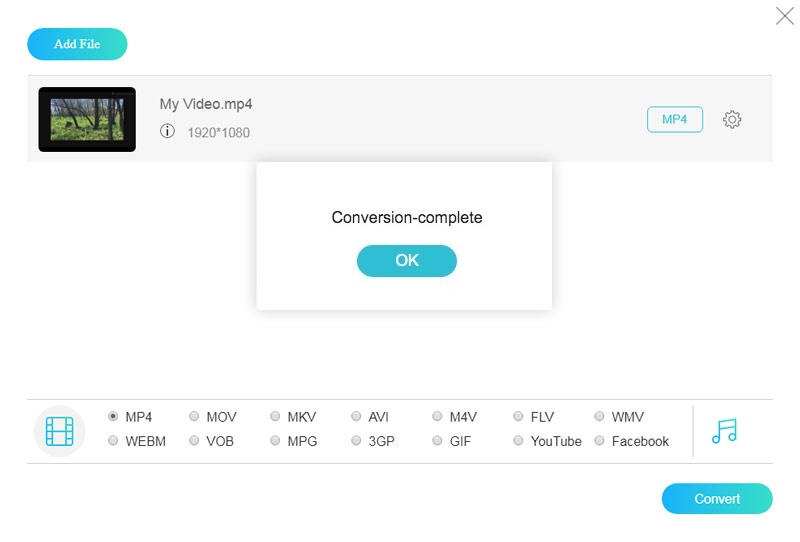 Note: This online DVD video to MP4 converter app does not have limit on files size per conversion, but it may take a while to finish the process.
Method 2: Convert DVD Video to MP4 via Convert File
Convert File is a collection of online file converter apps. It includes a VOB to MP4 converter too. It does not provide any custom options, so it is a good starting point to convert DVD video to MP4.

Step 1: Visit the web VOB to MP4 converter(http://www.convertfiles.com/convert/video/VOB-to-MP4.html) in your browser and put your disc into your DVD drive.
Step 2: Click the Browse button and find the video data file on your disc, which is usually stored in VIDEO_TS folder.
Step 3: Next, select MP4 from the Output format drop. Once click the Convert button, the web app will do the rest work.
Note: If it is not convenient to download the MP4 video right now, check the box next to Send a download link to my email, and enter your email address. Then the app will send the output file to your email.
Method 3: Rip VOB to MP4 Using File Conversion
File Conversion is another way to convert VOB to MP4 online. It can process a movie data file up to 50MB per conversion. Moreover, it does not require any payment or registration.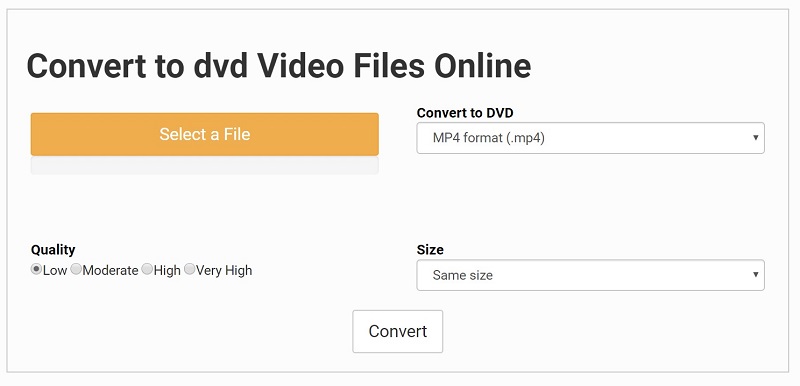 Step 1: Access the VOB to MP4 converting(https://www.files-conversion.com/video/dvd) app in any web browser and put your movie DVD into the machine.
Step 2: Click the Select a File button, find the video data file on your disc and hit Open to upload it. Choose MP4 from the format drop and select the right video Quality. You can also change the video resolution in the Size option. By default, it will keep the same size.
Step 3: Hit the Convert button to start uploading the video data file and the web app will convert DVD videos to MP4 automatically. When it finishes, download the MP4 file.
Conclusion
Now, you should master at least 7 methods to rip DVD to MP4 on your desktop or online. Some of them are free to use, such as VLC and HandBrake. Of course, the freeware is not easy to use. The output quality is not very good too. Vidmore DVD Monster, on the other hand, is a powerful DVD to MP4 converter. The biggest advantage is to protect the video quality during the process. More questions? Please write it down below.