What is the Difference Between 4K and 1080P? [Full Comparison]
Video resolution determines the amount of details presented in your video. A higher number of pixels specify a higher resolution, and a lower number indicates a low-resolution video. There are various types of video resolutions: Standard Definition, High Definition, Full-Definition, 2K, 4K, and 8K. But here, we will discuss 1080p vs. 4K video resolution, which can help you learn their differences. In addition, it will present a program that can assist you in upscaling your video to a higher resolution. Do you want to know what program it is? If so, rely on the information presented.

Part 1. What is 1080p
1080p, or full high-definition, consists of 1920 horizontal pixels and 1080 vertical pixels. This resolution became the industry's standard for a crisp high-definition digital video that does not break your storage space. This resolution is commonly used or standard screen resolution for mobile devices.
Part 2. What is 4K
4K, known as ultra-high definition, consists of 3840 horizontal pixels and 2160 vertical pixels. As their names imply, 4K ultra-high definition has a considerably higher resolution than 1080p high-definition video. Therefore, 4K contains almost four times the amount of pixels compared to 1080p. This resolution is highly detailed, cleaner-looking, and crisp video, especially when played on a 4K monitor.
Part 3. Is 4K Better Than 1080p
This section will present a 4K vs. 100p comparison table. With that, you will gain an extensive understanding of their differences. Considering that, you will notice their difference in resolution, number of pixels, aspect ratio, bitrate, and file size, which are essential information.
| | | |
| --- | --- | --- |
| | 1080p | 4K |
| Resolution | Ultra-High Definition | Full High-Definition |
| Vertical Pixels | 1080 | 2160 |
| Horizontal Pixels | 1920 | 3840 |
| Aspect Ratio | 16:9 | 1:1.9 |
| Pixel Counts | 2,073,600 | 8,294,400 |
| File Size | 1.2 – 1.4 GB | 20 – 22 GB |
| Bitrate | 8 Mbps | 35-45 Mbps |
Is 4K better than 1080p? Based on the abovementioned information, you will see that 4K video resolution is better than another one. If we are going to talk about pixels, it is clear that 4K resolution has the highest one. Therefore, 4K video resolution offers a smooth visual experience because it comprises multiple pixels. Because it has more pixels, the video will appear more transparent and crisper, offering a better viewing experience.
Part 4. How to Upscale 1080p to 4K
To upscale your video resolution to a higher one, you need to use a program to help you accomplish that. It should have the option to upscale your video resolution to your desired one. With that, consider using Vidmore Video Converter, as one of the primary roles of this software is to convert your videos. Besides that, it enables you to select your preferred resolution based on your selected video format.
This program supports numerous video formats, so you do not need to worry if your video file format is supported. In addition, it supports several video resolutions, such as 4K, 1080p, 3D Red-Blue, 3D Left-Right, 720p, 640p, 576p, and more. For that reason, you can upscale your 1080p resolution to 4K video resolution hassle-free. Besides that, it has the option to enhance your video's quality. Amazing, right?
Here are the steps in upscaling 1080p to 4K using Vidmore Video Converter:
Step 1. To have complete access to the program, you must download the program from the official website. Once the program is downloaded, install it on your desktop by following the installation procedure.
Step 2. After installing the program on your desktop, run the program and head to the Converter. The converter will be the primary feature you will use to upscale the resolution of your video.
Press the (+) sign on the center part of your screen, which will automatically your desktop folder. Select the video from your desktop folder with a 1080p resolution, which will be upscaled for a higher resolution.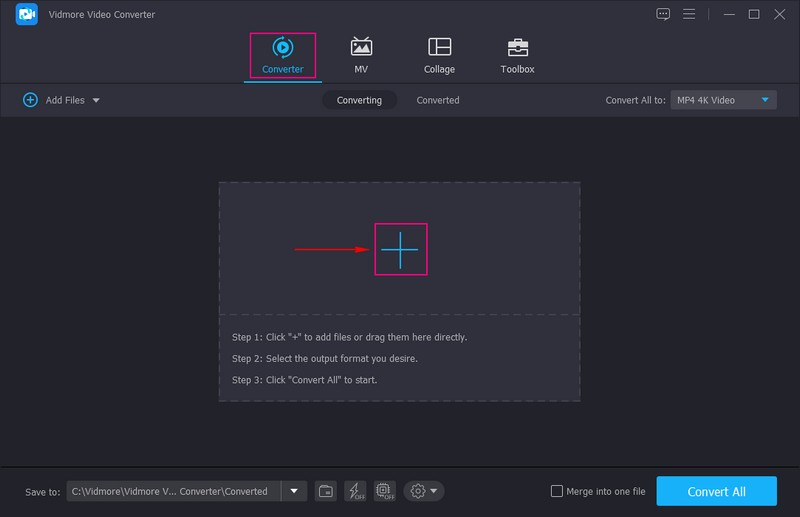 Step 3. Once selected, your video file will be placed in the converter section. Before diving into upscaling the video resolution, consider enhancing the video quality. Hit the Paint sign, and a small window with the following options to enhance your video will appear on your screen. Put a checkmark beside Upscale Resolution, Remove Video Noise, Optimize Brightness and Contrast, and more. Once done, press the Save button to bring you back to the converter section.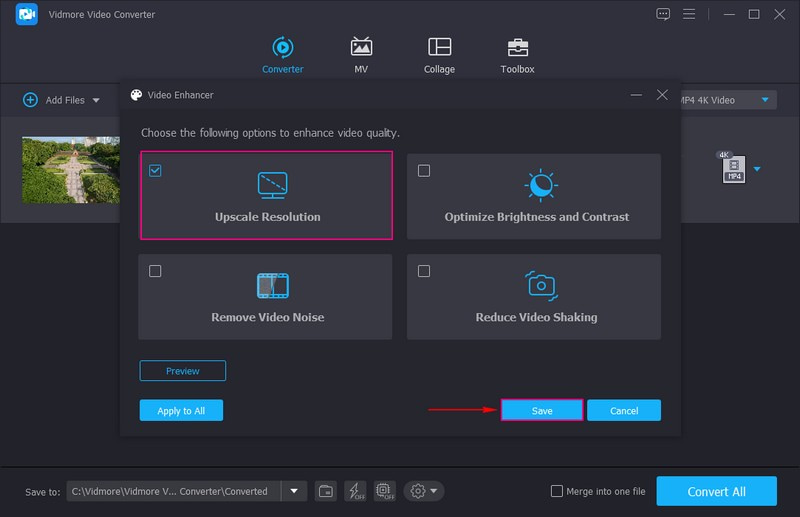 Step 4. Head to the Profile menu icon to see video formats with several resolutions. Here, you will start upscaling your video resolution to your desired one. To upscale 1080p to 4K, press 4K Video resolution from the list, which will be applied to your video. Besides that, click the Profile Settings icon on the right corner to customize the settings of your video. Here, you can change the Video Quality, Encoder, Frame Rate, Resolution, and Bitrate according to your needs.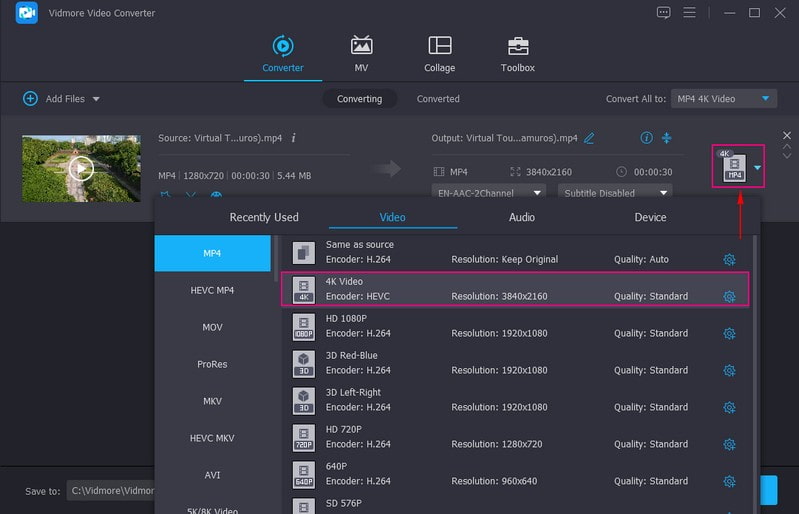 Step 5. Once done, click the Convert All button to start the upscaling process. Processing your video file will take a few seconds or minutes. After that, your upscaled video file will be saved in your desktop folder. Check it out, and see how your video with 1080p is upscaled to 4K resolution.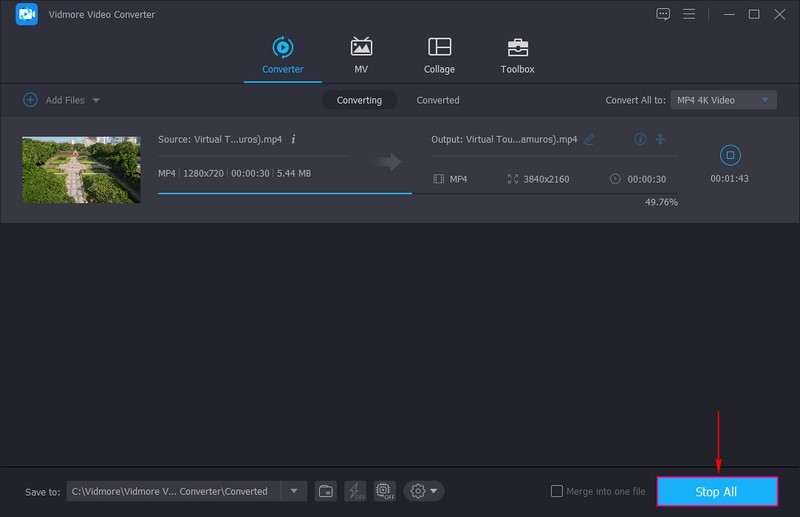 Part 5. FAQs about 1080p & 4K
What happens if you use 4K on 1080p?
For instance, if you play a 4K video on a 1080 resolution monitor, the video's pixels will shrink, which will fit your monitor's resolution.
How many times does 1080p fit into 4K?
4K is four times the pixels resolution of 1080p, as 1080 has 1920 x 1080 pixels in total. 4K has numerous pixels that appear clearer and more detailed than other resolutions. Because it has several pixels, the image can be viewed on a larger screen without distortion. Besides that, the quality will not be decreased or affected.
What is the highest video resolution?
The highest video resolution is 8K ultra-high definition, 7680 x 4320 pixels, and has 33,177,600 total pixels. In contrast, 4K, also called ultra-high definition has 4, 000 pixels wide with 8,3 million total pixels.
What program can upscale video to 8K resolution?
The best program that can upscale your video resolution to a higher one is Vidmore Video Converter. It supports various video formats and resolutions that you can choose from. You can upscale your video to 1080p, 4K, and even 8K if you need. Besides that, it has a tool where you can enhance the quality of your video based on your liking.
Conclusion
This post taught you the difference between 4K and 1080p video resolution. With the help of the abovementioned descriptions and the comparison table, you gained an understanding of the essential information you might need. If you have a video with a 1080 resolution and plan to upscale it, consider using Vidmore Video Converter. It has what it takes to upscale your video to the highest resolution. Besides that, it has a tool to enhance the video quality quickly and hassle-free. So, what are you waiting for? Try it now!