What is 4K Resolution [Informative Details & Guidelines]
Resolution is one of the essential factors in determining the quality of photos and videos. If a photo or video has a high resolution, meaning it contains a higher number of pixels. As a result, a high-resolution photo or video is clearer, sharper, and more realistic than a low-resolution one. With that, consider having a 4K resolution for your video to achieve detailed and high-quality final results. This post will present detailed information regarding the said resolution. In addition, it will mention application and instructional steps you can use as a guide to accomplish your goal. If you plan to upscale your video to 4K resolution, continue reading and proceed to the following parts.

Part 1. What is 4K Resolution
What is 4K resolution? 4K resolution is high-definition (HD) video that contains four times the resolution of 1080-pixel high-definition video. There are two kinds of 4K resolution: Digital Cinema Initiatives Standard and TVs and monitors you commonly see. This resolution stands at 3840×2160 pixels and has an aspect ratio of 1080 pixels. This resolution provides higher image quality, which benefits anyone who watches a video. When a video has a high resolution, it will appear sharper and more detailed and improve the viewing experience.
Part 2. How to Upscale Video to 4K
If you want an application that can upscale your video to 4K resolution, you can count on Vidmore Video Converter. Therewithal, it has plenty of supported resolutions you can apply to your video; one of them is the 4K video. Also, it has built-in features that enable you to enhance the quality of your video. It can upscale the resolution, optimize brightness and contrast, remove video noise, and reduce video shaking. This function will help you to produce the high-quality video you wish to have. Whether you are a beginner or a professional in video editing will be apparent to you. To undergo the video-upscaling process and achieve 4K video resolution, rely on the instructional steps provided.
Pros
It has a user-friendly interface that is easy to use and control
It is accessible offline and does not require you to use an internet connection
It supports numerous video and audio file formats
It has plenty of built-in features, editings options, and tools
Cons
Subscribe to the paid version to have full access to the program
Step 1. Download and Install Vidmore Video Converter
Download and Install the program to your Mac or Windows computer to have complete access to the program. After the installation process, proceed to open the program to get started.
Step 2. Upload Video File
You are automatically directed once you open the program. Click the (+) icon on your screen to open your desktop folder. Select the video from your folder you want to undergo the upscaling procedure. After that, your video will be placed in the converter section.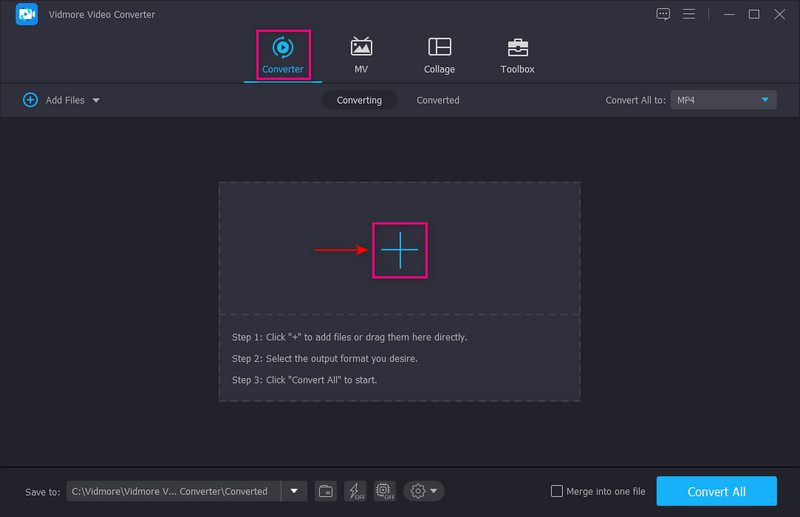 Step 3. Upscale Video Resolution
Click the Painting icon beside your video file in the converter section. A small window will appear on your screen with the following options to enhance your video. Tick a check on the small box beside the Upscale Resolution from the list presented. This function allows you to upscale the resolution of your video. Once done, click the Save button on the lower part of your screen. It will close the small window and head you to the converter section.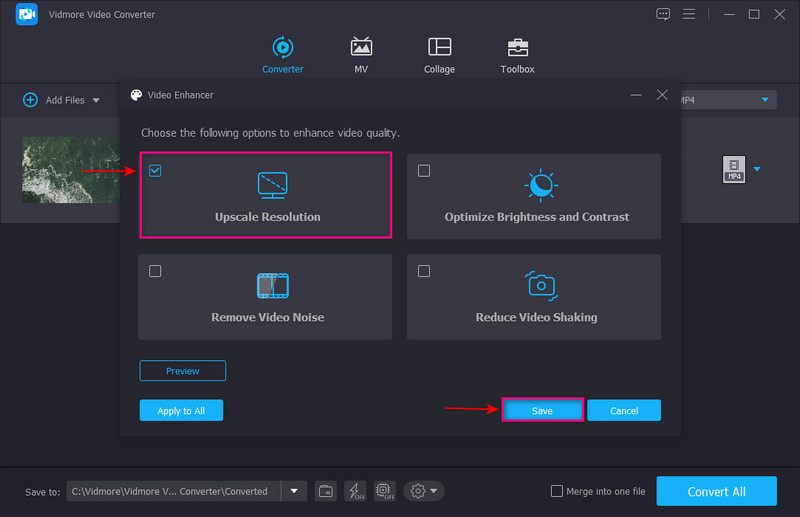 Step 4. Select 4K Video
If you want to change your output format, head to the drop-down menu on the right part of your screen. To upscale your video, the same option, click the 4K video below the Same as source format. Afterward, you will see that the 4K format has been selected on the output format. Once done, click the Convert All button to save your upscaled 4K video to your desktop folder.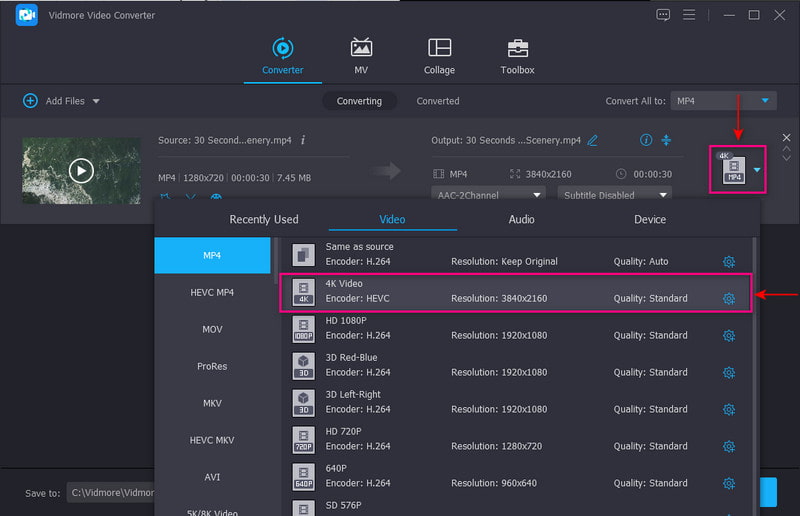 Part 3. How to Play 4K Video
It is possible if you plan to play your video using your desktop. But there are things to consider to play your video successfully. With that, this post will present information on how to play a 4K video on your desktop.
Limited computers have a built-in screen that supports 4K resolution. But 4K video requires a large processor, a large amount of space, and a modern video card.
Ensure you have a 4K monitor resolution to play your video.
Connect your monitor to your computer using the 4K-ready cable.
Head to your desktop folder and locate your 4K video. After that, open your video in a media player that supports 4K resolution. If you are using Windows, you can use the Movies & TV and Windows Media Player app to play your 4K video. If you are using Mac, you can use the QuickTime app to play 4K videos.
Part 4. How to Select 4K Video Displayer
Not all video displayer supports or is capable of playing 4K UHD resolution video. In that case, you need to consider choosing an application that can play your video with high resolution. With that, you need to consider some things to select a video displayer that enables users to play their 4K video.
The video displayer should have a beginner-friendly interface that is easy to navigate.
The video displayer must be capable of playing 4K video resolution.
The video displayer should support different video file formats to play videos.
The video player should enable the users to organize their multimedia collection, play songs and movies, and many more.
Part 5. FAQs about 4K Resolution
Is 4K UHD resolution good?
The 4K UHD resolution has 4,000 horizontal pixel counts, four times higher than a usual or standard UHD screen. It is a commonly used option for anyone who loves watching movies on their desktop.
Which is better: 4K UHD or 1080P?
4K resolution has 3840×2160 pixels while 1080P only has 1920×1080 pixels. In that case, 4K ultra-high definition has a higher resolution than 1080P high-definition video, which makes 4K UHD better.
Can I watch 4K UHD on my TV?
Watching 4K UHD video is possible using the new smart TVs, which support 4K ultra high-definition resolution.
What quality is higher than 4K?
The highest resolution is 8K. 4K has 3840×2160 pixels while 8K has 7680×4320 pixels. As you can see, 8K resolution doubles the number of pixels that 4K resolution has.
Conclusion
This post provided a program that can help you upscale your video to 4K video resolution. It will not let you down because it will surely upscale your video and let you choose your desired resolution. With that, you can quickly, and hassle-free transform your low-resolution video into a high-resolution one. What are you waiting for? Rely on Vidmore Video Converter to level up your video resolution.