GOM Player: A Media Player You Can Use for Free
Are you searching for a media player to easily play your audio and video files? Offers a 360-degree playback environment of multiple file formats, including damaged ones, and allows you to experience the full benefits of comfortable? If so, GOM Player checks all the mentioned qualifications. This post will present comprehensive information about the player's key features, supported formats, pricing, and more. In addition, it will introduce a video player as an alternative to a GOM player. Are you ready to learn? If so, keep reading the other parts.

Part 1. What is the GOM Player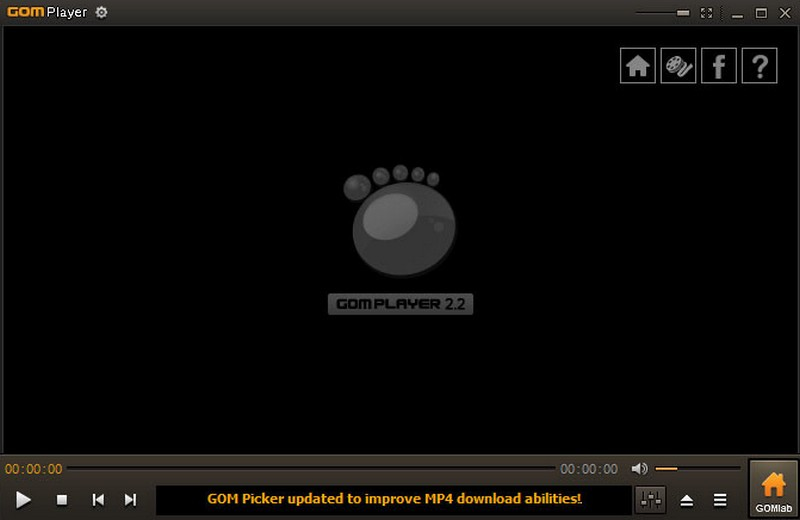 GOM Player is known for its high-quality audio and video and compatibility with various video formats. It provides an approachable and uncomplicated user-interface experience. For that reason, first-time users can easily catch up or navigate the following options. Besides that, it is compatible with a broad range of 360-degree and virtual reality formats. It can play and stream 360-degree videos on different channels and read 360-degree video files stored locally. Besides that, it provides additional settings designed for experienced users, which can help improve their viewing experience.
Users have access to the most extensive subtitle datable in the globe. The video player will automatically start searching its database as soon as the video has begun playing. It will present several results that match the user's criteria. In addition, users are allowed to link their mobile devices to the video player. They can perform various smartphone actions, like playing, stopping, choosing videos, modifying the volume, and more.
Supported Operating Systems
The supported operating systems are the following: Microsoft, Mac OS X 10 or higher, Windows 7, Windows 8, and Windows 10. The system requirement required is 2 GB RAM or higher, HHD 200 MB, or more.
Price
It offers a free and paid version. The paid version is $15, unlimited for a lifetime with a one-time payment.
Supported Formats
This video player is the best program for supporting various file formats. Other than supporting audio and video files, it also supports playing subtitles. That said, we shall now present the supported file formats of the video player, including the formats for subtitles.
| | |
| --- | --- |
| Audio Formats | MP3, ACC, OGG, M4A, FLAC, WAV, RMA, WMA, etc. |
| Video Formats | OGM, AVI, MP4, MKV, K3G, TS, IFO, ASF, WMA, WMV, MPG, MOV, MPG, M1V, M2V, M4V, VOB, 3GP, 3GP2, RM, RMVB, OGG, FLV, DAT, ASX, etc. |
| Subtitle Formats | RT, SRT, SMI, VTT, SUB, DVD ASS, TXT, PSB, VOBSUB, SBV, etc. |
Key Features:
It comes with a pre-loaded selection of audio and video codecs. There is no need to install additional codecs to play a file. It is possible to look for missing codecs using a codec search feature.
It enables users to play video files that have only been partially downloaded or damaged.
Users are allowed to download subtitles through the subtitle data room.
It supports 360-degree virtual reality video playback.
There are no existing ads for playing videos.
It offers a seamless ultra-high definition 4K video playback function for free.
Pros
It supports various file formats, allowing users to import audio or video files.
It provides a subtitle finder for video files.
It offers codec search options.
It offers unique features beneficial for video players.
Cons
The interface needs to be cleaner.
It includes potentially malicious malware when downloading and installing the program.
Safety
Is it one of the common questions; is it safe to use GOM Player? Many users are experiencing an issue when installing the program, as the device suddenly becomes alarmed. It poses a potential unwanted malware that can harm your desktop.
| | | | | | |
| --- | --- | --- | --- | --- | --- |
| | Pricing | Supports Hotkeys | Usability | Screen Resolution | Shows Ads While Playing Video |
| GOM Player | Free | Yes | Average | 4K UHD | Yes |
| GOM Player Plus | Paid | Yes | Satisfied | 4K UHD | No |
Part 3. Alternative to GOM Player
As mentioned above, GOM Player possesses potentially unnecessary malware when installing the program that can harm your device. With that, you must consider using a video player that is safe to use and will not put your device into trouble. We highly recommend Vidmore Player, a universal media player that can play various videos and is the best alternative to a GOM player. It can play Blu-ray types, such as BD-5, BD-9, BD-25, BD-50, BD-R, BD-RE, BD-XL, and more. It can play DVD types, like DVD-R, DVD+R, DVD-ROM, DVR-RW, DVR+RW, DVD-RAM, DVD-DL, and more. It supports many video formats, including VOB, MP4, TS, M4V, MPG, MTS, MXF, RM, M2TS, RMVB, and more. In addition, it supports audio formats, such as AC3, AIFF, AAC, AMR, FLAC, AU, M4A, MKA, MP3, WAV, and more. Amazing, right?
Vidmore Player offers impressive sound processing and high-quality image playback. It also offers customized controls for the title, chapter, volume, and playback for a better viewing experience. In addition, you can disable and change audio and video track, add subtitle files, modify effects, and pick your preferred screen size. On top of that, you can take a snapshot of your favorite scene while the video is playing on the screen. After that, it will be saved in your desktop folder. Indeed, Vidmore Player guarantees smooth playback of your DVD, Blu-ray, 4K, or common videos without experiencing lag.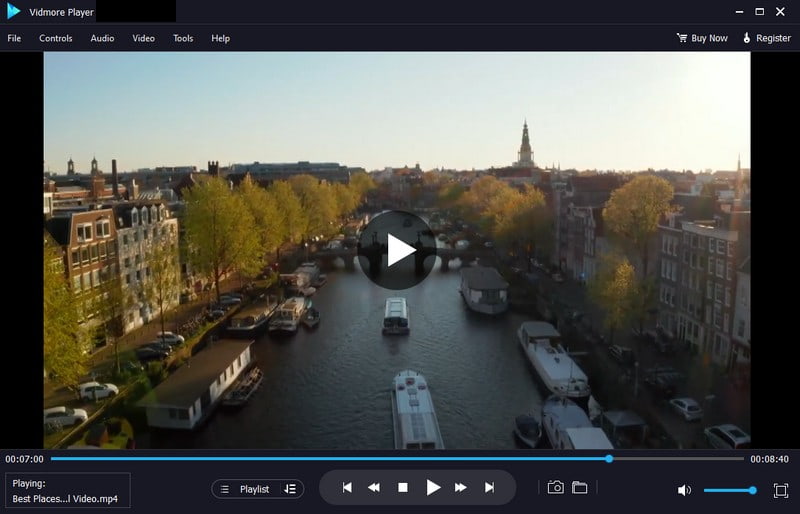 Part 4. FAQs about GOM Player
Where can I find the subtitles in GOM Player?
Go to the video player's library or downloaded subtitles by inserting a title into the program's search bar. Depending on your preference and desired playback, these can be changed. Open Subtitles.org is an open-source program offering subtitles that users have contributed.
How to organize the virtual reality videos using GOM Player?
GOM Player can play and control virtual reality videos as long as the essential codecs are available. Using your keyboard or mouse, you can use the up, down, right, and left keys.
Where is there no sound in GOM Player?
To fix this issue, reinstall the program and install the FFDSHOW codec. After that, send your playback information to Customer Service.
How to take a screenshot in GOM Player?
First, pause the video, click the Control Panel, and click the Screen Capture from the list. After that, the image file will be saved in your desktop folder.
How do I stop GOM Player from opening my browser?
Open the video player, right-click on the player, and select Preferences from the list. Next, click on General and then switch to the Network tab. Here, turn on the option named Disable the window that is displayed when the player closes and click the Close button. After that, GOM Player will no longer display the splash screen again.
Conclusion
This post reviewed GOM Player in many aspects. Indeed, it offers a satisfactory level of experience when playing videos. Also, it is generous in providing unique features that can make the experience immense. Is GOM Player for PC outstanding? What do you think? If you are still searching for more, you can use Vidmore Player as an alternative for an excellent playback of your file. It is the best alternative to GOM Player, offering basic and advanced functionalities for a better viewing experience.