What is a VLC Media Player? Explore VLC's Usage & Features
It is a common problem to experience some trouble when playing your favorite videos on a media player due to compatibility issues. Therefore, consider using VLC Media Player, which can play almost all popular video file formats. In addition, it is a free and open-source media player, so you can use it without spending any amount. Do you want to learn more about the media player?
This post will present comprehensive details about the VLC Media Player, consisting of its supported formats, key features, and its alternative. Without further discussion, check out the following details.

Part 1. What is a VLC Media Player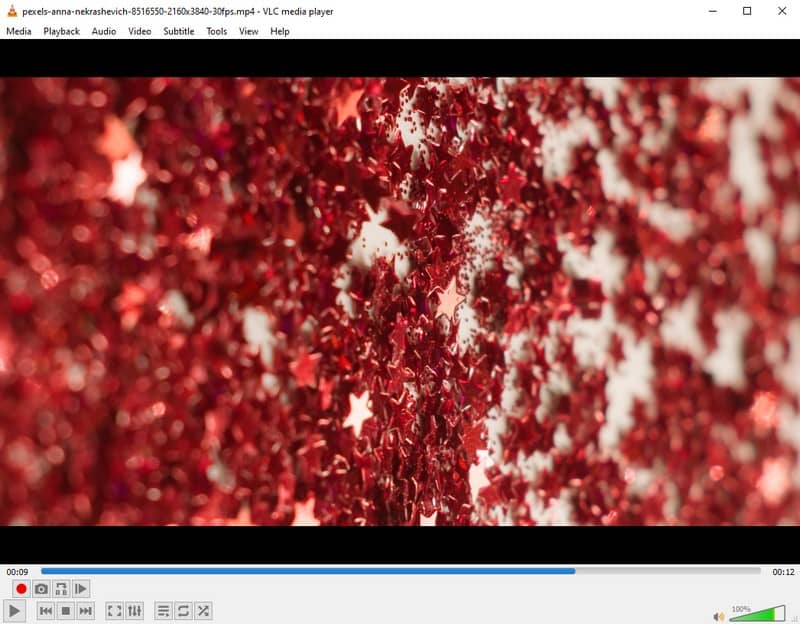 So, what is a VLC Media Player? VLC Media Player is an open-source multimedia player accessible on all platforms. Specifically, VLC can be used on Android, Linux, iOS, Mac, Unix, Windows, and other platforms without limitations. This program is famous for its media player capabilities, as it can play everything, including discs, devices, files, and streams. Besides that, it also boats audio and video conversion capabilities. With this media player, you are open to all the required codecs, such as MP3, MKV, WMV, WEBM, MPEG-2, MPEG-4, and H.264. With that, you do not need extra codec packs.
VLC Media Player supports extensive audio and video formats to give you that feeling of ultimate comprehensiveness. You can work on almost all the common and popular media formats hassle-free. The following are the formats that you are opened up to include:
| | |
| --- | --- |
| Category | Formats |
| Audio | MP3, AAC, WMA, FLAC, MPEG Layer, Vorbis, AC3, E-AC-3, MLP/TrueHD>3, ALAC, Speex, Musepack/MPC, ATRAC3, Mod, Wavpack, APE, TrueAudio, Real Audio, AMR (3GPP), Alaw/Ulaw, LPCM, MIDI, QCELP, ADPCM, DV Audio, QDM2/QDMC, and MACE. |
| Video | WMV ½, WMV 3/ WMV-9 / VC-1, MPEG-½, XviD, 3ivX D4, MPEG-4 ASP, DivX (1/2/3/4/5/6), H.261, H.263 / H.263i, H.264 / MPEG-4 AVC, Theora, Cinepak, Dirac / VC-2, MJPEG (A/B), Sorenson ⅓, DV, On2 VP3/VP5/VP6, Indeo Video v3 (IV32), and Real Video (1/2/3/4). |
For you to know what you can expect from the media player, below are the advantages and disadvantages of the program.
Pros
It is a free and open-source media player.
It offers customizable conversion profiles.
It offers download options for streaming audio and video.
It features common and popular codecs.
Users do not need any codec installation to read music or video files.
It has a built-in equalizer enables users to boost the sound without distorting the quality.
It enables users to preview the output during conversion.
Cons
It lacks video editing capabilities.
It is prone to some occasional errors.
Users need to open the files directly from their respective folders.
Part 2. Key Functions of a VLC Media Player
VLC Media Player is one of the best multimedia playback programs. Of course, this media player has many key functions to offer to the users. Some of the highlight features are as follows:
It can play almost any audio or video format, making it an all-in-one media player able to open multimedia containers.
It enables users to play multiple films simultaneously with a playlist.
It supports the playback of zip files without individual unpacking.
It offers video filters, such as brightness, saturation, contrast, masking, blur, and color overlay.
Users can customize the volume by up to 200%.
Users can control the video playback speeds up to 4x.
It offers tools for tweaking audio and video playback.
Users can watch the beginning of the film while it is in the process of downloading.
Part 3. Comparison Table of VLC Media Player's Desktop Version and Mobile Version
VLC Media Player is not only available on desktop devices, but it is also accessible on smartphones. This section will present a comparison table between VLC Media Player's desktop and mobile versions. With that, you will learn about the media player's similarities, differences, and other aspects of their versions.
| | | |
| --- | --- | --- |
| | VLC Media Player (Desktop Version) | VLC Media Player (Mobile Version) |
| User Interface | It has a more traditional interface for mouse and keyboard input. | It is designed for touch-based devices and is optimized for smaller screens. |
| Supported Input File Format | MP4, WMA, WMV, ASF, AVI, MPEG (ES, PS, TS, PVA, MP3), 3GP, OGG, OGM, Annodex, Matroska (MKV), Real, and more. | MP4, MKV, AVI, MOV, FLAC, TS, OGG, M2TS, WV, and AAC. |
| Available Features | It offers numerous features, as the desktop version can do more than the mobile version. | Some features on the desktop version, like playback control over a network and streaming media over the internet, are unavailable on mobile devices due to restrictions. |
| Performance | The performance is satisfactory because the desktop version has more processing power and memory. | The performance is average due to the limited resources of mobile devices. |
Part 4. Best VLC Media Player Alternative
Another video player that can play numerous video formats is Vidmore Video Converter. This program primarily works as a converter with built-in features, such as collage and movie maker, and several tools. Speaking of tools, it has a video player that supports and can hold several video formats.
When you import the video file, it will automatically be played on the player. Here, it has a basic option to play, stop, and fast-forward the video. In addition, you can change the speed rate of your video to slow or fast. Select 0.75×, 0.5×, 0.25×, and 0.125× if you want the video to play slower. Select 1×, 1.25×, 1.5×, and 2× if you want the video to play faster. For instance, if you want to take a snapshot of any scene of your video, you can do that. It has a snapshot function, where you can take a screenshot while the video is playing. Besides that, you can modify the volume according to your preference.
To have a better viewing experience, you can watch the video in full-screen. Indeed, Vidmore Video Converter has much to offer you.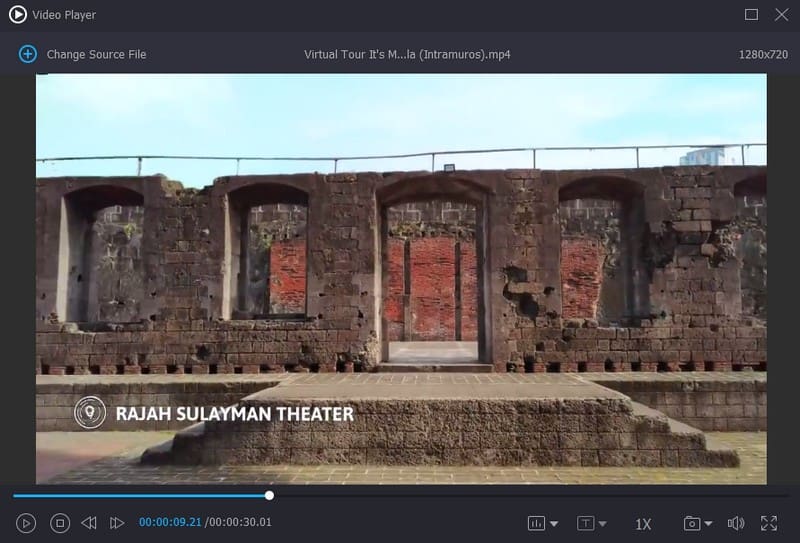 Part 5. FAQs about VLC Media Player
Is vlc media player safe?
VLC Media Player is a hundred percent safe to download and use. It is advisable to download the media player from an approved and reliable site. It will keep you free from all kinds of viruses.
Why is VLC so laggy?
Turning on a strict power profile on your Windows device can cause applications to run slowly. As a result, videos in the VLC media player may lag or stutter. To avoid this issue, change your computer's power plan to high-performance mode and see if that helps.
How does VLC Media Player rotate video?
To successfully rotate your video, go to Adjustment and Effects and Geometry under the Video Effects option. Afterward, pick Transform for set rotation options or Rotate for free-hand rotation based on your preference.
Does VLC require internet?
VLC Media Player can also play multimedia files on your devices using your local home network or the internet.
How to use VLC Media Player?
Suppose that you already have the program installed. The next thing you need to do is to import a file. Once the file is added, modify the audio as needed, synchronize the audio and video, and add subtitles. After that, change your viewing options to play the video according to your preference.
Conclusion
VLC Media Player has long been regarded as one of the foremost media players because it works across multiple platforms. Indeed, it provides everything you need from a media player. If you prefer a media player that is easy to use and can play various video formats, rely on Vidmore Video Converter. It offers basic and advanced functionalities to improve your viewing experience. It is the best VLC media player alternative, allowing you to enjoy what you are watching.