Adobe Flash Player: Is Adobe Still Supports Flash Player?
Whenever you use the internet, your browsers use small applications known as plug-ins to display specific types of content. For example, the Adobe Flash plug-in can play audio, games, videos, and other interactive content. It is designed to offer tools for making compelling web applications and interactive content. In addition, provide high-quality video to users across several browsers and all major operating systems. However, Adobe Flash Player has long been one of the most well-known plug-ins and became unavailable for security reasons, which this post will tackle.
This post will present detailed information about Adobe Flash Player and further understand why it is no longer supported. In addition, it will provide an alternative tool you can use and access to view your multimedia file. It can help you quickly watch your video file and not experience any hassle. To learn more about this, continue to the following details, and gain an understanding of the program.

Part 1. What is Adobe Flash Player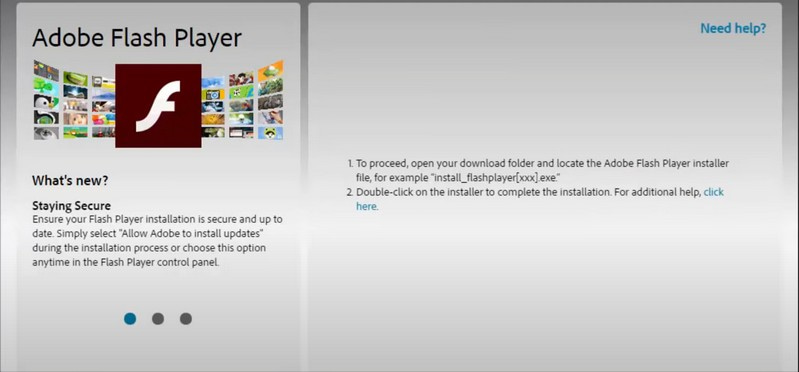 To start, what is Adobe Flash Player? Adobe Flash Player is the standard for carrying high-impact and rich website content created by Macromedia and has been expanded by Adobe Systems. It streams and opens audio, video, or multimedia files on a desktop or supported mobile device. This plug-in can be used on Mac, Windows, tablets, and smartphones for viewing amazing videos and enjoying the three-dimensional graphics of video games. In addition, it is recommendable for creating any two-dimensional animation, cartoon, and short film.
Adobe Flash Player is well-known for offering standard high-quality content delivery. It can present animations, designs, and web content. Besides that, it can provide a crystal clear impact wherein the advanced user interface enables development for all browsers and platforms. It attracts many beginner or professional users for a website-rich experience with video codec support. Besides that, it provides countless or never-ending entertainment with easy support for FLV and F4V files.
The following supported data formats of the program are AMF, SWF, and XML. On the other hand, the following supported multimedia formats are MP3, GIF, JPEG, FLV, RTMP, and more. Indeed, it was a well-known media player before; however, it came to the part where it needed to be gone.
Part 2. Why Adobe Flash Player Is No Longer Supported
On December 31, 2020, Adobe stopped supporting Flash Players. The company even encourages users to uninstall the program. The company strongly recommends all users immediately uninstall the program to help protect their computer and mobile device systems. Moreover, Adobe will no longer issue security and privacy updates, making it necessary to remove the program from the system. So, why Adobe Flash Player is no longer supported?
Adobe Flash Player is a relatively old plug-in and has become increasingly at risk and unprotected from online threats like hackers and viruses. Therefore, installing unauthorized versions of flash player is bogged down to malware and viruses. Most website pages have started disabling it for privacy and security purposes. This program became a massive target for hackers forcing Adobe to release updates often to solve the issues. It has been discontinued because of security vulnerabilities and the introduction of more efficient website technologies. Besides that, it offers poor performance and the worst-viewing experience.
These efficient website technologies are HTML5, WebGL, and WebAssembly, which offer better security, performance, and compatibility across devices. Besides that, these website technologies have more advantages, like security enhancements, faster page load times, less impact on device battery life, and more. With that, browsers vendors start integrating the new standards into Firefox, Chrome, and other mainstream browsers removing Flash player and other plug-ins.
Part 3. Adobe Flash Player Alternative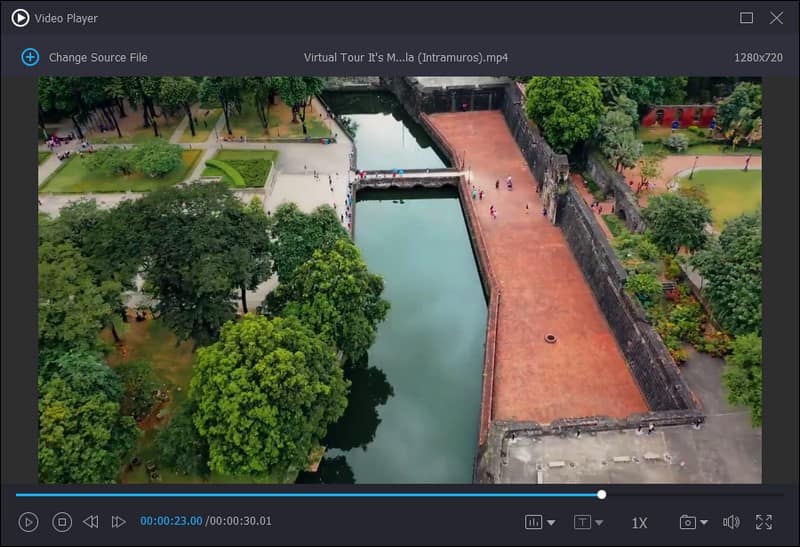 As mentioned above, Adobe Flash Player is no longer running and is unavailable as a media player. It can no longer be a program that can play audio, video, and other interactive content. Therefore, consider using another program that can help you play various multimedia files without experiencing any problems. Do you have a media player that can help you achieve that? We highly recommend Vidmore Video Converter to help you view video files quickly and hassle-free.
Vidmore Video Converter primarily works as a converter infused with several built-in features and editing options. It has a collage maker, a movie maker, and numerous toolkits in one section. One of the tools available in that section is the Video Player, the primary tool that can help you view multimedia files. It can view videos in various formats, such as MP4, AVI, MKV, WMV, MOV, M4V, WeM, M4V, DivX, AVCHD, and more. You need not worry if the player can support your video file type. Helpful, right?
This video player lets you change the speed level of your preview video depending on your preference. If you prefer to slow down the speed level, pick 1×, 1.25×, 1.5×, and 2×. In contrast, if you wish to play the video faster, you can pick between 0.75×, 0.5×, 0.25×, and 0.125× With these speed levels, you can watch the video in detail and quickly. You can adjust the video's volume level according to your desire and make it soften or louden. Besides that, it can screenshot what is presented on your screen while watching and can view the screenshot file on your desktop folder. Indeed, Vidmore Video Converter is the best Adobe Flash Player alternative you can rely on that offers you a good viewing experience. So, what are you waiting for? Use it now!
Part 4. FAQs about Adobe Flash Player
What is the file flash player extension?
The file extension for binary Flash files is SWF for Shockwave Flash, an Adobe Flash format used for multimedia, Action Script, and vector graphics.
What is Adobe Flash Player supported on?
The website browsers that support the Adobe Flash Player plug-in are Dolphin, Kiwi, FlashFow, Opera, and Puffin. In contrast, Apple Safari, Google Chrome, Microsoft Edge, and Mozilla Firefox are unsupported.
Does my Adobe Flash Player need to be updated?
After the End of Life Date, Adobe stops issuing Flash Player updates or security patches. The company recommends users uninstall the plug-in on their desktop and mobile devices immediately. Adobe Flash Player is no longer used as a plug-in for website pages.
Why do browsers not support Flash?
It is mainly about security reasons and the growing availability of more secure options, such as HTML, WebAssemply, and more.
Conclusion
Adobe Flash Player is a program commonly used to stream and view audio, video, and multimedia on desktop or mobile devices. However, as of January 2021, Flash Player is no longer available or supported by Adobe due to multiple security problems. With that, Adobe recommends all users uninstall the program in its end-of-life notice. Therefore, consider using Vidmore Video Converter, the best Adobe Flash Player alternative to view videos. It will let you watch videos without difficulty and without experiencing a hassle. Feel free to use the program and install it on your computer!