Elmedia Video Player: Is it the Best Media Player for Mac
Elmedia Video Player is a high-quality media player compliant with any audio and video formats designed for Mac operating systems. This video player plays and edits videos and provides a polished streaming experience. Other than that, it provides several functionalities beneficial for viewing videos. Do you want to know what these are?
This post will present comprehensive details you need to know about Mac's universal media player program. In addition, it will provide a video player accessible for Windows devices. Without further discussion, check out the following parts.

Part 1. What is Elmedia Video Player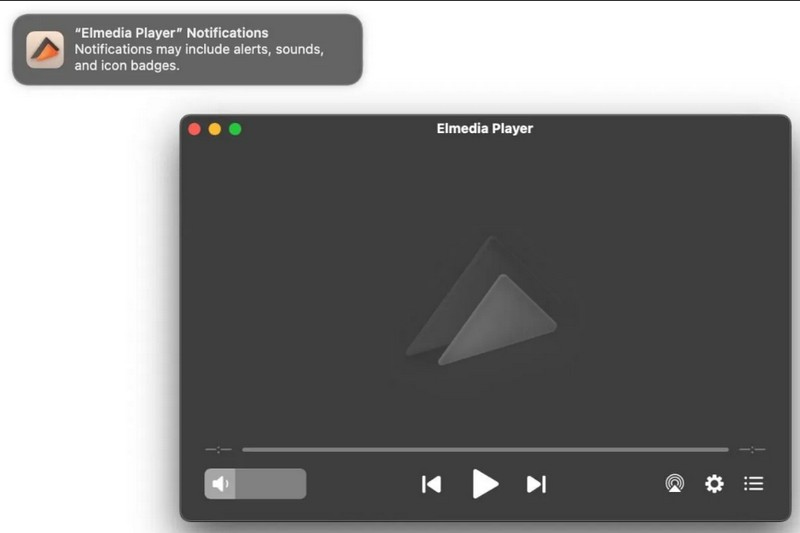 Elmedia Video Player is one of the most convenient video players designed for Mac users. Aside from playing videos, it is created to cater to playing songs as it supports audio file formats. This video player provides advanced streaming and playback options to stream local media files to various players. It offers native browser support, which can be used to browse and watch online videos. Please continue reading the other details to learn more about the video player:
Interface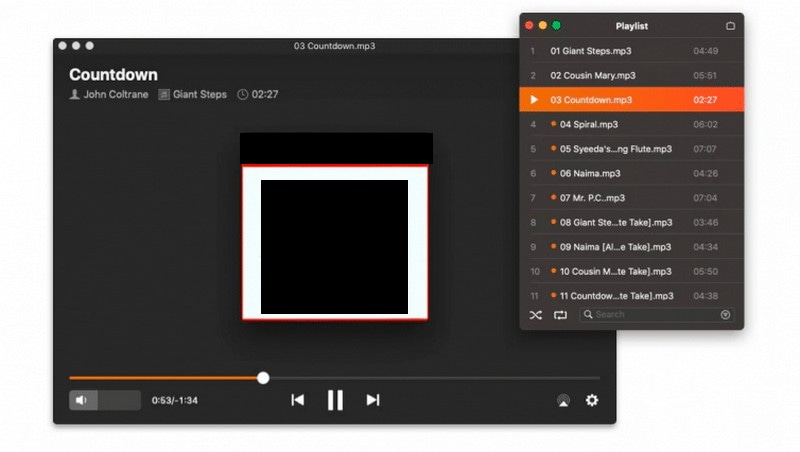 Elmedia has a beginner-friendly and tidy interface. Its easy-to-understand interface shows the volume control, playlist, playback buttons, browsers, stream to, and settings. If you are a minimalist type of user, you will surely like the style and simplicity of the interface with a salient color design.
Supported File Formats
| | |
| --- | --- |
| Supported File Types | File Name |
| Audio | 3GA, AAC, AC3, EAC3, ACM, AIF, AIFF, AMR, APE, AU, CAF, CUE, DFF, DSF, DTS, FLAC, GSM, M4A, MP4, M4R, MKA, MP2, MPA, MP3, MPGA, OGG, OGA, OPUS, PCM, QCP, RA, SPX, VAW, WAW, WAV, WMA, and WEBM. |
| Video | 3GP, 3GPP, 3G2, 3IV, AMV, ASF, ASX, AVI, BDMV, DAT, DIVX, DV, DVR-MS, EXE, F4V, FLV, FLC, FLI, GXF, H264, HDV, M1V, MPEG, MPG, MPV, MP4, M4V, MPG4, MPEG4, M2T, M2TS, METS, TS, M2V, MPG2, MJP, MKV, MOV, QT, MQV, MTV, MXF, NSV, NUT, NUV, OGM, OGV, PMF, PVA, REC, RAM, RM, RMVB, RV, SWF, TP, TY, TY+, TIVO, VC1, VCD, VID, VFW, VOB, WEBM, WMV, XVID, YUV, and Y4M. |
| Subtitles | ASS, SSA, IDX, JSS, RT, SMI, SMIL, SRT, SUB, TXT, UTF, UTF, VTT, and WEBVTT. |
Key Features
It is capable of playing anything.
It has customizable playback options.
It offers intelligent video tuning options.
It can repair video and re-synching audio.
It can capture a single or series of screenshots.
Advantages & Disadvantages
This section lists the following advantages and disadvantages of the video player. With that, you will know what you will expect and look forward to from the media player.
Advantages:
Users can use it for free.
It is a video player designed for first-time users.
It is compatible with playing nearly all file types.
It enables users to stream online videos without seeing ads all around.
It can capture a single or a series of multiple snapshots.
It can support up to 4k videos.
It allows users to fix the unsynched audio and subtitles in their videos.
Disadvantages:
It is not available on Windows.
It is not an entirely free video player.
There are instances when the video player reduces the video resolution.
Part 2. How to Use Elmedia Video Player
Do you want to learn how to use Elmedia Video Player? If so, we got your back. This section will present a step-by-step process of opening and playing a video using the said video player. Without further ado, proceed to the following details.
Step 1. To begin with, download and install the video player on your Mac computer. Once installed, proceed to run the program to get started.
Step 2. There are various ways to open your video file. You can use the drag-and-drop method directly onto the player section or drag the video file onto the player's window. Also, you can select File and then Open from the main menu or right-click your chosen file and press Open With.
Step 3. After that, your video file will be played on the player window. Remember to tweak or change the settings to enhance your viewing experience.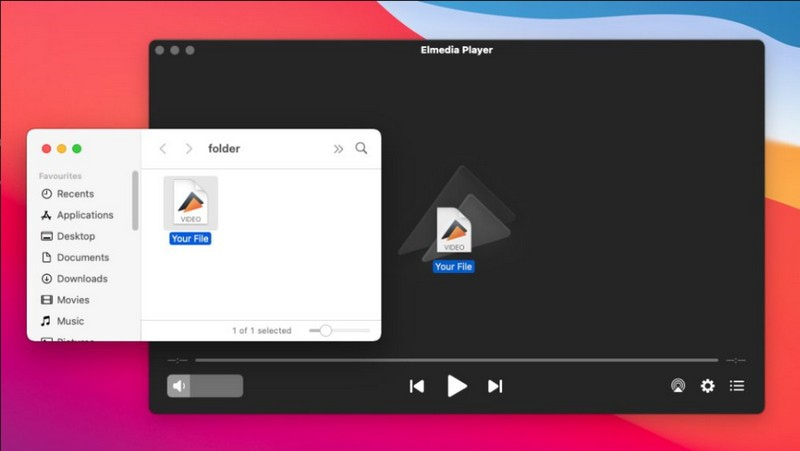 Part 3. Elmedia Video Player Windows Alternative
Unfortunately, Elmedia Video Player is not accessible or available on Windows operating systems. If you are a Windows user, consider using a compatible video player with your device. We highly recommend Vidmore Player, as it is the best Elmedia Video Player Windows alternative that can help you play your videos.
Vidmore Player is an all-around media player that can play several audio and video file formats. In addition, it can play DVDs and Blu-ray discs, folders, and ISO image files. This video player can play them while maintaining the lossless sound effect and high-definition image quality. Besides that, it offers customized controls for the menu, title, chapter, shows and hide playlist, play, stop, forward, and more. You can change the audio and video track, screen size, effects, channel, and subtitle. On top of that, you can take a snapshot while the video is playing to save your favorite scene. To learn how to use Vidmore Player, we will walk you through to that:
Step 1. First and foremost, download and install the video player on your desktop. Once done, proceed to launch the program.
Step 2. You can choose whether to Open File or Open Disc to add your content to the video player. Afterward, it will open your desktop folder and select the video file you want to play.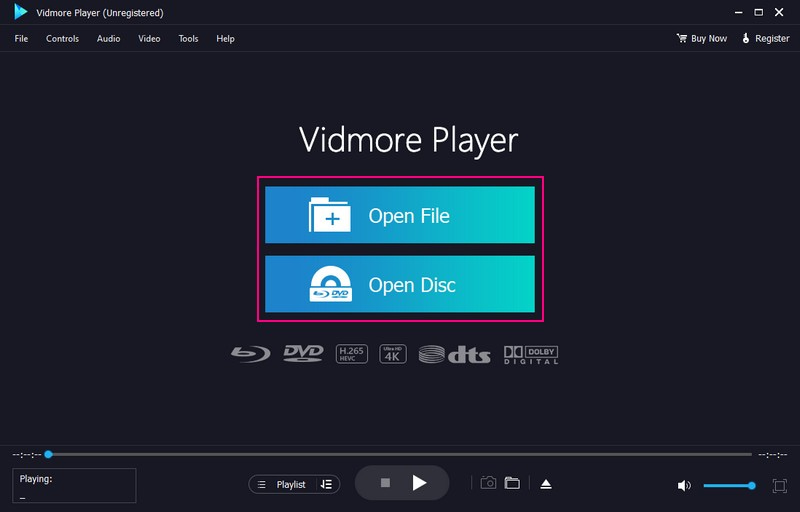 Step 3. The video will start to play automatically once imported. Head to the Controls tab to take control of the menu, title, chapter, playback, volume, and more. Move to the Audio tab to turn off the audio track or change the audio track channel to Stereo, Reverse Stereo, and more. Go to the Video tab to turn off the video or add a Subtitle. Besides that, you can select your viewing mode to Full Screen, Normal Size, Double Screen, Half Size, Fit to Screen, and more.
If you want to modify your video's appearance, go to the Tools tab, select Effects, and adjust the basic effects provided. You can adjust the Brightness, Gamma, Saturation, Contrast, and Hue according to your preference.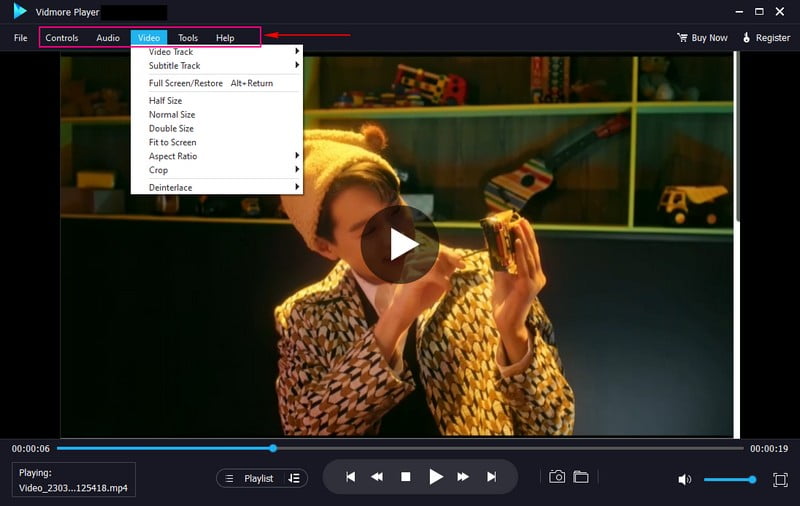 Step 4. Head to the Camera button on the lower right of your screen to take a screenshot of the video. After that, your screenshots will be saved automatically in your desktop folder.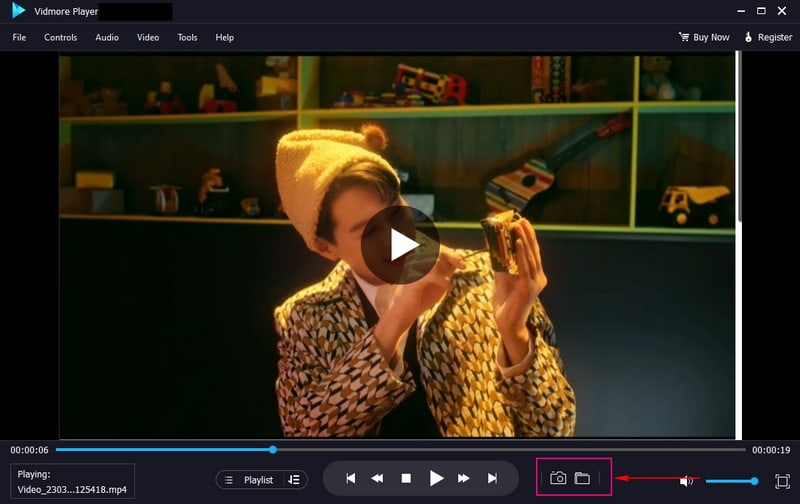 Step 5. You can use the Playing buttons below the Player Window, like Play, Stop, and more, to control your viewing experience.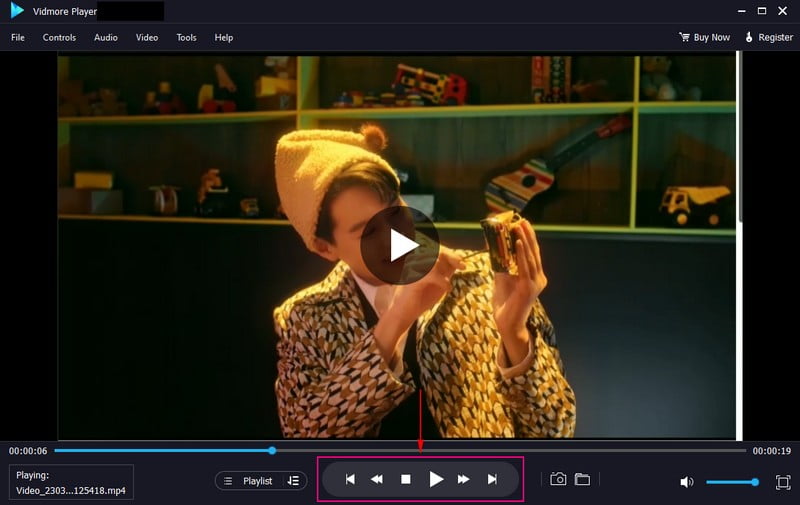 Part 4. FAQs about Elmedia Video Player
Is Elmedia better than VLC?
Elmedia Video Player has an intuitive and modern interface that allows users to use the program quickly. In contrast, VLC looks outdated and can be difficult for first-time users to navigate.
Is Elmedia Player safe to use?
Users of the video player have no security concerns. It is because of the constant updates that improve functionality and performance to ensure security features are as up-to-date. With that, Elmedia Player is always safe to use.
Is Elmedia Player free?
Elmedia Video Player has a free version and paid version. However, the free version has limited functionality, while the paid version has access to all basic and advanced functionalities.
How much does Elmedia Cost?
The personal package costs $19.95, the family package costs $39.95, and the business package costs $29.95.
Can Elmedia download Youtube?
Yes! Elmedia is a video player with a download feature allowing users to download anything from Youtube.
Conclusion
You have learned comprehensive information about Elmedia Video Player for Mac, packed with basic and advanced functionalities. However, it is not available on Windows operating systems. For that reason, you can use Vidmore Player as your media player for your Windows devices. It provides anything you need; you can take control of the options, offer advanced functionalities, and improve the viewing experience.