Top 4 RMVB Players to Watch RMVB Movies and TV Series
If you have many Asian movie and TV series downloads on your computer, you must have found those videos are in the extension of .rmvb or .rm. Unlike the popular MP4 videos that you can open on almost any player, RMVB files cannot be opened by Windows Media Player on Windows or QuickTime on Mac.
To play RMVB files, you need an RMVB player.
That's why you are coming to the right place.
We gather the top 4 RMVB player applications to open RMVB or RM videos on Windows, Mac, iPhone/iPad, and Android within simple steps.
Let's drive it right in.

Part 1. Best RMVB Player for PC and Mac – Vidmore Player
Vidmore Player is the highly recommended RMVB player software for desktop users. It is compatible with both Windows and Mac computers and you can watch the RMVB or RM movies on the computer directly. This RMVB player supports almost all formats including, RMVB, RM, MP4, MOV, MKV, M4V, AVI, WMV, WebM, MP3, FLAC, WMA, AIFF, and more, and you do not need to worry about the digital media playback.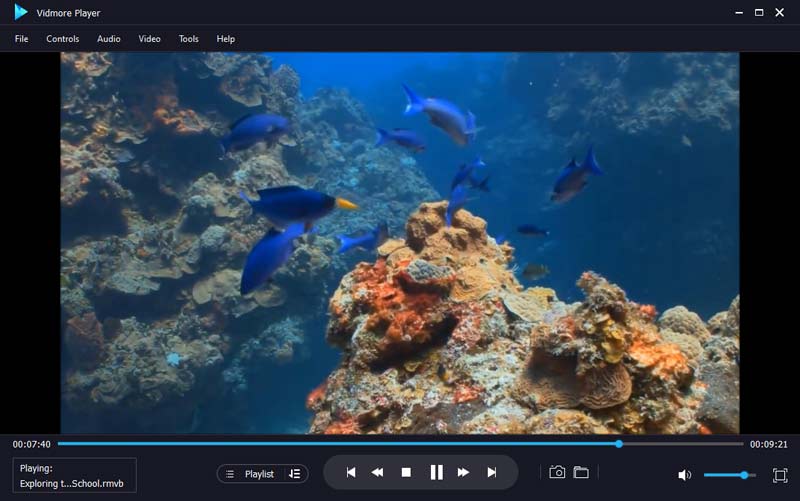 Moreover, you can benefit more from this RMVB player:
Play Blu-ray and DVD disc, folder, and ISO files on PC and Mac.
Play 4K UHD Blu-ray and digital videos on a 4K display screen.
Feasible playback control of subtitles, audio track, video effects, ratio, etc.
Create your playlist for quick navigation next time.
Play RMVB/RM Videos on PC or Mac
Step 1. Free download this RMVB player on your computer. Launch this software immediately.
Step 2. Click Open File to locate the RMVB video and select it.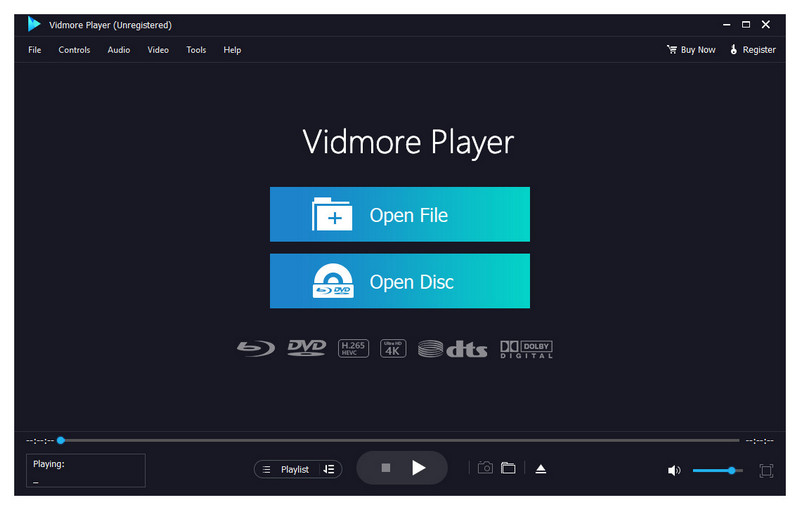 Then this player will start playing RMVB files automatically.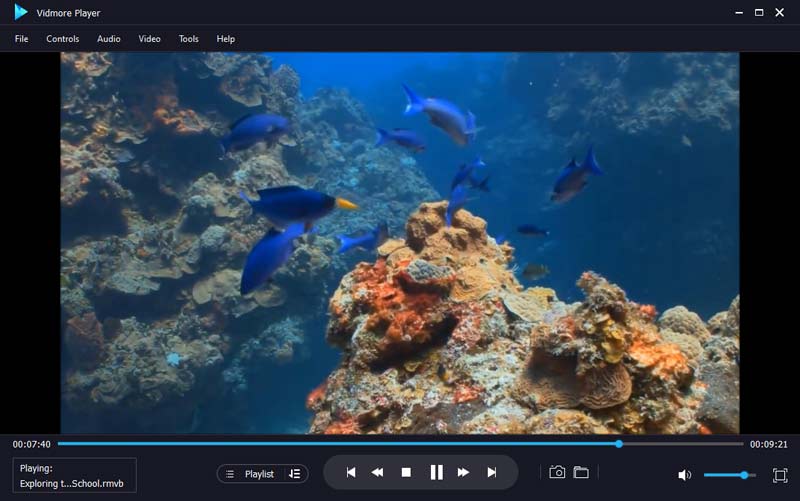 This player also supports the drag-and-drop feature, in which you can drag the RMVB video into this program for opening.
Part 2. Best RMVB Player for iOS and Android – VLC Media Player
When it comes to playing RMVB files on a phone like iPhone, Android, etc., you will need an RMVB player application for Android and iPhone accordingly.
VLC Media Player is a free media player across platforms. Not only playing RMVB files on Windows, Mac, Linux, etc., but it also opens RMVB videos for iPhone and Android. Compared with the desktop version, this application on iPhone and Android is lacking in some features like DVD ripping, video converting, streaming, etc., but it does play RMVB videos on iPhone and Android.
Play RMVB/RM Movies on iPhone or Android
Step 1. Download VLC for Mobile on iPhone or Android from the App Store or Google Play.
Step 2. Add the video from your Android phone to VLC.
For iPhone users, you need to sync the RMVB files into VLC via iTunes, WiFi or the cloud service.
Step 3. Select the video and tap it to start playing on iPhone or iPad and Android.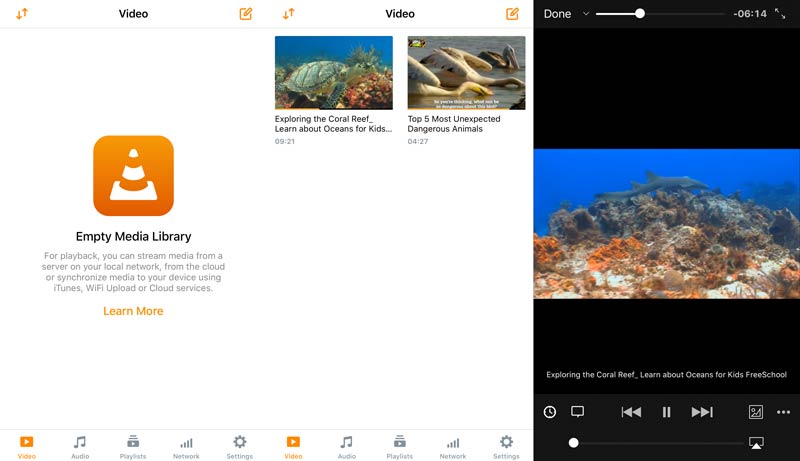 Part 3. Best RMVB Player for Windows - RealPlayer
RealPlayer is a free media player for Windows computers. It can play video, music, and photos with wide range of support of RMVB, RM, MOV, SWF, AVI, M3U, WebM, MKV, WMA, MP3, etc. This free RMVB player has both free and premium versions. In its free version, you can play RMVB and other media files. If you subscribe to it, you can play and burn DVDs, download web videos from YouTube, and remove the ads while playing RMVB videos.
Play RMVB/RM Videos on Windows
Step 1. Download this free RMVB player on a Windows computer.
Step 2. Drag and drop the RMVB movies into this software into its Library.
Step 3. Select the RMVB video that you want to play and right-click it to select Play. Or double-click the RMVB file and this player will open the RMVB file.
Part 4. Best RMVB Player Across Platforms – GOM Player
GOM Player is an open-source RMVB player for Windows, Mac, iOS, and Android users. While playing an RMVB video, it can automatically search and sync subtitles for the movie being played. What's more, it supports playing 360-degree videos in your possession. The feasible control of playback settings enables you to adjust the screen, audio tracks, and other parameters to satisfy you.
It's also noteworthy to point out that this free RMVB player also has a premium version, in which you can watch the 4K movies without ads.
Play RMVB/RM Content on Windows/Mac/iPhone/Android
Step 1. Download the free RMVB player on your device. Launch this player.
Step 2. Drag the drop the RMVB video into this player.
Then it will start playing the RMVB video immediately.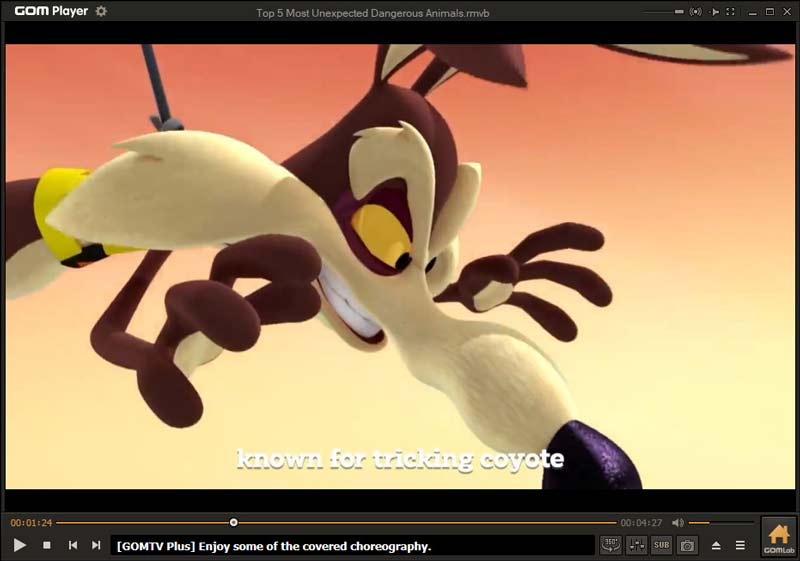 Part 5. FAQs of RMVB Player
What is an RMVB file?
RMVB (RealMedia Variable Bitrate) is a variable bitrate extension of the RealMedia multimedia digital container format developed by RealNetworks. RMVB is typically used for multimedia content stored locally. The file using this format has a file extension, .rmvb. RMVB files are popular for distributing Asian content, especially Chinese television episodes and movies.
How to play RMVB files on Windows Media Player?
Windows Media Player does not support RMVB codec natively. To play RMVB files on Windows Media Player, there are 2 ways. 1. Similar to Media Player Classic, install the RMVB codec to Windows Media Player to open the RMVB videos. 2. Get a RMVB converter to convert RMVB files into Windows Media Player supported WMV, MP4, and other formats.
What is the difference between RMVB and RM?
Both RMVB (RealMedia Variable Bitrate) and RM (RealMedia) are a multimedia container format created by RealNetworks. The stream content over the Internet via RM are in CBR (constant bitrate), and a container for VBR (variable bitrate) is RMVB. Both .rmvb and .rm are the extension of Real media file. There is no difference.
Conclusion
Lack of compatibility like MP4, RMVB may fail to be opened on computer and mobile phone. This page collects the top 4 RMVB player (VLC, Vidmore Player, GOM Player, and RealPlayer), which can open RMVB and RM movies directly without installing the codec. Besides playing RMVB videos, those media players also can play other media files.
Which RMVB player is the best one for you?
Have we missed any other RMVB players that you regard as excellent?
Leave your comments and let us know.