Top 5 GIF Players to View GIFs on Computer, Android and iPhone
During using on various social apps, you may often send and receive all types of emojis. You should know that, most of these emojis are actually GIF files. Moreover, you can get lots of funny animated GIFs from YouTube and other sites. Are you facing the situation that your default player on computer or portable device can't open some GIFs?
Here comes the question, what is the best GIF player for computer, Android phone and iPhone?

Here in this post, we make a list of 5 best GIF players including free ones for you to view GIF files on your Windows 10/8/7 PC, Mac, iPhone and Android phone. If your player can only open the static image instead of the complete GIF animation, you can pick your preferred GIF player from them.
Part 1. Best GIF Player for Computer - Vidmore Player
Vidmore Player is an all-featured media file player which can help you open various GIF files with ease. More than just a GIF player, it enables you to view media files in any popular video and audio format including MP4, MOV, MKV, AVI, FLV, WMV, MXF, WebM, VOB, MP3, AAC, M4A, WAV, FLAC and more. This free GIF player is compatible with both Windows 10, Windows 8.1, Windows 7 and macOS computers.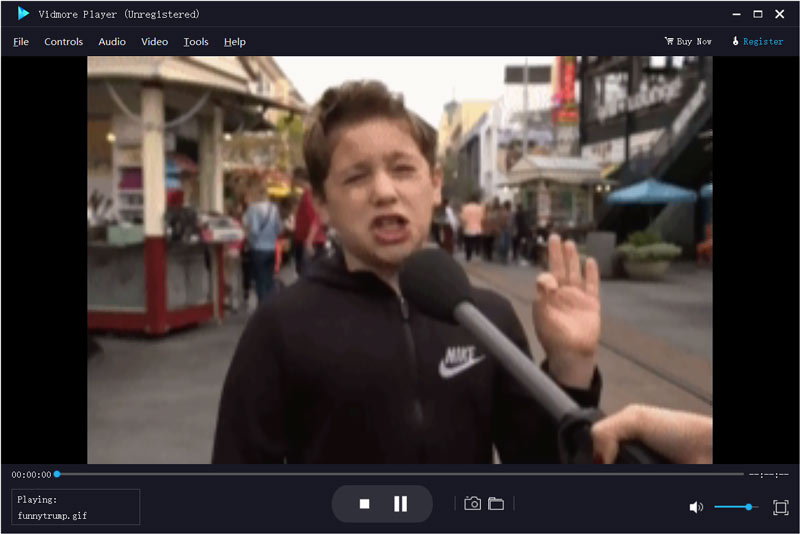 In fact, Vidmore Player is mainly designed to play Blu-rays, DVDs and 4K videos with high quality. What's more, it is equipped with the advanced audio decoding technologies like Dolby, DTS, AAC, TrueHD, and more. This multimedia player has the capability to play all your media files. The GIF playing feature is totally free. Whether you want to view GIFs on computer, or open other videos and audios, you can rely on it. To play a GIF file with this it, you can simply click the Open File button and choose your GIF for the playback.
Part 2. Default GIF Player for Mac - QuickTime Player
QuickTime Player is the official media player for Mac users which can play various media files including GIFs. This Mac GIF player is able to open any GIF files with ease. It also carries some basic editing, conversion and screen recording features.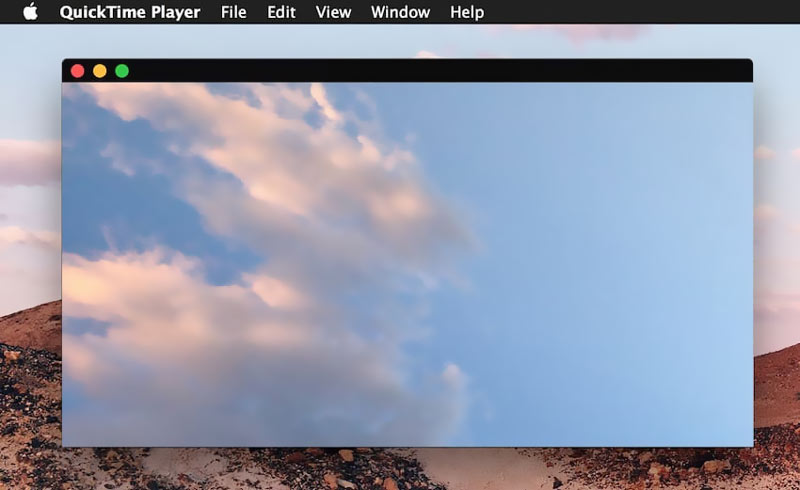 To view a GIF on Mac, you can open QuickTime Player and then select your GIF file to start the playing. QuickTime also offers a Windows version to play GIFs on a Windows PC.
Part 3. Free Online GIF Player - Onlineimagetools
Onlineimagetools is a good choice if you don't want to install any third-party player on your computer. It provides you with a Free online browser-based GIF animation player to directly view GIF files. This online GIF player enables you to play a GIF file frame by frame.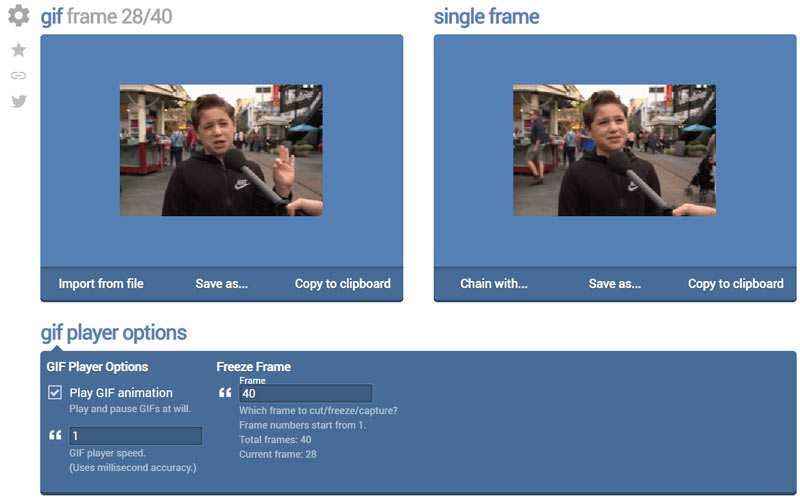 One cool feature of this free GIF player is that, it allows you to GIF animation playing speed based on your need. In addition, you can freely adjust the suitable frame to cut, freeze or capture. When you have the need to play your GIF file, you can simply drag and drop it for the playing.
Part 4. GIF Player for Android Phone - OmniGIF
OmniGIF is one of the most popular Android GIF players. It can also work as a good GIF maker and editor. This GIF player offers a convenient way to manage various GIFs, video clips and photos. It also allows you to view APNG (animated PNG) and animated WEBP files on your Android phone. OmniGIF is designed with a hide feature to hide some private files secretly from other apps.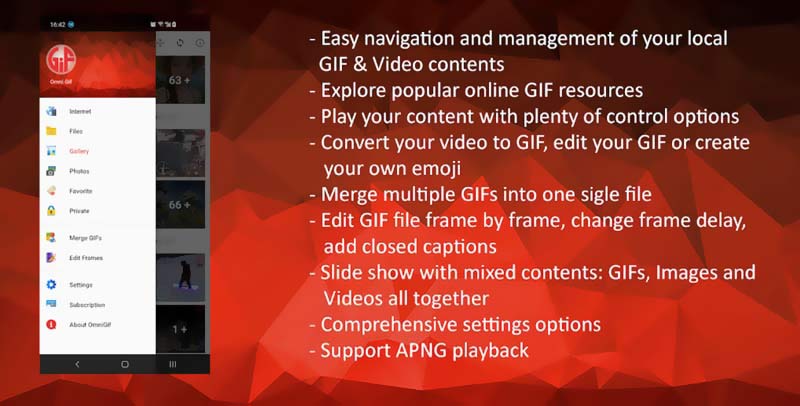 For the GIF playback, this GIF player enables you to control the playing speed, choose frame by frame playing, zoom in and out, and more. Moreover, it can help you edit your GIFs and create new GIFs from your video clip with ease. OmniGIF also carries some other features, you can free install it from Google Play Store and have a try.
Part 5. GIF Player for iPhone and iPad - GIF Viewer
GIF Viewer is a popular GIF player for iOS users. You can free install it from App Store to your iPhone or iPad. It offers a simple way to play, share and organize all your GIF files stored in the Photos app. If you want to view GIF animations from other sources, you can open this GIF player and tap the + button for the GIF playback.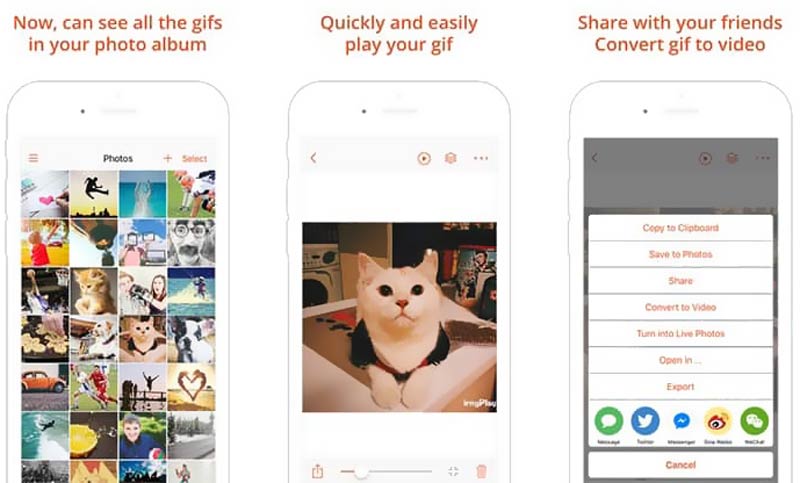 This iOS GIF player has the capability to view GIFs from local storage, clipboard, copied Twitter link, iCloud Drive and Dropbox. Besides the GIF playing feature, it also allows you to convert GIF to video. After converting, you can directly share the converted video to Instagram or Facebook.
Part 6. FAQs of GIF Player
Question 1. How to capture screen to GIF?
If you want to capture your computer screen and make your own GIFs, you can rely on the popular GIF screen recording tool. They can help you record anything displayed on computer screen and export it as a GIF file.
Question 2. Where to download animated GIFs?
When you want to download some funny GIFs online, you can go to popular GIF download site like Giphy, GIFbin, Reaction GIFs, Tumblr or Imgflip.
Question 3. How to free convert video to GIF?
To convert your video clip to a GIF file, you can use the popular Free Online Video Converter. This video to GIF converter can help you convert video in any popular format to GIF with ease.
Conclusion
GIF offers an easy way to express what you mean, integrate animation, highlight a point, illustrate something, and more. Here in this post, you can get 5 best GIF players to view your GIF files on computer and portable iOS/Android devices. If you have any better GIF player recommendation, please share it in the comment with other readers.