Change AAC to M4R Using Top 4 Audio Converting Programs
There will be instances that you want to create a ringtone for your Apple device. Probably, you will think of purchasing ringtones from iTunes. Technically speaking, you need to shell out $1.98-99 cents for every change you make on top of the iTunes download. Lucky for you, you will be able to convert your AAC files to M4R ringtones using the appropriate software.
Therefore, if you have AAC files saved on your iPhone you can immediately turn them into M4R ringtones. On that note, we put together some of the practical yet effective AAC to M4R converters. Read the rest of the article and get more information.

Part 1. AAC to M4A Converters for Desktop
1. Vidmore Video Converter
One of the professional tools to help you get this job done is Vidmore Video Converter. This is specially developed to convert audio as well as video files to any of your preferred formats. The conversion software supports both single and batch mode which is useful when you need to convert multiple audio files simultaneously. Moreover, it grants you access to its music editor where you can cut, trim, or merge several songs if you desire. Otherwise speaking, it is equipped with features and functionalities designed to meet the diverse needs of users. Find out how to convert AAC to M4R through the following steps below.
Step 1. Download the AAC to M4R Converter
Before you can proceed to convert files, you need first to download the app. Click any of the Free Download buttons underneath. You may choose to convert on your Windows and Mac as the tool is compatible with both OS. Install and launch the app afterwards.
Step 2. Load AAC file to the program
At this point, upload the AAC file that you like to convert. To do this, press the Spacebar on your computer keyboard or simply click the Plus sign button in the middle of the interface. It will open the folder on your computer where you can locate your target file. Select the AAC file and click the Open button.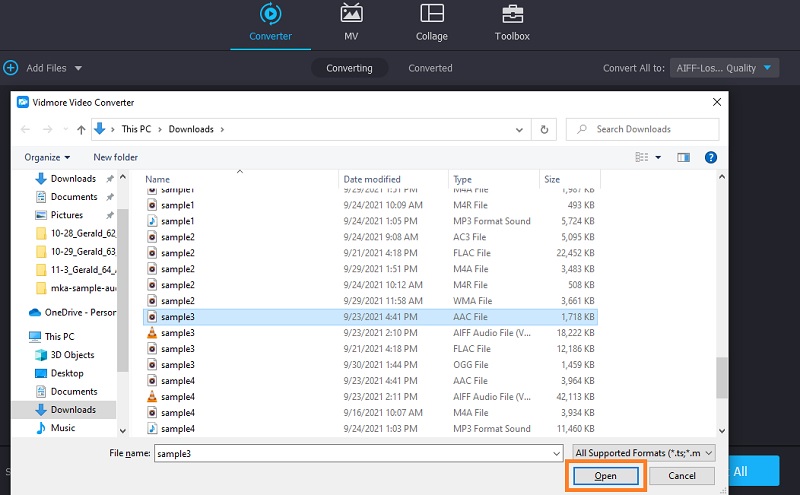 Step 3. Select an output format
This time, unfold the Profile menu located at the upper right portion. Now head over to the Audio tab and choose the appropriate format from the selection on the left section. For this instance, select M4R or locate the format using the search bar. Next, select from the Presets available.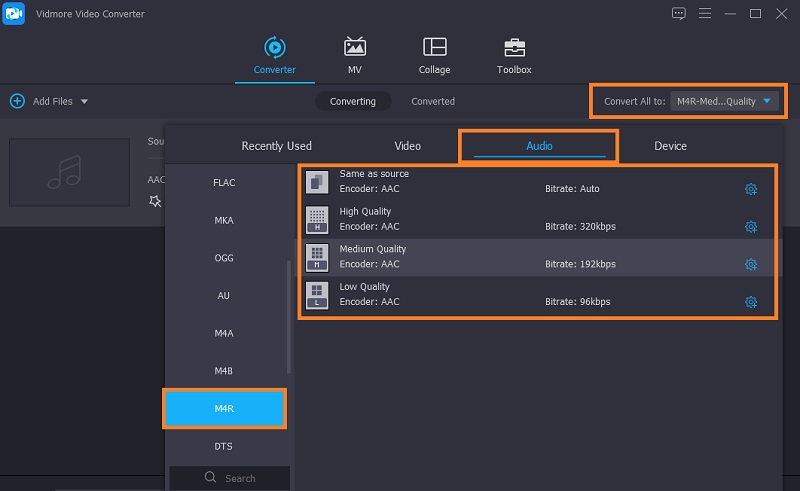 Step 4. Initialize the conversion process
Once you are done selecting the output format, close the Profile menu. Set a file destination by and then hit the Convert All button and the conversion process will commence.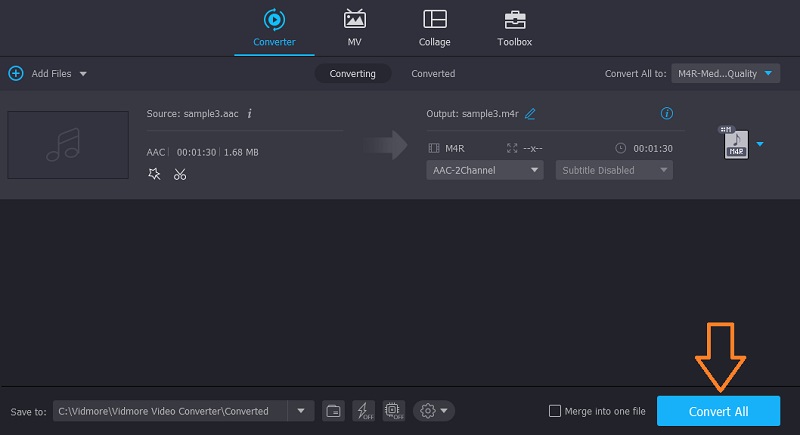 2. iTunes
Another tool that you can use to convert AAC to M4R ringtone in iTunes. True enough, this tool is a useful program as it does not only allow you to stream media files but some workarounds with your audio file. You can create ringtones and convert AAC to M4R on iTunes so you don't need to install special software on your Mac. Aside from that, this also lets you customize the output to customize the stereo sample rate, channels, and bit rate as you like.
Pros
It comes with a Windows counterpart.
Media player and audio converter at the same time.
Customizable output settings.
Cons
Very few output formats.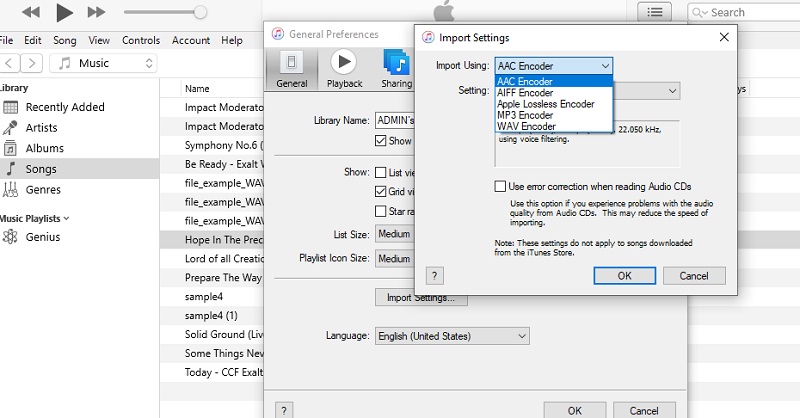 3. MediaMonkey
MediaMonkey is a multifaceted media converter that is affiliated with useful features. It can handle small and large media collections, audio CD ripping, find music online, download podcasts and so much more. As a matter of fact, the app is capable of arranging audio files in an organized manner not to mention it has an intuitive and modern-designed interface. Apart from that, it also grants you access to its tagging capabilities.
Pros
Adjust volume sound and boost sound with equalizer.
Comes with CD audio ripping capability.
Very intuitive user interface.
Cons
Does not have a Macintosh counterpart.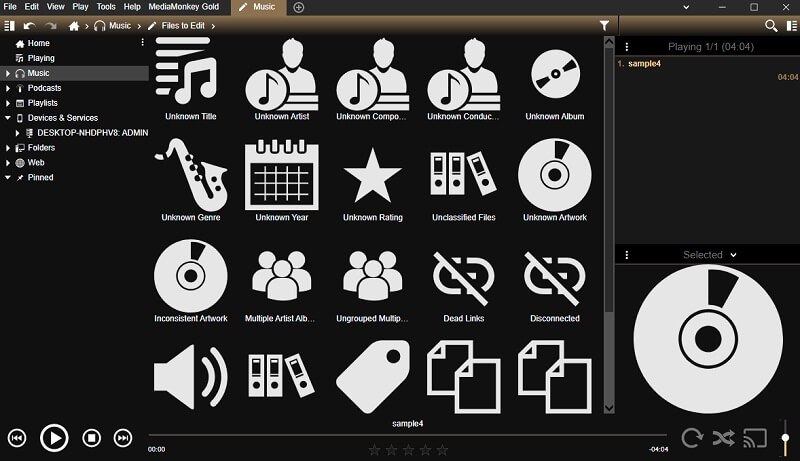 Part 2. Online AAC to M4R Converter
If you are not willing to download a program or an AAC to M4R converter free, Vidmore Free Video Converter is your way to go. Albeit being an online converter, the tool has a fast and stable conversion offering support to almost all major audio formats. In addition, the tool supports batch mode conversion without any restriction to the number of converts as well as the type of audio. If you desire, there are output settings that users can modify. That being said, here's how to change AAC to M4R.
Step 1. Open a browser that you like using on your computer and access its official website. From the main page, click on the Add files to convert button to download the launcher. Afterward, install it on your computer system.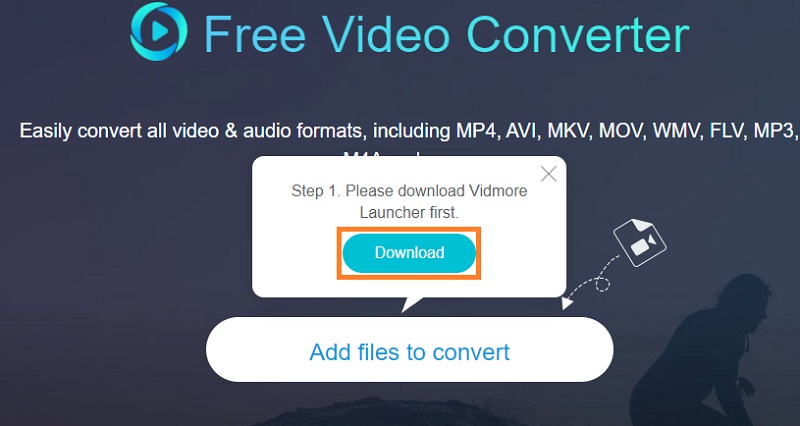 Step 2. Next, it will open the File Explorer. Select the AAC file to convert and click the Open button from the folder to finally upload the file into the program.
Step 3. After loading the file, click on the Music icon to open the Profile menu for the audio. Now, tick on the M4R radio button to select it as the output format. Hit the Convert button to initialize the conversion procedure.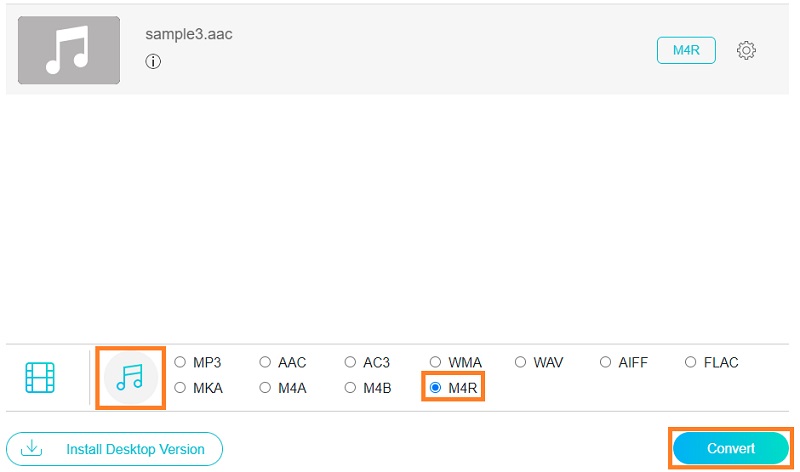 Part 3. FAQs AAC to M4R
How can I unprotect iTunes songs?
You can unprotect iTunes songs by converting them to audio files like MP3 and OGG audio files. For this, you may use the above-mentioned tools to achieve it.
What format does Apple use for its ringtones?
Apple devices, mainly iPhone, use M4R as its ringtone format which strictly uses Advanced Audio Coding or AAC as its default compression scheme.
Can I convert AAC to MP3?
Yes. You can do this on your Mac and Windows PC using iTunes. This lets you convert your music files to MP3, AIFF, WAV, and other Apple-supported formats.
Conclusion
Now you have a clear knowledge about the best AAC to M4R converters. It's quite obvious that we have listed two methods that include offline and online. It's up to your preference and needs now which method is the best fit for your situation.