Guide to Convert AC3 to AIFF Using the Excellent Programs
AC3 stands for Audio Coding 3 that is developed by Dolby Laboratories used as the standard soundtrack for use on DVD, Blu-ray, game consoles, and HDTV programming. This means AC3 files can only be played by using a CD player. AIFF format on the other hand is developed by Apple. They are often seen on Mac systems.
If you need to play them on your Mac device, you may need to plug in an external CD player to listen to your AC3 files. There is a simple way for you to optimize your AC3 files for performance on a Mac system. Ideally, you can re-format from AC3 to AIFF using an appropriate program. Below are some of the great programs to help you achieve this job.

Part 1. General Knowledge about AC3 and AIFF
In this section, you will learn some facts about AC3 and AIFF. This also includes features of each audio format. If you are wondering about these formats, you will certainly find the information below helpful.
What is an AC3 file?
AC3 is widely accepted on DVD media and DTV. It is a highly compressed format that is small in file size while the sound effect and quality are faithfully preserved as the original DVD. In actual fact, most HDTVs also take it as the standard audio format as it produces vivid and true-to-like sound in HD signal television. Quality-wise, AC3 can produce 6-channel surround sound yet only supports 5.1 channels and is limited to 448kbps when being played to audio CDs.
What is an AIFF file?
AIFF is also an audio file format used in Macintosh OS that adopts a lossless compression technology. It is short for Audio Interchange File Format files developed by Apple in 1988. Since it uses a lossless compression tech, you can expect high quality yet it takes up more space significantly. On the other hand, AIFF comes with a compressed counterpart also known as AIFC. Hence, if you need to optimize your AC3 files for playing in Mac systems, then AIFF is the ideal format. Below we will tackle the absolute solutions to help you convert AC3 to AIFF.
Part 2. Guide to Convert AC3 to AIFF Easily
1. Vidmore Video Converter
Pitched by most online users for its converting and extra helpful affiliated features, you can certainly expect more from Vidmore Video Converter. The tool is capable of transforming AC3 to AIFF in a fast and easy manner without sacrificing quality. Apart from AIFF, you can change it to other formats including WMA, AAC, WAV, FLAC, OGG, and many other popular formats. The best part is, this enables you to change the parameters of an audio file. That includes customizing the sample rate, bit rate, channels, etc. On top of that, converting AC3 to AIFF on Mac and Windows can be achieved using this tool. With much that it can offer, Vidmore Video Converter is far from sufficient to utilize.
Step 1. Install the AC3 to AIFF Converter
First and foremost, choose the OS that your computer runs and click its corresponding Free Download button presented below. Install the program and run it on your computer.
Step 2. Load an AC3 file
On the running interface of the tool, click on the Plus sign button to launch the File Explorer. Locate and select your target media file and hit the Open button to successfully upload.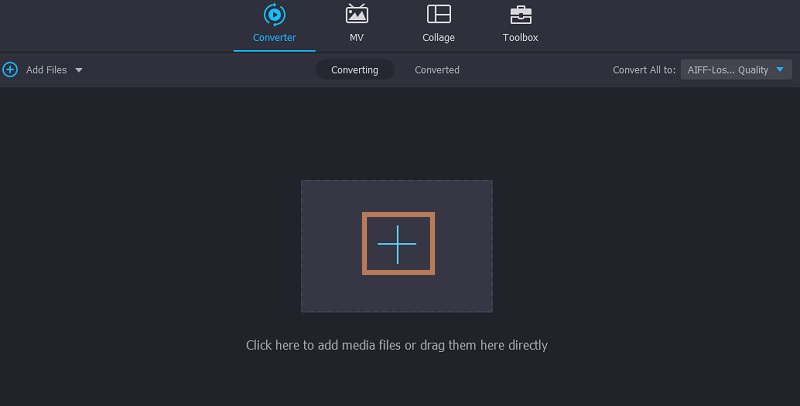 Step 3. Choose an output format
This time, choose an output format by opening the Profile menu. Forward to the Audio tab and look for the AIFF format on the left section of the menu.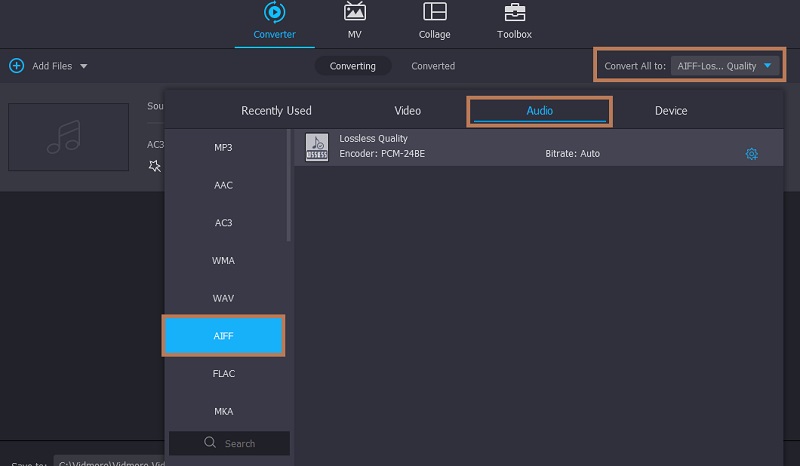 Step 4. Convert AC3 to AIFF
Once done with the configurations, select a destination folder where you want to save the file. Then click the Convert All button at the bottom right corner to start the conversion process.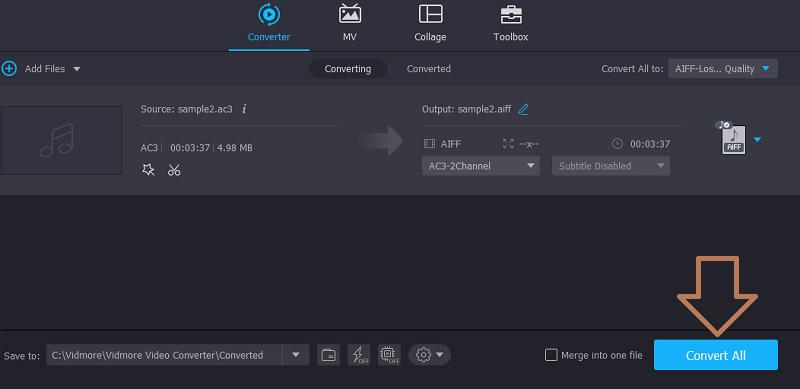 2. Vidmore Free Video Converter
Another program that is capable of AC3 to AIFF transformation is a web-based converting tool named Vidmore Free Video Converter. Despite being an online program, it is packed with some powerful features. With it, you will be able to convert either in a single or batch mode. Hence, you can process multiple files at the same time. Regardless of the number and the length of the audio file, the tool can work it out for you. Similarly, it features parameter configuration in case you desire to change the audio profile according to your preferences. To cut the chase, here are the steps you need to follow to convert AC3 to AIFF online.
Step 1. Download and install the Launcher
First off, open a web browser on your computer and go to the official website of the program. Tick on the Add files to convert button and click Download from the pop-up. Install the launcher afterwards.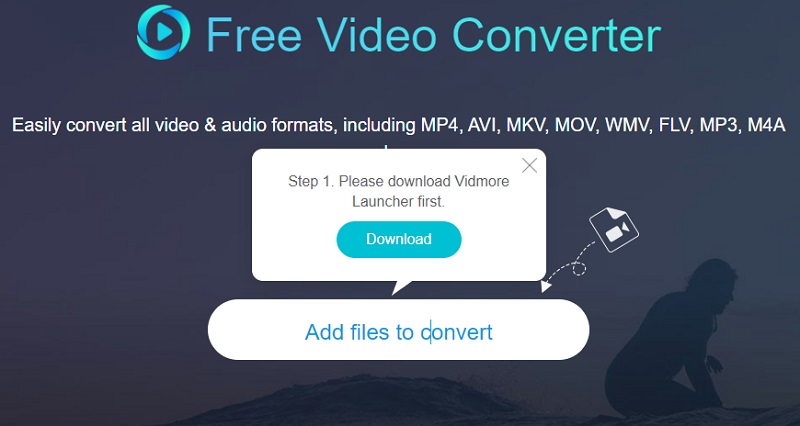 Step 2. Add an AC3 file into the program
The launcher should start and it will open the folder where you can locate the AC3 file you are trying to convert.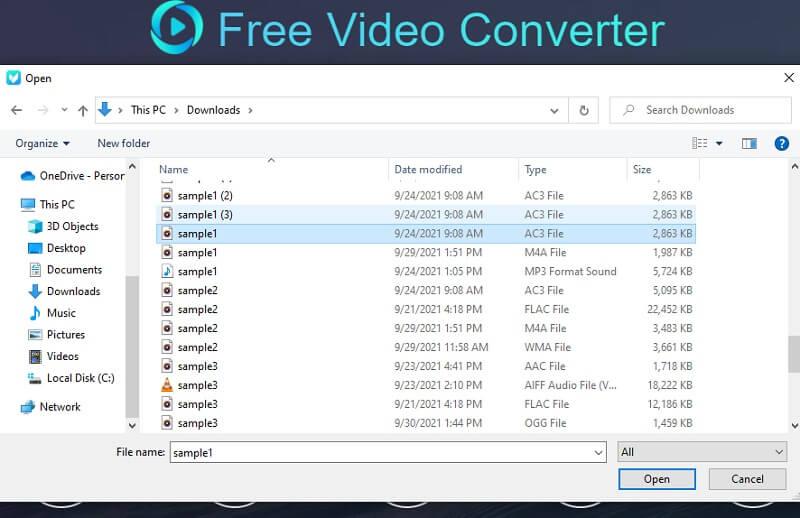 Step 3. Initialize the conversion
After uploading the file, go to the Music section by clicking on the notes icon. Then tick on the radio button for AIFF. Once done, click the Convert button, select a file destination and then start the conversion process.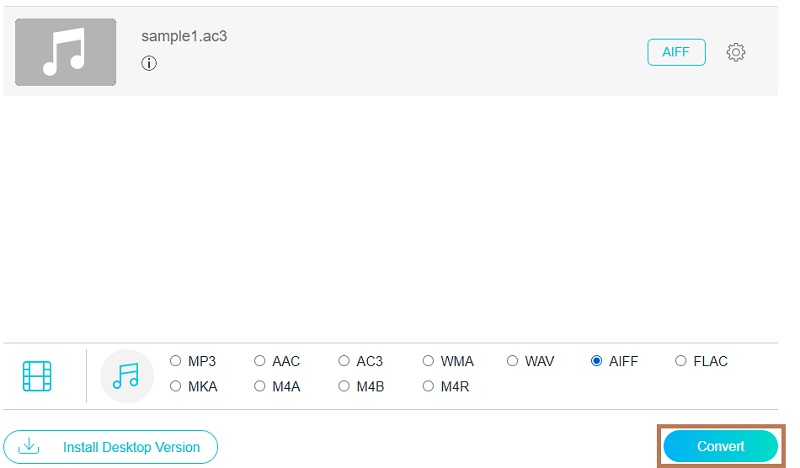 Part 3. Which Method is Better?
Choosing the best method can be difficult when you only learn about them in a nutshell. To help you further learn about them, we will have a table illustration that will allow you to compare them better with each other.
Converter Software
Platform
Best For
Features
Vidmore Video Converter
Windows and Mac
Best for converting audio/video files
– Video and audio editing
– Metadata editor
– Edit parameters
Vidmore Free Video Converter
Web, Windows, and Mac
Best for converting audio/video files
– Edit audio profiles
– Single and batch mode conversion
The merits of a desktop program which is Vidmore Video Converter is that it is embedded with GPU-accelerated conversion capability. This is to simplify the conversion process. Also, there are more available formats compared to the online program introduced in this post. Yet if you don't want to download and install a program you can opt for the Vidmore Free Video Converter. This lets you take advantage of all the features without registration and service fees at all.
Part 4. FAQs of AC3 to AIFF
How can I play an AC3 file?
If you can't find an application that will enable you to play AC3 files, you can refer to the following programs: Windows Media Player, QuickTime, VLC, etc.
How can I play an AIFF file?
AIFF files can be opened with iTunes, Windows Media Player, QuickTime, and other multi-format players. You can also open AIFF with the mentioned Apple programs.
Are AIFF and AIFC the same?
Audios with .aiff file extension are uncompressed audio formats that are commonly played on Mac OS. On the other hand, the AIFC format is the compressed variant of the AIFF file.
Conclusion
One reason to convert AC3 to AIFF is to help you play your AC3 files on your Mac OS computer. That's easy when you have the right converting program. Hence, we reviewed the best and practical tools that you can use immediately.