The Best WAV to AIFF Converter Offline to Help Lighten Your Work
If you love listening to different tracks and want to play it on your high-end device like Mac and iOS, it will not be possible because some tracks are on a WAV form, which have limitations especially when it is being used on a device that is not windows. That is why you will be needing a tool that can help you to convert your WAV to AIFF.
To help you lighten your mood, no need to look for the most suitable application that you can install on your device because we have gathered WAV to AIFF converter for free! See the list of information below.

Part 1. How to Convert WAV to AIFF Offline
Probably you are taking time on the internet looking for a WAV to AIFF converter that suits your knowledge, you don't have to do that anymore because we already gathered these most amazing tools that can help you to convert your most loved file. In the section of this discussion, we will give further information along with the steps of these offline tools. Therefore, without further ado, here are the most recommended applications to convert WAV to AIFF.
1. Vidmore Video Converter
The first on the list of the most recommended offline tools is Vidmore Video Converter. It is a multi-purpose application as you can convert both audio and video formats. Aside from that, its conversion process is just like a blink of an eye! Vidmore has a very user-friendly interface that even those beginners will be able to understand its features. It offers a free trial before you decide on purchasing it. And to better understand how this amazing application works in converting your file, here is the simple step below.
Step 1: Download the Application
To begin with, download the Vidmore Video Converter on your device. After that, install it and launch on your system.
Step 2: Add a WAV File
Once the application is running, tick the Add Files or the Plus icon on the main interface of the app and then select the file that you require.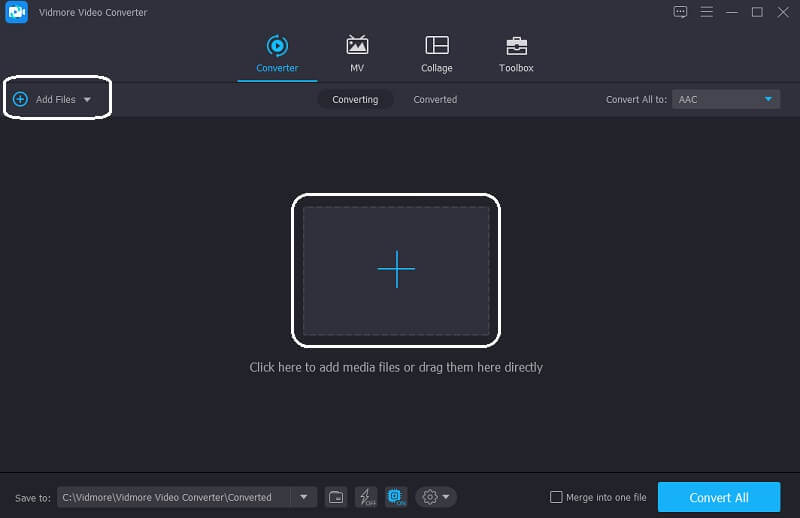 Step 3: Choose a Format
After adding your most loved audio file, go to the profile that is located at the right side of the video and then click the Audio section. Select AIFF from the options given.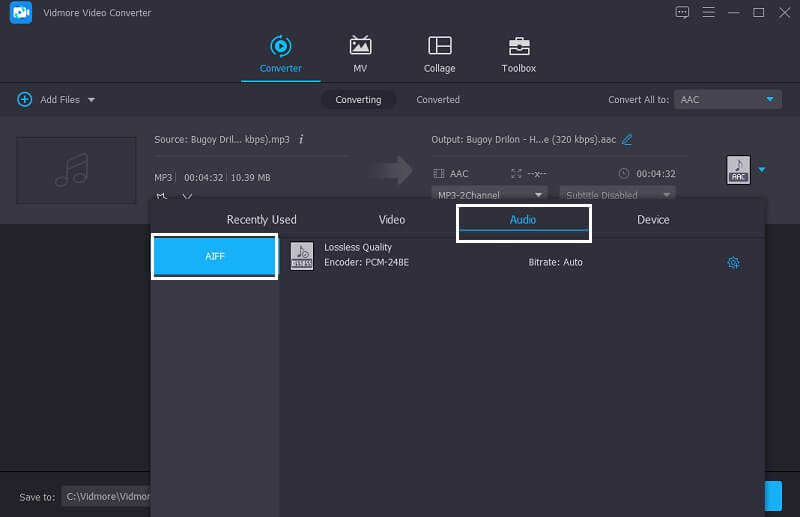 Step 4: Save the Converted File
After applying all the changes, tick the Convert All tab to successfully proceed to the conversion of the audio file. And that's all!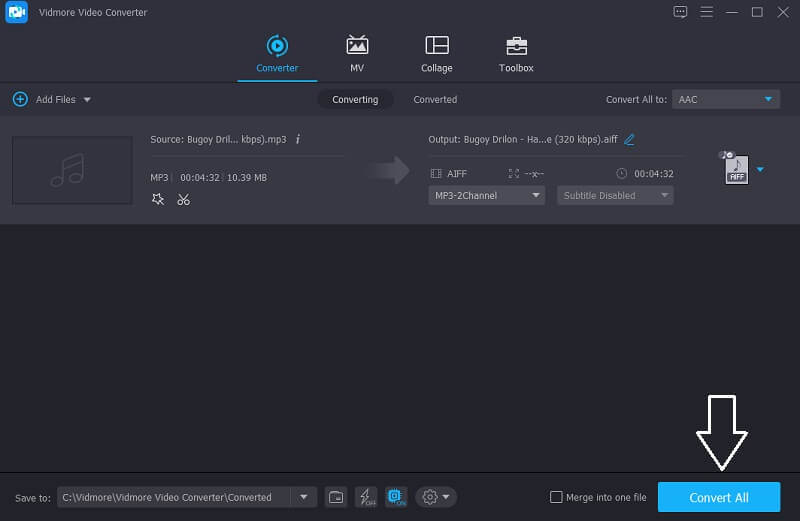 2. iTunes
Another tool that you can convert a WAV to AIFF is through the help of iTunes. This application also works for Mac and Windows. Nothing to worry about the conversion process because it also doesn't take much time. So how to convert WAV to AIFF in iTunes? Here is the information listed below.
Step 1: To begin converting on iTunes, tick the Preferences option. After the Preference section was opened, there are choices that will appear, click the General window.
Step 2: After you hit the General window, click the Import Settings tab and on the menu named Import Using, choose the format that you require your file to be converted to.
Step 3: After that, go to the File section and then click the Convert tab and it will give you create a version format of your desired file.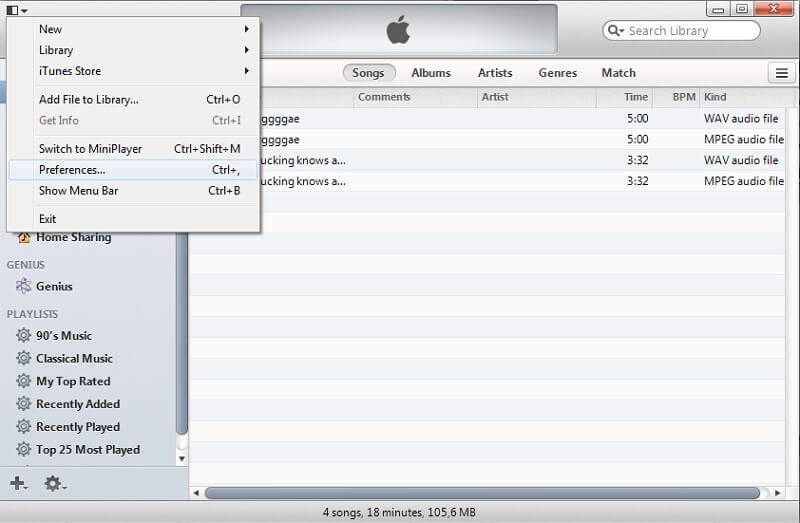 3. Wondershare Uniconverter
If you are looking for a WAV to AIFF converter, you can also consider using Wondershare Uniconverter. This program allows you to convert your audio and video files to whatever format that you require. Another thing that is good in this application is it converts fast and has a hassle free process. And to give you more information about this helpful tool, here is the list of steps below.
Step 1: Install the application on your system and then launch it on your system. Click the Converter panel on the left side and then tick the Plus sign at the main interface.
Step 2: After you added a file, click the dropdown menu on the Output Format panel then choose the format that you require.
Step 3: Once you are done applying all the changes, click the Start All tab to successfully convert your files. Then click the Finished section to check the converted audio file.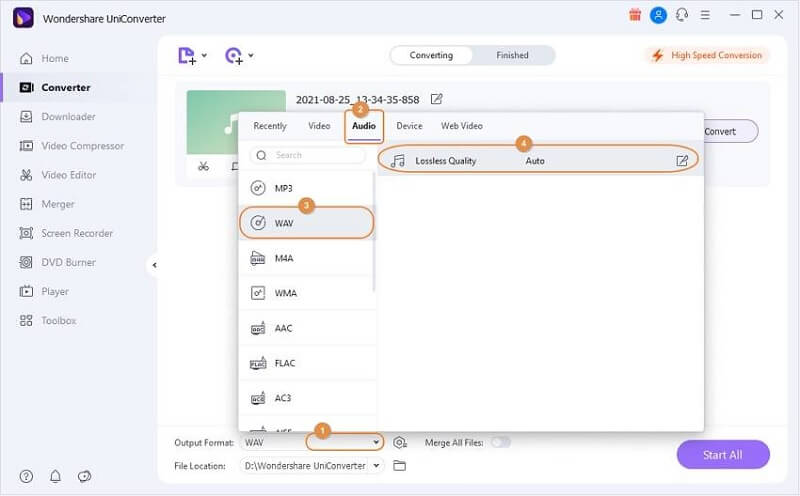 Part 2. How to Convert WAV to AIFF Online
If you don't have enough storage on your device and you need to convert a WAV to AIFF, all you need is an online tool. Therefore, we highly recommend Vidmore Free Video Converter. It is a very user-friendly web-based app because it was programmed not just for professionals but also for those who's not used to software. Aside from that, it offers a different format that you require. So how to convert a WAV file to AIFF? Here is an easy step listed below.
Step 1: On your browser search for Vidmore Free Video Converter then hit the Add Files to Convert and click the Download button to get the launcher of the app.
Step 2: After that, it will open a folder containing your files then choose your WAV file and upload it.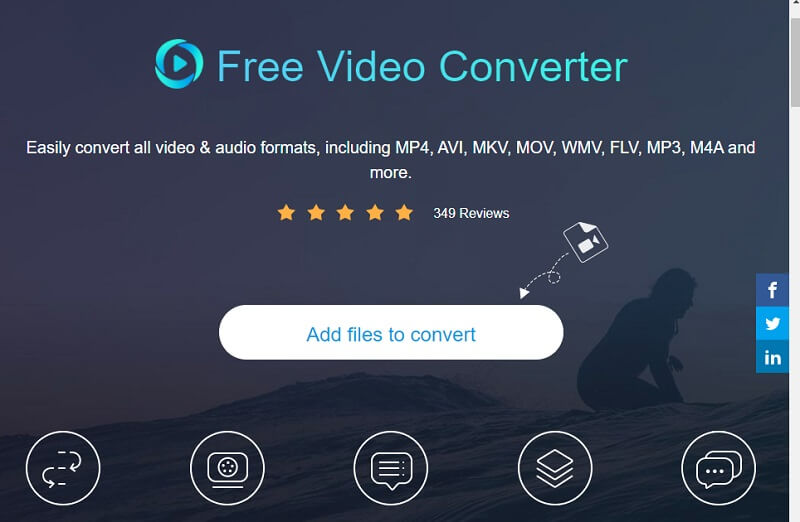 Step 3: Click the Music icon and choose AIFF format on the choices then click the Convert tab to successfully convert the file.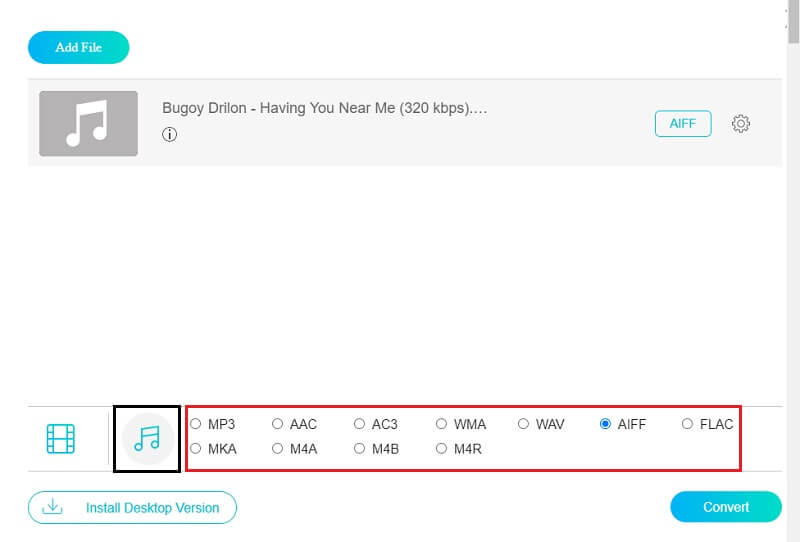 Step 4: Once you click the Convert button, it will show another folder for you to select the file's location, then click the Select Folder and it will be converted successfully.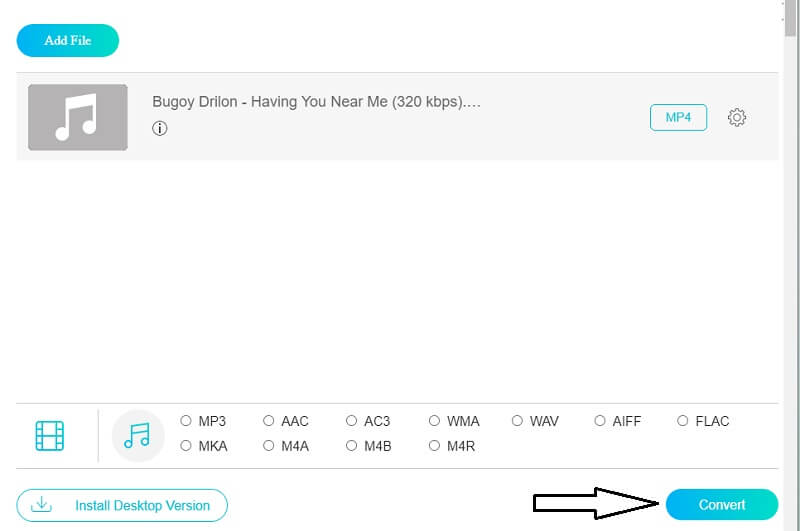 Part 3. WAV vs. AIFF
When it comes to quality, WAV and AIFF don't differ from each other. Actually, they have more similarities than differences. Some of their similarities are, they both support 16 and 24 bit audio. And they both support operating systems and they also both use pulse-code encoding.
On the other hand, the difference between the two are, WAV is the native uncompressed format for Windows. AIFF is the uncompressed audio format for Mac. And AIFF allows metadata while WAV doesn't. Lastly, WAV file gain more users because it was supported by Windows which is available for different devices, while AIFF only stayed in its dedicated community.
Part 4. FAQs on How to Convert WAV to AIFF
How long is the conversion process in Vidmore?
Vidmore converts fast no matter how large the file size.
What is the conversion limit of Vidmore Free Video Converter?
We know that web-based apps have limitations, and the good thing about Vidmore is it converts without file size limitation.
Which is better to use, WAV or AIFF?
If you are into your device's quality, it is better to use WAV.
Conclusion
If you have a high-end device and you want to convert a file to it without quality loss, better convert it to AIFF. And in the above post, you can try all the suggested WAV to AIFF converter online and offline to help you in the conversion of your most favourite files.