Best AC3 to WAV Converters Online and Offline for Windows and Mac
AC3 or Audio Codec 3 is an audio format created by Dolby. It is without a doubt that this file format minimizes the overall size allowing you to store more songs or music. Meanwhile, not all applications, digital, and portable players recognize this format. This is why it appeals to many users that AC3 to WAV converter free is necessary. For this very reason, we researched for the best media converters that are right-fit this kind of need. Learn more about them after the jump.
Part 1. How to Convert AC3 to WAV Free Online
1. Vidmore Free Video Converter
Vidmore Free Video Converter is an incredibly useful program to assist users in their conversion needs. It offers to convert files from and to different file formats including AC3, MP3, AAC, WAV, and more for audio files. In addition, you may export your videos to other formats such as MP4, MOV, FLV, WEBM, and other video formats. Aside from that, this comes with the customization option for output settings where you can configure the bitrate, sample rate, and channel according to your liking. Being a web-based tool, you just need an internet connection for it to work and access all its features. With that being said, here's how to use this AC3 to WAV converter online app.
Step 1. Install the launcher
First off, visit the official website of Vidmore Free Video Converter. From the main page, click the Add Files to convert button and run a quick installation of the launcher.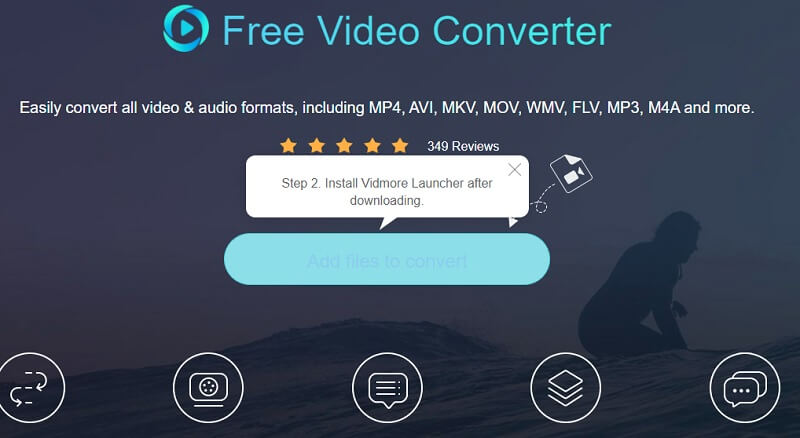 Step 2. Add an AC3 file
Once the launcher is activated, click again on the same button to upload your target AC3 file. Then you will be presented with various video and audio formats from the conversion panel.
Step 3. Select WAV as the output format
Once done, click the Music icon to see the available formats and then choose WAV by ticking on its radio button.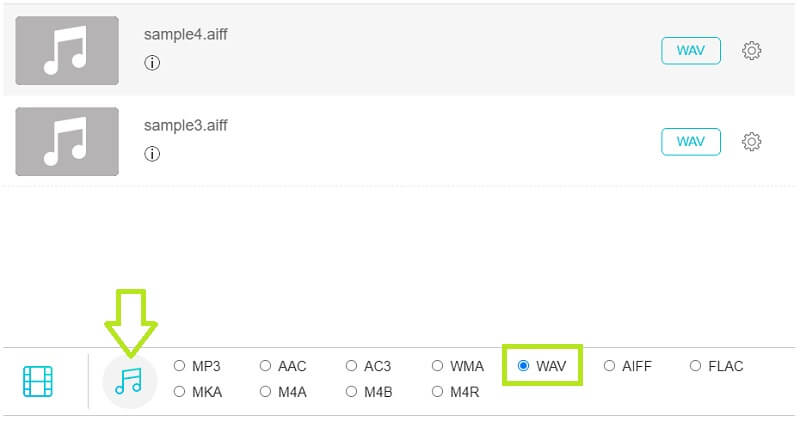 Step 4. Start converting file
To begin the conversion, set an output folder first and click the Convert button once you are ready. After a short while, the audio playback should be ready for you to listen to the audio file you converted.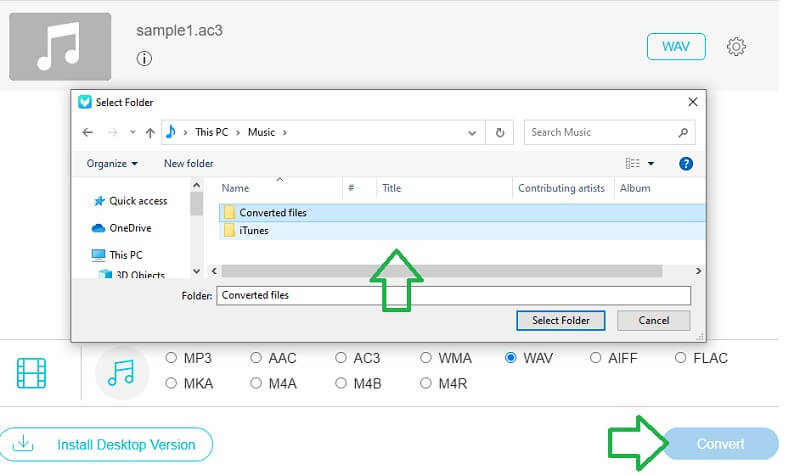 2. Convertio
Another tool that can assist you in converting different file formats in a convenient and fast manner is Convertio. There are different conversion tools that can cater to every user's needs. It integrates document, ebook, image, archive, presentation, video, vector and CAD, and font conversions. Equally important, this also serves as a great convert AC3 to WAV freeware tool since you don't need to install any extra program. Every operation happens online through the help of a browser and access to the internet. See the steps below to learn how to use this AC3 to WAV converter online.
Step 1. Using any web browser, navigate to the website of Convertio and log on to its site.
Step 2. Click the Choose Files button to add your chosen AC3 file from your local folder. You may also choose to import from Dropbox, Drive, or via the link of the AC3 file. Select WAV as output format.
Step 3. Hit the Convert button and wait for the AC3 file to be converted. Once done, hit the Download button to save the file. That's how easy this AC3 to WAV converter free program works.

Part 2. How to Convert AC3 to WAV on Desktop
1. Vidmore Video Converter
If the above solutions do not suffice or did not meet your expectations, desktop programs should serve you well. Vidmore Video Converter is an excellent program that also allows you to convert a high speed offering support to different file formats such as AC3, MP3, OGG, WMA, M4A, AIFF, and FLAC. Likewise, there is an option for you to modify the output settings of an audio file allowing you to produce your desired output. With it, you will be able to change the bitrate, sample rate, channels, etc. Not only that, but it can also be helpful in terms of editing audio and videos. You can add effects, video subtitles, trim videos, cut audio to fragments, and even merge multiple songs in a single file. If you want to know the nitty-gritty of the app and explore more its features, you may take a glance at the step-by-step procedure presented below.
Step 1. Get the app's installer
First off, download and install the program by going to its official webpage. For your convenience, you can directly get the installer by clicking one of the Free Download buttons below.
Step 2. Load AC3 file
To add media, click the Plus icon at the main interface of the program. Optionally, you can drag and drop your chosen AC3 file or drag and drop multiple files at the same time.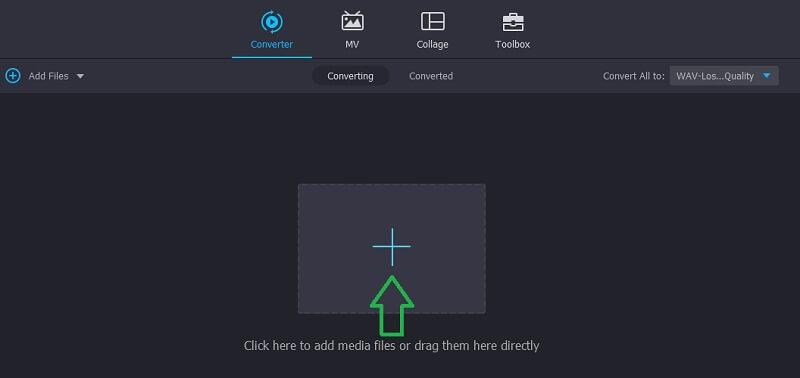 Step 3. Select WAV as output format
Now hit the drop-down menu for Profile and navigate to the Audio tab. From here, you have different audio format options to choose from. Select WAV on the left section of the tab.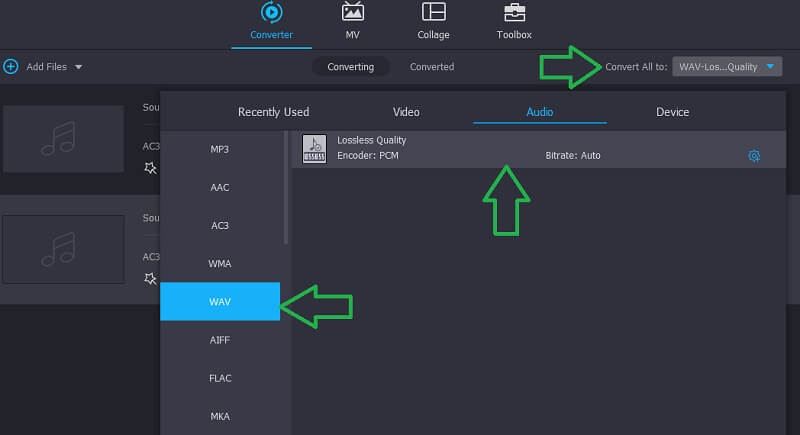 Step 4. Choose the output folder and save the converted file
Finally, select a folder location where you wish to save the converted audio file. Then hit the Convert All button if you are ready to start the process.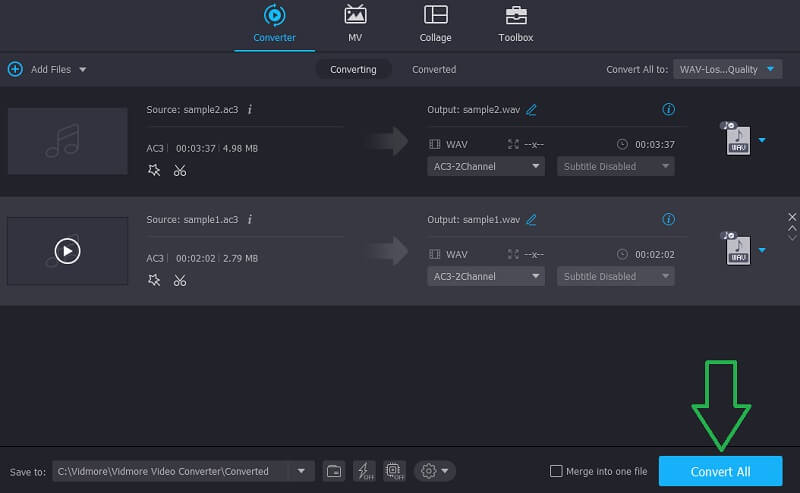 2. Adobe
You can also use Adobe to convert AC3 to WAV in an effective way. It facilitates single and batch conversion with support to various file formats. This ranges from high-fidelity, high-quality audio to low-fidelity files. Aside from its converting capability, it also enables you to record and mix audio and even design sound effects of your own. Maximize the app by learning how to use it:
Step 1. Upload the AC3 files to the program to add them to the encoding queue.
Step 2. From the Format and Presets drop-down menu, choose WAV format.
Step 3. Finally, begin the queue and convert your chosen AC3 file to a WAV file.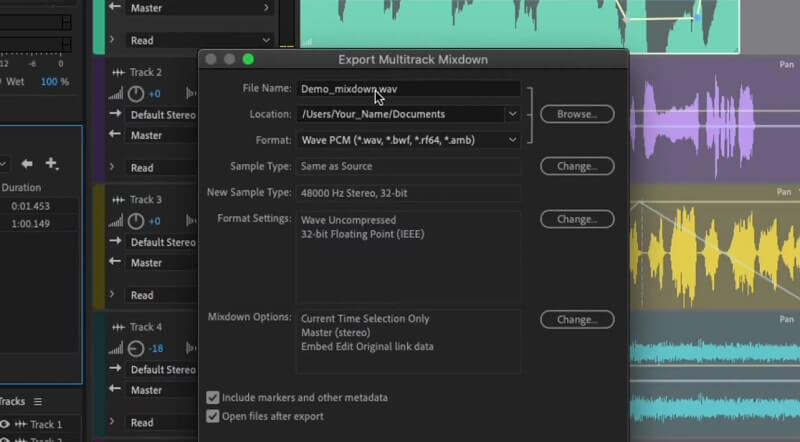 Part 3. FAQs AC3 to WAV
How to convert AC3 to WAV in FFmpeg?
As we know, FFmpeg operates with the help of a command prompt. All you need to do is to learn the command for converting media files. In this case, you can use the command:
ffmpeg -i input.ac3 output.wav.
How can I convert WAV to AC3 in VLC?
To convert WAV to AC3 in VLC Media Player, add the WAV file you wish to convert from the Convert/Save option of VLC. Then create a profile for encoding audio files to AC3. After that, you can convert as usual.
Can Linux convert AC3 to WAV?
Regardless of the operating system that your computer is running, there will always be an app for your needs. One of the best tools that you may employ for converting AC3 to WAV or vice versa in Linux is FFmpeg.
Conclusion
There are a whole lot of programs that can assist in converting AC3 to WAV. It's just a matter of preferences when it comes to choosing the best method or program. In this post, you will find AC3 to WAV converter free programs. Yet most of them are limited in terms of functions. Hence, if you need advanced tools, desktop programs are obviously the right fit.