Tutorial on How to Convert AIFF Files to WAV Online and Offline
If you have AIFF files piled up on your device, you may realize that they cannot be played on most available music players. This is because AIFF file formats are not widely accepted with portable devices and music players that many people are using. In other words, they have poor compatibility.
In this case and to spare you such compatibility trouble, you may convert them to WAV files instead. Despite being an old audio format, WAV files provide high compatibility among music players. Hence, many users find it imperative to convert AIFF to WAV. Good thing, there are a lot of programs that can help you out to get through this process very easily.

Part 1. How to Convert AIFF to WAV with Software
1. Vidmore Video Converter
Vidmore Video Converter is dedicated to converting video and audio files in the fastest way possible. It is one of the best converters online to provide useful tools like customizing output settings. Aside from converting, this also lets you edit videos where you can crop, rotate and access other video editing tools. You can accomplish all these and more in just a single program. Check out the steps below to learn how to convert AIFF files to WAV with this app.
Step 1. Download and install the software
First and foremost, you need to download the app from its official website. For your convenience, below are the Free Download buttons with their corresponding OS to get the app. Install and launch the program afterwards.
Step 2. Load an AIFF file
After launching the app, upload an AIFF file by clicking the Plus icon. You may also upload a folder of AIFF files by clicking the Add Files button followed by the Add Folder button.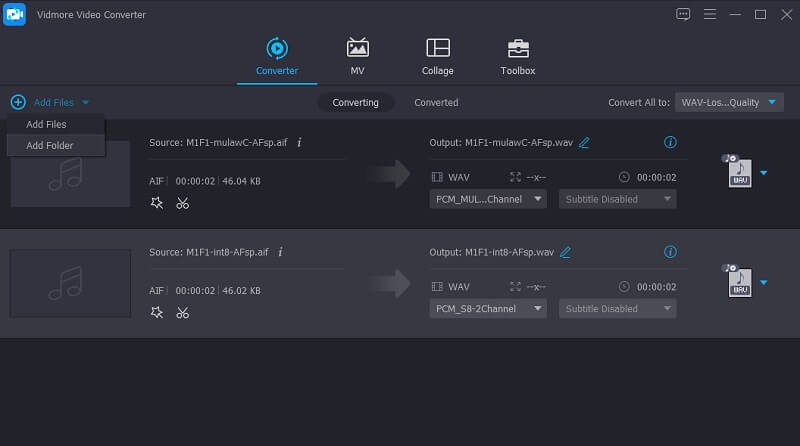 Step 3. Choose an output format
Now select an appropriate output format for the file from the Profile menu. In this case, select WAV. Just open the Profile menu and go to the Audio tab. Then choose WAV from the format selection on the left side portion.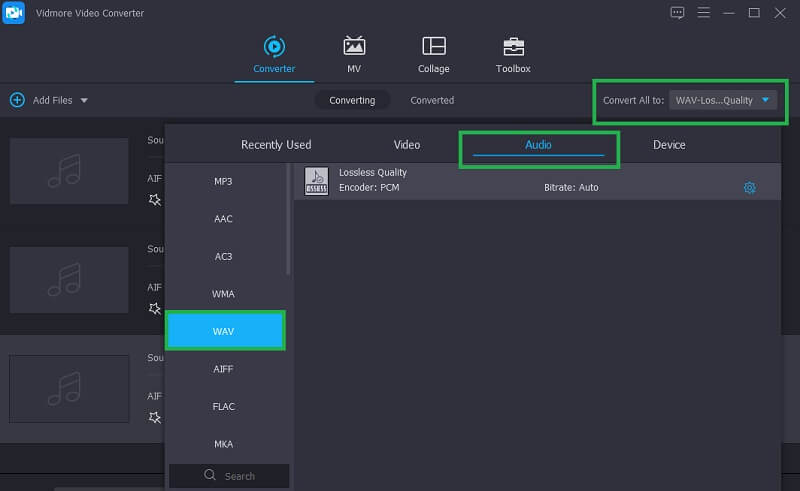 Step 4. Begin converting
Once all set, you may settle with the default output folder location or set another location by clicking the Open output folder icon. Then hit the Convert All button to commence the conversion task.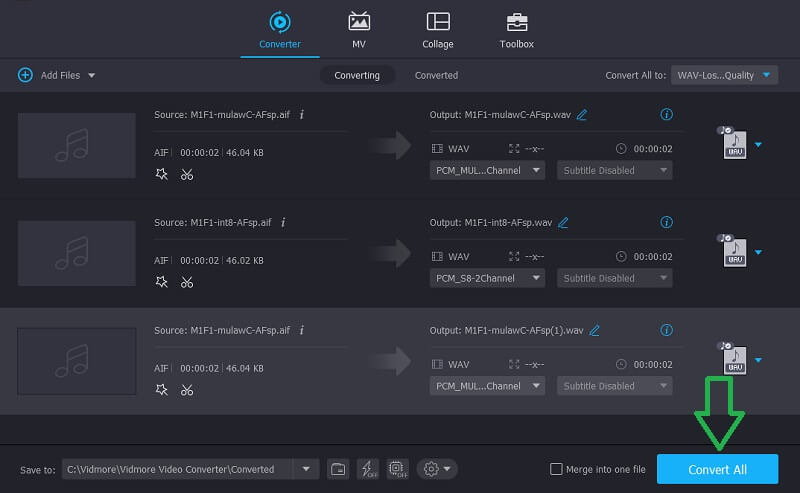 2. Audacity
Audacity is a cross-platform and completely free multimedia player app that is compatible with Windows and Mac operating systems. It makes use of the FFmpeg library that will allow users to import and export a large array of formats. Besides its converting capability, you may also use this program to record sounds from different sources. Be it from the microphone or mixer. Without much explanation, here's how you can convert AIFF to WAV in Audacity.
Step 1. First off, get the installer of Audacity from its main website. Install and run the program afterwards.
Step 2. Next, import your AIFF files to the app by navigating to File > Import > Audio. Now select your target AIFF file to convert and then click the Open button from the file explorer to load it.
Step 3. To convert AIFF to WAV, open the menu for File. Then point the cursor to the Export option and select Export as WAV. Set an output folder where you want the converted file to be saved.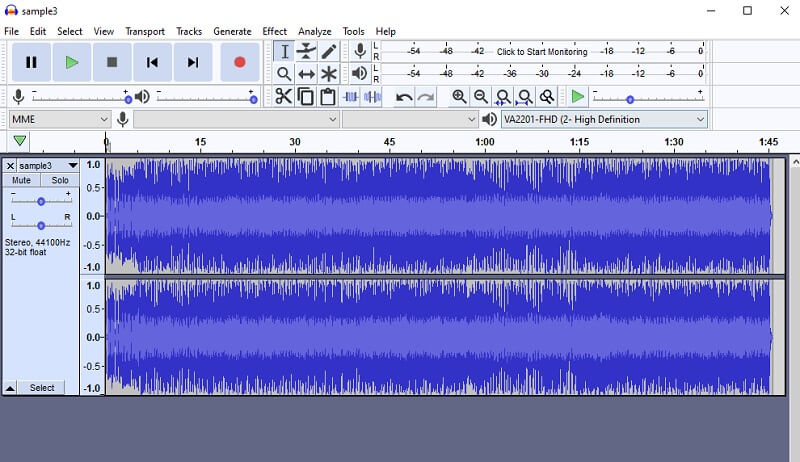 3. iTunes
Suppose that you want to convert AIFF to WAV on Mac free, iTunes should come in handy. Aside from the fact that it enables you to stream audio and videos, this can also be of great help for converting your audio files to WAV. It comes with various codec options including a WAV encoder. However, there are some formats that iTunes does not support like FLAC. To help you convert AIFF to WAV in iTunes, see the simplified steps below.
Step 1. Download and install iTunes on your computer then run the app.
Step 2. Now upload the AIFF file to the iTunes library by going to the File menu. Next, choose Add File to Library and it will load up the file.
Step 3. Once the file is up, configure the setting for WAV. To do this, navigate to Edit > Preferences > Import Settings. Click on the Import Using option and choose WAV Encoder. Hit OK to confirm the changes.
"Step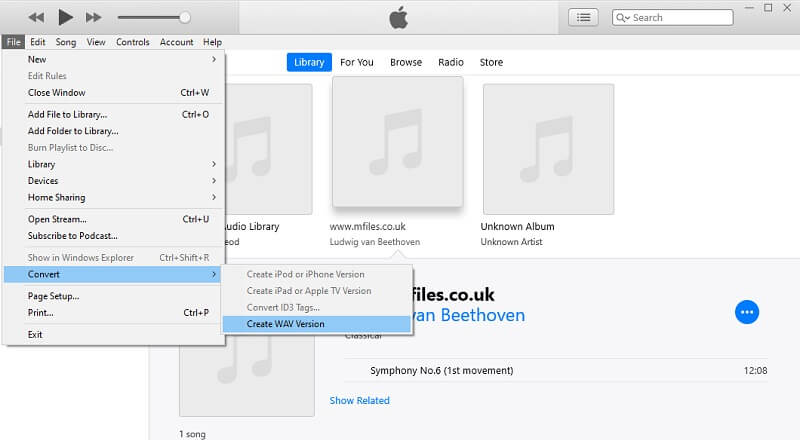 Part 2. How to convert AIFF to WAV Online
There are certainly various ways that you can employ for transforming audio or video files to other formats. They are indeed feasible and workable means. But if you don't want to shell out some money, Vidmore Free Video Converter is a practical method to convert AIFF to WAV online for free. It accepts a wide range of formats allowing you to convert your AIFF files to WAV, MP3, WMA, FLAC, and many other audio formats. More importantly, you may convert multiple video/audio files at the same time without any restriction or limitation. To get a hands-on experience of the tool, you may take a look at the steps given below.
Step 1. Visit the Vidmore Free Video Converter's official page and click the Add files to convert for a quick download and installation of the launcher on your computer system.
Step 2. Once done, import the AIFF file that you wish to convert by clicking the Add files to convert once more.
Step 3. From the converting interface that will appear, click on the Music icon at the bottom right portion and tick on the WAV radio button.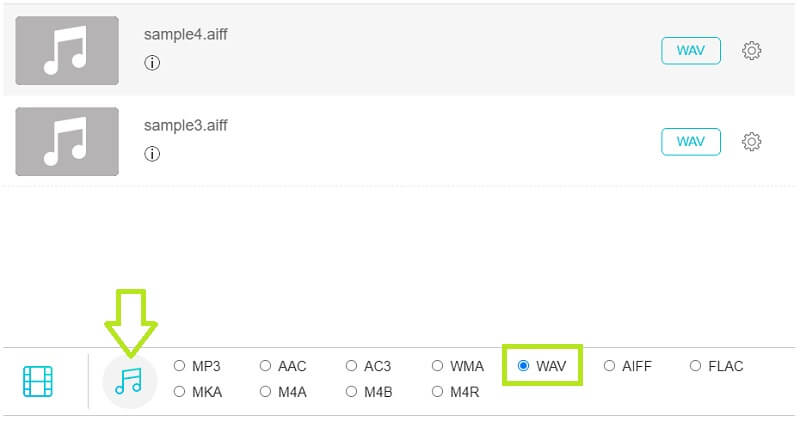 Step 4. Finally, set a file location where you want to save the processed audio and start the conversion by clicking the Convert button. This method can also be applied to convert AIFF to WAV on Mac for free.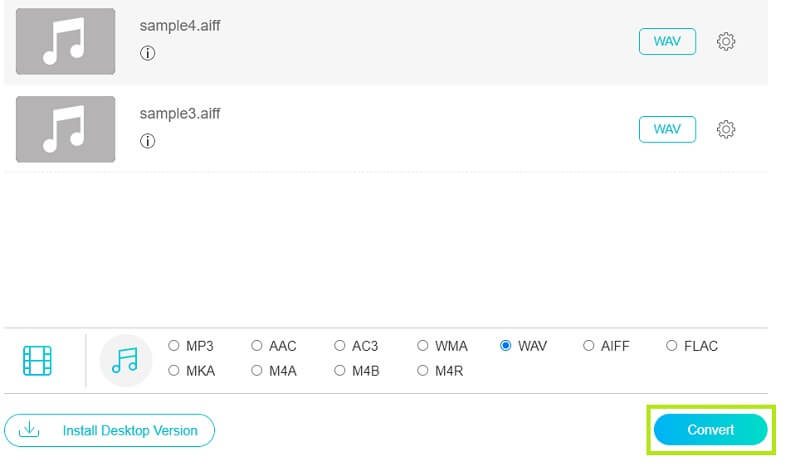 Part 3. FAQs of AIFF to WAV
What is the difference between AIFF and WAV?
Both AIFF and WAV offer the highest audio quality. In general, AIFF is most common for Mac computers. Whereas WAV files are commonly used on Windows PC. However, AIFF can be a better choice for music files. WAV files offer better support for metadata and broadcast.
Is there data loss when converting AIFF to WAV?
To ensure a zero-loss conversion AIFF and WAV must have the same bit rate. In other words, there will be minimal deterioration if they have different bit rates.
Are AIF and AIFF the same?
The answer is yes. .aif and .aiff only refer to one format which is AIFF.
Conclusion
This post mainly discusses some great tools to convert AIFF to WAV. There are AIFF converters free of download and software you can install. While they are all workable, Vidmore Video Converter integrates multiple useful functions and is perfect for converting files at the same time.