Most Effective AC3 to AVI Video Converters Online and Offline
The DVD video and audio format use the AC3 file extension for the surround sound audio files. Dolby Laboratories developed the AC3 file format for Dolby Digital audio on digital video formats such as DVD, Blu-ray, and others. On the other side, if you want to enjoy audiovisual material on your computer, you may require the assistance of an AC3 to AVI converter at some point. And people who want to play their AC3 files are converting them to a video format so they may do so. AVI is an example of one of them. This article's agenda is to review some of the most effective AC3 to AVI video converters you can use.

Part 1. Top AC3 to AVI Converters on Desktop
The list of converters from AC3 to AVI that you can use on a device running Windows or a device running Mac OS X is shown in this section. Check all the chances and choose the one that best suits you.
1. Vidmore Video Converter
Suppose you want to convert AC3 to AVI or any other video format without losing quality. In that case, Vidmore Video Converter is the most advanced desktop tool. You won't have any trouble understanding it, and you'll be able to encode AC3 into AVI and other video formats. Vidmore Video Converter gives you the ability to modify your AC3 file in a variety of ways before converting it, including the ability to combine, trim, and alter the volume. This program can play various audio files, including AC3, MP3, WAV, OGG, and M4A.
A total of two hundred distinct audio and video file types may be converted with the Vidmore Video Converter. You may access this section by selecting it from the program's primary menu. Users also can change the frame rate, frequency, and bit rate of their files to better suit the specifications of the projects they are working on. They can achieve this goal without compromising quality in any manner.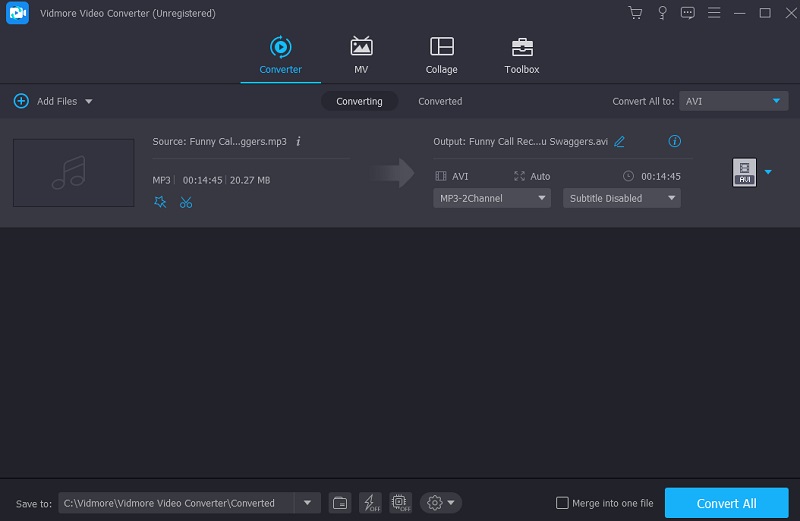 Pros of Vidmore Video Converter:
More than two hundred different video and audio formats are supported by it
It is capable of handling conversion in batches.
It comes with a toolkit that lets you access additional editing options.
It does the conversion quite quickly.
Cons of Vidmore Video Converter:
The interface is straightforward.
2. Freemake Video Converter
Freemake Video Converter has established a reputation for itself as a provider of software that is not only powerful but also intuitive to use. That product is offered without a cost to users. Freemake Video Converter is not an exception and continues the impressive track record that the firm has established. The free video converter can not only change the format of files already stored on your hard drive to practically any other format. However, you can also use it to download and convert videos hosted online and accessed via your social media accounts.
Freemake Video Converter is equipped to handle all of your daily conversion requirements. It included providing you with straightforward editing tools to remove unnecessary content, the capacity to add subtitles, and the capability to convert to and from DVD.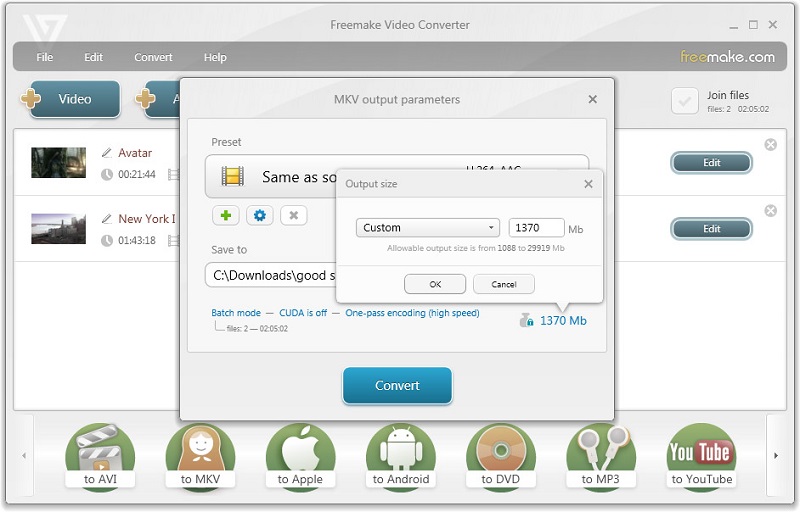 Pros of Freemake Video Converter:
It is compatible with a variety of formats.
It comes with its editing tools built right in.
Cons of Freemake Video Converter:
You are required to upgrade to a more expensive plan to access additional features.
Part 2. Best Online AC3 to AVI Converters Online
1. Vidmore Free Video Converter
Vidmore Free Video Converter is a web-based application that may be used using the user's preferred web browser. On their website, it may be accessed on computers running Mac OS X and Windows without the need to pay or subscribe. This online version of the application only supports a limited number of audio and video file types. The AVI, WMV, FLV, VOB, MPG, WAV, WMA, AAC, and MP3 file formats are a few examples of many more. It works well for those whose only goal is to convert their files without making any changes.
Vidmore Free Video Converter makes it possible for consumers to produce high-quality results. You are not restricted in any way regarding the maximum size of the files you can upload by using this facility. When it comes to uploading and transcoding your audio, you are not bound in any way, shape, or form.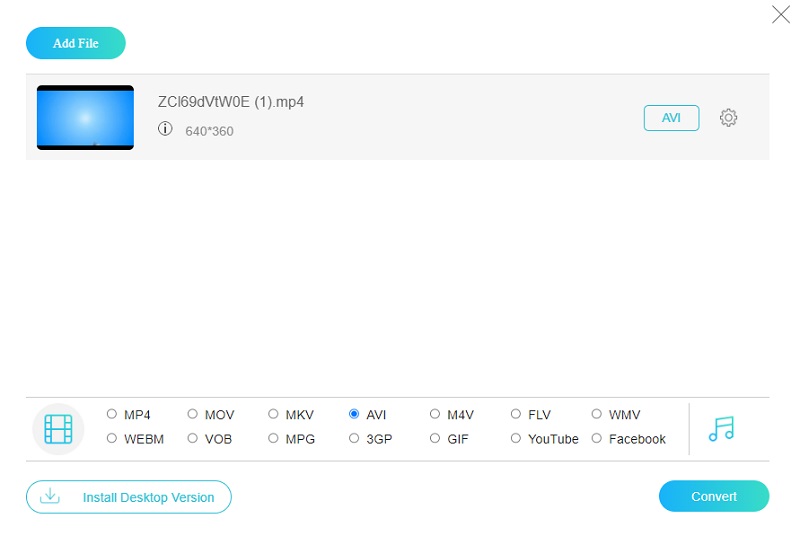 Pros of Vidmore Free Video Converter:
Free access is provided to users of the platform.
You do not need to make a payment or sign up for a subscription to access the various file types.
The user interface is simple.
It is capable of batch conversion.
Cons of Vidmore Free Video Converter:
It is nothing more than a video and audio converter.
2. FreeFileConvert
The FreeFileConvert program can convert AC3 files to AVI files after downloading them from the internet. It is among the most well-known programs that can be used in a web browser and are available for free usage on the internet. And a significant number of people make use of it. When it comes to doing what it's supposed to, this application can be relied upon.
The flexibility to convert between a wide variety of file formats and the convenience with which you may use are two of the most distinguishing features of this program. On the other hand, the maximum file size that may be converted using this browser-based program is limited to 300 megabytes.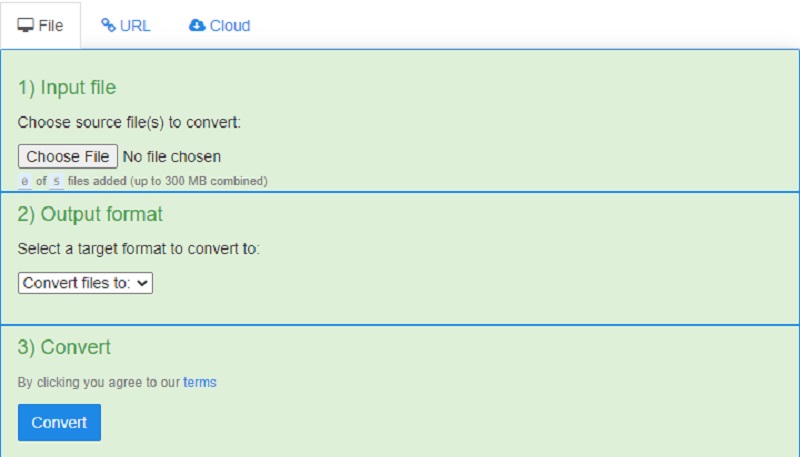 Pros of FreeFileConvert:
It is possible to convert in batches.
It won't cause you any issues when you put it to use.
Cons of FreeFileConvert:
It does not provide any editing functions at all.
3. Media.io
Media.io is widely considered the finest online AC3 to AVI converter available on any device with an internet connection. It is because it can convert AC3 to almost any video format. Also, it supports common and unusual music formats, including MP3, AAC, M4P, and more. Video parameters like encoder, quality, aspect ratio, and multichannel may be modified by the user, as anticipated. Unfortunately, the limit on the size of files that you may convert is set at 100 MB.

Pros of Media.io:
The fact that it is an online tool does not change the fact that it can support hundreds of audio and video types.
It offers a variety of editing options.
Cons of Media.io:
The maximum amount of space that you may convert is 100 MB.
Part 3. FAQs About AC3 to AVI Converters
Is the format of an AC3 file lossy or lossless?
Dolby Digital and AC3 are examples of lossy compression formats for surround sound.
Where are AC3 formats most often used?
Other applications, such as HDTV television, Cds, Blu-ray Discs, and video game consoles, are beginning to include support for the AC3 format.
Is it reasonable to use AC3?
AC3 is the superior option if you want to enjoy viewing movies on DVDs or Blu-rays with surround sound.
Conclusions
You can successfully convert your audio tracks into a video format by using the AC3 to AVI converters mentioned in this text. You can install an offline application on your device if you want to have your software. Choose the online tool instead if you'd instead work inside your browser.