Top Audio Converters for AC3 to MP3 Conversion for Windows and Mac
AC3, stands for Audio Coding 3, is a file extension that can perform sound frequencies under 20 to 20 to 20,000Hz. In other words, it can produce a diverse and unique effect on a human's audible hearing. Albeit it supports 7.1 channels, there is only a maximum of 5.1 channels that it can produce with a limitation of 448kbps. That means there's not much of a difference to other audio files.
One of its key drawbacks though is that it appears very seldom in other respects. Many devices and players support AC3 files. With that being said, you may want to play it on your favorite media players. MP3, on the other hand, comes with high compatibility with almost all devices and players. That is why in this post, we will introduce the tools to convert AC3 to MP3 free and practical tools.

Part 1. How to Convert AC3 to MP3 on PC/Mac
Vidmore Video Converter is professional software that is equipped with extra useful features aside from its converting capability. This handles both single and bulk conversion operations without any limitation to the number and length of the audio file. In fact, it also supports both audio and video converts with the same conversion benefits.
The best part is you can customize the output profile and create your own audio profile to meet your needs. If you wish, you can also do some workarounds like editing where you can trim, split, merge, and even access its volume booster. To explore more about this audio converter AC3 to MP3 app, follow along with the step-by-step guide.
Step 1. Grab the AC3 to MP3 Converter
First things first have the app downloaded by clicking one of the Free Download buttons beneath. Open the installer and proceed to installation. Make sure to follow the setup wizard to appropriately install the app. Launch it afterwards.
Step 2. Upload AC3 file
Once you are done, click the Plus sign button to load the file into the app. You may also drag and drop the AC3 file that you wish to convert to upload.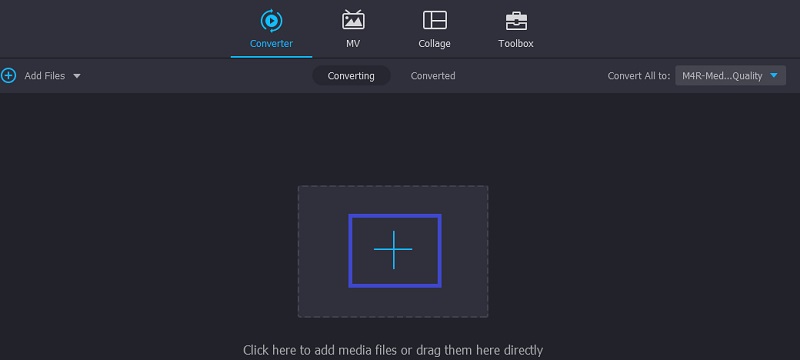 Step 3. Select an output format
Next, unfold the Profile menu to see the list of available audio formats. Go to the Audio tab and then select MP3 as the output format. After that, choose the audio profile according to your requirements.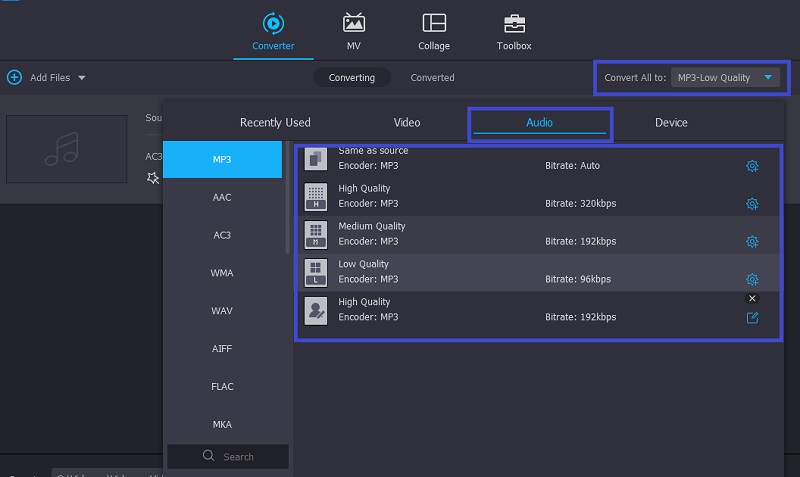 Step 4. Commence the conversion
Once you are done following the above steps, you can now proceed to converting the file. To do this, fold back the Profile menu and then hit the Convert All button at the bottom right corner.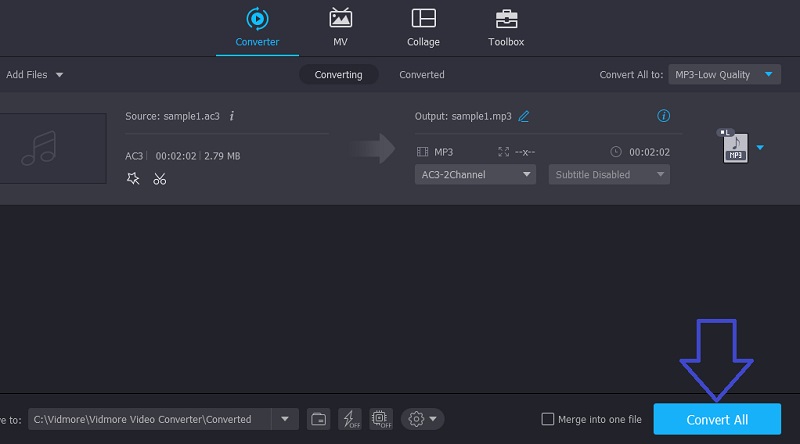 Part 2. How to convert AC3 to MP3 for free
1. Vidmore Free Video Converter
With Vidmore Free Video Converter, you will be able to access an AC3 to MP3 converter free of download. This is exactly true because this tool runs on a web browser where you can get the conversion done online. Aside from converting audio files, this also works for converting video files. Furthermore, it empowers you to convert multiple files at the same time in a swift and stable process. There is also no need to worry about the file size or the number of files you will convert. With that being said, here is how this AC3 to MP3 online converter works.
Step 1. First off, visit the official website of the tool using any web browser then download and install the launcher of the app.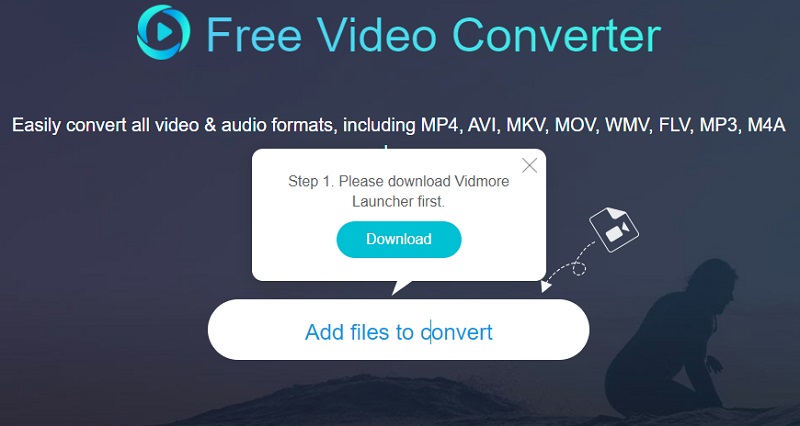 Step 2. After that, upload an AC3 file by clicking the Add files to convert button. Select the AC3 file from the File Explorer and load the file into the web app.
Step 3. Next, click on the Music icon to see the library of output formats for audio. From here, select MP3 and then hit the Convert button to initialize the process.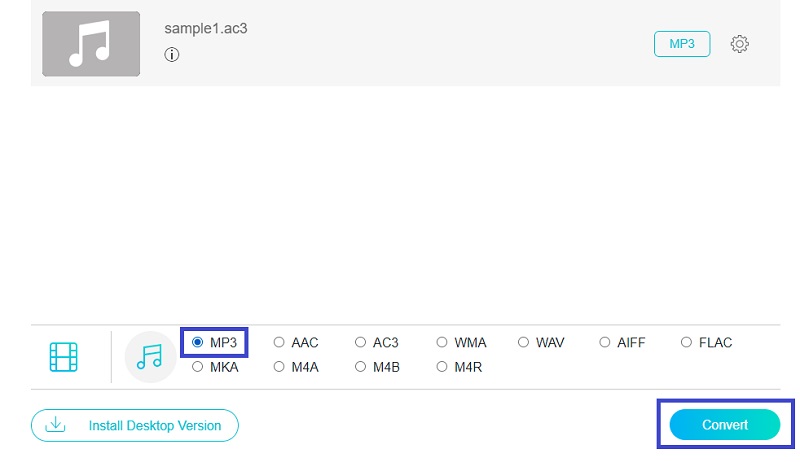 2. Freemake Audio Converter
Converting AC3 to MP3 freeware can be realized with Freemake Audio Converter. This is yet another application that you can use to convert AC3 files to MP3, WAV, OGG, and many more audio formats. Not to mention it helps you achieve your desired audio format with the readily available presets for the audio output. Aside from that, it enables the non-tech-savvy users to navigate the tool without any hassle with its friendly user interface. On the other hand, refer to the steps below to learn how to convert AC3 to MP3 using this app.
Step 1. Go to the official page of the app and download the program. Install and launch it on your computer.
Step 2. To upload the file, click on the Audio button at the top left corner of the interface. From the file folder, locate and upload the AC3 file that you wish to convert.
Step 3. From the menu bar at the bottom of the interface, select MP3. Unfold the Preset menu and select an MP3 output parameter. Finally, set a file destination and hit the Convert button.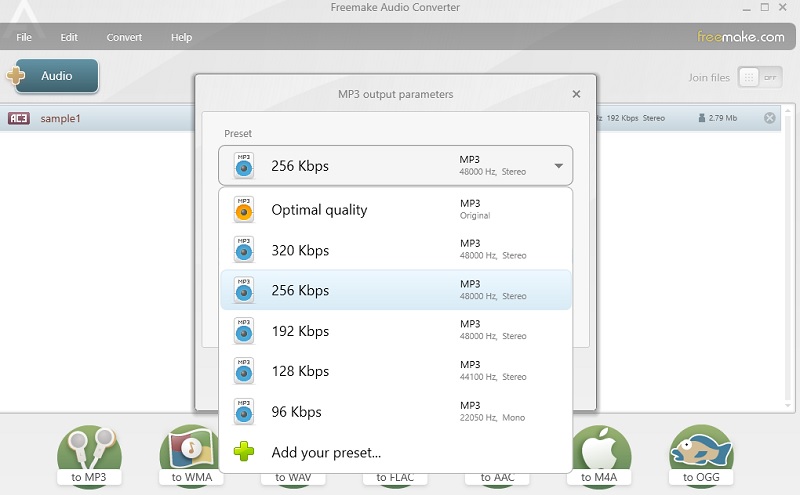 3. FFmpeg
If you are not into GUI and you want a more advanced converter, FFmpeg is the app for you. The tool runs on a command-line interface enabling you to communicate with the app by text commands. Nonetheless, it is as effective as the tool that uses a graphical user interface. On top of that, it enables you to capture the on-screen activity of your computer. It can be helpful especially if you need to make a walkthrough by recording your screen. Also, it works well in converting AC3 to MP3 on Mac, Windows, and Linux. Now here's how to handle this tool.
Step 1. To get started, grab the installer of FFmpeg from the official website. Have it installed then open the Command Prompt. Run the FFmpeg to see if it is installed successfully.
Step 2. Navigate to the folder where the AC3 file is located by using text commands. When you reach the target folder, type ffmpeg -i input.ac3 output.mp3 and hit the Enter key on your computer keyboard. After that, you should be able to convert with FFmpeg from AC3 to MP3.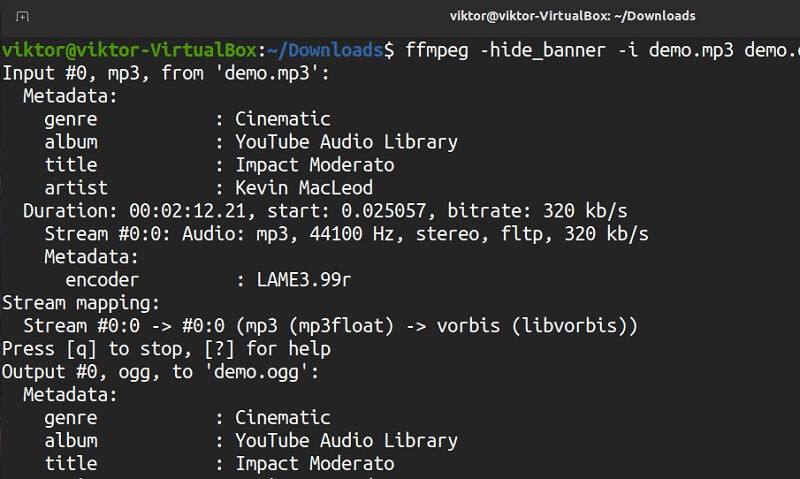 Part 3. FAQs of AC3 to MP3
What is AC3 audio format?
AC3 is a file extension typically used to produce surround sound audio files. It is in fact accepted for DVD media and DTV as the standard audio in the stated industry.
Can I convert OGG to MP3 on FFmpeg?
Yes. OGG to MP3 conversion is supported on FFmpeg. You may type this command to do so: ffmpeg -i audio.ogg -acodec libmp3lame audio.mp3.
Is AC3 the same as Dolby Digital?
AC3 is essentially Dolby Digital that is used in place of Dolby Digital as compressed surround sound to fit on a DVD disc.
Conclusion
The procedure on how to convert AC3 to MP3 does not have to be complicated. This is just a piece of cake when using an appropriate program. The first 3 tools use GUI to convert media files while the latter option is advisable when you have advanced skills for converting files. Just choose which tool best fits your preferences.