What Are The Best MP3 Editor App Being Used Today?
Due to the growing industry of music, people are in need of an MP3 Editor that will help them to make their tracks more appealing. But sometimes, they don't have the ability to do that due to the need of having a full-blown desktop to edit their tracks. Well the feeling is mutual that is why in this post, we are going to share the most convenient yet not costly audio MP3 editor you can depend on!
Through this post, you can now edit your MP3 tracks without the need to purchase an expensive one because we have listed down the MP3 editor online you can use for free. Check out all the information below.

Part 1. Professional Way to Edit MP3
If you are wondering if there is a MP3 editor compatible for Mac and Windows, yes there is! Vidmore Video Converter is the most useful and convenient MP3 that is both available for Mac and Windows. Now, if you are wondering if it has a lot of technicalities, the good news is it was a user-friendly program. Despite the professional features that Vidmore offers, you will not have a hard time in understanding how to navigate it.
You may think about how to edit your MP3 files on this tool. Well, we have prepared all the information that you need to know, all you have to do now is read the guides below.
Step 1: Acquire the MP3 Editor
To fully access the app, you need to download it through the download buttons provided below. After that, install and launch it on your device.
Step 2: Add the MP3 File
After successfully installing Vidmore, you can now add your MP3 file by clicking the Add Files on the left upper part of the main interface of the tool or you can click the Plus sign at the center.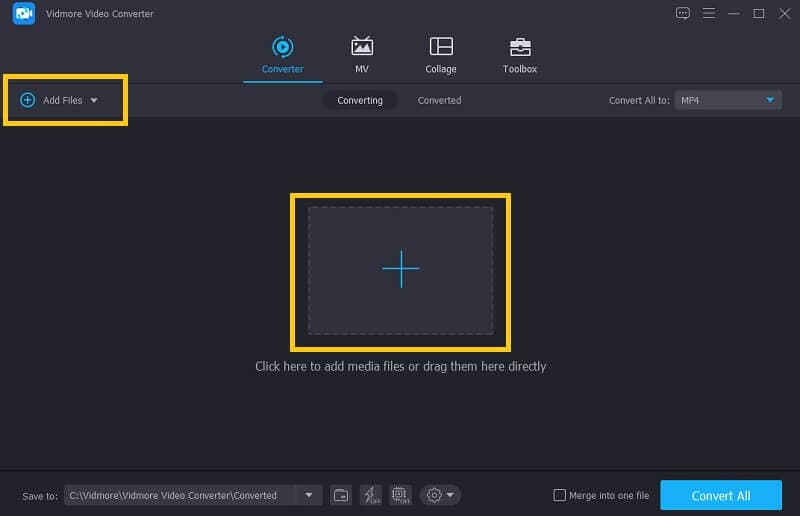 Step 3: Edit the MP3 File
When you are done adding your MP3 file, click the Edit icon which symbolizes as a Scissor, it will lead you to the editing section of your MP3 where you can cut, merge and set the start or ending of the track. After applying all the changes, click Save.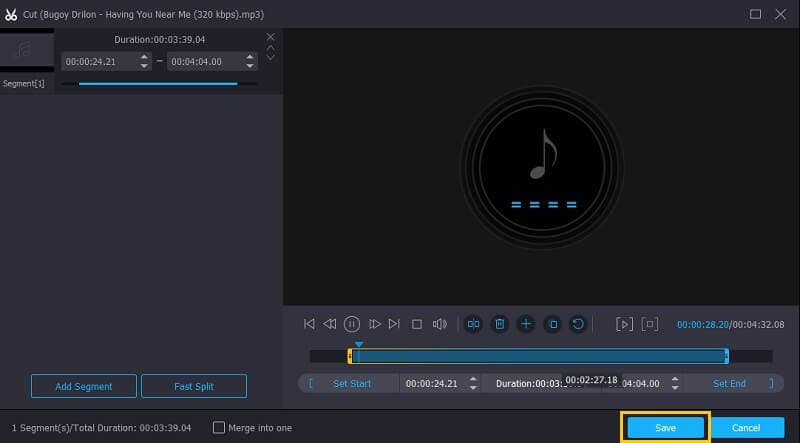 Step 4: Save the MP3 Output
If you are satisfied with the changes that you have made, you can now convert your MP3 file. And to successfully save it, tick the Convert All button at the right lower part of the screen.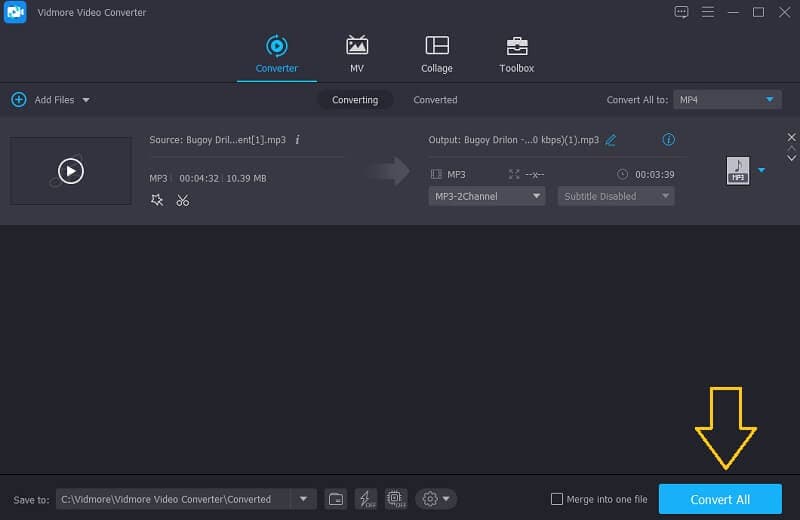 Part 2. Freeware to Edit MP3
If you are one of those users with a tight budget and don't want to spend a penny on an MP3 editor, this section is for you because we will list down the mp3 editor that is free to use. Interesting right? Aside from the opportunity to edit your most loved MP3 files, you will also save a lot with the help of these freeware applications. Here are the list of tools that you can use along with the step by step process for you not to experience difficulty in using them anymore.
1. iTunes
First on the list of the free MP3 editor application is iTunes. It is a user-friendly music application that helps them to edit their tracks such as MP3 files and it lets users manage their albums. Aside from that, it has a clean and simple interface so that you can use it even if you are not that professional when it comes to editing tracks. To help you understand how to edit your MP3 files on this app, here is a simple step we have prepared below.
Step 1: Download and launch the app. Once you have opened it, go to the File section and select the Add File to Library then upload your MP3 file from your device.
Step 2: After that, click the File section again. Tick the Library option and click the Music. When the MP3 file appears, Right-click it and select the Get Info.
Step 3: After you select the Get Info, click the Options and choose the Start and Stop time of the extraction of your file. Once satisfied with the result, click the OK tab.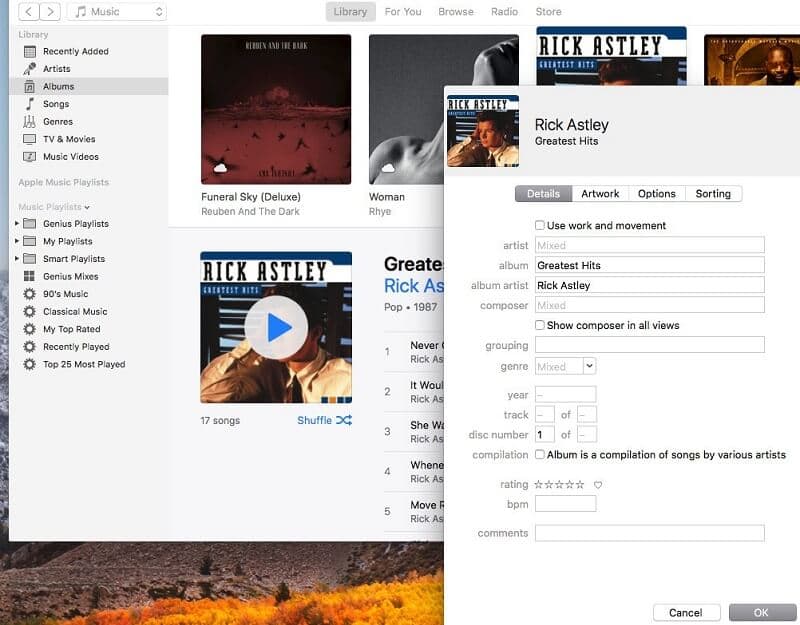 2. Audacity
Another one of the best free audio editors is Audacity, it is a powerful app due to its ability to be compatible on Windows, Linux and MacOS that is why you can download it on whatever device that you have. What makes it even a great choice by many is because Audacity supports almost all audio formats that are being used today. Therefore you can easily edit your most favorite MP3 file with the help of this free tool. To give you a glimpse on how this free application works, here is the guide information below.
Step 1: Open the Audacity application then select the File section. After that, choose the MP3 file that you want to edit.
Step 2: Through the help of the mouse, go to the part where you want to cut your file then put the cursor where you want to start cutting it then drag the mouse to the region where you want to end it.
Step 3: The chosen region to cut will turn into Grey, and all you have to do is command Control X and the selected region will be removed. After that, go to the File section, click the Save Project File then Export Audio.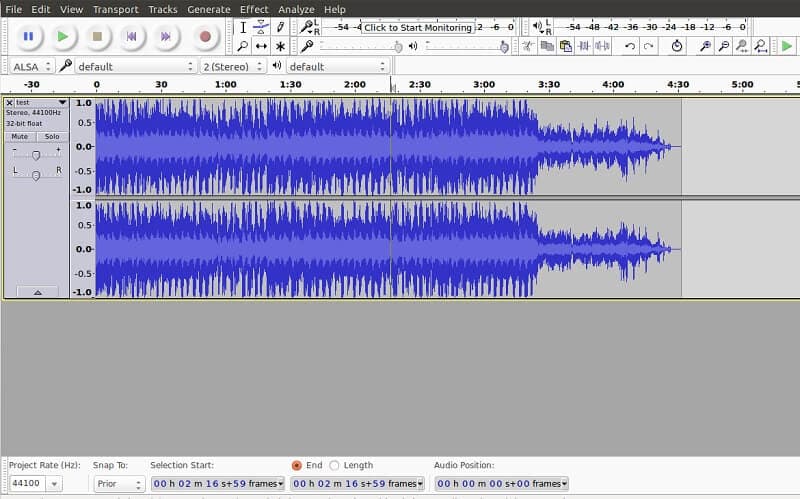 3. Windows Media Player
Even if there are a lot of MP3 editors that are being made today, some are still into Windows Media Player. It was the default media player for Windows allowing users to edit the tags of an MP3 like titles, artist and other information on their tracks. And due to its continued development, users are also now allowed to trim their MP3 files! All you have to do is to install the SolveigMM WMP Trimmer. You may be wondering how to use this tool to trim your tracks? Check out all the information below how to do it.
Step 1: Download the SolveigMM WMP Trimmer Plugin on your computer and open your Windows Media Player and then click the Tools section.
Step 2: After that, open the MP3 file on the Windows Media Player and click the Edit File button.
Step 3: Move the slider that on the region that you want to cut by hitting the Add marker button. Once satisfied with the changes, click Trim.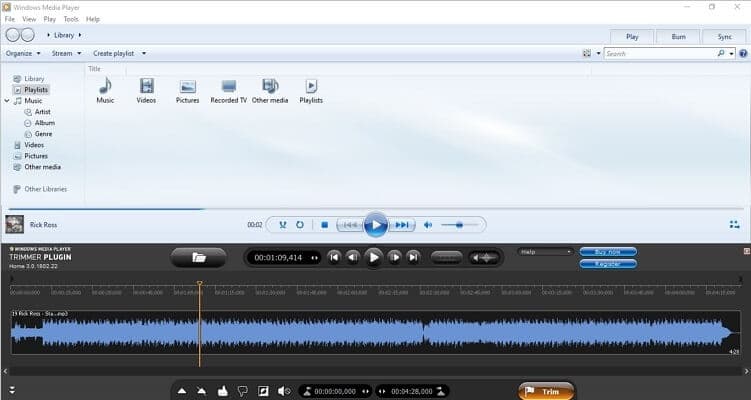 Part 3. 2 Online MP3 Editors to Use
Since we have discussed those MP3 editor applications that you can acquire for free, in this part of this post, we are going to share to you the most convenient MP3 editor online. There is no problem if you already reach the limit of your device's storage and cannot install another software because it will still be possible through the help of these online tools. Now, to end your curiosity, here is the MP3 editor online on the below information.
1. 123 Apps: Audio Cutter
This 123 Apps is a web-based handy application that has a lot of different amazing features all in one box! It is also easy to use and it contains a simple interface that is why users can easily navigate this tool. It supports different files conversion such as MP3 and aside from that, you can cut or trim, change the speed and pitch of your MP3 files without hassle. Are you excited to know how this online tool works? Here is the guide information you can follow.
Step 1: Go to your browser and search for 123 Apps: Audio Cutter, and click the Open File.
Step 2: Once you have added your MP3 file, begin editing it by clicking the third icon below which is intended for cutting and trimming.
Step 3: After you have applied all the changes you require, click the Save button to successfully save in your folder.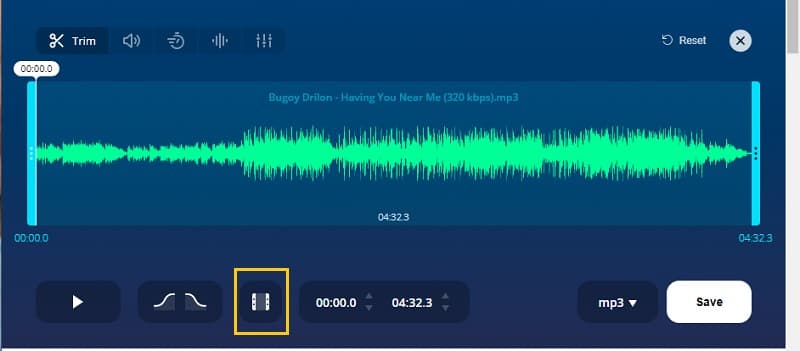 2. Clideo: Audio Cutter Online
Last on the list of the MP3 cutter online is Clideo. It also has a clean and intuitive interface which makes it even more convenient to use. Through this tool, you will not have a hard time cutting your file by means of moving the tools marker or by inserting your desired time. Aside from that, you can freely use it to work with other file formats too! So without further ado, here is a quick guide below how this online tool edits your MP3 files.
Step 1: Go to the official page of Clideo and click the Choose File and select the MP3 file that you wish to edit.
Step 2: Cut the uploaded file by means of selecting the part of the audio that you want to cut. You can also take account of the fade in and out of your file.
Step 3: When you are done applying all the edit in your MP3, click the Export button below.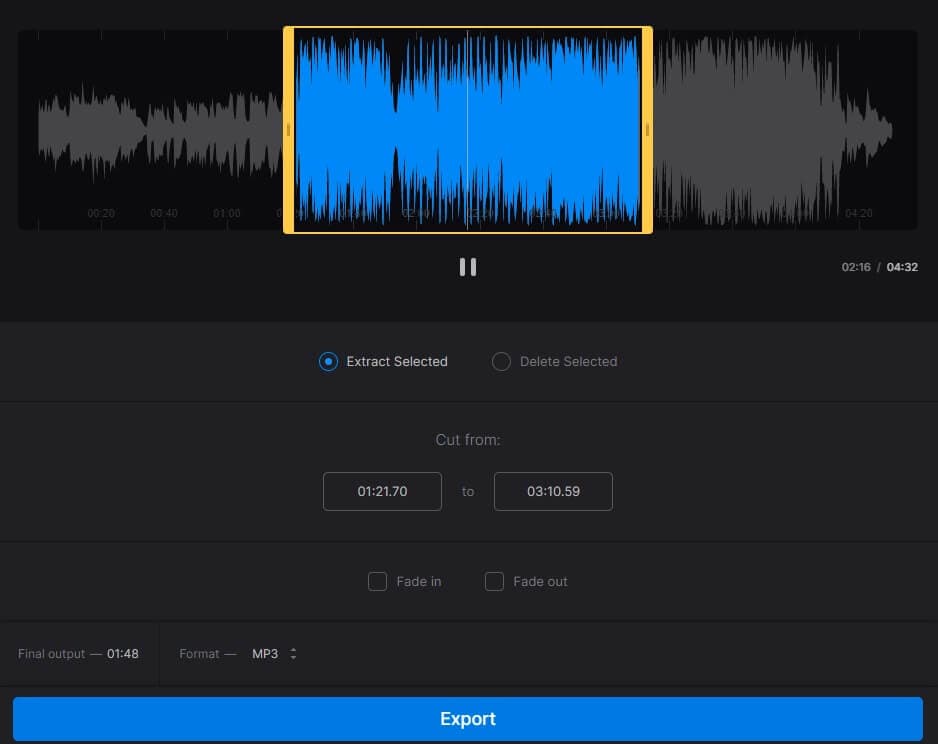 Part 4. FAQs of MP3 Editor
Is there a file size limit if I edit my MP3 on Vidmore?
No, vidmore can support large files whatever format it is.
Can I use an Android device to edit my MP3 file?
Yes you can, but you need to download an application. Some of these are Voice PRO - HQ Audio Editor, Audio Evolution Mobile Studio and FL Studio Mobile.
Can I trim an MP3 file in Windows Media Player without downloading the SolveigMM WMP Trimmer?
Unfortunately, no. You really need to install a third-party plug in before you can successfully trim your audios.
Conclusion
Since you have an idea about the MP3 editor tools that you can download for free, you can consider using one of them. But if you don't have enough storage to acquire it, you can try one of the recommended online tools on the above post.