How to Convert AIFF to AAC in iTunes and Practical Alternatives
Many users would prefer to store lots of music files for listening on portable devices. Yet, it happens that your favorite files are in AIFF file format. AIFF files indeed produce excellent quality. The thing is, it adopts a lossless compression scheme to dispose of an audio file, hence its large file size.
AIFF comes with a compressed variant which is AIFC. However, most individuals choose AAC for the best quality for playing audio files on portable devices. Continue reading to learn how to convert AIFF to AAC in iTunes. Along with this, we will also introduce some of the optimal methods you should not miss out on.

Part 1. Reason to Convert AIFF to AAC
AIFF and AAC are coding algorithms that are famous in Apple products. As a matter of fact, the former format was created by Apple, but the latter is not. Nevertheless, they make it easy to determine how audio is digitized and recorded in digital format. Since the files in AIFF are uncompressed and lossless, this format is bigger than lossy audio files. Ten times bigger roughly.
This is the reason why users want to convert it to compressed files like AAC. In this way, you don't need to have a huge hard drive. Another reason is that you may want to store them in portable devices that only have limited space. So by converting AIFF to AAC, you can listen to your favorite AIFF files in smaller file sizes and on your portable device without worrying about the disk space.
Part 2. How to Convert AIFF to AAC with Freeware
1. Vidmore Video Converter
One reason that makes Vidmore Video Converter distinguishable for most users is its powerful functionalities and conversion speed. It encompasses significant features like converting audio/video at a rapid pace, specific audio output settings, MV maker, collage maker, and so much more. You can edit existing presets and create new ones according to your personal preference with its parameter settings. Furthermore, there are a lot of video tools allowing you to trim, make GIFs, enhance video quality, etc. Converting AIFF to AAC is simple. Just follow the steps below.
Step 1. Get the latest version of the app
Hit one of the Free Download buttons to get the latest version of the software. Properly install the app by following the setup wizard and then run the program to start using it.
Step 2. Load a media file into the app
To add an AIFF file, click the Plus sign button, and a folder will pop up. Browse through your files and then select your target audio. You may also import a folder by clicking the Add Files button followed by the Add Folder button.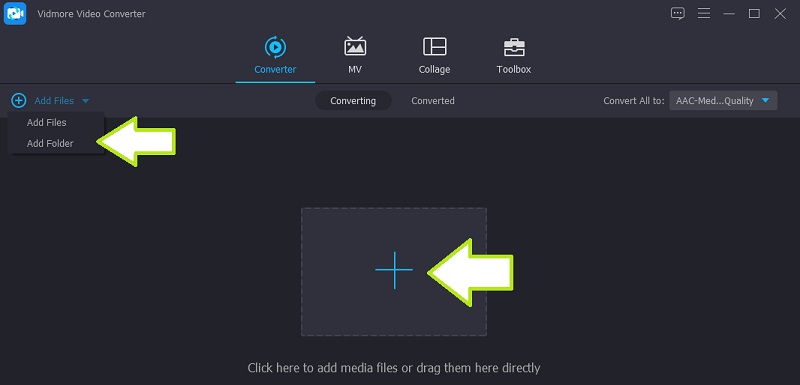 Step 3. Select output format
By then, you can select an output format for the file you are attempting to convert. Unfold the Profile menu and open the Audio tab. From this tab, tick the AAC format located on the left section. A list of audio presets will then appear. Now, select the audio preset that fits your needs.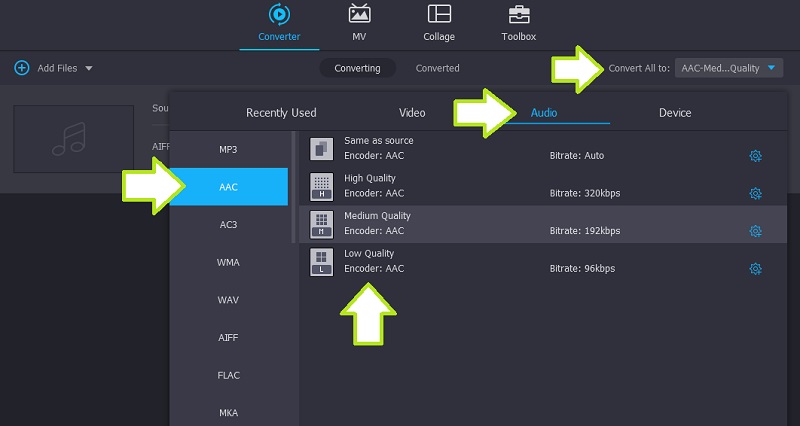 Step 4. Convert AIFF to AAC
Once done, start the conversion process. Simply click the Convert All button at the bottom right corner. The task will commence immediately, and the converted file will be saved to the file destination automatically. You may directly check it from the program by going to the Converted tab.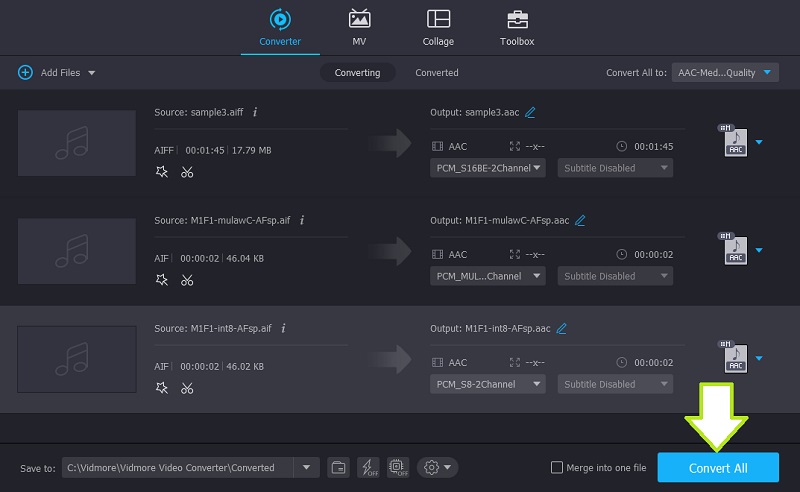 2. iTunes
iTunes is a practical program to convert AIFF to AAC on Mac if you don't want to install a third-party converter. Although it is a streaming app, you may also use it to convert audio files. In addition to that, there are settings for you to change the output by adjusting the bitrate, sample rate, channel, etc. To cut to the chase, see the simplified guide to assist you in your converting task.
Step 1. Open iTunes on your computer and upload an AIFF file by opening the File menu. Click on the Add File to library option and select the target sound file you wish to upload.
Step 2. At this point, go to the Edit menu and choose Preferences. On the General Preferences window, open the Import Settings menu. Then choose AAC Encoder from the Import Using menu. Click the OK button to confirm.
Step 3. Select your AIFF file in the iTunes library, open the File menu again, and hover to the Convert option. After that, click on the Create AAC Version to convert AIFF to AAC.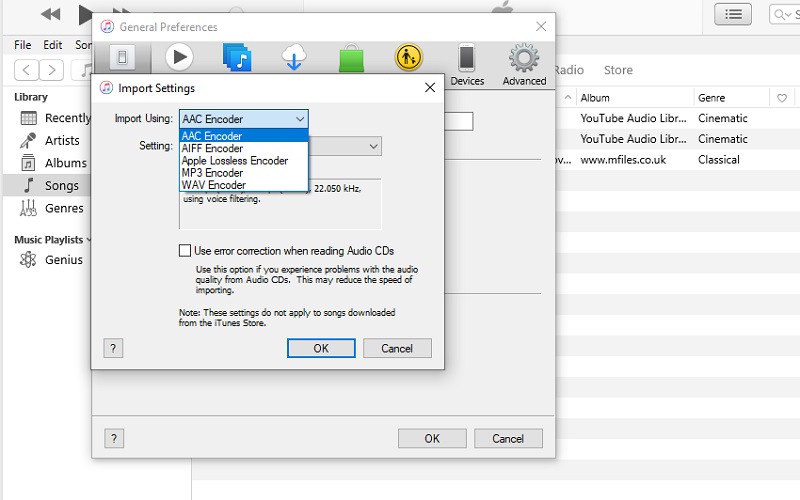 Part 3. How to Convert AIFF to AAC Online
With Vidmore Free Video Converter, you don't need to download or pay anything to use this online audio converter. This web app allows you to convert AIFF to AAC without any limitations. Meaning, regardless of the file size and number of formats, the tool can convert them for you. It even allows you to extract audio from a video and convert multiple files simultaneously. On top of that, it comes with a basic parameter setting to achieve your preferred audio result. You can adjust the sample rate, bitrate, and channel to your liking. That said, here's how to handle this program.
Step 1. Using any browser on your computer, visit the official website of Vidmore Video Converter and hit the Add files to convert to launch the program. For first-time users, you might need to download its launcher first. Then you are good to go.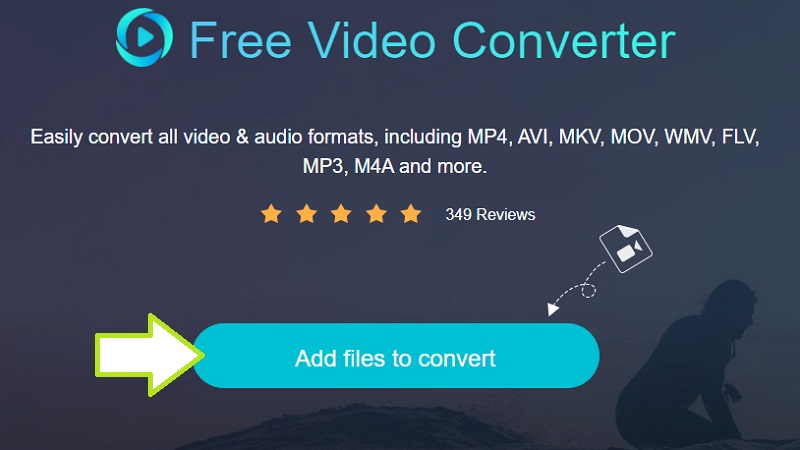 Step 2. Choose and upload the file you would like to convert, and then select a file format from the Audio format options. Simply click on the Music icon, and you will find a list of available audio formats.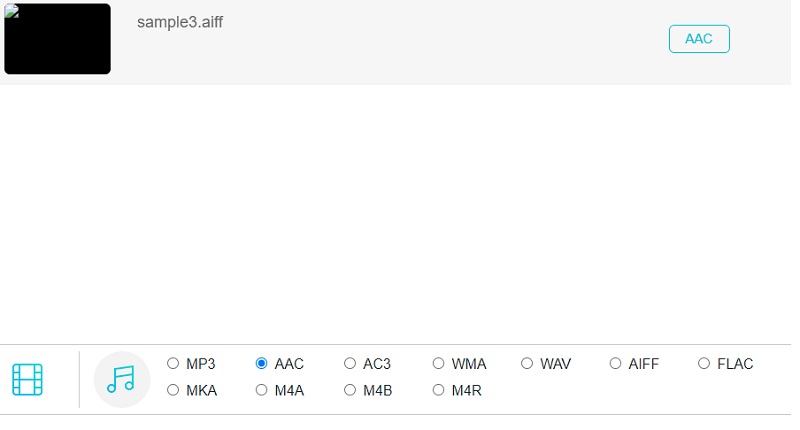 Step 3. Next, choose AAC by ticking on its radio button. After that, click the Convert button to start the conversion process.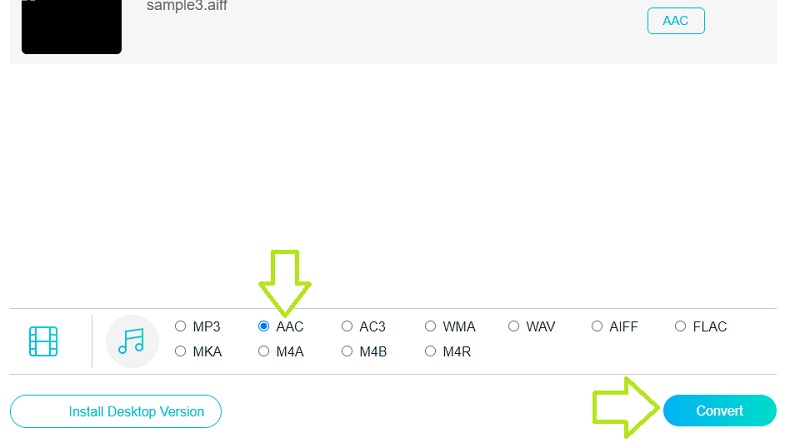 Part 4. FAQs of AIFF to AAC
Is AIFF an AAC?
AIFF and AAC are entirely two different formats. AIFF is a lossless format where there's no data missing and stays in its original form. AAC adopts a lossy format where there is data loss from its original file.
Can I convert AIFF to WAV?
Yes. It is possible with the help of audio converters as long as it supports WAV as one of its output formats.
Can I convert lossless to AAC in iTunes?
This is the same concept when converting AIFF to AAC since AIFF is a lossless format. You may also do this with Apple Lossless. Just follow the same procedure as above.
Conclusion
So, which audio converter are you going to use to convert AIFF to AAC? It depends actually on your preferences and needs. For a convenient tool, you can go with an online tool like Vidmore Free Video Converter, a free web-service tool. Meanwhile, if you would like a stable and fast converting app with comprehensive functions, you should pick desktop tools that are the former solutions.