How to Convert WAV to AAC Even Without Paying a Single Penny
If you are someone who is an avid fan of collecting different audio tracks, you will probably need an audio converter software that would help you to make your most loved files in a good shape. That is why in this post, we are going to share our tried and tested WAV to AAC converter software that is free to download.

Part 1. Why to Convert WAV to AAC
Generally speaking, WAV format has the best quality audio among other formats because it stores all the information from the original recording. Since this type has the ability to keep all the audio's data, this only means that it contains a larger file size. That is why most users, especially those who don't have a full blown computer, choose an alternative file format for them to be able to play those high resolution audios without compromising its quality.
Some of the alternative formats that users choose to convert a WAV into another format is an AAC, this type may have a smaller size but it contains an excellent sound quality and is playable in almost all software. That is why most users are into AAC files because of its ability to be compatible to different devices yet it doesn't compromise its quality.
Part 2. How to Convert WAV to AAC with Software
There are different audio file converters that you can download from the store however which tools are you going to choose? Probably you are having a hard time finding the one who suits your knowledge, the one who will not make it complicated for you to convert your most loved files. Well in this part of this post, we will discuss the tools that can convert WAV to AAC in Mac or Windows without a hassle. Therefore, here are the top 2 WAV to AAC converters that you can count on.
1. Vidmore Video Converter
If you want to convert WAV to AAC using a user-friendly application, consider using Vidmore Video Converter as you can download this versatile program without spending a dime because they offer a free trial. You can convert different file formats with just one click! Amazing right? Plus, it's an easy transition. There is no need to consider your file size as Vidmore can still convert it to the required format. To give you an idea on how to convert WAV files to AAC, check the information below.
Step 1: Get the WAV to AAC Audio Converter
Acquire the software by clicking the free download button below. Once the program is downloaded, install and launch it on your computer.
Step 2: Add a WAV File
Once the program is running, click the Add Files or the Plus sign on the center interface of the app and then choose the file that you want to convert.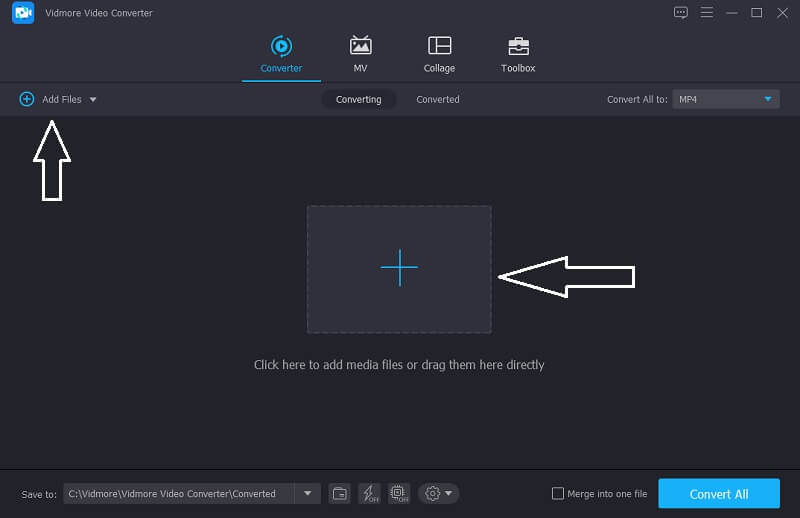 Step 3: Select AAC Format
After adding your target audio file, go to the dropdown arrow located at the right side of the video's thumbnail and go to the Audio section. Select AAC from the options given.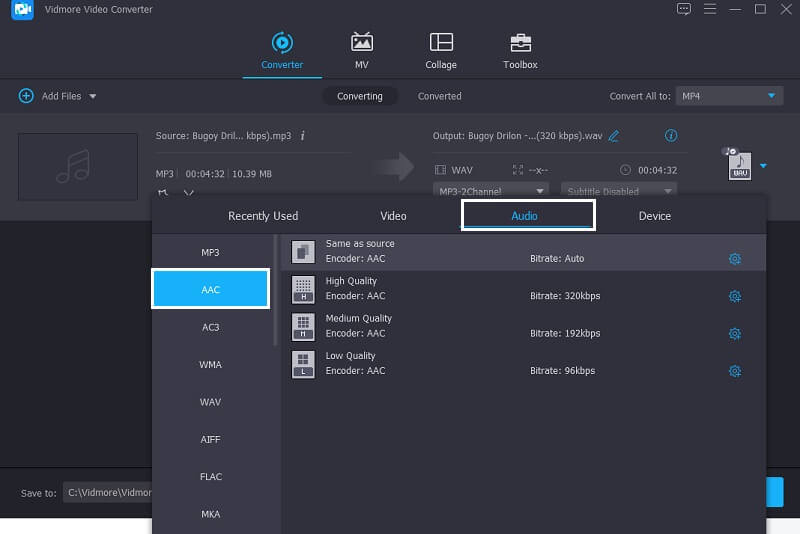 Step 4: Save the Converted Audio File
Once you selected the AAC format, click the Convert All button to successfully convert the audio file into your desired format. And that's all!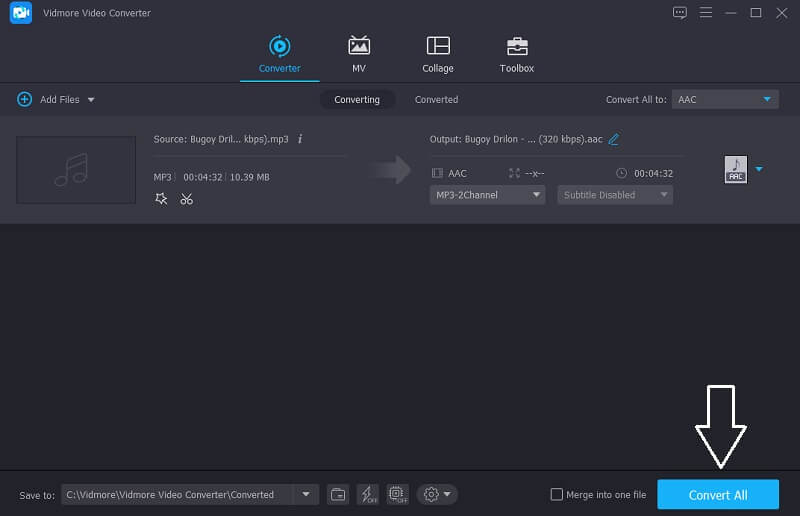 2. iTunes
Probably you also want to run play your audio file in a different format, or maybe you are finding a format with smaller size yet with a good quality. The good thing is iTunes can do that for you. It can convert any audio file to your desired format, one of these is converting a WAV to AAC format. You don't have to think if it will suit your system because this tool can also easily convert your audio files in just a minute! At the guide information below, we will show you how to convert WAV to AAC on iTunes.
Step 1: To convert your audio file on iTunes, click the Preferences option. After the Preference panel appears, there are options that will pop up, then click the General window.
Step 2: After clicking the General tab, hit the Import Settings button and on the options given, click the Import Using, choose the audio format that you require.
Step 3: After that, go to the File section then click the Convert panel. It will give you an option to create a version of your desired file.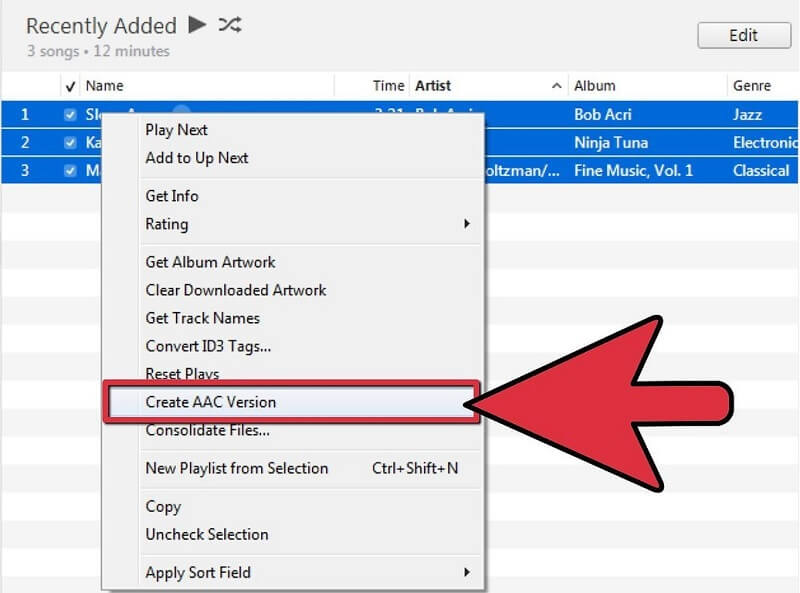 3. Total Audio Converter: CoolUtils
If you want to play your WAV files in your Apple devices then you should first convert it to AAC. And in order to do so, you should consider using an audio converter that will do it. With that, you can use the Total Audio Converter by CoolUtils. This program offers a free trial and a paid version. All you have to do is to select your WAV files then choose AAC as your target format. And to better give you a heads up on how to use this, here is a simple guide below.
Step 1: Go to your browser and go to the official website of CoolUtils. Complete the installation process then run the program.
Step 2: On the File section, select the folder which contains the Music.
Step 3: Check the audio file that you want to convert then select the target format options above. Once you have chosen your target format click the Convert panel.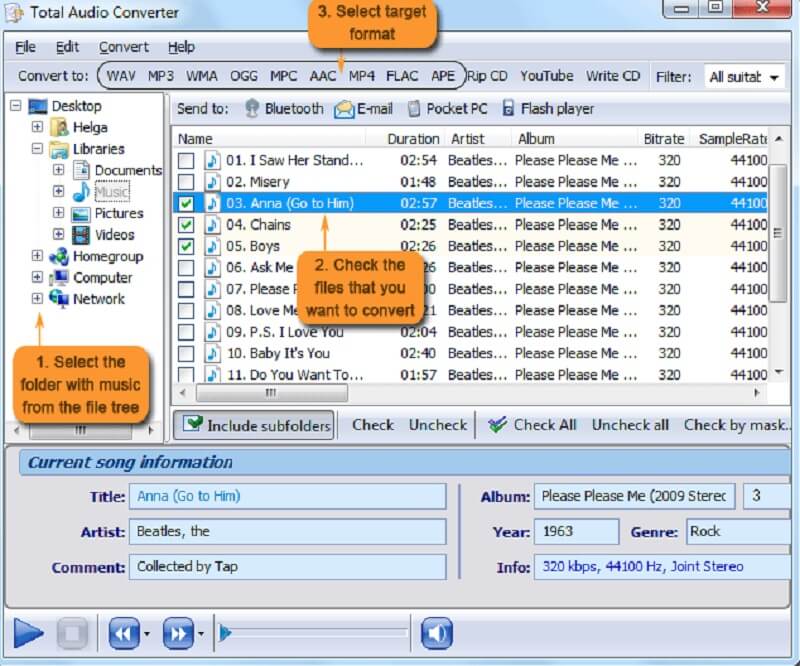 Part 3. How to Convert WAV to AAC Online
If you are looking for a tool that you can use without the need to download or purchase an application, you can go through the online process. And the most outstanding online tool that we can recommend to you is Vidmore Free Online Video Converter. This amazing online tool allows you to convert your video and audio files as well. Given the situation that you have a large amount of files, you don't have to worry about that because even if Vidmore is an online tool, it doesn't have a limit when it comes to conversion. So, how to convert WAV to AAC for free? Take a look at the information below how this simple program runs.
Step 1: Go to your browser and search for Vidmore Free Online Video Converter. Click the Add Files to Convert and hit the Download button to download the launcher of the tool, then install it.
Step 2: After you click the Add Files to Convert tab, it will open your folder containing the files that you have on your device. And then choose your WAV file and upload it.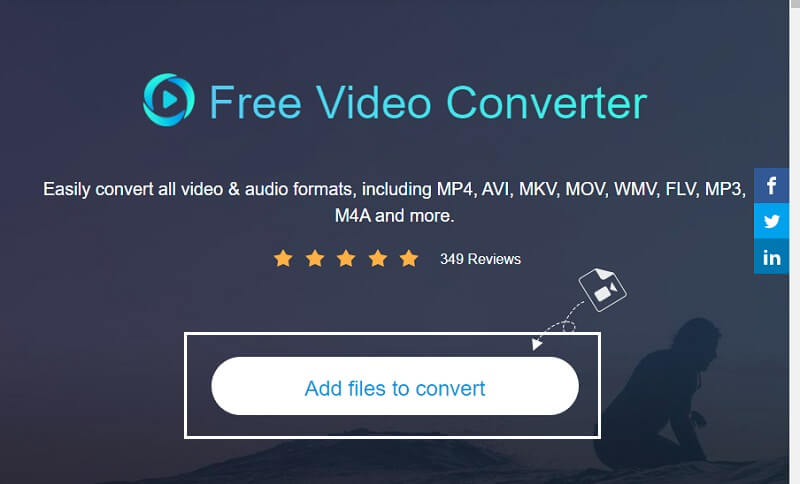 Step 3: After that, click the Music icon and select AAC format on the options below and hit the Convert button to start the conversion procedure.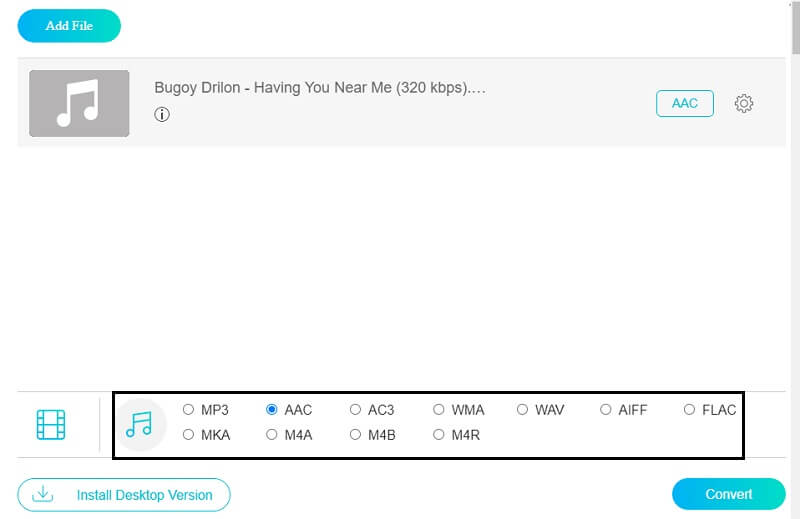 Step 4: After you click the Convert button, another folder will pop up. It will show another folder for you to select, simply choose the file's location, just simply tick Select Folder and it will be converted.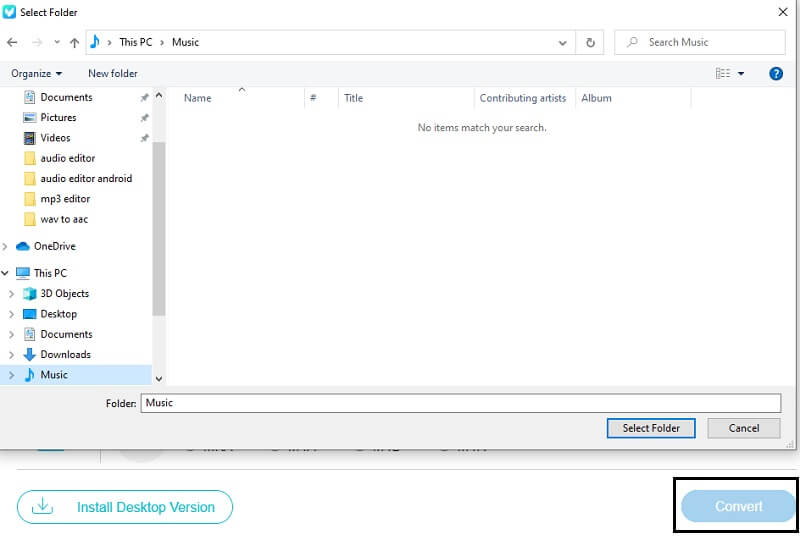 Part 4. FAQs on How to Convert WAV to AAC
Which is better, AAC or WAV?
Significantly, WAV has a higher audio quality, however it is hard to find a device that will be suitable for this kind of format which makes an AAC the better format. Because it can be played on most software and it saves storage from devices.
Does the conversion in Vidmore take time?
That's a good question. Even if you have a large file size, conversion in Vidmore only takes a few moments.
Can I use Vidmore to convert WAV to AAC on Mac?
Definitely yes. Vidmore was built for both MAC and Windows so there is nothing to worry about.
Conclusion
Having a WAV file which contains a large amount of size is a bit hard and complicated. That is why we have offered you a better solution to your concern, to convert it to an AAC format. From the online tools given you will not have to worry because you can now convert WAV to AAC for free! But if you don't have enough space, try our online tools above.