Convert AIFF to WMA with Ease Using Offline and Online Methods
As we know, AIFF adopts a lossless compression technique for the disposal of audio files. This means that the data it contains are uncompressed. In other words, they take up so much space. The good thing is that it has a compressed variant called AIFC. Yet, when talking about a format that performs at a lower bit rate, WMA has no rival in this aspect.
Technically, WMA has an excellent sound lower than 128k. This is perfect if your computer runs low disk space since the lower the bit rate, the lesser space it will consume. Given that, here we will present the two most recommended solutions in this post to convert AIFF to WMA.

Part 1. Why do You Need to Convert AIFF to WMA
You might be wondering why you need to convert AIFF to WMA. Some prefer WMA to AIFF for the reason that AIFF is too large in file size. With regards to their compression technology, AIFF is lossless, while WMA files generally adopt a lossy compression. AIFF files have a higher bitrate resulting in larger file size as well. Meanwhile, when a file format has a lossy compression, there is reduced file size, resulting in a decrease in sound quality.
In essence, you can fit more music files on your device when you have a lossy file format like WMA. Additionally, you may want to play audio files on your favorite Windows device, yet your files are in AIFF format. This is the reason it has become a need to convert AIFF to WMA. Although WMA is a lossy audio format, it minimizes the differences in audio quality. Even audiophiles won't tell the little distinction. On that note, below are the solutions you can employ to help you.
Part 2. How to Convert AIFF to WMA With High-Quality Output
1. Vidmore Video Converter
Vidmore Video Converter is your ultimate solution for your converting needs. It is designed to transform audio/video files into your desired format in no time. The software will only cost you a few seconds to get WMA audio from AIFF. With support for audio output settings, you will be able to achieve a professional result. This enables you to adjust the audio bitrate, channels, and sample rate. Aside from that, there is also a video compressor, trimmer, and GIF maker that users can take advantage of. Indeed, Vidmore is a multifunctional program that offers a bunch of useful features. The method to convert AIFF to WMA is as follows.
Step 1. Download and install the tool
First off, get the installer of the program. Just click on any of the Free Download buttons that correspond to your computer's OS. After that, install and run the app.
Step 2. Add an audio file
After the successful installation, you will see a Plus sign button on the main interface. Click on it to upload an AIFF file. The program also serves as an upload area where you can drag and drop your target audio file.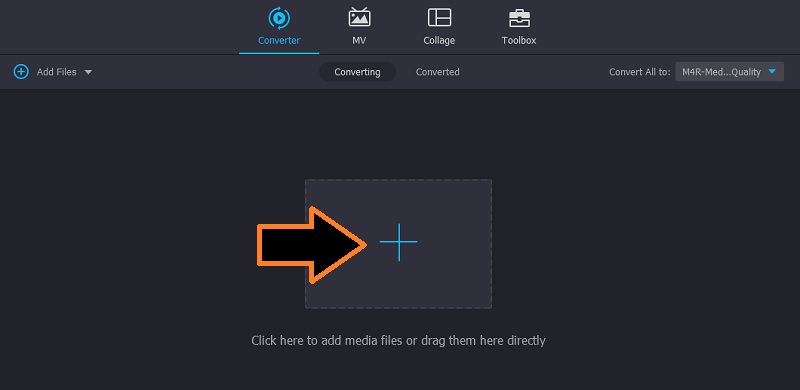 Step 3. Select conversion format
Next, go to the Profile menu and forward to the Audio tab. On the left panel, you will see a list of available audio files. From here, select the WMA format or use the search bar to locate the format immediately. Then choose an appropriate audio profile according to your needs.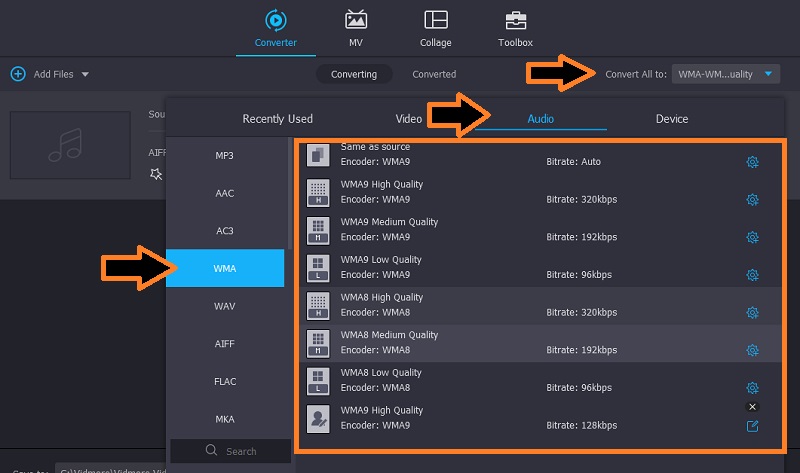 Step 4. Convert AIFF to WMA
You can finally start converting files. On the same page, click on the Convert All button at the bottom of the interface. When the conversion process finishes, the WMA file will be saved in the set folder accordingly.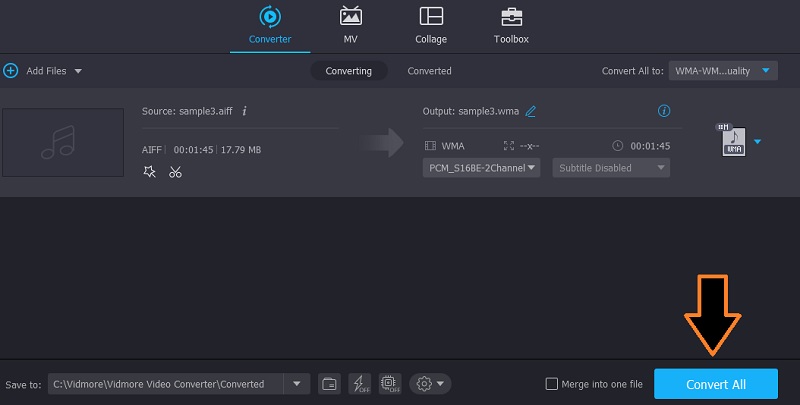 2. Vidmore Free Video Converter
In addition to the above solution, you can also use an online tool known as Vidmore Free Video Converter. This is a perfect tool if you don't want to download an extra program and need to convert only several AIFF. The tool runs on a web browser allowing you to use it and convert AIFF to WMA on Mac and Windows. Another feature that makes this program desirable is customizable parameters. For audio, you can change the sample rate, channel, audio bitrate. For videos, you will be able to modify the frame rate, resolution, and video bitrate. Now, let's learn how to use this program by following the steps below.
Step 1. Get the Vidmore Launcher
Visit first the website of the tool using any browser on your computer. Then, click the Add file to convert button to download the Launcher of the app. Install the app afterward.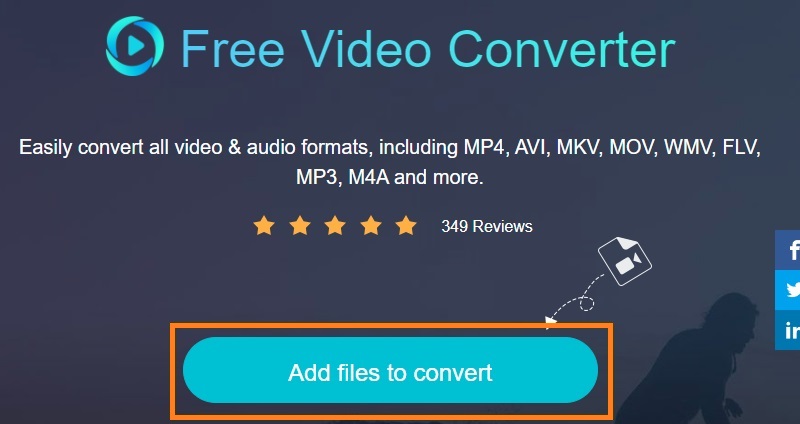 Step 2. Add AIFF to the program
Once the launcher starts, it will open a folder in which you can upload an AIFF file. Select and upload the sound file that you would like to convert.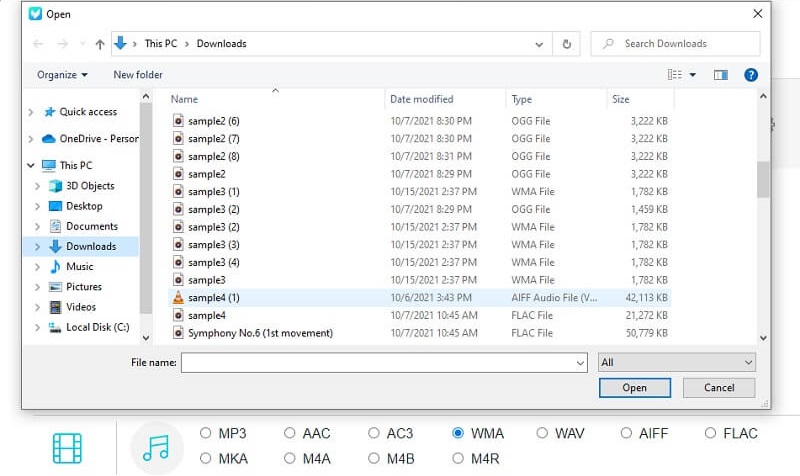 Step 3. Select output format and convert
Once done, select the Audio format option to see all the available formats for the audio files. Before the conversion, you can modify the output. Simply click the Gear icon, change the parameters, and hit the OK button to confirm the settings. Finally, hit the Convert button, and the conversion process shall commence.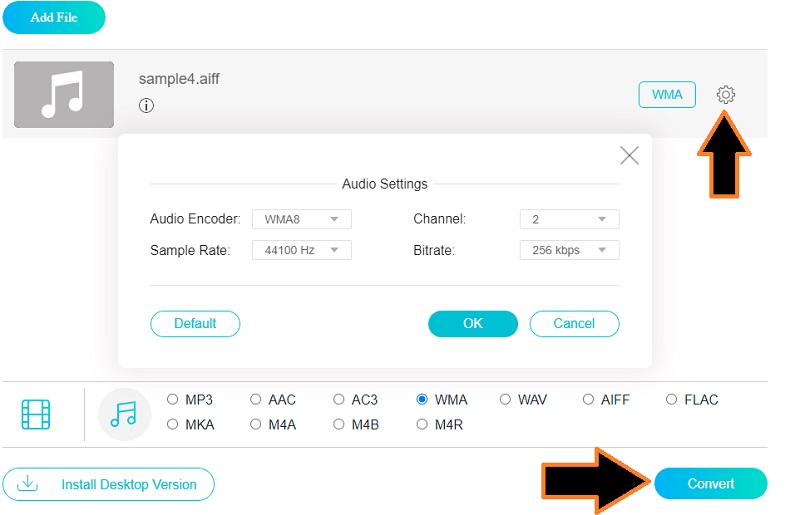 Part 3. FAQs of AIFF to WMA
Can AIFF be played on Windows?
Windows computers may open AIFF with the help of programs like Windows Media Player and VLC.
Which is better, WMA or WAV?
Regarding compatibility, WMA only supports fewer and newer devices while WAV supports more devices. However, WAV requires more disk space compared to WMA.
Does WMA have high quality?
The playback effects of WMA improve at a low bitrate with less storage required. This is a suitable format for those who just want a balance of quality and file size. Besides, most websites use this format for the disposal of music streams.
Conclusion
We offer you the two best methods to convert AIFF to WMA for Mac, Windows, and the web. Depending on your situation, you can choose between the solutions. It is advisable to convert online if you only need to convert several audio files and don't want the hassle of downloading an app. On the other hand, you should consider using the offline tool for frequent and bulk conversion. This is especially helpful if you don't have access to the internet and your concern is about the safety of your files.