Top 4 Fantastic M4A to WMA Audio Converters That Are Simple to Use
Just like on videos and images, it is also essential to convert an audio file. For instance, if your audio tracks that play on your device may not work if you transferred it to another device that is not the same with what you have. Therefore you will consider using an audio converter. One of these is an M4A to WMA audio converter.
There you may be interested in what are the audio converters that you can use to help you in your files. That is why, we have prepared these four different methods to convert your audio files to be compatible with other devices. In the guide information below, here are the recommended applications below, along with their step by step process.

Part 1. 4 Ways to Use to Convert M4A to WMA
There are a lot of reasons for converting your video or audio file into another format. Some wanted to convert their file due to compatibility, while the other wanted an audio converter to save enough storage. But one thing is for sure, they all wanted to maintain a good quality of their audio files. And in this part, we will share these four online and offline audio converters. But where should you start? Here we take a look at the best desktop and online free audio converters to help you change files into the formats that suit you the best.
1. Vidmore Video Converter
If you are looking for a way to convert your M4A file to WMA, try using Vidmore Video Converter because you can download this multi-purpose program without spending a penny by using their free trial. You can convert different file formats in just a snap. Plus, this application offers an easy conversion process. Nothing to worry about its technicalities because it has a user and beginner friendly feature. And to give you an idea how to use this M4A to WMA audio converter, here is an easy step by step conversion process.
Step 1: Get the M4A to WMA Audio Converter
Have the free app by clicking the free download button below. Install and launch it on your computer after it has been downloaded.
Step 2: Add a M4A File
Once the program is running, click the Add Files or the Plus icon on the center screen of the tool then select the file that you require to convert.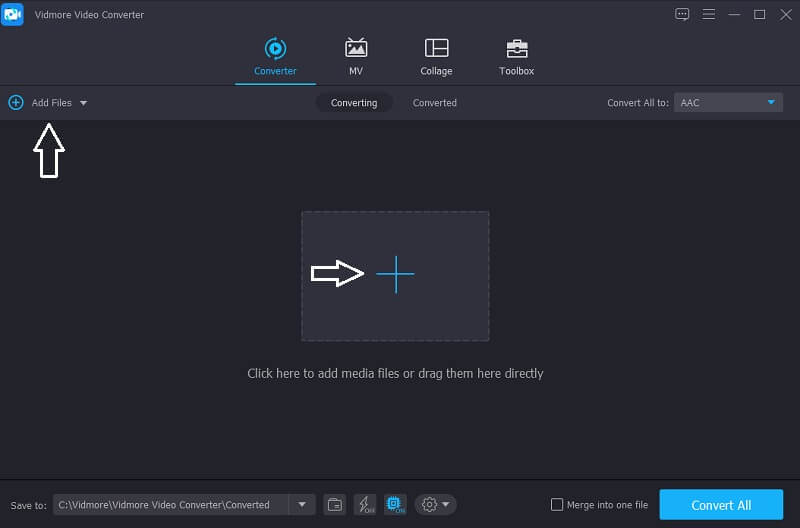 Step 3: Select a Format
After adding your target file, go to the dropdown arrow located at the right side of the video's thumbnail and click the Audio panel. Choose WMA from the choices.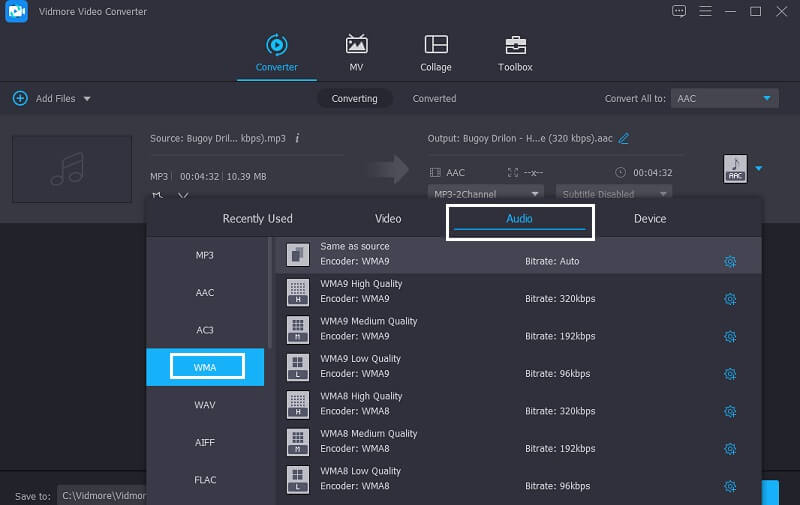 Step 4: Save the Audio Output
Once you have selected your desired audio format, click the Convert All button to successfully convert the audio file into another format.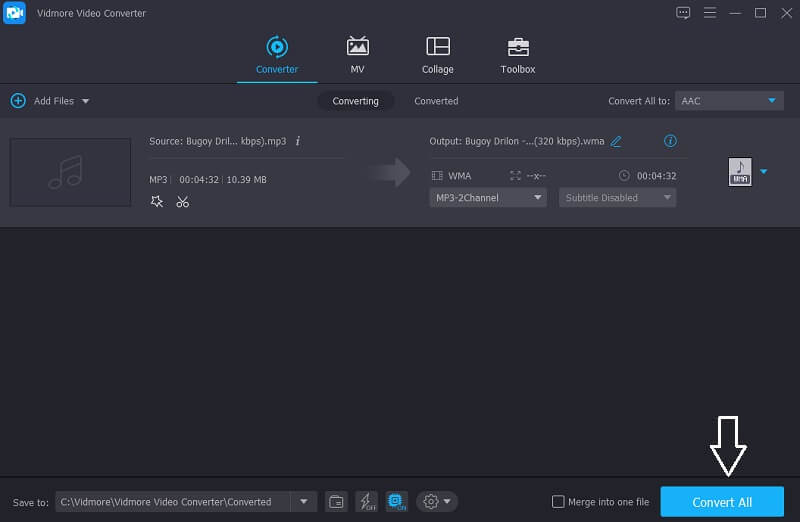 2. Windows Media Player
Windows Media Player is the native media player for Windows which allows you to play different files just like WMA. That is why if you are required to convert your audio format from M4A to WMA, this tool is very applicable. In the list of information below, we will walk you through the steps on how to convert M4A to WMA with Windows Media Player.
Step 1: Open your M4A file on Windows Media Player or you can just drag it down on the app.
Step 2: Go to the left-upper part of the screen then tick the Organize tab and after that click the Options followed by the Rip Music tab.
Step 3: A new window will appear, therefore click the Rip Music. After that, go down and click the Change button to choose the file's destination. And then go to the Format button, click the dropdown menu, and click the format that you require.
3. iTunes
If you are looking for a way to convert M4A to WMA in iTunes, the only way for it to be possible is by burning it into a CD and by ripping it to your Windows Media Player. Therefore, for you to successfully convert your M4A to WMA with the use of iTunes, here is the list of steps below.
Step 1: Open iTunes on your PC and click the File section and select the New Playlist on the menu. Put a name on the playlist then hit the Enter key to save the name of your file.
Step 2: Drop the music from your library and click the Burn Disc tab then insert a blank CD into your disc drive. After that, open your Windows Media Player.
Step 3: After that, click the Tools menu and click the Options then click the Rip Music tab after. Next, click the WMA under the Rip settings and click the OK tab to apply the changes. After that, insert the burned CD and Windows Media Player will automatically convert your music.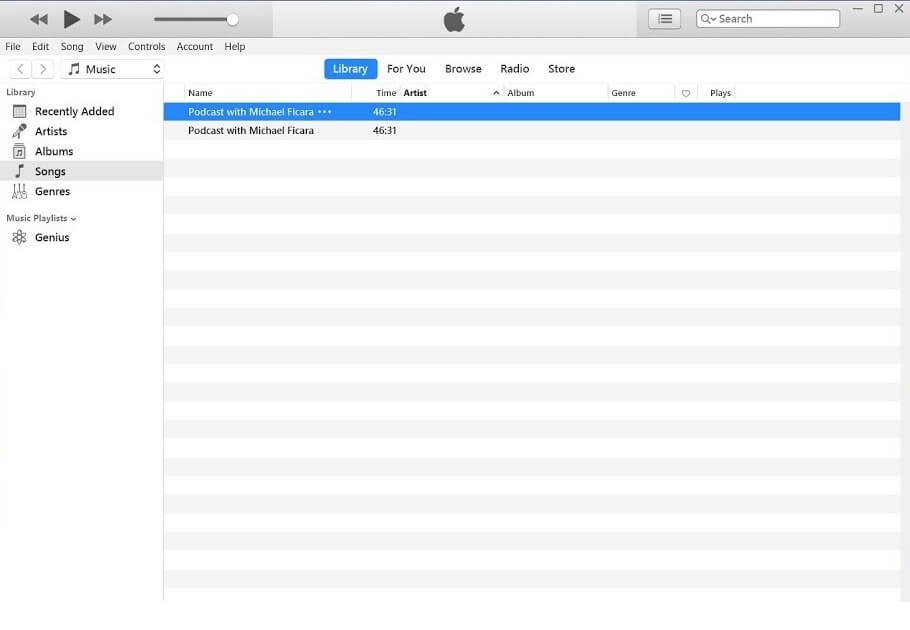 4. Vidmore Free Video Converter
This application is a web-based application which you can use for free. It supports conversion of different video and audio file formats. Aside from that, this app doesn't have a lot of technicalities which makes users love it even more. What makes it more amazing is despite the fact that it is an online tool, there will not be a problem on the file size because you can convert a video or an audio file without a size limit. And to give you a tour how to use this web-based tool, have a glance on the steps provided below.
Step 1: Go to your browser and look for the Vidmore Free Video Converter. After that, hit the Add Files to Convert and click the Download button to get the launcher of the tool, then install it.
Step 2: After clicking the Add Files to Convert button, it will open your folder containing the files on your device. Then choose your M4A file and then upload it.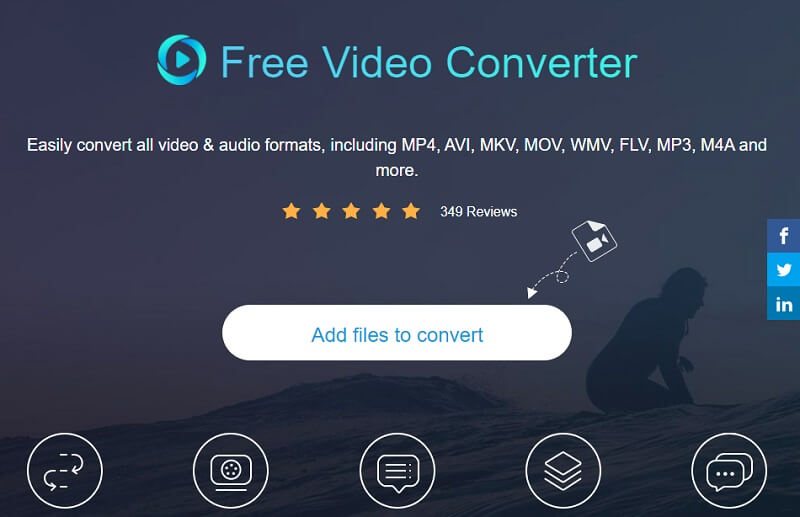 Step 3: To see those file format options, click the Music icon and choose the WMA as a format on the options below then click the Convert button to start the conversion process.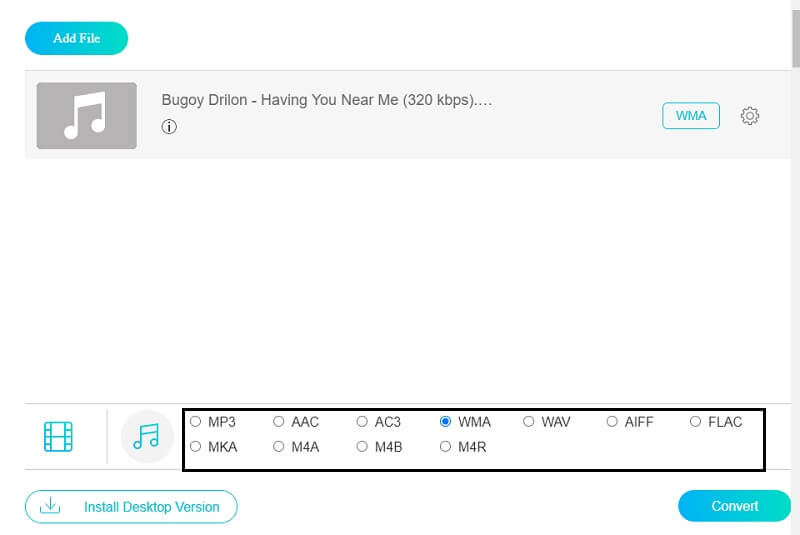 Step 4: After hitting the Convert button, the folder in your device will appear then simply choose the file's location. After that, hit the Select Folder and it will be converted in just a snap.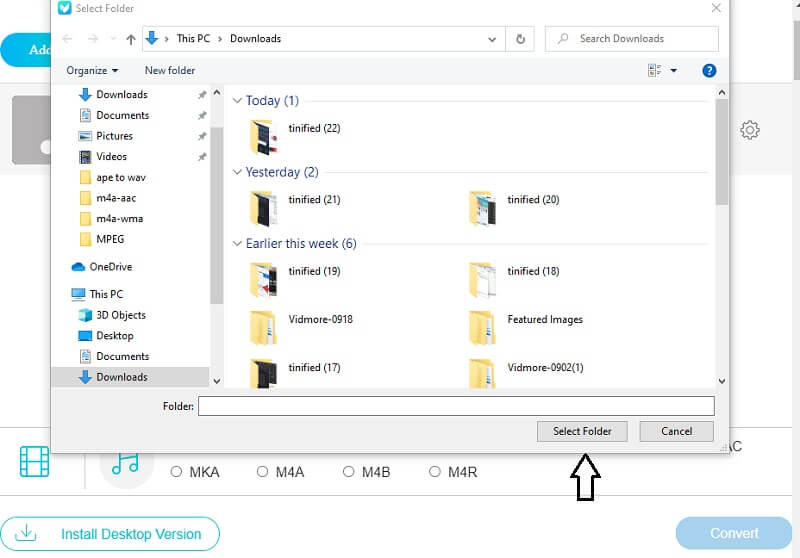 Part 2. Comparison Chart
This comparison chart shows how these four M4A to WMA audio converters are similar and different from one another based on system features of an online tool.
| | | | | |
| --- | --- | --- | --- | --- |
| KEY FEATURES | Vidmore Video Converter | Windows Media Player | iTunes | Vidmore Free Video Converter |
| Easy to Use | | | | |
| Fast Conversion Process | | | | |
| Different Editing Features | | | | |
| Windows and MacOS | | | | |
| Offers Different Formats | | | | |
Part 3. FAQs in Converting M4A to WMA
Can I extract and convert an audio file from a video?
Yes, it will be possible to extract an audio and convert it by using the right application that can do that just like Vidmore.
Which is better, M4A or WMA?
If you have a large amount of storage, you can stick with M4A.
Is it possible to convert a WMA file without quality loss?
Yes, it would still be possible to convert a file into WMA by choosing the format WMA lossless on the formats that was being offered by the audio converter.
Conclusion
Now that you have an idea how to convert M4A to WMA for free using the four applications that were provided above, you will now be able to take account of your most loved files! All you have to do now is to pick your bet.