How to Edit WMA Files on Windows 7/10 and Mac Computers
WMA stands for Windows Media Audio. It is developed by Microsoft that is highly compatible with the Windows platform. This format has arguably higher quality than other formats like MP3. In fact, it performs better even at a lower bit rate, particularly 128k. Also, if you happen to use Windows Media Player as your main player, WMA files are the best choice when it comes to the audio format.
But it happens where you need to split, merge, or cut an audio file which is a common activity that most individuals tend to do on a daily basis. That is why in this post, we made detailed guidance on the impressive tool to edit WMA files on Mac and Windows PC. Along with this are its features that will get you familiarized with the tool.

Part 1. Professional WMA Editor You Can Rely On
There is an undeniably great number of programs available in the market to edit WMA files. The thing is it can be bothersome and time-consuming to find the right tool for you. Hence, it is important to know your purpose for editing in the first place. You will surely find one that fits your requirements and needs. It is true that there is such a program as fit-to-all situations. Yet you can always rely on Vidmore Video Converter to help you edit WMA files online or offline. That means you don't need to have an internet connection to operate this app.
In a nutshell, Vidmore Video Converter is a converting program that works on both Windows and Mac. Therefore, whichever OS your computer is running, you can use this to enjoy its superb features. More importantly, it facilitates editing audio files allowing you to cut, merge, split, edit media metadata and so much more. To have an in-depth review of this tool, we enumerated some of its key features for your reference.
Key Features of Vidmore Video Converter:
1. Cut, Split, Trim WMA files with ease
This tool comes with several methods for slicing tracks. With it, you can automatically split a track into halves or multiple fragments using the Fast Split feature. There is also a music grabber handle that you can adjust to select the portion of the audio which you will retain. Apart from that, you can also define the start and end points by seconds for a high-precision cutting.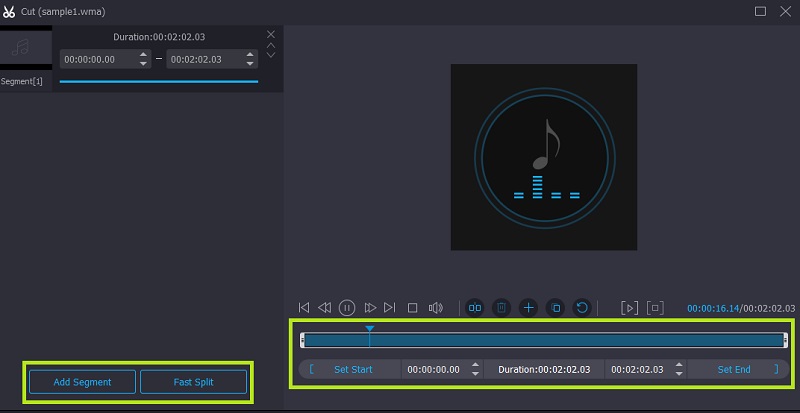 2. Adjust sound file settings
This program provides an easy way to increase and decrease the volume of your audio clips. Along with that, you can adjust the delay of the sound file as you wish.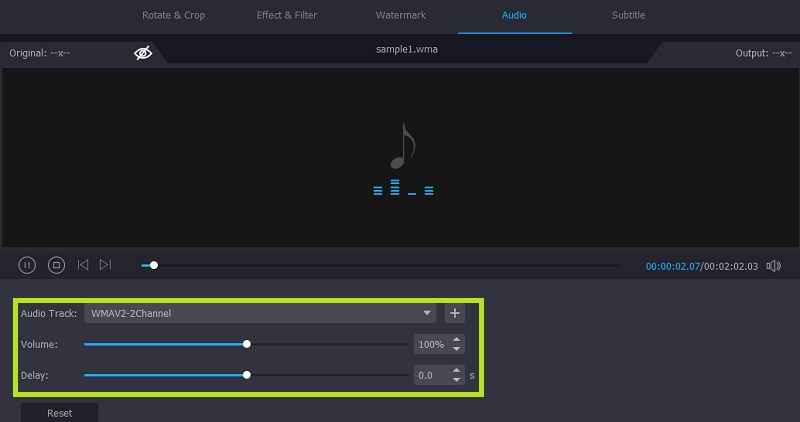 3. Merge multiple songs together
It enables you to combine two or more songs into one allowing you to create a playlist of multiple songs. Songs can be in different formats and lengths.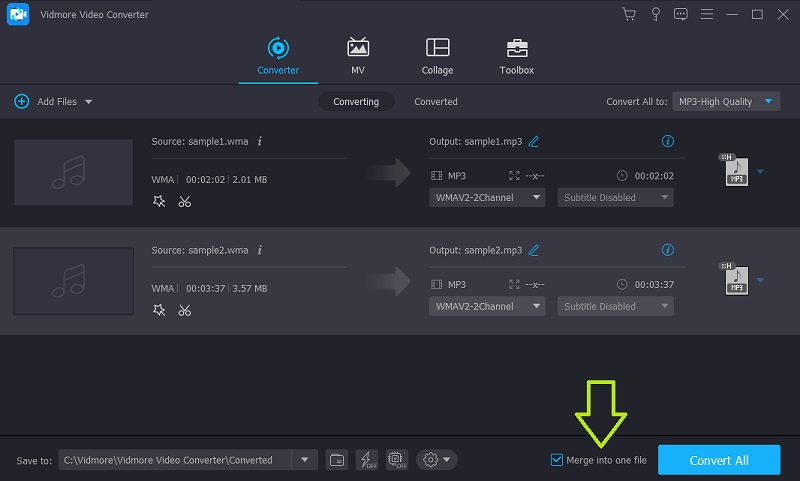 4. Edit album information
With Vidmore Video Converter, you are not only allowed to edit the properties of the song but also its metadata information using the app's Media Metadata Editor. This can work on both audio and video files. Long as the media file is supported by the tool, you can modify the title, artist, album, add comments, and even a cover photo to the track.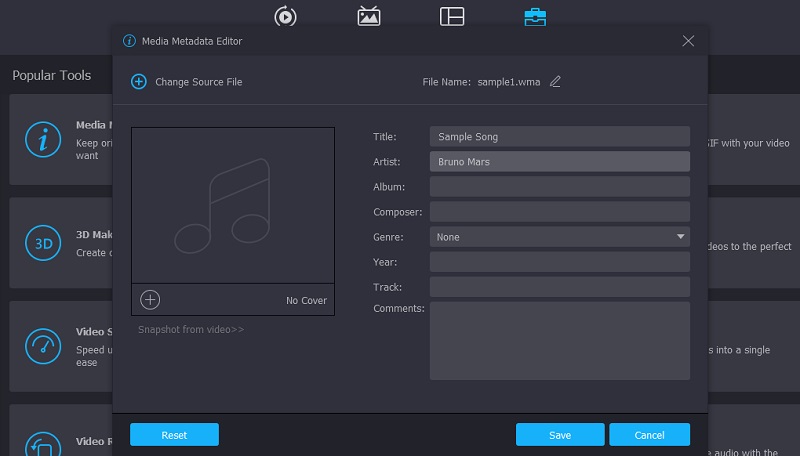 5. Wide range supported audio formats
The offers support to almost all audio files including but not limited to MP3, FLAC, WAV, M4A, AAC, AIFF, OGG, MP2, CUE files, and other audio formats.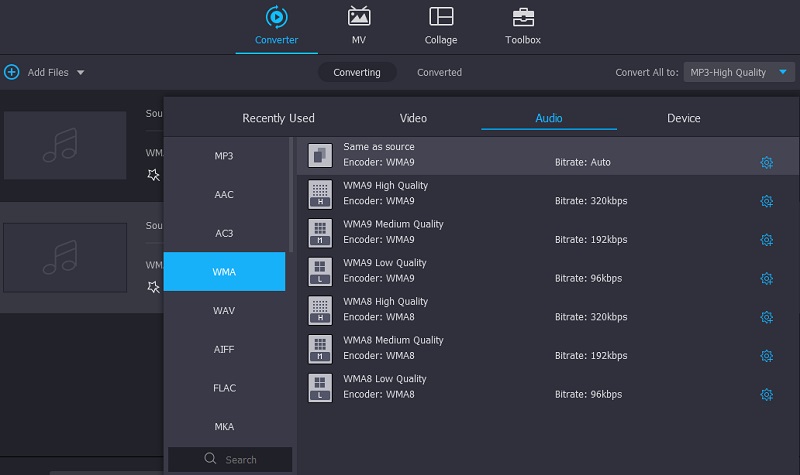 Part 2. How to Edit WMA on Windows/Mac
To learn how to edit WMA files for free using this software, you may take a glance at the detailed steps presented below. This includes processes for cutting, splitting, merging, editing ID3 tags, and adjusting volumes of WMA files. To cut the chase, beneath is the step-by-step process to operate this WMA editing software.
Acquire the WMA Editing Software
First, you need to download the program. You can get its latest version by clicking any of the Free Download buttons provided. Make sure to tick on the appropriate OS for your computer system. Next, install the app on your computer and launch it.
Load a WMA file
Upload the WMA file that you wish to edit by clicking the Plus sign button. From the folder the will be displayed, browse through your files and look for your target WMA. Click the Open button to successfully upload the file.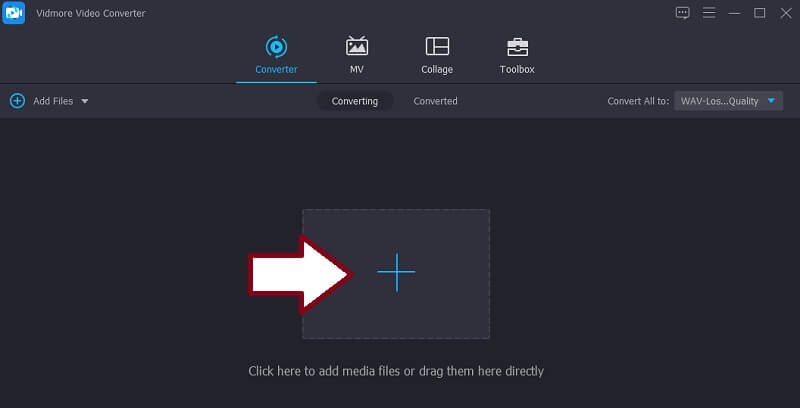 Cut/Split and merge WMA
After uploading a file, edit the file by clicking the Cut button. From the music cutting interface, you are given several methods for splitting or cutting sound files. Click on the Fast Split and select mode between Split by average and Split by time. Once decided, enter your desired number of cuts or seconds and hit the Split button. Alternatively, you can keep the relevant parts and omit the parts that you don't need using the left and right music grabber of the tool. Or, enter the start and end points in seconds to cut the audio precisely.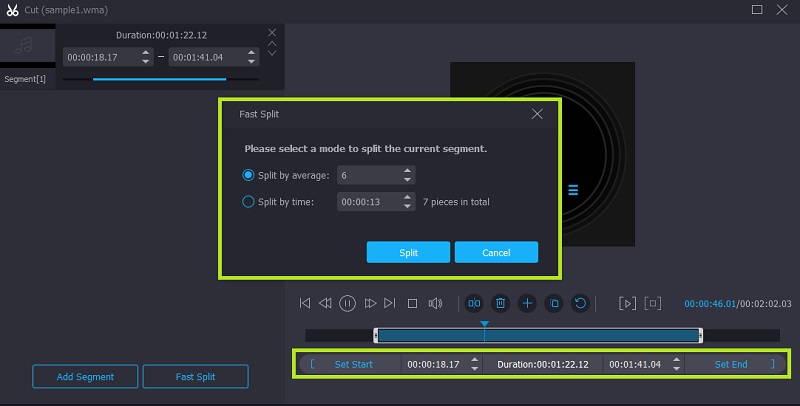 If you need to merge WMA files into one, simply head back to the Converter tab. Then tick on the Merge into one file check box to combine all the uploaded songs on the program.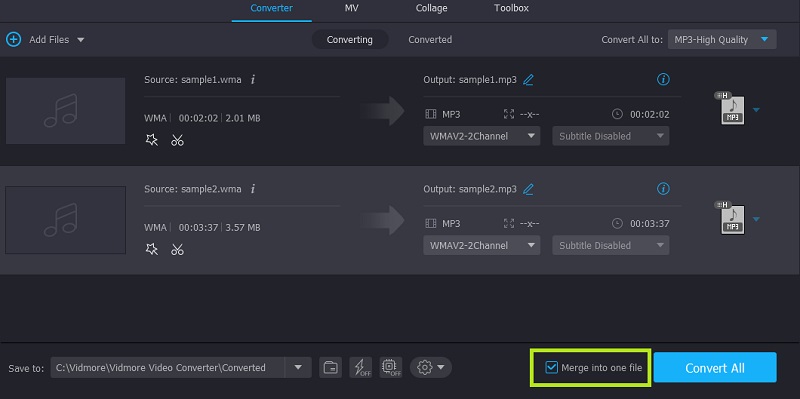 Edit ID3 tag for WMA
If you wish to edit your WMA files, simply navigate to the Toolbox tab. Select Media Metadata Editor which is the first option from the selection. It will open a new dialog box where you can add or edit the ID3 tags of the WMA file such as the title, album, artist, track, year or date release, and many more. Even better, you can rename the sound file according to your liking. Make sure to hit the Save button at the bottom of the dialog box to save all the changes.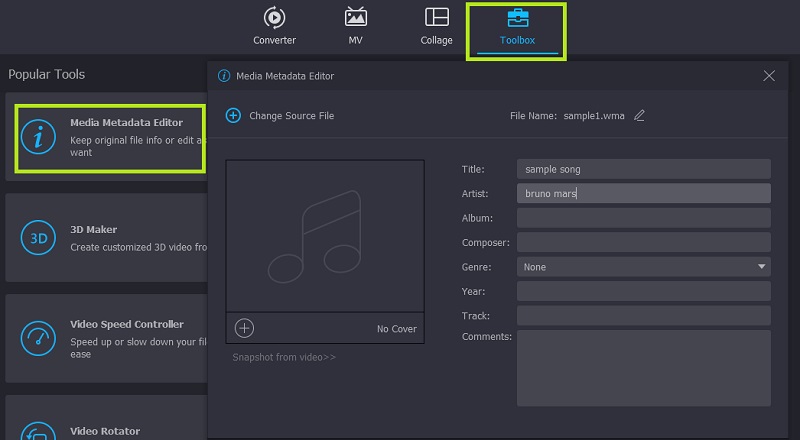 Adjust WMA volume
Besides editing ID3 tags, you may adjust the volume of the sound file allowing you to raise up the volume especially if it is inaudible, or decrease the volume if the audio is too loud. Click the Edit button associated with the audio thumbnail. Then adjust the slider to the left when trying to decrease the volume and slide to the right to make the sound file more audible. Click the OK button to confirm the adjustments.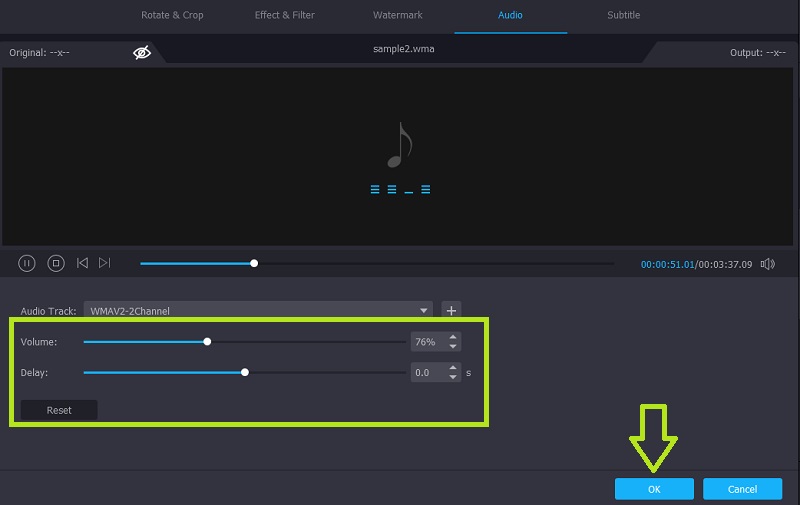 Save the final version
If you are happy with the results of your audio files and you are ready to save the changes, go back to the Converter tab. You may leave the default output folder unchanged or modify the location according to your desired folder by clicking the Folder icon. Once done specifying the file location, click the Convert All button at the bottom right-hand side of the interface to confirm and render the file.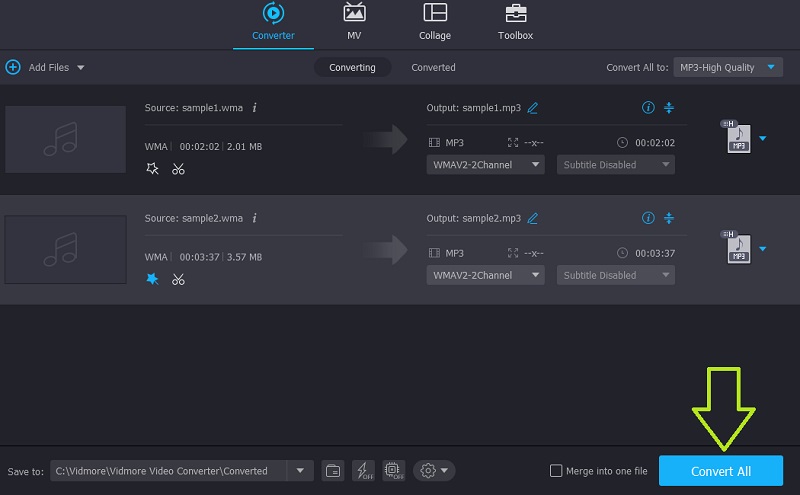 Part 3. FAQs of Editing WMA Files
AHow to edit WMA online?
Online tools are as useful and functional as desktop solutions. Now if you are learning how to edit WMA online, you may try using Audio Trimmer to help you cut and apply sound effects to the audio file.
AHow do I edit WMA files on mobile?
There are mobile applications that you can download on your smartphones for a simple audio workaround.
ACan I convert WMA files?
Of course! Actually, there are a handful of programs that will help you accomplish this task. On the other hand, Vidmore Video Converter is well able to convert WMA files to any of your desired audio formats.
Conclusion
Learning how to edit WMA is a piece of cake when using the right tool. That said, we reviewed the most recommended app for this kind of need which is none other than Vidmore Video Converter. The fact that it is affiliated with other useful tools, it is obviously the app that should be included in your list of best audio editing tools.