4 Best Ways to Convert ALAC to AAC While Preserving the Quality
ALAC Apple Lossless Audio Codec is an audio format used to store digital music in a lossless format. Meaning the quality of the sound is preserved from the original file source. This format is also known as Apple Lossless Encoder or Apple Lossless. Thus, they only refer to the ALAC format when you see all these.
Moreover, you can play it on your Apple devices without any problem. ALAC, however, needs ample disk space. It is naturally large in file size due to its lossless nature. There are times that your device is running out of storage. Luckily, there is another format associated with Apple named AAC. That means you can convert ALAC to AAC as a workaround to save space. Find out below how to get this conversion done.

Part 1. Best Way to Convert ALAC to AAC With No Quality Loss
For better and no quality loss results, look no other than Vidmore Video Converter. The tool offers output formats like AAC, MP3, WMA, AC3, WMA, FLAC, etc. Moreover, you can set your preferences in terms of quality by customizing a profile. This option lets you tweak the sample rate, bitrate, and bitrate settings to achieve your desired audio quality. On the other hand, presets are ready to use if you do not want to customize your profile.
With Vidmore, you can be more. It comes with a toolbox that homes the practical features offered by the program. Here you can access the media metadata editor, volume booster, GIF maker, audio sync, and a lot more. So, if you are wondering how to convert ALAC to AAC, you may refer to the guide below.
Step 1. Download and install Vidmore Video Converter
First things first, get the app by clicking the Free Download underneath. Make sure to click on the appropriate button for your computer OS. Then, install and run the program. Get acquainted with the tool's interface and functionalities upon launching.
Step 2. Add an ALAC audio track
From the tool's main interface, click the Plus sign button, and your device's folder will open up. Browse your target audio file and double click once located. The thumbnail of the audio track should appear on the tool right after. Also, you may add a folder of audio files to batch convert ALAC to AAC.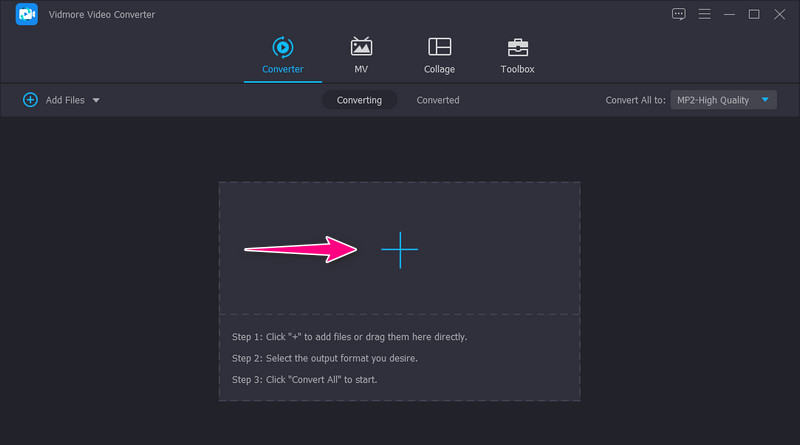 Step 3. Select a format from the Profile menu
Next, expand the Profile menu located at the upper right portion of the interface. Tick on the Audio tab and select AAC on the left side menu. After selecting the format, you will see a list of quality. Please select your preferred quality or customize it by clicking the settings icon.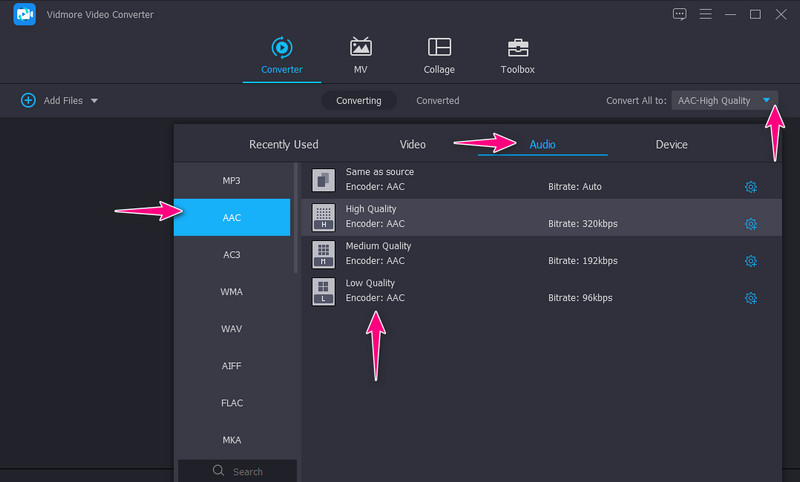 Step 4. Convert the ALAC track to AAC
After choosing a file format, set a saving path for the output audio. Then, click the Convert All button at the bottom right corner to initialize the conversion process.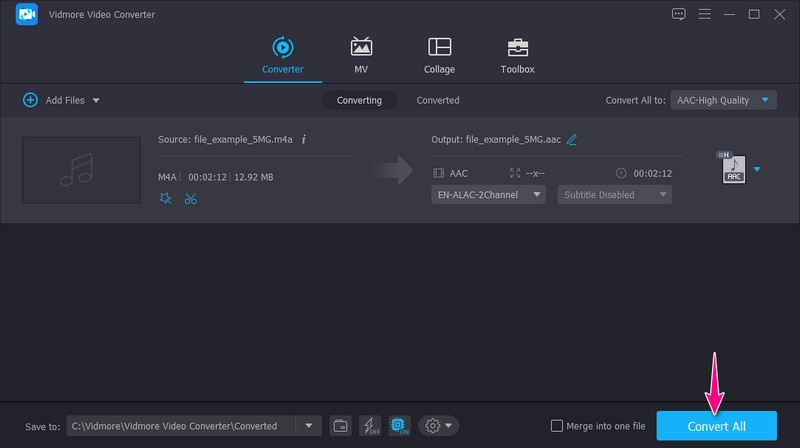 Part 2. Other Ways to Convert ALAC to AAC
More programs could assist you in converting ALAC to AAC. If you want to have broad audio converting options, then look below.
1. MediaHuman Audio Converter
MediaHuman Audio Converter allows you to process and convert different audio files simultaneously. In fact, it supports common and popular audio file formats. In conjunction with its file converting ability, it enables iTunes library integration. That means you can import and convert songs from iTunes playlists. Not to mention, you may allow the auto-import into iTunes once the conversion process is done. Learn how to use this ALAC to AAC converter by following the steps below.
Step 1. First off, acquire the program from its official website and get the right installer for your computer.
Step 2. Next, launch the app and add an audio track by clicking on the Plus sign button at the top left portion.
Step 3. After that, select an output format from the Profile menu and hit the Convert button beside it. Then, the conversion process should start.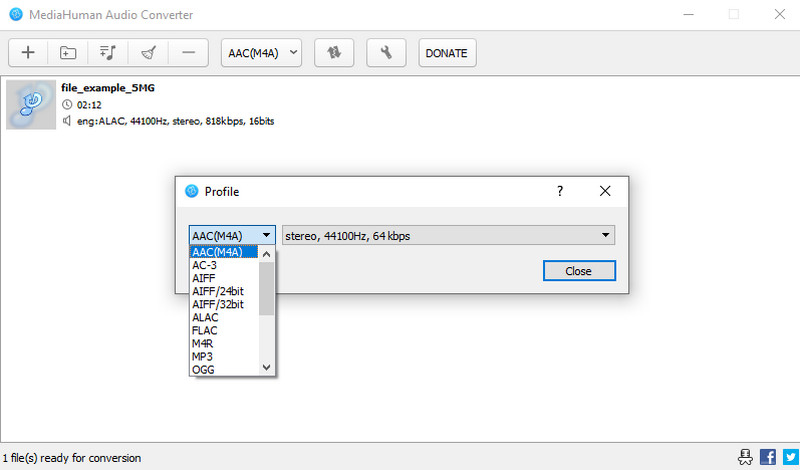 2. MediaMonkey
Another program that could help you convert ALAC to AAC is MediaMonkey. This tool was developed for organizing audio files while allowing you to play audio files. Yet, what makes it versatile is its ability to convert audio files as well. In other words, you may utilize it both as a digital media player and a converter. Not to mention, it converts files without affecting the tag information of the audio file. Now here is how to use this program.
Step 1. Install and launch the app on your computer. Then, load the ALAC file immediately to the tool.
Step 2. Right-click on the added audio track and select Convert format.
Step 3. From the Format menu, select AAC and hit the OK button at the bottom right-corner to initialize the conversion process.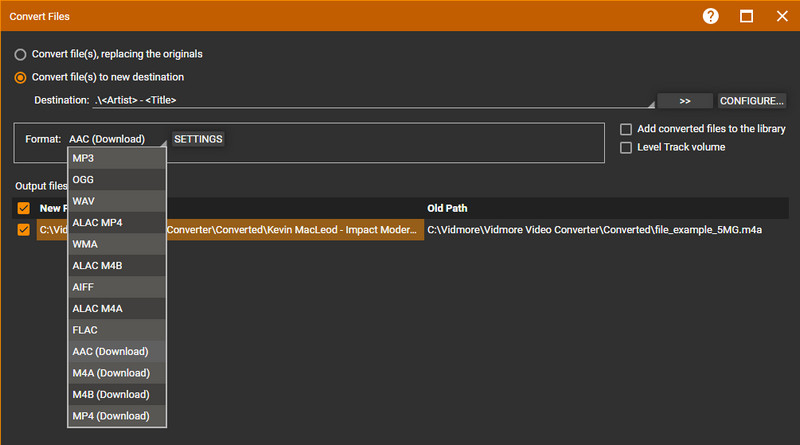 3. Zamzar
If you wish to transcode files without downloading any application simply, you might consider using Zamzar. The tool supports a handful of audio formats, including AAC, MP3, AC3, AIFF, etc. Besides, this tool also works as a video converter, document converter, and image converter. Now, if you are wondering how to operate this online ALAC to AAC converter, follow the simple steps below.
Step 1. Visit Zamzar's official page and import your target ALAC file.
Step 2. Open the Format menu and select AAC as the output format.
Step 3. Finally, click the Convert Now button to commence the conversion process.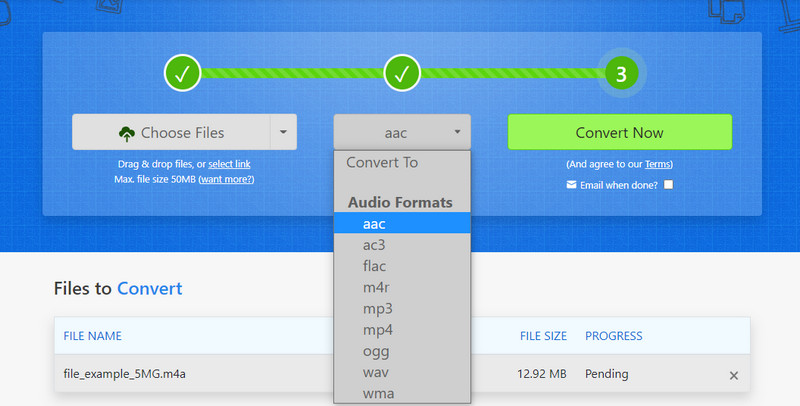 Part 3. FAQs on ALAC to AAC Conversion
Can I change AAC to ALAC?
Yes. You can do the reverse conversion using one of the recommended tools, Vidmore Video Converter. In fact, this program supports almost any input and output format.
Would MP3 lose quality after converting to AAC?
Yes. It is like producing a photocopy of a copy. As one file is converted to other formats, it gets farther away from its original file source resulting in lower quality. Yet, if you want to listen to a player that exclusively plays AAC files, this operation is helpful.
Are MP3 and AAC the same?
When it comes to the sound quality, there is no considerable difference. When it comes to a lower bitrate, AAC performs better. Actually, it performs well in both high and low bitrates. On the other hand, MP3 sounds poor in the lower bitrate.
Conclusion
Which converter is better or optimal to use? It is common sense that all of them can convert ALAC to AAC. However, it still depends on your conversion needs and preferences upon choosing the best converter. Practicality and usability-wise, Vidmore Video Converter has the upper hand. This program converts files in a fast and easy manner.