Best AAC Audio Editors for Online and Offline Usage
From picking the movies to watch, TV shows, to choosing videos, we would always look for the best. The same goes for the audio file that you are listening to. Probably you will choose AAC file format over MP3 audio format as it offers benefits, especially in the performance and quality. For your information, iTunes uses Advanced Audio Coding or AAC as an encoding method for Appl's audio files by default.
As a matter of fact, most devices and platforms use this as a standard audio format due to the performance improvements this brings. Meanwhile, many users are having difficulty editing this file format because of compatibility issues. It remains a predicament to open and edit AAC. With that being said, beneath are some of the great AAC audio editors that you can use right now to edit your AAC files.

Part 1. What is AAC?
AAC which stands for Advanced Audio Coding is Apple's counterpart for MP3. It is a lossy and compressed audio file format that is often used for Apple Music streaming. Moreover, the format does not have quite high resolution but sounds better, generally even better than MP3. The reason for that is because it is encoded at 256kpbs best for streaming quality music on Apple devices, YouTube, iTunes, Playstation 3, and Nintendo 3DS.
This should give you merit if you are into the sound quality rather than the file storage. Apart from that, it can compete even at a lower bit rate but still achieves better sound quality which is perfect for audiobooks. But in general, it is worth remembering that the more bits the audio file has, the better sound quality it delivers. Now if you are puzzled about which are the best programs to use, you should refer to the following excellent AAC audio editor suitable for Mac and Windows PC.
Part 2. Top AAC Editors
1. Vidmore Video Converter
One of the best solutions you should consider using to edit audio files like AAC is Vidmore Video Converter. Judging its name, you might have a hint that it's only a converter but there's more to it than meets the eye. The tool is an all-in-one media file editor and converter. It lets you split a track into multiple segments or fragments. This can be really helpful to pinpoint which part to remove from an audio file. In addition, you can enter the start and end time duration for precise trimming of audio parts. Also, you can merge back the fragments as you require. On top of that, you can manipulate the meta info of your audio/video file. Therefore, you are not only editing the AAC file per se but also using the tool as an AAC metadata editor.
Below is a walkthrough on how to use this best solution for editing AAC files.
Step 1. Install the AAC editor alternative
The first action you need to do is to acquire the installer of the app. You can do this by clicking any of the Free Download buttons below. Once downloaded, open the file and follow the onscreen wizard to install. After that, run the app on your computer.
Step 2. Add an AAC file
When you see the running interface of the tool, click the Plus sign button in the middle and it will prompt the folder. Now select the target AAC file to edit. Optionally, you can drag and drop one or more AAC files as you like.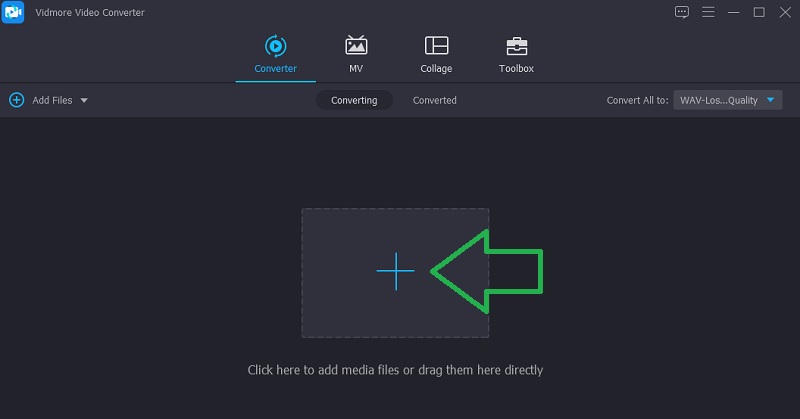 Step 3. Edit AAC file
Once the file is uploaded, you can begin editing it. Click on the Cut icon associated with the audio thumbnail. It will then open the music cutter interface. From here, you can select the part to remove using the handlebars or enter the duration time. Listen to the playback and hit the Save button when you are satisfied with the results.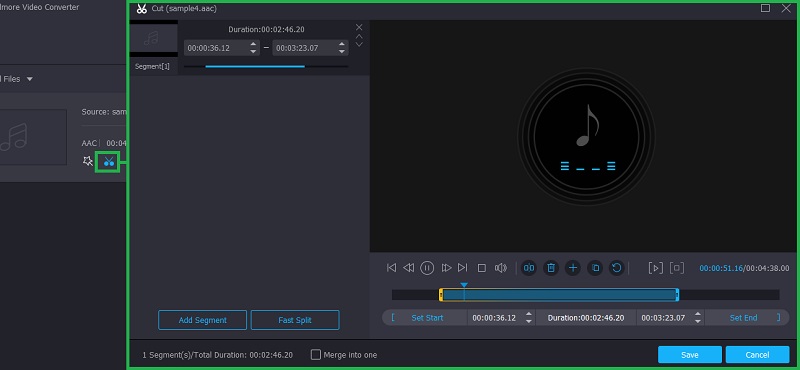 Step 4. Save the edited AAC file
Close the music cutter interface and head back to the Converter tab. Before saving the final version, you can choose to change the format to any of your desired audio formats. Then hit the Convert All button after all the changes. In a very short while, you will already get the audio playback and listen to the AAC file you just edited.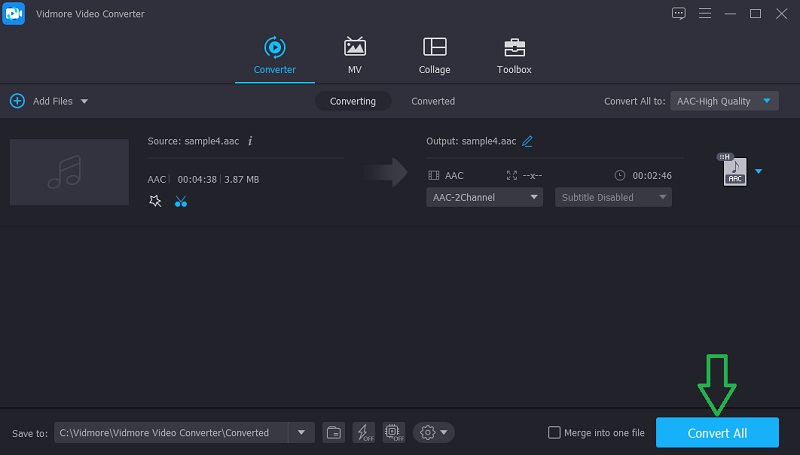 2. Macsome Audio Splitter
As its name suggests, Macsome Audio Splitter is another desktop app that you can use to edit AAC or MP3 files on Mac. With it, you will be able to split parts of audio files into separate tracks in a matter of seconds. Moreover, it can retain the original tags and sound quality of the file after a series of editing tasks. In addition to that, users can perform splitting files in batches which is very convenient when you need to work on several songs at once. The best part is you can apply effects to AAC files including fade in and fade out, add and edit ID tags and use it as your go-to AAC tag editor.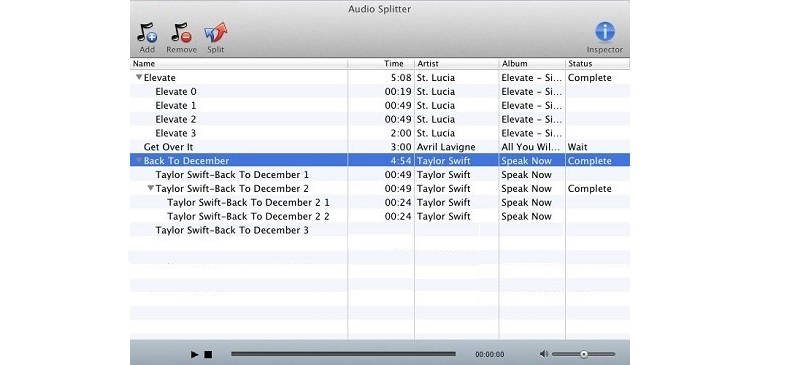 3. Audio Tool Set
If you want to save space on your hard drive by editing AAC files from the webpage directly, an online tool like Audio Tool Set is quite the app for you. It features a drag and drop interface allowing you to conveniently upload AAC files. Aside from that, you can also circumnavigate the features and functionalities of the web application by the audio samples provided by the tool. Once you have familiarized yourself with the tool, you can then start editing AAC files. What's so good about this tool is that there are a myriad of tools you can use for your audio editing jobs. From cutting, splitting, increasing volume, reducing the noise to many more advanced tools. It's safe to say that this AAC editor online does not fall behind in terms of features.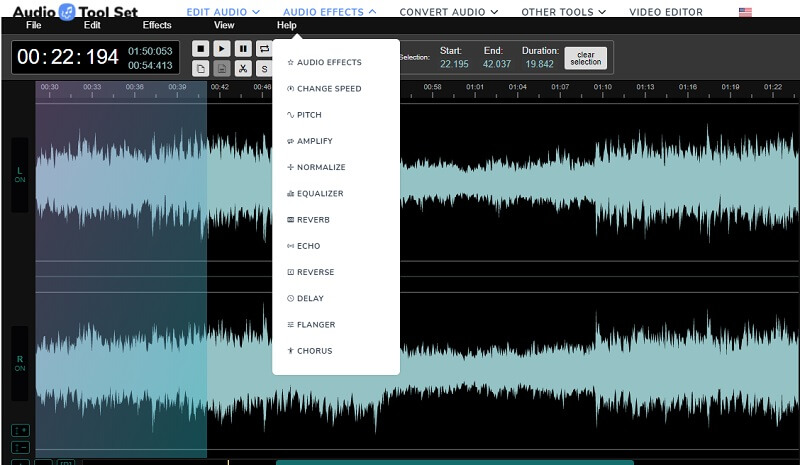 4. Bear Audio Tool
Another audio editor for online users that you can depend on is Bear Audio Tool. There are almost similar functions to the aforementioned tools. This includes the capability to trim, cut, and crop certain parts of audio. Moreover, this lets you record voice using just your browser or import one from your hard drive and edit it by adding effects, muting some audio parts, generating a high-pitch sound and so much more. Couple with that, there is a converter for you to transform your AAC file and open them on your desired music player.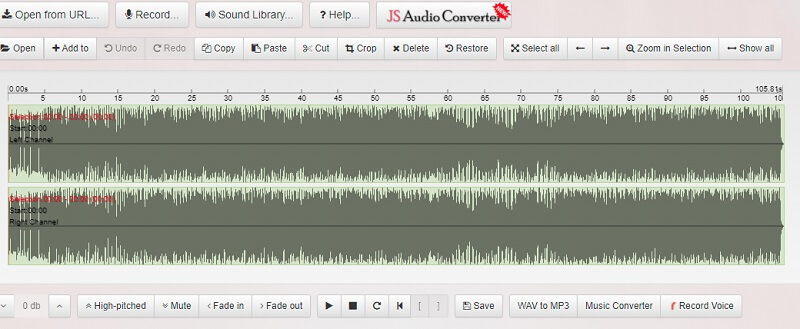 Part 3. FAQs of AAC Editors
How to open AAC files?
As mentioned, it is a default audio format for iTunes. That means you easily play AAC files on iTunes. Yet for those of you who are looking for ways to play AAC files on Windows PC, you may open the audio file using VLC.
Which is better, AAC or M4A?
Encoded AAC files may have various extensions and one of which is M4A. Although they are different in the file extension, they only have the same sound quality and performance.
Can I convert MP3 to AAC?
Yes. Using the Vidmore Video Converter, you can convert almost all audio files to any format you require. Whether you are using a Mac or Windows computer, you can instantly accomplish this task.
Conclusion
Using the lossless AAC editors listed above, you will be able you can rework your AAC files. No matter if you need to convert, trim audio parts, add effects or simply listen to the stream to check the file. Moreover, you can choose between the online and offline methods depending on your preferences.