Best of 2022 AMR to AAC Converters: Try These 3 Amazing Tools
Sound quality is undoubtedly a big deal for someone whose mantra is that music is everything. However, suppose you are an Apple user. In that case, you might encounter a situation where your AMR files are unsupported to your player. Besides that, you may want to try an alternative format other than MP3.
If you are unsure where to find the correct answer, worry no more because you are in the right place to find it. To solve the problem you have in mind is to convert them into AAC. Yes, you heard it right!
Our team will walk you through the best online and offline software to convert AMR to AAC files in this guidepost. Plus, we have also provided a detailed step on using them.

Part 1. Differences Between AMR and AAC
If you do not have a background about what AMR and AAC could offer you, look at the detailed comparison table that our team created below. Besides, both of these formats have different components that suit your needs.
Name

Is this type of audio file consuming a large amount of my storage?

Is it a great alternative to MP3?

Where is it commonly used?

Sample file extension
| | |
| --- | --- |
| Adaptive Multi-Rate (AMR) | Advanced Audio Coding (AAC) |
| | |
| | |
| Standard audio format for speech recorders in 3G mobile phones | Typically for YouTube streaming and iTunes |
| .amr | .aac |
Part 2. How to Convert AMR to AAC
1. Vidmore Video Converter
When it comes to lossless conversion, Vidmore Video Converter is one of the great tools you can rely on. Grafted with notable features, one of them is it allows you to perform multiple conversions faster.
Not only that, aside from audio and video conversion, this offline software allows the users to perform other activities such as video converting, file size compression, video editing, and more.
To use this tool in converting AMR to AAC, follow the guide listed below:
Step 1: Download the AMR to AAC Converter
First, download the program on your device by clicking the download buttons below. After that, run the software and follow the set-up wizard to install it.
Step 2: Import the AMR file
On the center of the main interface, click the Plus icon. By this, your computer folder will show up, and select your AMR file. After that, hit Open, and it will import into the program.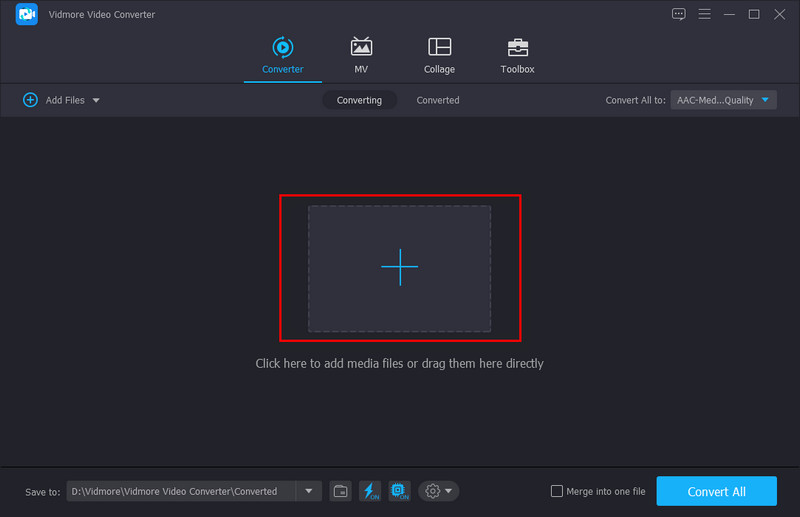 Step 3: Set the Output Format
Go to the Convert All tab when your file is loaded. From there, you will see three different categories of formats: video, audio, and device. For AMR, hit the Audio and choose AAC from the drop-down option. In the AAC options, choose your desired quality. You have the choice to change the bitrate, sample rate, and channel in the Custom Profile.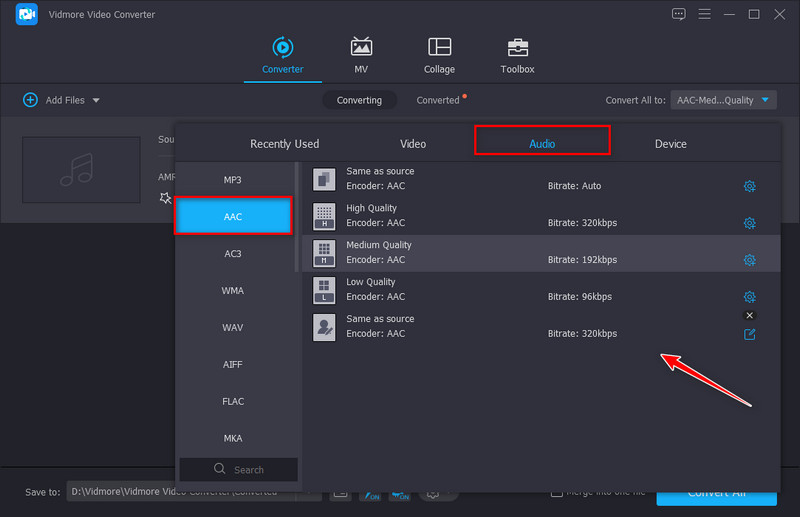 Step 4: Hit Convert
When you are finished configuring the settings, hit the Convert All button. The conversion process depends on the file size of your output and your internet connection speed. After the process, the program will automatically open the output folder for you to check.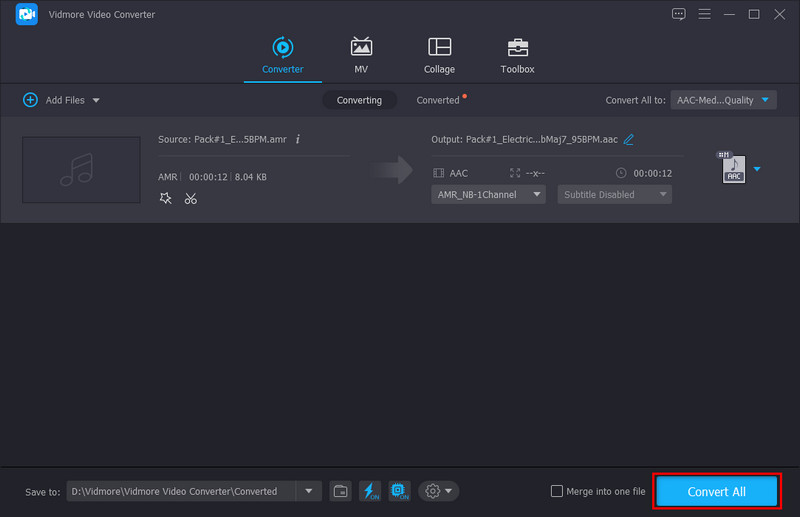 2. Wondershare UniConverter
Another AMR to AAC converter you can utilize is the Wondershare. Speaking of features, this offline tool provides a DVD ripper, compressor, and CD burner aside from converting audio and video files. In addition to that, it also has a built-in video editor making your creative process in film making possible. But above all else, below is a quick guide on converting AMR to AAC in Wondershare.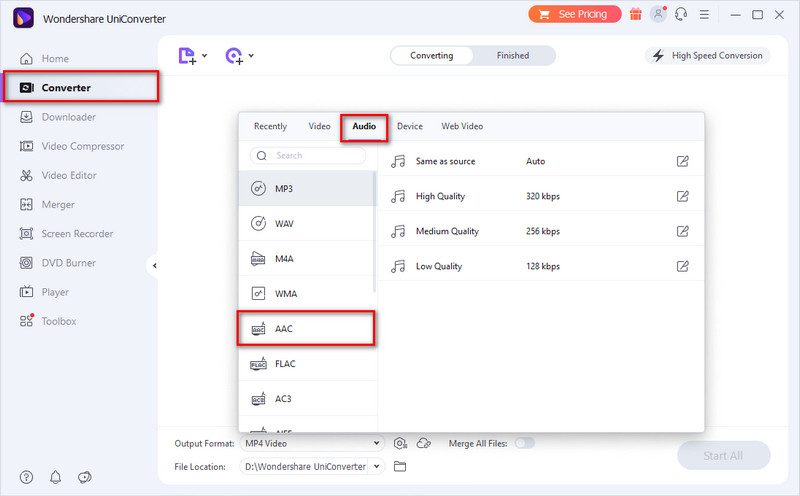 Step 1: To begin, open the WonderShare software on your device. Then, select the Audio Converter tab from the tool panel on the left side of the interface. Once set, hit the Add files button and select the AMR file from your computer.
Step 2: After importing your file, drop down the Output Format and look for the AAC in the list. Moreover, choose the file quality from the given option that sets from low to high. When done, hit the Create button to proceed to the next step.
Step 3: If you are doing multiple conversions, hit the Start All. However, only click the Convert button for a single conversion. Go to the Finished section to check the output.
3. Cloudconvert
If you want an online program to do this task, you can check the cloudconvert. This web-based program supports more than 200 video and audio formats, making AMR conversion to AAC doable. Definitely, you can adjust the audio quality and the size of your output here- a feature that tons of offline programs offer. As for the free version of Cloudconvert, users can convert a maximum of 25 files a day.
Here is a quick guide in using the program.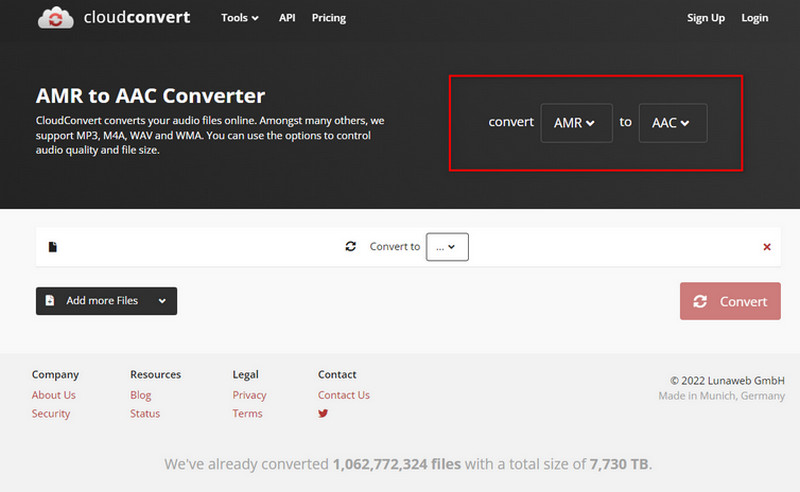 Step 1: First, enter the page of cloudconvert. Type the full name of the program on your search engine bar and hit Enter.
Step 2: Next, in the drop-down of the Covert tab, select audio > AMR. On the To tab, choose AAC. After configuring the settings, hit the Select File button and scan the AMR file you need to convert through your computer folder.
Step 3: After that, hit the Convert button on the interface. The program will begin to upload your file and, at the same time, have the conversion process. When the output is ready, hit the Download button.
Further Reading:
How to Merge AAC Files Into One Using the Best Audio Mergers
MP3 to AAC: Top 5 Approaches to Convert MP3 File to AAC
Part 3. Comparison of Different Converters
As a recap, this is the comparison table of the three programs. You can refer to it as a guide in deciding which one to choose for doing your task.
Platform

Is it secured?

Does it support various formats?

Conversion Speed

Batch Conversion Feature

Is it user-friendly?
| | | |
| --- | --- | --- |
| Vidmore Video Converter | Wonshare UniConverter | Cloudconvert |
| Windows and Mac | Windows and Mac | Web-based |
| | | |
| | | |
| Fast | Fast | Depending on the network |
| Supported | Supported | Supported |
| | | |
Part 4. FAQs about AMR to AAC Conversion
Why should I convert AMR to AAC?
The primary reasons people convert AMR to AAC are to solve compatibility issues with media players and sound quality improvement. Because AMR files have undergone heavier compression, the quality is not good when listening to music. On the other hand, AAC is considered the best alternative for MP3 files.
Is FFmpeg safe to use in converting AMR to AAC?
Absolutely, Yes! Although you might find FFmpeg intimidating to use because it is a text-based application, it is a hundred percent secure.
How can I play AMR files?
Typically, you will not encounter issues when playing your AMR file on 3GP phones. However, you can install third-party apps like VLC Media Player on your device.
Conclusion
That's it! AMR to AAC conversion is not difficult at all. You can now do the task over the web or on your device with all of the aforementioned tools. However, if the quality and conversion speed is your concern, never have a second thought about Vidmore Video Convertor. Comparing the three, it has a 50x faster conversion speed process and improves the quality of your native file.