How to Merge AAC Files: Three Best Offline and Online Approaches
You might want to create your own music out of your AAC files. This is common if you are an iOS user. AAC is a compressed digital audio file type that offers better sound quality than an MP3 file while having the same file size or disk space. That said, you might like to remix or create a playlist of your audio files using your AAC files. In line with this, this post will introduce reliable and easy to maneuver programs to help you merge AAC files effortlessly.

Part 1. What is AAC?
AAC, short for Advanced Audio Coding, is a lossy audio format developed jointly by AT&T Bell Laboratories, Sony Cooperation, Dolby Laboratories, Fraunhofer IIS, and Nokia. Due to its advanced lossy compression, this format can fit more audio info while using a small amount of space. Technically, it has a range of frequencies between 8 and 96 kHz yet produces better sound quality when encoded at low bitrates.
Compatibility-wise, iTunes, iPhone, iPod, and several platforms use AAC as its default media format for its digital audio and music data. Nearly all major devices and media players can open AAC format. In addition, radio car systems can play AAC audio files. Aside from that, AAC files can also be found on audio file formats like MP4 and MKV.
Part 2. Top 3 Approaches to Merge AAC Files
1. Vidmore Video Converter
The first AAC joiner that you should consider using is Vidmore Video Converter. It is an all-around solution for audio/video editors seeking to merge audio files and cut, trim, and adjust audio volume. It comes with a built-in editor where you can fast split audio files into individual segments that require no technical skills to complete this process. In addition to that, it enables you to splice segments by time or average according to your needs. On top of that, you can convert the merged files into your desired output format. On that note, here's how you can join AAC files using this program.
Step 1. Download and install the Audio Merger
Get the latest version of the program. Simply click on any of the Free Download buttons below. Install and open the app once the installation is done.
Step 2. Import AAC audio tracks
Click on the main interface of the program to upload a file. Or click the Add Files on the menu bar to load AAC files into the app. You may also drag and drop the file when trying to upload audio files.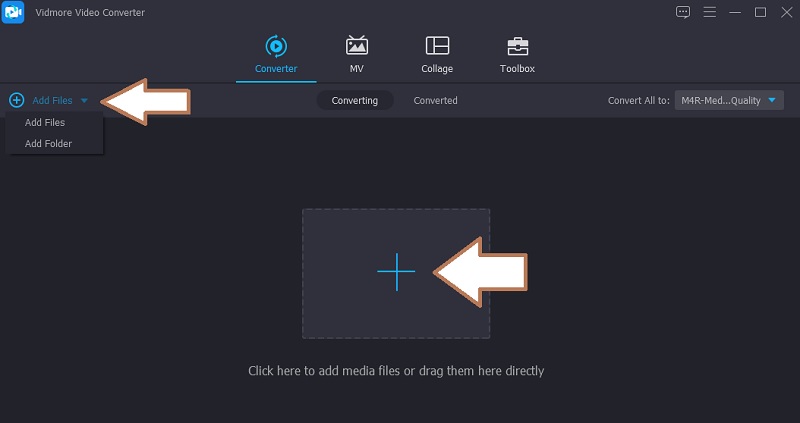 Step 3. Edit the audio files
Before merging the AAC files, you may edit the file by cutting or adjusting the audio as you like. Just click on the Cut button to split the file into segments and keep only the portion. Or, choose the Edit icon to increase or decrease the volume of the audio file.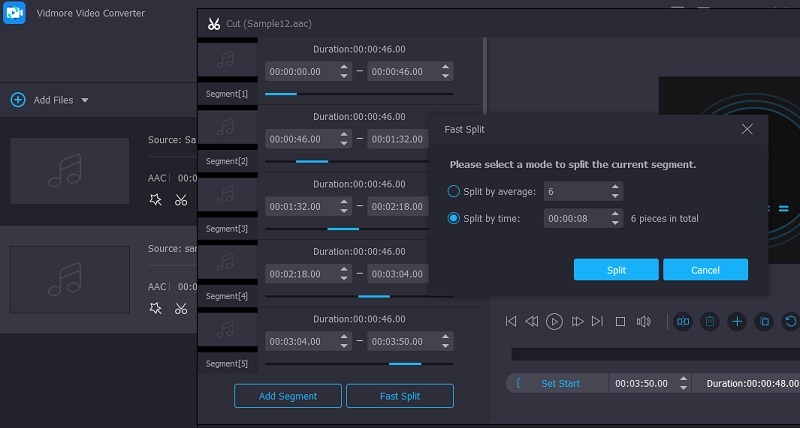 Step 4. Start merging audio files
Go back to the Converter tab and then select an export format for the resulting file. Open the Profile menu and forward it to the Audio tab. On the left panel, look for AAC or choose your desired format. Next, tick on the Merge into one file and hit the Convert All button to start processing the files.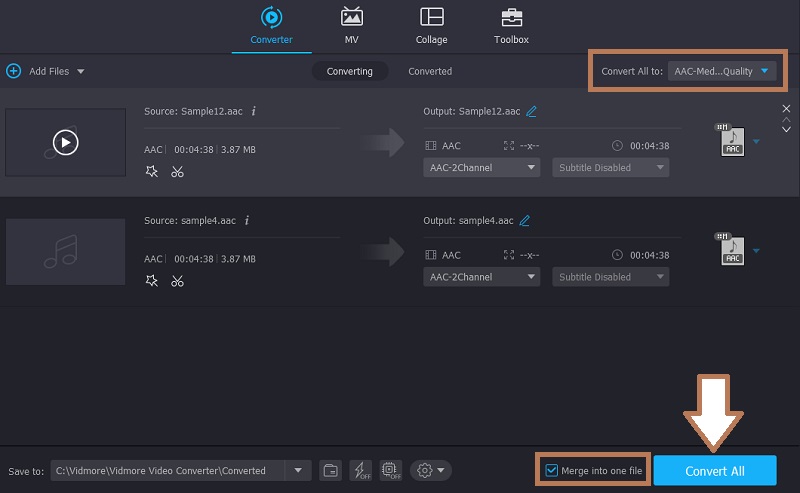 2. Foobar2000
For a free AAC joiner, Foobar2000 is worth trying the program. The player is solely designed to stream and play music files for Windows computers. It also encompasses major functions, including media conversion, audio CD ripping, tagging information to the audio files. If you wish to merge files with this program, you may refer to the following steps.
Step 1. First off, download and install Foobar2000 by going to its official website. Launch when the installation completes.
Step 2. You should see the main interface of the app, where you can also upload your files. Simply drag and drop your desired AAC files to join. Alternatively, you can open the File menu then hit the Open button to upload files.
Step 3. After importing, select all the files by pressing Ctrl + A on your computer keyboard and right-click to see the available options. From here, select Convert, then click on the three dots from the selection.
Step 4. At this point, click on the Output Format option and then choose a format. Next, hit the Destination to specify the output path. Then put a tick on the Merge all tracks into one output file radio button. Go back to the Converter Setup tab and hit the Convert button to start merging files.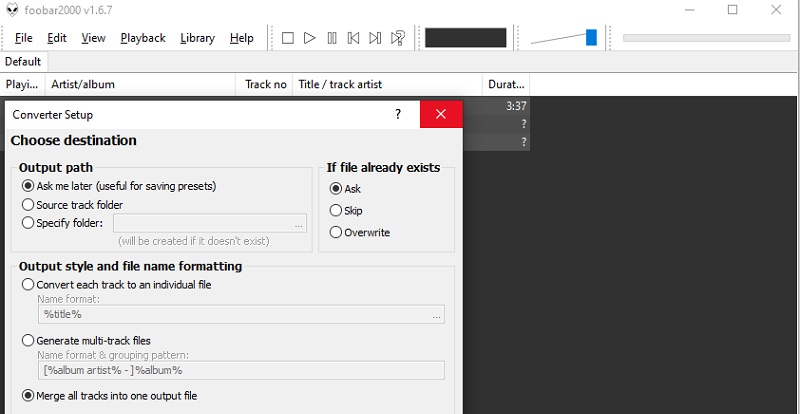 3. Audio-joiner
To complete this list of audio joiners that will help you join AAC files, we have Audio-joiner. This program is based on the web, so you don't need to install a plugin or third-party software on your computer. With it, you may upload multiple music files at the same time and merge them. As you wish, you can adjust the sequence according to your desired order of the songs. To cut the chase, have a glance at the step-by-step procedure to use it.
Step 1. Launch any web browser on your computer and visit the website of Audio-joiner.
Step 2. Now, click the Add tracks button and select all the AAC audio files that you would like to combine. Take note that depending on the size of the file, the upload speed may vary.
Step 3. Now arrange the sequence of the audio files and play it for preview. After that, select an output format, then finally hit the Join button to merge the audio files.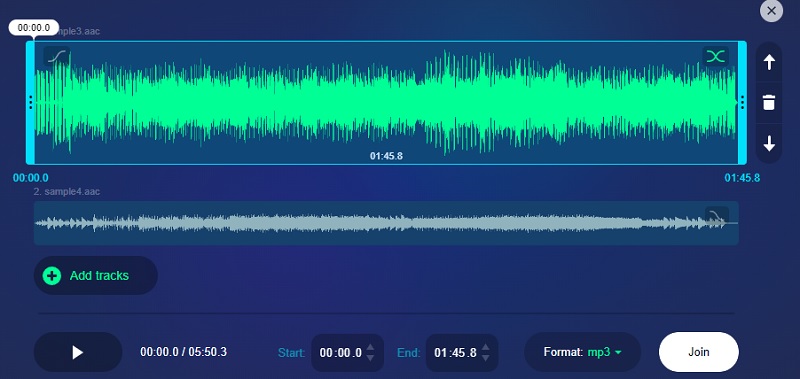 Part 3. FAQs of Merging AAC
Can I play .aac files on PC?
AAC is a compatible format that you can play on almost all famous platforms, including Windows, Mac, iPhone, and Android.
Is AAC a good audio format?
In general, AAC produces high audio quality and is perfect for storing more songs since it uses a little disk space.
How do you convert AAC files?
If you wish to convert your AAC files to another file format, you may do so by using the tools reviewed above. That is right. These programs do not only allow you to merge files but also export audio files to another format.
Conclusion
Whether you want to play your compilation of AAC files back-to-back without pauses or combine incomplete tracks, the mentioned tools should help you out. If you are a Mac or Windows user looking for a compatible program to merge AAC files, Vidmore Video Converter is a great solution. While Foobar2000 is only suitable for Windows PC, you may opt for an online tool like Audio-joiner if you don't want to download an additional app.