Top 4 Methods to Convert APE to MP3 for Linux, Mac, and Windows PC
If you heard about Monkey's Audio, you probably have also heard about APE audio files. It is a file format of lossless compression that allows you to compress audio files without discarding any data from the audio. Therefore, you can expect superb audio quality even after compressing the audio file. However, this format is not preferable for those who are running lower space storage.
Being a lossless format, it consumes a lot of memory space. Besides, we can rarely see players and devices that support this format. Despite this, you can still use this format by reformatting it to a widespread audio format while enjoying the benefit of small file size. You can convert it to MP3 instead. The MP3 format offers decent quality and is supported by many devices. With that being said, here is a list of the best and free APE to MP3 converters that you can use immediately.

Part 1. Professional App to Convert APE to MP3
Vidmore Video Converter is a professional desktop program that is capable of performing nearly all audio and video conversions with lots of extra helpful tools. That includes editing the audio parameters such as the sample rate, bitrate, and channel to achieve your desired output. In addition to that, you can import many files and convert them all simultaneously in a fast and easy manner.
The best part is the tool is quick to learn and easy to maneuver, suitable for both advanced and green-hand users. Aside from that, there is a metadata editor that you can use to identify the title, genre, year released, and other data for your recording. Also, this is suitable for Windows and Mac users. Hence, follow the guide below to convert APE to MP3 on Mac and Windows PC.
Step 1. Download and install APE to MP3 Converter
First things first, click any of the Free Download buttons provided below to get the program's latest version. After that, install it on your computer and launch to start using.
Step 2. Import APE file
On the program's main interface, click the Plus sign button to upload a file that you want to convert. Locate and select the APE audio or drag and drop the selected file into the main area to upload.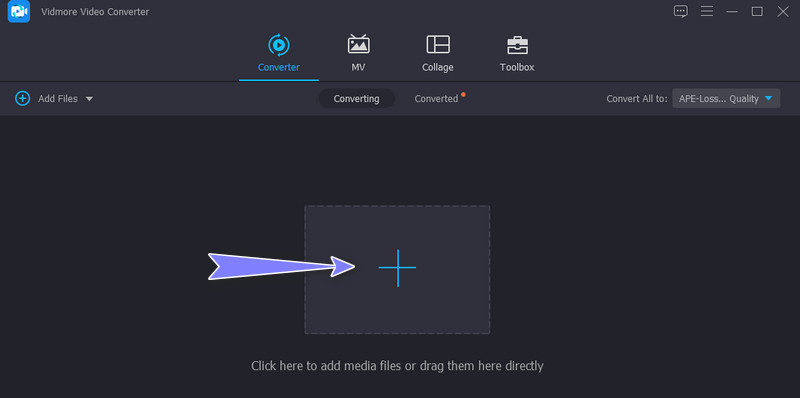 Step 3. Select an output format
Next, open the Profile menu on the upper right portion of the interface and go to the Audio tab. From here, you will see a list of audio formats. Choose MP3 and select the quality that you prefer.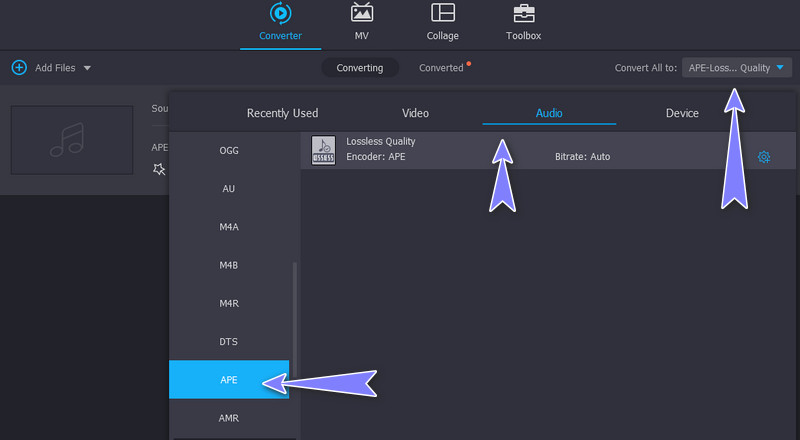 Step 4. Carry out the conversion
When you are done selecting the quality, click the Convert All button at the bottom right corner to begin the conversion process. Once the task finishes, it will load a folder where the file is saved. From here, you can preview the playback.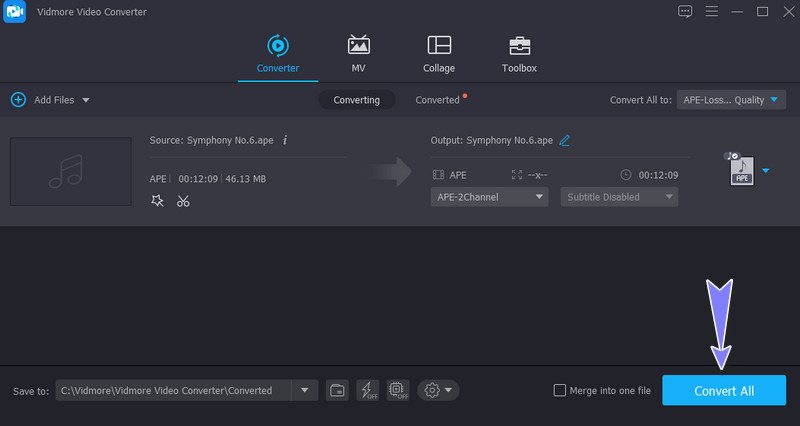 Part 2. How to Convert APE to MP3 for Free
1. Audacity
Audacity is free audio converter software for Linux, Windows, and Mac operating systems. It has the ability to convert APE to MP3 effectively. Along with the audio conversion, you can also edit the audio itself, allowing you to record, copy, paste, delete, record audio, and so much more. What is more, you can add effects to your recording. That includes fade in and fade out, echo, delay, etc. Apart from the ability to convert APE to MP3 in Audacity, it also features sample editing, noise removal, tempo, and pit change and supports importing and editing MIDI.
Pros:
Accepted by many operating systems like Linux, Windows, and Mac.
Totally lightweight yet jampacked with audio tools.
Free of charge and open-source.
Cons:
User interface is a bit complex.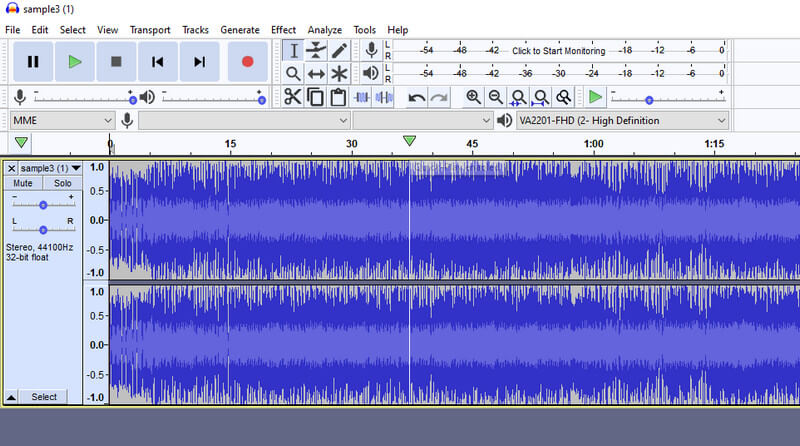 2. MediaHuman Audio Converter
For a straightforward and free magic APE to MP3 converter, MediaHuman Audio Converter is the right tool for you. It comes with a drag-and-drop feature that allows you to directly upload your APE files into the software. Besides MP3, there are other output formats that you can employ such as AC3, AAC, OGG, FLAC, etc. Plus, you can select from various stereo settings available associated with MP3.
Pros:
Available in various audio profiles for MP3.
Features task scheduler.
User-friendly interface.
Cons:
Not extensive output format list.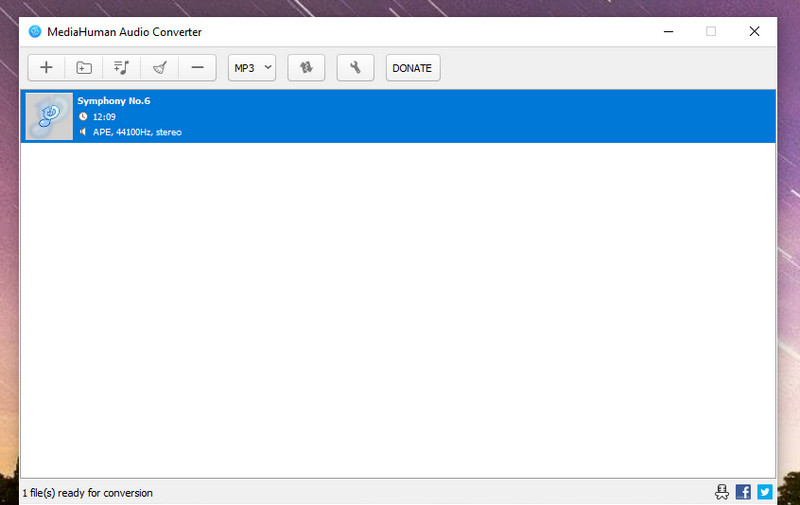 3. Vidmore Free Video Converter Online
Aside from desktop programs, you may also utilize an online application as your best free APE to MP3 converter. Using this tool, you can convert in bulk, allowing you to convert multiple audio or video files at once. Also, it enables you to adjust the audio parameters to get the best music hearing enjoyment. Quality and speed conversion-wise, it does not fall behind. As long as you have a stable internet connection, you should not have a problem using this program.
Pros:
Adjust audio bitrate, channel, and sample rate.
Guarantees maximum conversion speed under stable connection.
Works without installing anything.
Cons:
Does not support splitting and cutting audio.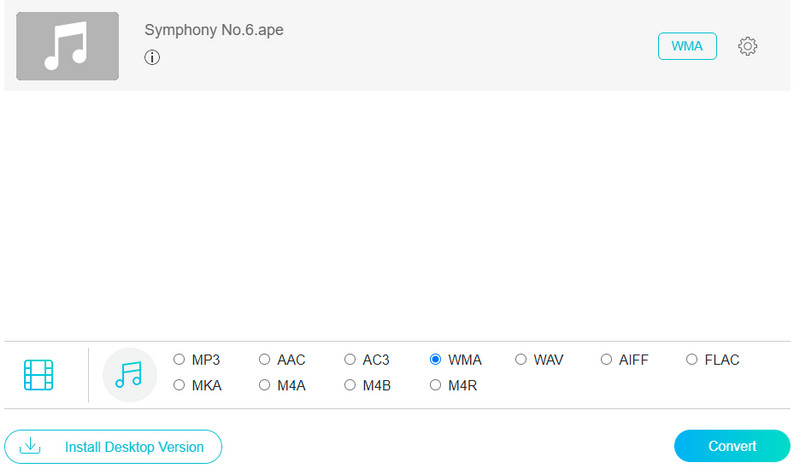 Part 3. FAQs of APE to MP3
What is the APE file format?
APE is a music format for lossless audio data compression that reduces about half the original file's size.
How can I open an APE file?
You can play APE files on Windows, Mac, and Linux using tools like Plex, JRiver Media Center, Foobar, etc.
How can I convert APE to MP3 on Mac?
There is no native Mac app for converting APE files in Mac. Yet, you can always opt for third-party programs that will help you achieve this task conversion. One example is Vidmore which is compatible with Windows and Mac.
Conclusion
All the above tools work to convert APE to MP3 on Mac/Linux and Windows PC. Moreover, there are different methods that make each tool unique. On the other hand, you can choose which tool you feel comfortable using or suitable for your needs and preferences.