How to Convert OGG to MP3 Using the Best Audio File Converters
When it comes to better sound quality and smaller file size, you would probably choose OGG over MP3. The only drawback is that not most media players and devices accept OGG. This is what makes the MP3 most desirable when it comes to this aspect. On the bright side, you may convert OGG to MP3 files allowing you to play your collection of OGG music files on almost all media players and on your favorite device. To accomplish this, we will review some of the best OGG to MP3 converters that you can use online and offline.

Part 1. How to Convert OGG to MP3 Online
As it is, an online application will allow you to convert files from the comfort of your web browsers. You don't need to download any programs because every process takes place on the web. So, if you are looking for an OGG to MP3 converter online, then the below programs should come in handy.
1. Vidmore Free Online Audio Converter
To easily convert your OGG files to MP3, you should consider using Vidmore Free Online Audio Converter. As the name implies, this program allows you to turn your OGG files and other audio file extensions directly on the webpage. Provided that you have access to the internet, you can convert unlimited files including video content for free. Check out the steps below to know how to convert OGG to MP3 files using this online application.
Step 1. First and foremost, go to the Vidmore Free Online Audio Converter page. Click the Add files to Convert and a pop-up notification will appear. Next, click the Download button to download the launcher of the tool and install it afterward.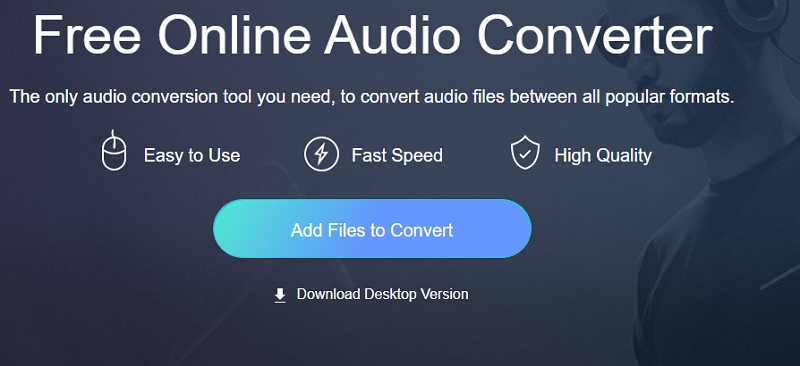 Step 2. After the successful installation, it will open up another folder where you can locate and then upload your OGG file.
Step 3. Now, select the MP3 file format and then click the Convert button to start the conversion process.
Step 4. This time, select a file destination where you want to save the converted audio file. Then click the Select Folder button and click the Convert button once more.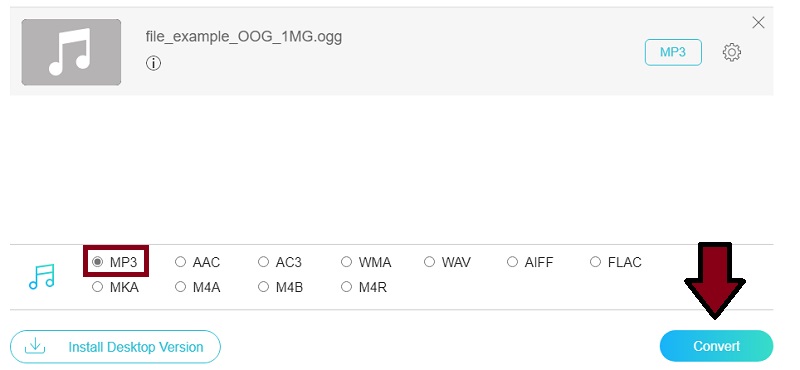 2. Cloud Convert
Another online audio file converter that can work both as MP3 to OGG converter and vice versa is Cloud Convert. Everything that you uploaded into the program can only be accessed by you or the user. On top of that, you will be able to customize your file before converting. You can take the following steps to have a better understanding of this MP3 to OGG converter freeware.
Step 1. Launch the Cloud Convert website to access the converter.
Step 2. Once you reach the page, set the input and output format according to your requirements.
Step 3. Load the OGG file into the program from your local folder and click the Convert button for the task to commence the process.
Step 4. Click the Download button shown on the next interface to get the converted file. By the way, you can actually use this tool as an MP3 to OGG Android converter since it can work even on mobile browsers.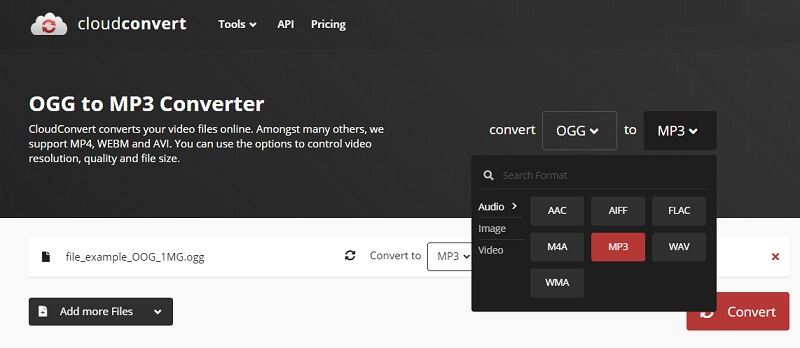 3. Convertio
Convertio is a web-based program that can assist you in converting OGG music files to MP3 and play them on your favorite devices or media player. Aside from that, this tool also allows you to import media content from different files sources such as Dropbox and Google Drive. In a sense, everything is done over the web by using this online utility. If you want to learn how to convert MP3 into OGG or the other way around, you may refer to the below steps.
Step 1. Access the webpage of Convertio and choose from the file sources available. You can also click the Choose Files button to convert OGG files that are saved from your local folders.
Step 2. Select the OGG file that needs to be converted and upload it.
Step 3. Unfold the drop-down menu and point your mouse cursor to the MP3 file format.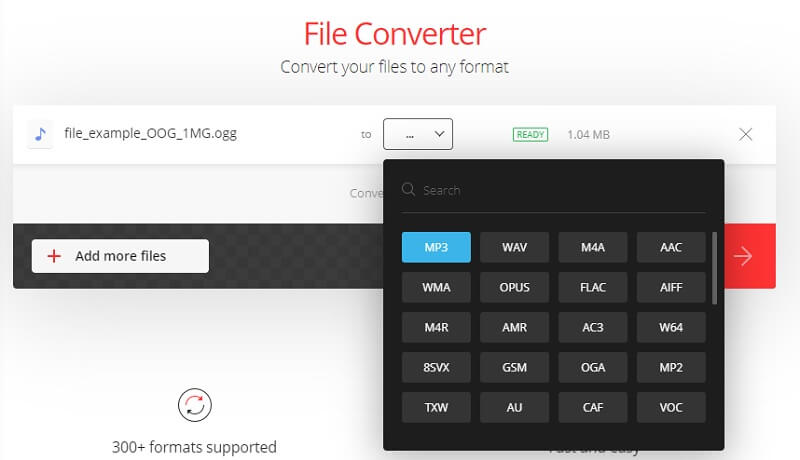 Part 2. How to Convert OGG to MP3 for PC or Mac
Besides using online programs, you can also utilize internet independence applications to turn your OGG audio files into MP3 and enjoy playing them across different devices. On the other hand, if you want to know about the best desktop programs on how to convert OGG format to MP3, you can proceed with the following parts.
1. Vidmore Video Converter
Vidmore Video Converter supports different audio and video formats to convert them to any file format of your choice. By using this program, you will be able to convert your favorite OGG files into multiple devices and media player compatible MP3 files. Aside from that, you can preset the bitrate of your MP3 file; 64 kbps being the lowest while 320kbps being the highest. As a result, you can produce high-quality MP3 files. Over and above, you can modify the metadata of your OGG files or MP3 depending on your requirements making it your MP3 metadata editor. Through it, you are entitled to change the title, artist, album, composer, and a lot more. Within a single program, you'll get various useful and helpful features. To utilize this app, follow the step-by-step instructions.
Step 1. Get the OGG to MP3 Audio Converter
Before you can start the conversion process, you can get this OGG to MP3 converter free to download by clicking one of the Free Download buttons above. Just select the platform that is suitable for your operating system. Install and run the program afterward.
Step 2. Upload an OGG file
Next, click the Plus sign from the main interface of the tool to upload an OGG file. You can alternatively drag-and-drop the file as the other method for adding an OGG file.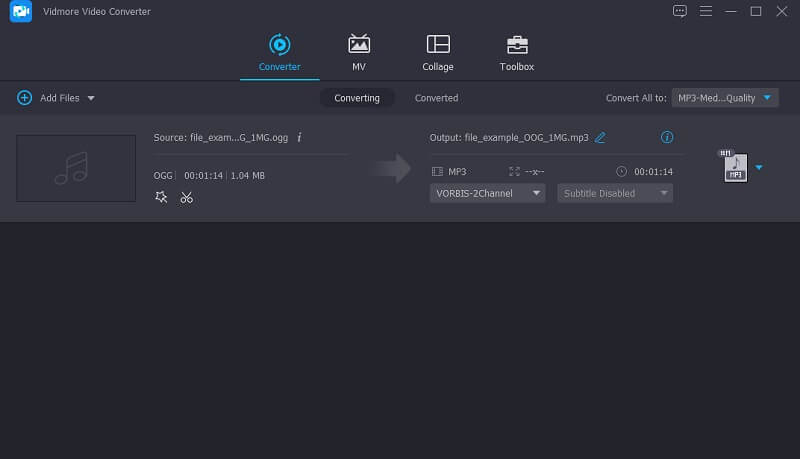 Step 3. Select MP3 as output format
After uploading the OGG file, click the Profile menu and go to the Audio tab, and select MP3 from the format options. Before the conversion, you can preset the sample rate and bitrate by clicking the Gear icon.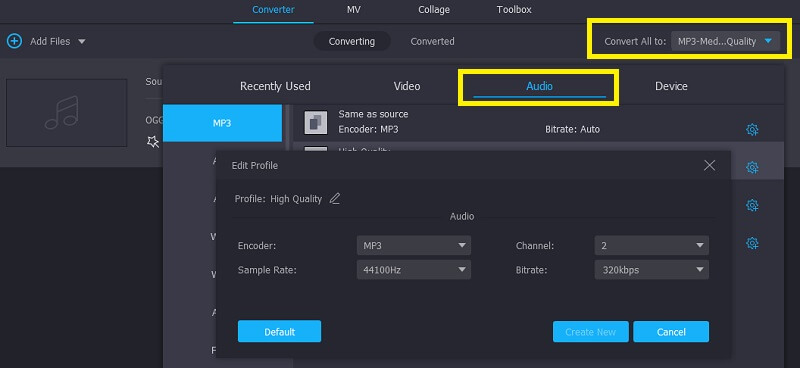 Step 4. Save the converter audio
Once done, browse through your folder to set a file destination for the converted file. You can do this by clicking the Browse icon which looks like a folder. Then click the Convert All button at the bottom of the interface. After that, you can listen to the MP3 file from the folder that will appear.
2. FFmpeg
Another program that can help you in converting your OGG files to MP3 is FFmpeg. The only catch is that this program runs in command prompt. For that, you need to have basic knowledge about communicating with the app in a text-based interface. Nonetheless, it can effectively perform the task of converting OGG files to MP3. At the same time, you may use this tool to convert videos to your desired format like MOV, MKV, and AVI. Below are the steps on how to convert OGG format to MP3 using FFmpeg.
Step 1. Acquire the program and have it installed on your computer. Make sure to get the latest version of the application. For you to use it, you need to add the EXE file to the system path.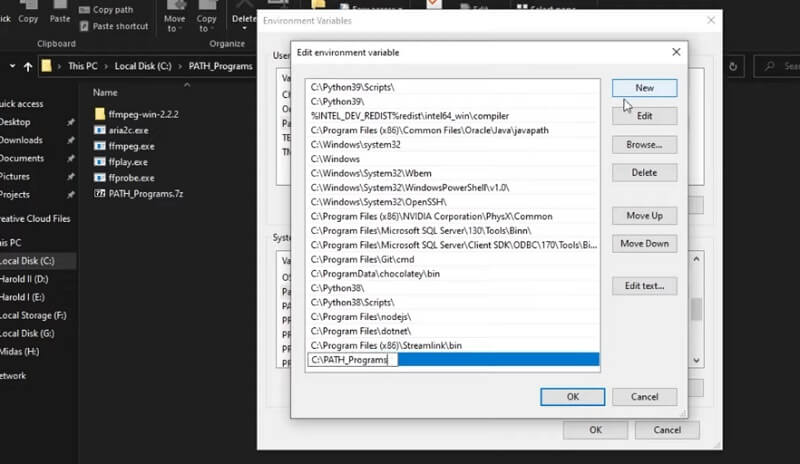 Step 2. After that, open Command Prompt on your computer and run ffmpeg to ensure that the program is working well.
Step 3. Once the app is verified, type FFmpeg -i input.ogg output.mp3 on the CMD and press the Enter key to convert OGG to MP3.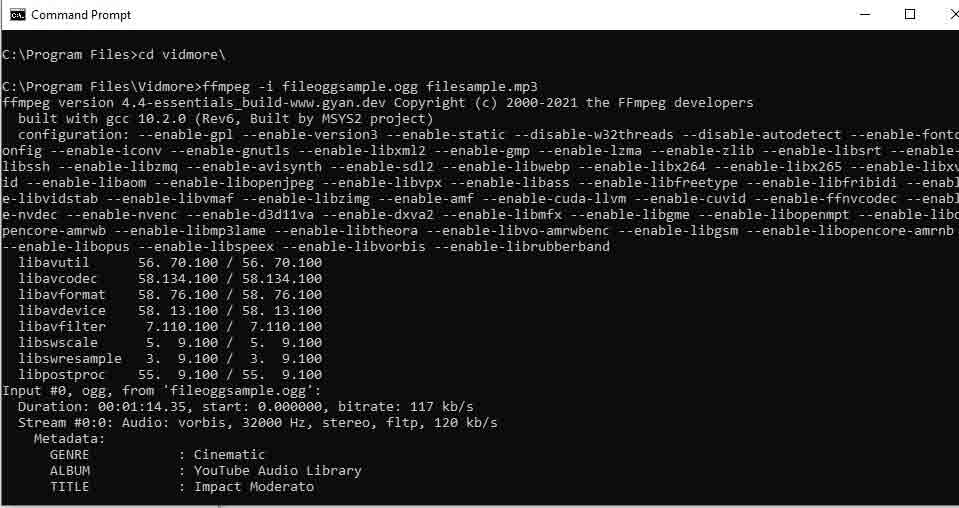 3. VideoProc
VideoProc comes with various advanced features. One of them is the ability to convert OGG to MP3 files. Just like Vidmore, it enables you to convert unlimited OGG files to almost all multimedia audio file formats. In addition, the program offers support to MP3, OGG, WAV, etc. Find out how you can use this OGG to MP3 converter by reading the following steps.
Step 1. Go to the main page of the program and get its installer. After that, get the app installed on your computer and run it afterward.
Step 2. Once you see the running interface of the tool, click the Music option at the bottom of the interface.
Step 3. Drag and drop the OGG file into the application's interface or click the Music+ button at the top menu toolbar to load an OGG file. Then select MP3 among the options provided below.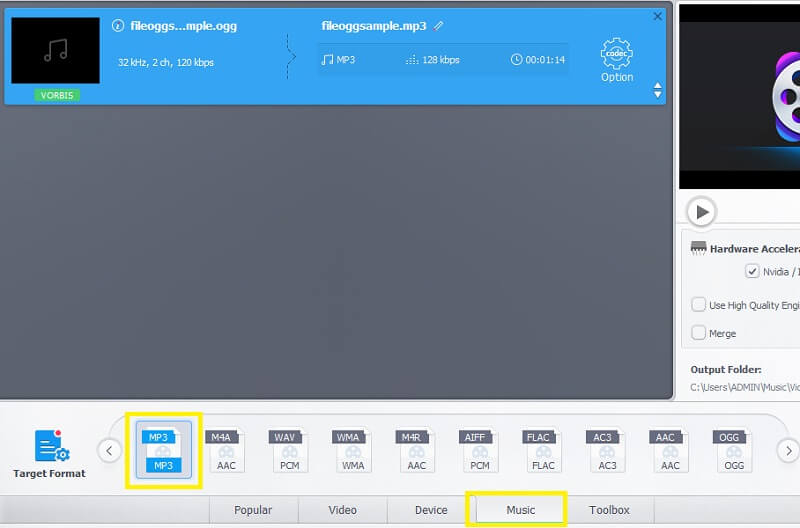 Step 4. When the file is uploaded, click the Run button at the bottom right-hand side of the interface to initialize the conversion process.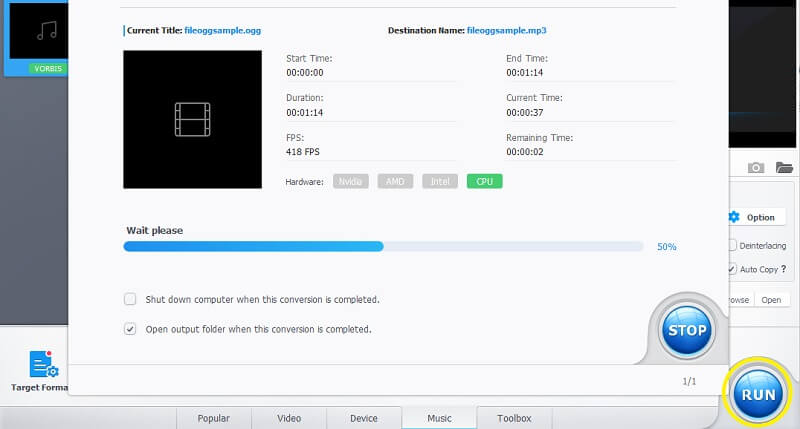 Part 3. OGG vs. MP3
There are several differences as we take a close look at these two audio files. OGG files can contain video and audio files. This makes it suitable for viewing as well as listening purposes. Aside from that, it possesses a better-quality sound than MP3 yet is smaller in size. It is also an open-source code base without patent constraints. On the other hand, MP3 is only suitable for audio streams. Arguably, it is also open source but is not patent-free audio. But what makes it desirable over OGG is that MP3 files can be played on almost all media players including those portable ones. This is the reason why most individuals still prefer MP3 format files. Hence, converting OGG to MP3 is in demand.
Further Reading:
Latest 7 Ways to Convert MOV to MP3 Audio Quickly and Losslessly
Top 5 Ways to Convert MP4 to MP3 with High Quality and Fast Speed
Part 4. FAQs of OGG to MP3
Can I use VLC to convert OGG to MP3
That's an interesting fact about the VLC media player. Aside from audio and video streams, you can also convert your OGG files to MP3 files using this program. Just take note that doing the process will reduce the audio quality.
Can I Convert OGG to MP3 on Winamp?
Yes. This is an audio transcoder that can convert from and to dozens of audio formats. That includes OGG to MP3.
Which is better in terms of sound quality, OGG or MP3?
This can be a bit challenging in a typical listening setting. But upon researching, we found that OGG is more popular in the gaming industry. With that in mind, we could say that OGG is better in audio quality because gamers and developers find it more satisfactory.
Conclusion
All the solutions suggested above are able to help you when it comes to converting OGG to MP3. There are online solutions for those of you who are always on the go and don't want to download additional apps. There are also desktop solutions that could be of great help for users who want to work offline and for secure file conversion. In general, both methods are good in terms of performance.