Walkthrough on How to Edit MP3 Files with Great Music Editing App
If you are a Podcaster, a DJ, or a typical user who is sending funny audio files to your friends and loved ones, a music editor is an extreme need. There are plenty of reasons why. Millennial youths are into cutting their favorite music track for creating inspirational background music or for making a ringtone. Others would cut some irrelevant parts of the audio like a long introduction or silence in the middle of the song. With that being said, you need professional audio editing software if you want to successfully manage and edit MP3 files without effort.

Part 1. Highly Functional MP3 Editor
By far, Vidmore Video Converter is the best program that users can utilize for any situation of editing MP3 files. Designed to work on both Windows PC and Mac, it has a lot of capabilities that can handle both basic and advanced audio editing tasks in an easy and simple manner. Therefore, if you want to learn how to edit MP3 on Mac, this is definitely the app for you. It comes with cutting, splitting, compression, and volume adjustment tools.
Besides, it manages to integrate other useful tools including the ability to edit the metadata information of both audio and video streams. Aside from that, the program also enables you to enhance and improve your video recording using the Video enhancer feature. Plus, you are entitled to convert your media files to any of your desired audio/video formats without compromising the quality.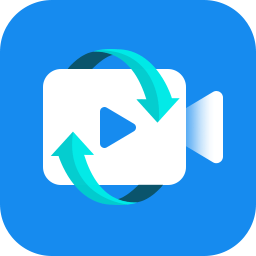 Professional MP3 Editor for Windows and Mac Platforms
Cutting, splitting, and merging audio files.
Extremely concise and straightforward interface.
Precise cutting by entering start and end points in seconds.
Edit MP3 with no length restriction.
Supports a great range of import and export formats.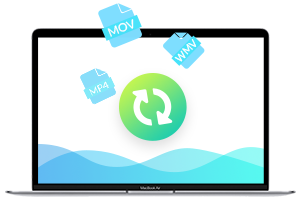 Vidmore Video Converter Key Features:
1. Trim MP3 files in an easy manner
The tool lets you cut portions of audio files as you like for making audiobooks, ringtones, or short stories while retaining good audio quality.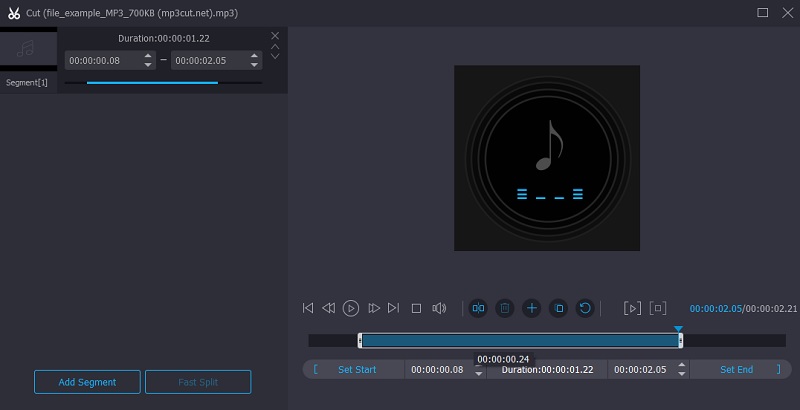 2. Join audio tracks into one
Vidmore Video Converter comes with an audio merger that allows you to combine two or more songs in just a click. It knows no length and file size of the media file granting you the ability to make changes with the audio file without any constraint.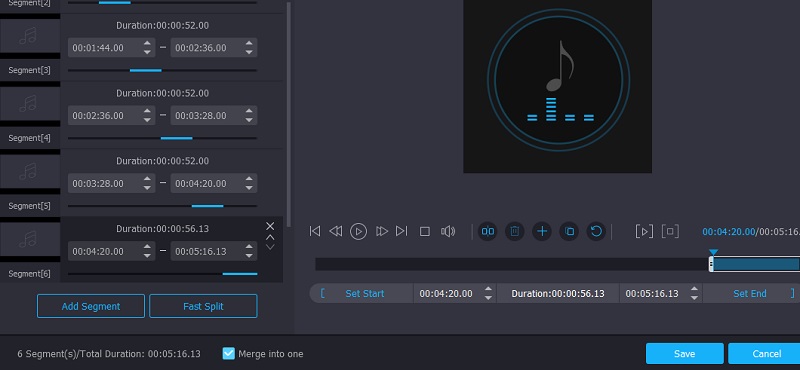 3. Configure sound settings
With the help of this tool, you will be able to adjust sound settings like the volume and audio delay. Also, it lets you customize parameters including encoder, channel, bitrate, sample rate, etc.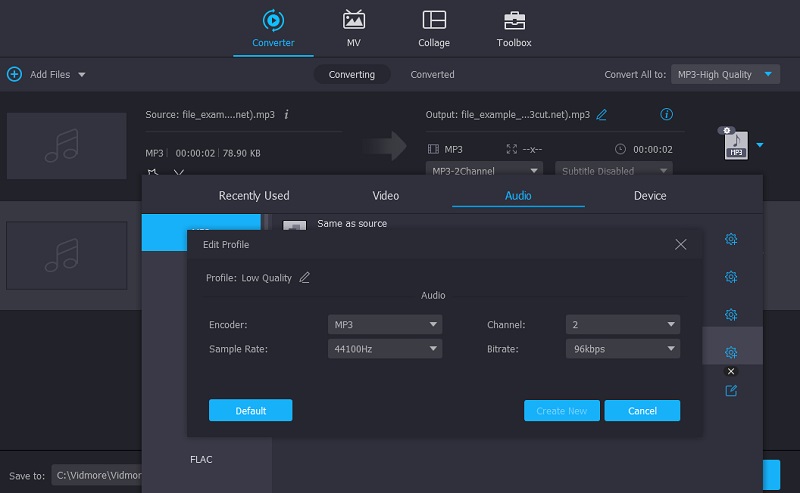 4. Edit Metadata information of media
The software can easily edit metadata information of your media files including video and audio files. You can rename the file, audio title, artist, album, composer, genre, year released, add cover, etc.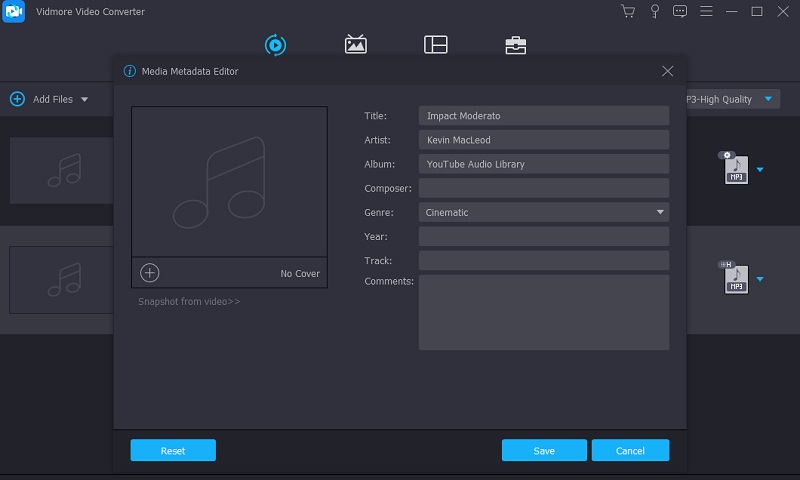 5. Convert Audio/Video files without losing quality
The program grants users the capability to convert audio or video files to any of their desired formats at a rapid speed while retaining the quality of the original format. The best part is that you can convert multiple files at the same time.
6. Supports a wide range of audio formats
The tool is designed to accept a wide range of formats offering support to almost all audio and video formats. This includes MP3, WAV, WMA, M4A, M4R, AAC, and many other audio files. Besides audio and video formats, it also gives support to devices allowing you to convert or edit MP3 for Android, Apple, Samsung, Huawei, Google, Xiaomi, Google Devices, etc.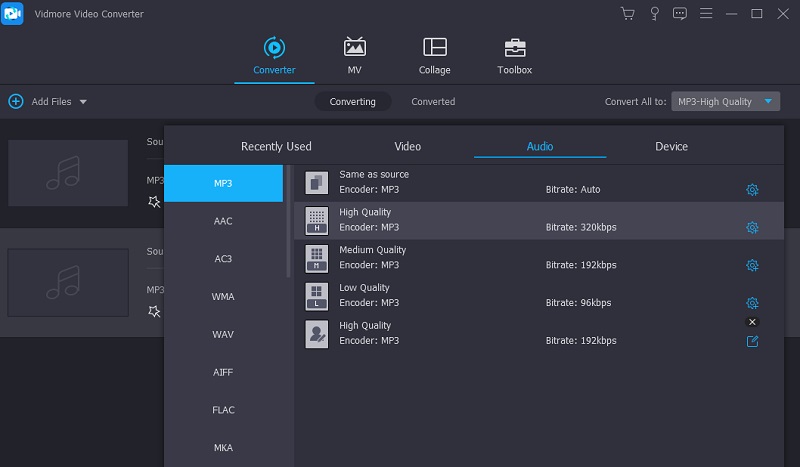 7. Cross-platform audio/video editing tool
Essentially, Vidmore Video Converter is available for Windows PC allowing you to learn how to edit an MP3 file in Windows 7/10 with less effort. Furthermore, the tool operates well with Mac computers without any complicated setup when navigating the software.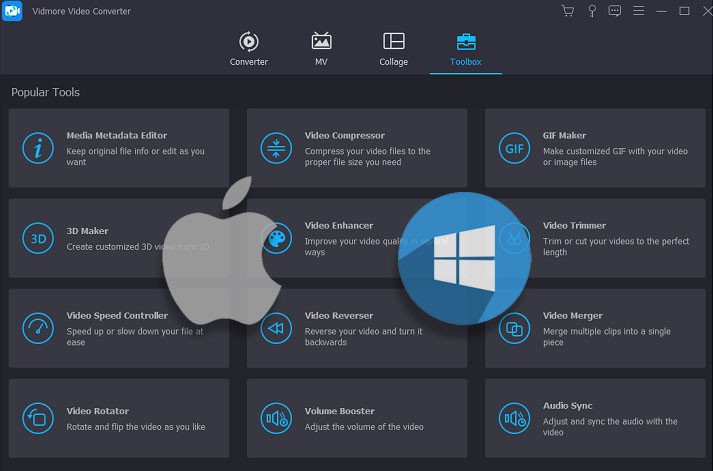 Part 2. How to Edit MP3 on Windows and Mac
As stated, Vidmore Video Converter provides a lot of features and functions that can be used for any occasion and situation. To help you circumnavigate the tool well, we will walk you through the editing features of the app. On the other hand, you may refer to the instructional guide below.
1. First things first, get the latest installer of Vidmore Video Converter by clicking one of the Free Download buttons underneath. Follow the onscreen setup to install the app on your computer. After that, open the app to see its running interface.
2. From the main interface of the app, click the Plus sign button to upload an audio file. It will open a folder where you can locate and add the MP3 file that you would like to edit. Alternatively, you can drag and drop your target MP3 file from the folder to the interface of the app. This will allow you to conveniently upload files. At the same time, you can upload and edit multiple files at the same time.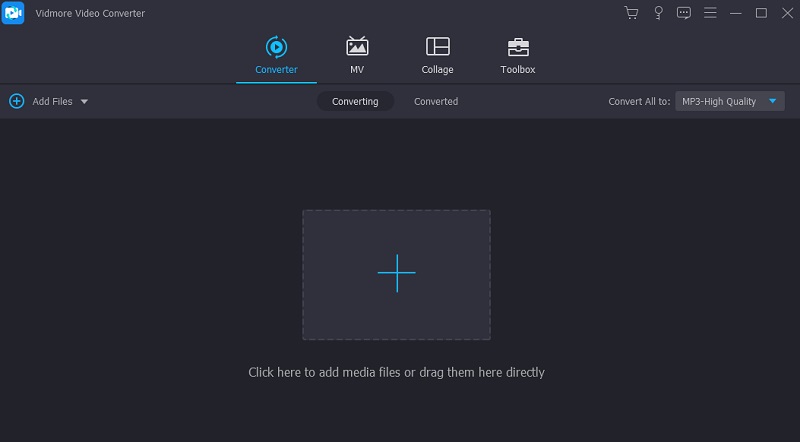 3. Once the MP3 file is uploaded, click on the Cut button and you will see the audio editing interface of the tool. From here, click the Fast Split button and enter the number of cuts on the text field. It will then split the track according to the defined number of cuts.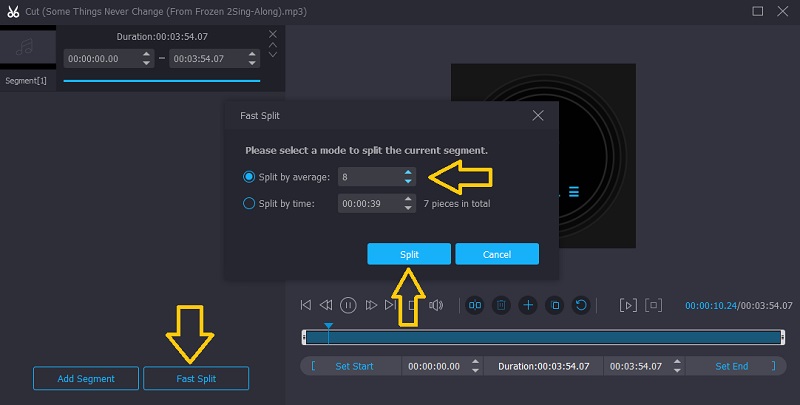 4. You can also use the left and right grabbers to cut audio files and save the portion that you would like to retain from the track. Simply adjust the start handle which is the left grabber to the point where you would like the track to start. Then adjust the right handle to define which end point you would like the track to stop. Hit the Save button if you are satisfied with the results.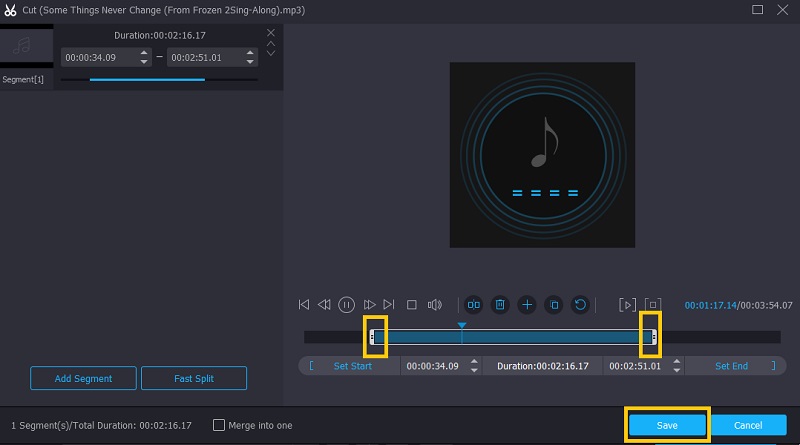 5. To adjust the volume of the track by increasing or decreasing the audio, click the Edit button. Below the editing interface, tweak the volume adjuster according to how loud you would like the track to be. You may also adjust the delay as you like. Then tick OK once everything is set.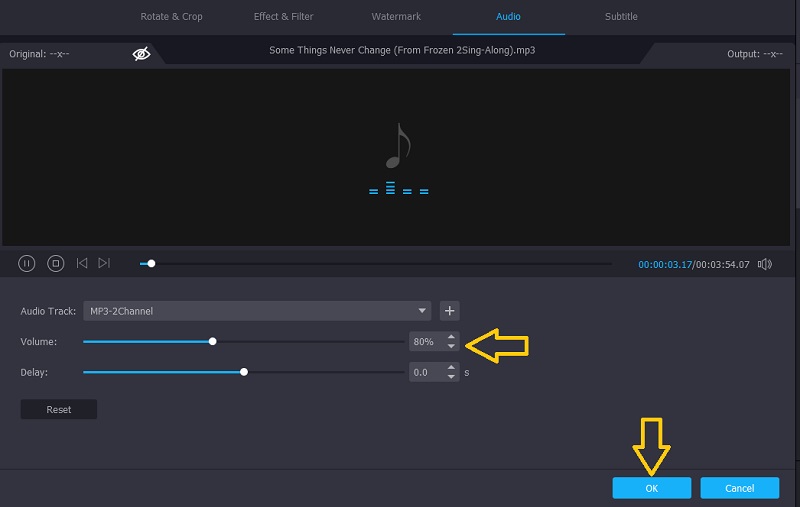 6. Before saving the file, you are entitled to change the metadata information according to your needs allowing you to learn how to edit MP3 metadata. Simply click the Edit Media Information button and then enter the appropriate information for each text field. After that, click the Save button to confirm all the changes made.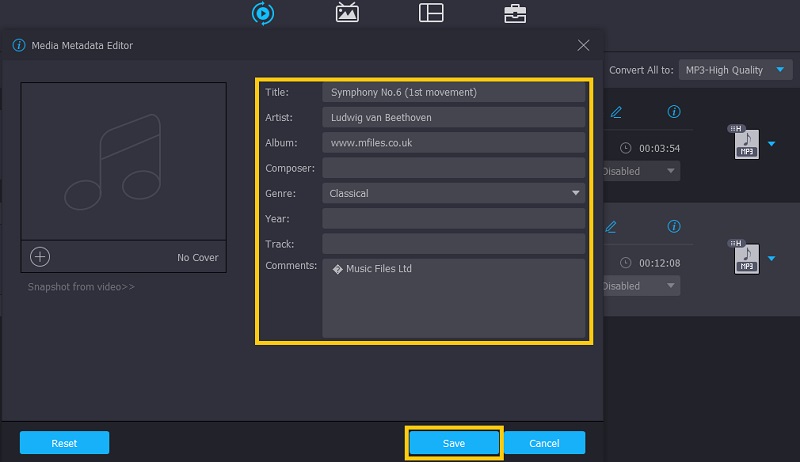 7. If you need to compress and change the format, open the menu for Profile. Select MP3 as the output format and click on the Gear icon. From the dialog box, change the bitrate according to your desired compression requirements. Click the Create New button to confirm the changes.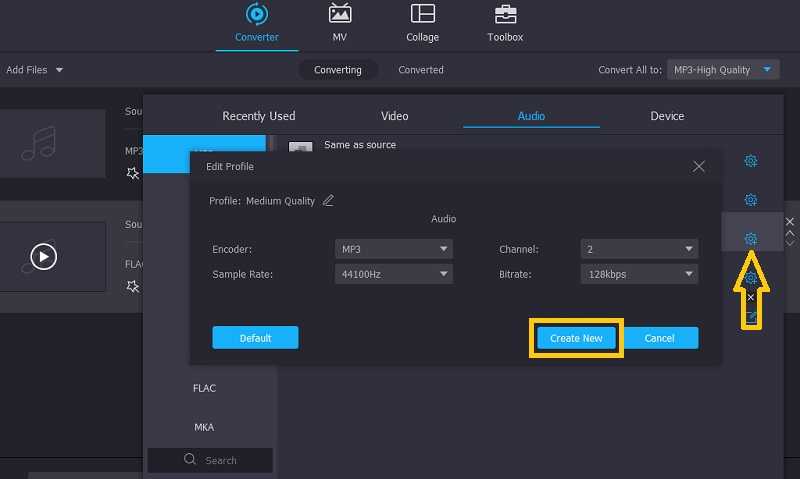 8. Once everything is set, set an output folder where you want to save the final version of the file. Just click the Folder icon at the bottom of the interface. Once decided, click the Convert All button to render the file. After a short while, the audio playback of the edited MP3 file should be ready.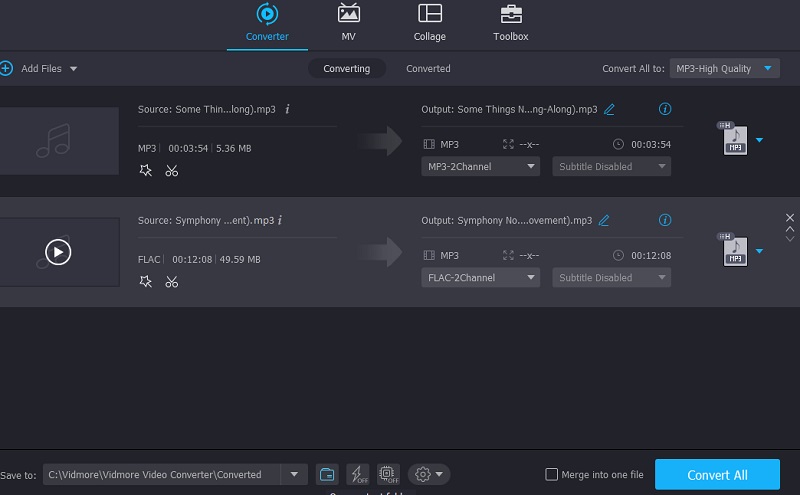 Part 3. FAQs of Editing MP3 Files
How do I edit MP3 on Windows Media Player?
By default, Windows Media Player is an app designed to play videos and audio files on your Windows devices. However, for an audio workaround, you need to integrate a plugin called WMP Trimmer Plugin for you to successfully cut audio files using Windows Media Player.
How to edit MP3 online?
Answer: There are lots of web-based programs that can help you edit MP3 files to workaround with its properties. In the same manner, you can cut, split, or convert audio files which you can access as with the desktop apps.
How to edit MP3 files on mobile?
For simple audio manipulation, mobile programs will help you achieve your audio editing jobs. This will only allow you to make changes with the audio files from your mobile device though. Yet they work effectively for cutting, trimming, and merging audio files.
Conclusion
After learning about the features and functions of Vidmore Video Converter, it's safe to say that it is more than capable of editing audio files. No matter the operating system that your computer is running, you will be able to learn to edit MP3 and achieve your tasks. Moreover, it provides more functions giving you making it a perfect tool for almost any situation.