AMR to M4A: Review of the Recommended Audio Converters [Resolved]
Audio files that have AMR format are typically recorded using a mobile phone. By definition, AMR or Adaptive Multi-Rate is an audio codec format used for recording speech or audio on mobile devices. It is common for people to record audio on mobile devices and transfer it to various devices for editing or streaming purposes.
Yet, AMR files are exclusive for mobile devices. Now, suppose you wish to have the benefits of higher quality audio in a compressed format. In that case, you should consider converting your AMR files to M4A. Henceforth, we will sort out the best AMR to M4A converters to accomplish this job. Read on to acquire the information you need.

Part 1. Best Way to Convert AMR to M4A
One of the reliable tools powerful enough to convert almost any audio and video to your desired formats is Vidmore Video Converter. The program comes with a straightforward interface allowing you to get your conversion done in no time. Moreover, it enables you to convert multiple files at the same time without any interruption during the process. Also, you may configure the audio parameters to your desired output. Indeed, you will enjoy listening to the result as you did on the original file or even better. Best of all, you can enjoy some essential editing tools for your audio files.
To demonstrate the process of how to convert AMR to M4A, please follow the instructions below.
Step 1. Grab the AMR to M4A Converter
First off, acquire the tool using the Free Download buttons given below. Pick the appropriate version for your computer, then install it. Once done, launch the program.
Step 2. Import an AMR file
Upon launching the program, you will already see its main interface. From here, the upload button is presented. Click the Plus sign button to open a folder on your computer. Then, import your target AMR file to convert.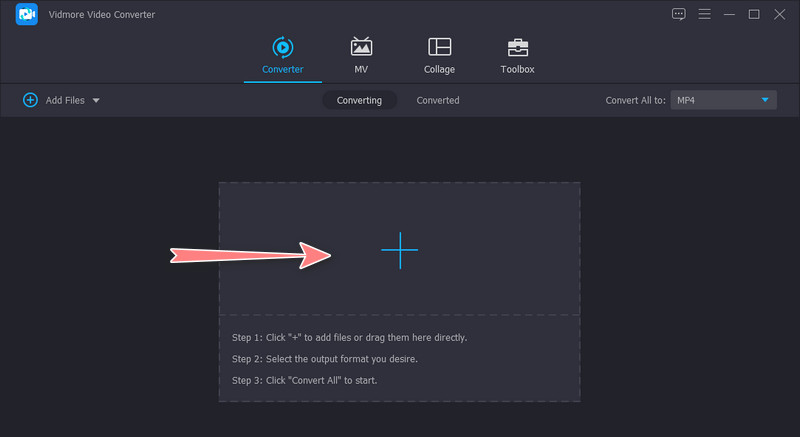 Step 3. Select M4A as the output format
Now, expand the Profile menu at the upper right portion. Go to the Audio tab, and on the left sidebar menu, select M4A to set it as the output format.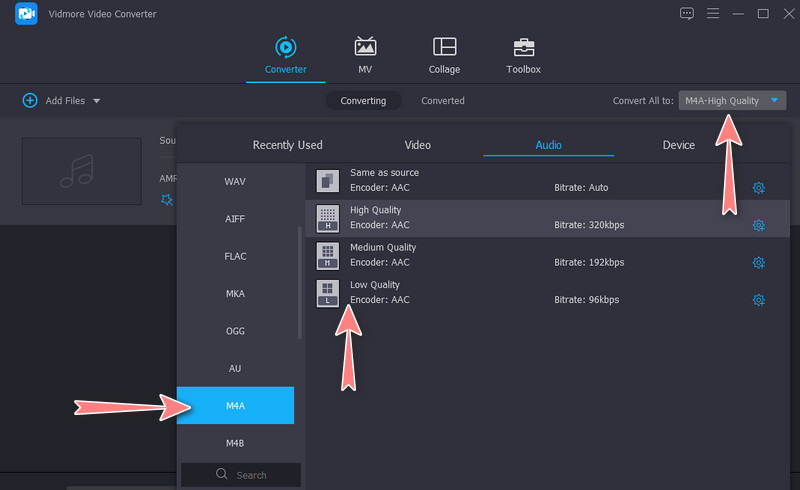 Step 4. Convert AMR to M4A
When everything is set, click the Convert All button at the bottom part of the interface. After that, the conversion process should commence. Once it finishes, you will receive the result from a folder that will pop up.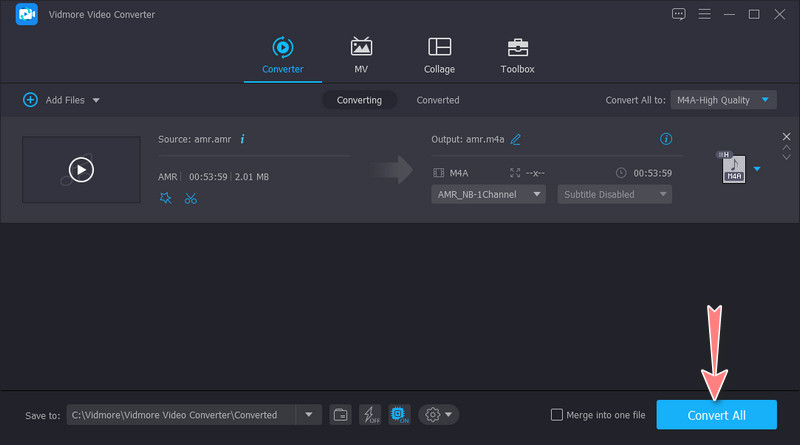 Part 2. How to Convert AMR to M4A in Other Ways
When looking for convenient ways to convert AMR to M4A, we will review the recommended online and mobile tools.
1. Zamzar
Zamzar is an online solution that helps in converting media files, including audio. It does not require installation, and you can access the tool on the web page anytime, anywhere. It supports the conversion from AMR to M4A and other audio formats such as AAC, FLAC, OGG, RA, WMA, and WAV. The interface of the app is easy for users to navigate. Even green-hand users may convert files instantly. The only reason you may not utilize this tool is the upload limitations. You can only upload files equal to or greater than 50 MB file size. Now, here is how to handle this AMR to M4A converter online.
Step 1. First off, visit the website of Zamzar using your preferred browser. Click the Add Files button and choose your target AMR file from the main page.
Step 2. Next, click on the Convert To option and choose M4A from the Audio Formats option.
Step 3. Finally, click the Convert Now button to initiate the conversion process. Once the process is done, you may download the file to your computer drive.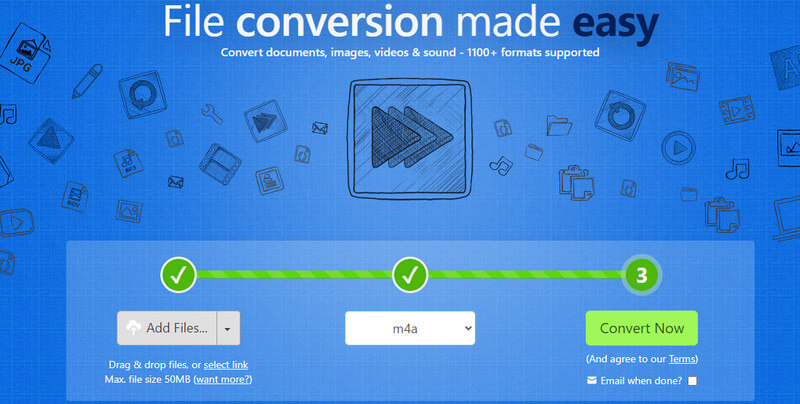 2. Audio Converter
For Android users, you may consider using Audio Converter to help you transform AMR to M4A. This solution also enables you to change audio parameters at your fingertips. You can adjust the bitrate, sample rate, and channels. Moreover, cutting the audio file is possible using this program. You can refer to the steps to use this AMR to M4A converter Android app.
Step 1. To start, go to the Google Play Store and install the mobile app on your device.
Step 2. Browse the AMR audio file you wish to convert and select it.
Step 3. Then, configure some settings by choosing the format and adjusting the parameters. Hit Save and identify the name of the file.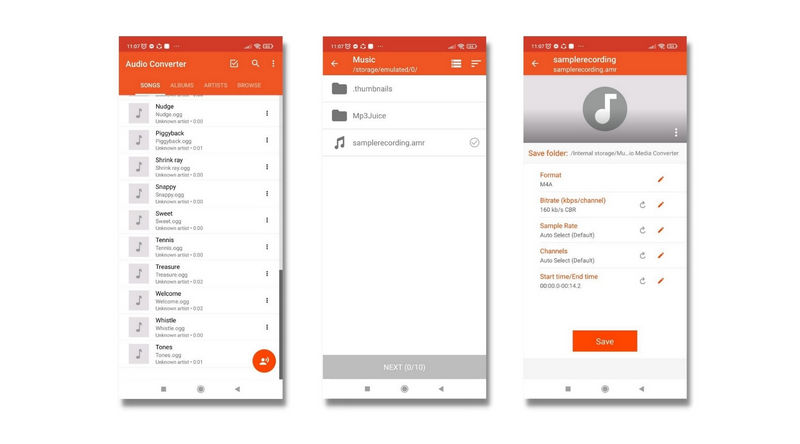 3. The Audio Converter
The Audio Converter is an iOS mobile application that enables you to easily change your AMR files to M4A. Whether you are online or offline, the tool can perform the conversion without any problem. It provides support to AMR, OPUS, WEBM, MID, WAV, WMA, and more. Once the conversion is through, you can share the audio output immediately. Follow the simplified procedure below to learn how to change AMR to M4A.
Step 1. Go to the App Store to get the app installed on your computer.
Step 2. Next, import the AMR audio file from your device and select M4A as the output format.
Step 3. Tap on the Convert File to start the conversion process.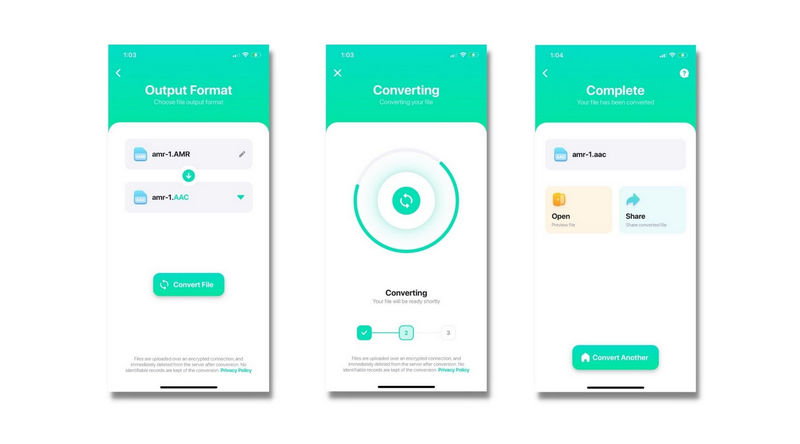 Part 3. FAQs on Converting AMR to M4A
How can I open an AMR file?
One of the recommended programs to help you listen to AMR files without a problem is VLC media player. As we know, VLC is a cross-platform tool with a wide acceptance to different formats. You can open the file like you usually do on other media files.
Can I convert AMR to MP3?
Yes. There are a lot of apps to help you achieve this conversion. Yet, if you are looking for a reliable tool, you may consider the ones mentioned in this post.
Does Windows Media Player support AMR files?
Yes. Windows Media Player can play AMR files. Hence, if you use Windows Media Player as your daily driver for playing audio files, you can rely on this application.
Conclusion
These are the tools you can use to convert AMR to M4A. If you are looking for a desktop program with powerful features, you should go with Vidmore Video Converter. It provides basic video and audio editing tools for your future needs. The conversion speed is guaranteed, and many output file formats are supported. On the other hand, you switch to online or mobile programs for convenience. These are good choices, especially when you do not want to download an application or accomplish the conversion at your fingertips. Ultimately, it will still depend on your preferences which fits your needs well.