Top M4A Editors Online and Offline Compatible for All Platforms
M4A files are designed to work on Apple software and music players. It is one of the audio files that have a high-quality audio format sold on iTunes. Perhaps you are a podcaster or simply someone who sends audio clips to your friends or family to have some fun. However, not every application can handle this audio format. For this reason, M4A editors could be of great help. As a matter of fact, there are a handful of M4A editing programs to help you accomplish this task. To help you save time and effort, we listed down some of the best tools online and offline that are available on computer and mobile platforms.

For convenience and accessibility, the online programs beneath should come in handy. Using these tools, you do not need to install any software yet you'll be able to accomplish your task just like what you would normally do in desktop programs.
1. Bear Audio Tool
As mentioned, Bear Audio Tool is an online program that you can use to edit different audio files from the webpage directly. Despite being a web-based app, it does not fall behind when it comes to features and functionalities. It comes with a built-in library where you will be able to use various copyright-free sound effects. There are also undo and redo functions to revert back to the previous version of the audio file you edited. Or, reverse a mistake upon editing M4A files. Indeed, Bear Audio Tool is one of the most functional and free M4A editor online programs.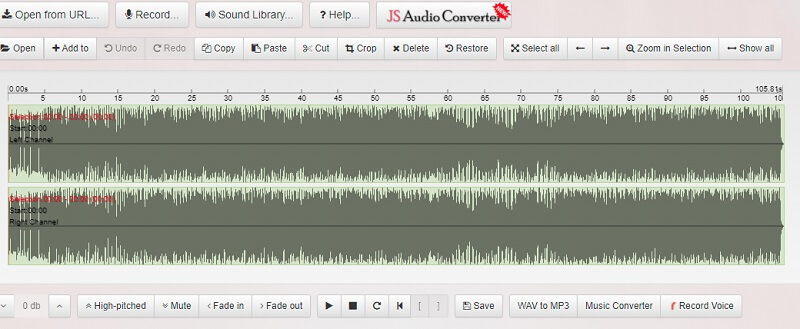 2. Audio Trimmer
If you are into an M4A editor free for Windows and Mac for cutting, splitting, or trimming your M4A files, Audio Trimmer is far from second. It lets you upload from your local hard drive and edit nearly all major audio file formats. As a matter of fact, you can create ringtones with this tool compatible with your Android and iOS devices. Not to mention the editing and cutting of audio files can be done from the comfort of your mobile and tablet devices. On top of that, it is totally free and does not require you to sign up for an account in order to edit tracks.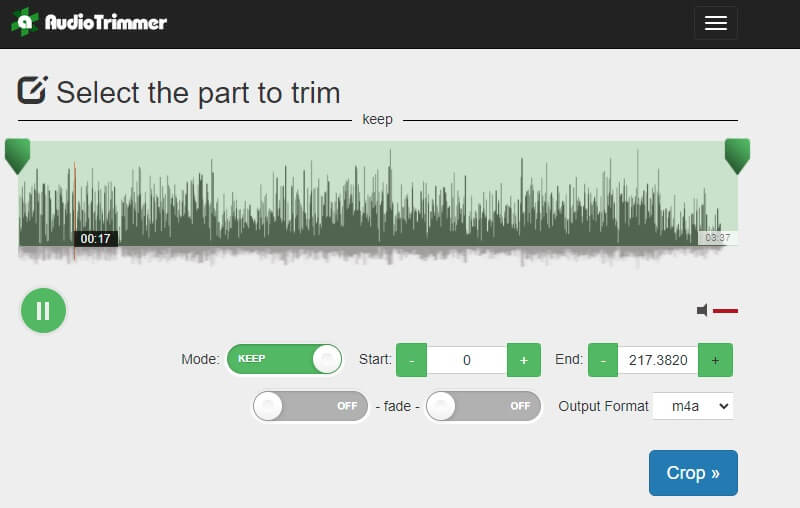 Part 2. Top Offline M4A Editors
Vidmore Video Converter is yet another useful M4A editor for Mac and Windows PC. It is guaranteed to help you edit M4A files by allowing you to adjust the volume and delay of the audio playback. Moreover, cutting audio files into multiple segments or tracks can be easily done at a great speed using the automatic cutting function of the tool.
There are also several options for you to cut audio which are through the handlebars or by entering the start and end duration time. Apart from that, you can export an audio file to various file formats without any quality loss with support to several parameters for you to modify. On top of that, Vidmore boasts a metadata editor that will enable you to use it as your M4A metadata editor. In addition to that, this can also work with videos in case you need to change the metadata of your video files with support to several file formats.
Below is a walkthrough on how to operate this functional software.
Step 1. Acquire the M4A Editor
The first step you should take is to get the app by clicking any of the Free Download buttons beneath. Make sure that you pick the right OS platform for your computer system. Follow the wizard prompts and install the app. Run it on your device after the successful installation.
Step 2. Add an M4A file
Once done, you should see the running interface of the software. Now click the Plus sign button and it will prompt the file folder to open. Select your desired M4A to edit and add to the program by clicking the Open button.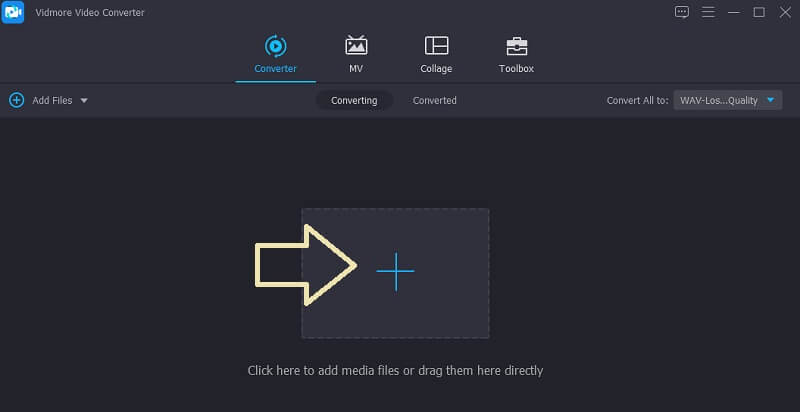 Step 3. Edit the M4A file
To clip the M4A file, click the Cut button and the window for cutting audio files will appear. Move the processing bar to select that part that you wish to keep. To automatically cut the M4A clip into multiple segments or tracks, simply hit the Fast Split located at the left section of the interface. Click the Save button at the bottom right portion to confirm the clipping parts.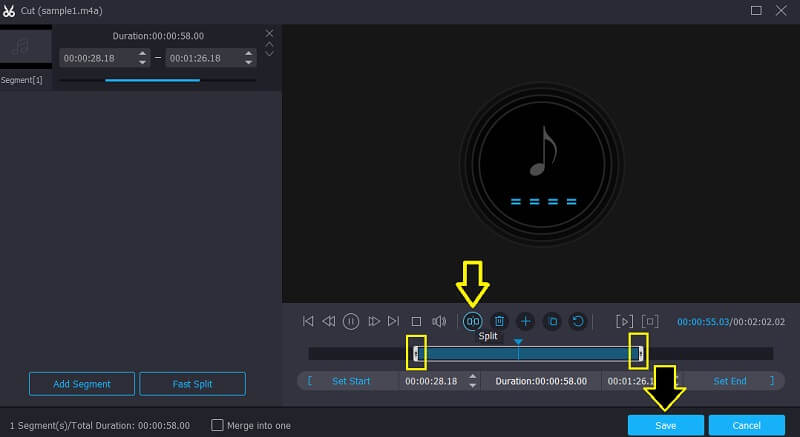 Step 4. Save the clip's final version
Prior to saving the edited file, you may choose to configure the parameters by opening the Profile menu. From here, choose a format appropriate for your needs or select the same file format. Then click the Gear icon and you will be given options to modify settings like encoder, bitrate, sample rate, channel, etc. Finally, tick the Convert All button to save all the changes and get the audio playback.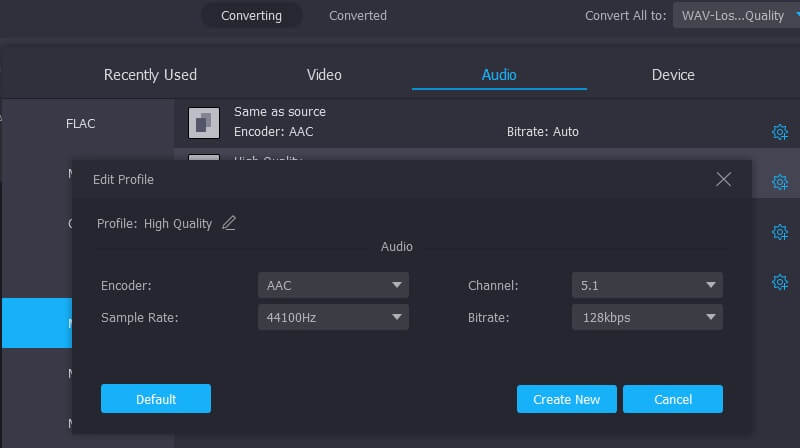 Part 3. M4A Mobile Editor Apps
Well, besides M4A editors for desktops, there are also tools suitable for mobile devices that enable you to edit your M4A files at your fingertips.
1. Hokusai Audio Editor
If you like to edit your M4A files directly from your iPhone, Hokusai Audio Editor should be at the top of the list. This lets you copy and paste recordings. Furthermore, you will be able to snip out irrelevant and superfluous parts of the audio using the delete and trim function of the tool.
2. Lexis Audio Editor
Lexis is your go-to M4A editor for Android if you are a beginner at audio editing. Likewise, you can cut, copy, insert and delete tracks as you wish. From importing different file formats, applying sound effects, reducing noise, to changing tempo and pitch, you will be able to accomplish them using this tool.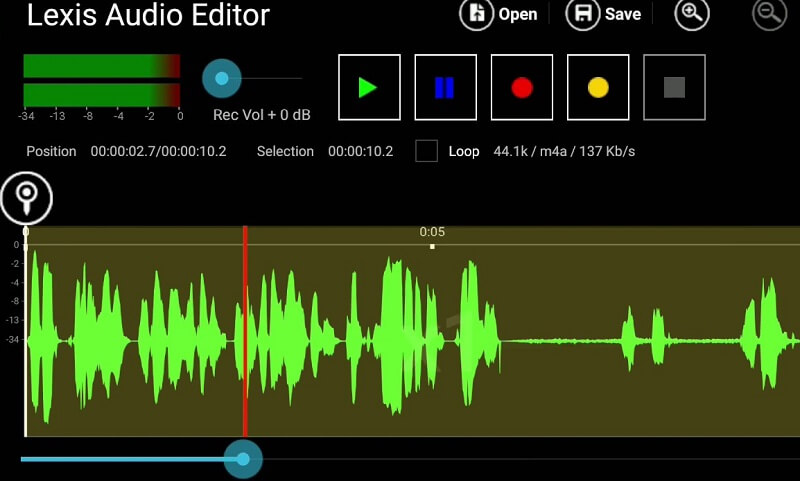 Part 4. FAQs of M4A Editors
What program can open M4A files?
You can play M4A files using iTunes, Windows Media Player, and Quicktime which are great M4A players for Windows and Mac computers.
How can I edit M4A files on iPhone?
With the help of Hokusai Audio Editor, you can edit M4A files on iPhone directly. It lets you copy and paste streams, cut, trim and do recordings.
Is M4A better than MP3?
As far as the sound quality, M4A has better quality than MP3. It delivers a better audio quality with the perks of small file size. But MP3 is more common than M4A. So, you may need to convert M4A to MP3 sometimes.
Final Thoughts
In conclusion, we discussed the best M4A editors that are suitable for desktops and mobile devices. Hence, you have options for the method of editing M4A files. If you need basic audio editing or you are someone who sends funny clips, the mobile apps will be able to help you. For more advanced editing jobs, desktop apps like Vidmore Video Converter is an absolute program for this kind of need.