Top-Notch FLAC to OGG Converters: Offline and Online Approaches
If you love listening to music, you would surely desire to store as many songs as you want on your device. Unfortunately, this is not the case for FLAC. Although FLAC is compressed audio, we cannot invalidate the fact that it is a lossless file. Thus, it takes too much memory space on the disk. Meanwhile, OGG is also a lossless audio format that offers better audio quality yet produces a portable file size. It is an ideal format, especially if you are running a device with low disk space. With that being said, here we will discuss the best FLAC to OGG converters.

Part 1. What are FLAC and OGG
Suppose you are quite unsure regarding the difference between FLAC and OGG. In that case, the following part will introduce the formats in detail.
Information about FLAC
FLAC stands for Free Lossless Audio Codec. It compresses audio files while retaining high audio quality. Moreover, it was developed and maintained by Xiph.Org Foundation. This format is good because it preserves the original audio information, making it ideal for creating original music tracks. Not to mention FLAC files are very much suitable for editing.
Information about OGG
OGG features a high compression rate, decreasing the audio file size without sacrificing the quality. In addition, OGG is patent-and-royalty-free, which you can use for commercial and noncommercial purposes. You don't need to worry about copyright restrictions making it playable on portable media players and other devices.
Under various circumstances, you may want to convert FLAC to OGG. Here you will find two practical solutions for this kind of need.
Part 2. How to convert FLAC to OGG Seamlessly
1. Vidmore Video Converter
For better FLAC to OGG conversion, professional tools like Vidmore Video Converter should help you. The program integrates powerful functions that encompass audio/video converter, audio profile editor, MV maker, and a lot more. The best part is it supports all popular formats, including MP3, FLAC, WAV, WMA, AIFF, etc. It also comes with a simple editor that enables you to adjust the audio parameters to achieve your desired audio output. More importantly, it supports batch convert FLAC to OGG to assist you in converting many files at once.
Here are the steps to follow to handle this tool:
Step 1. Grab the FLAC to OGG Converter
To begin, download the program on your computer. Just click the Free Download button that corresponds to your computer OS. Open the file extension and follow the setup wizard to get the app installed. Launch the program once you are done installing the app.
Step 2. Add FLAC file
Load FLAC files that you convert to OGG by clicking the Plus sign button in the main interface. You can also directly upload the app using the drag-and-drop feature of the program. To do this, simply upload your target FLAC file from the folder to the upload area.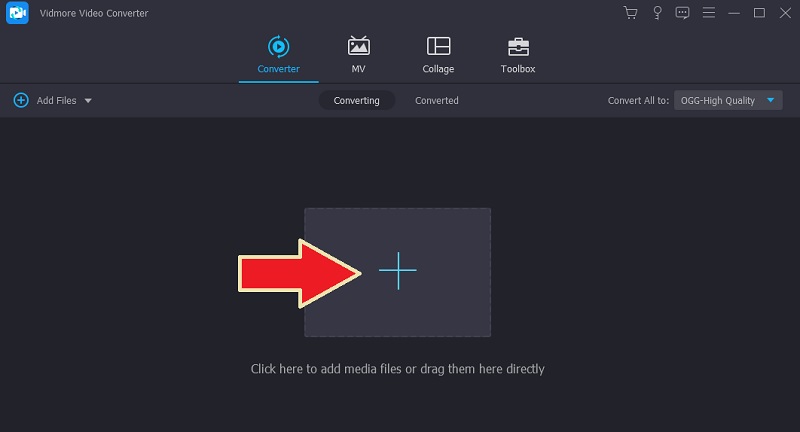 Step 3. Choose OGG as the output format
Now, drop down the Profile menu and head over to the Audio tab. On the left panel, select the OGG format, presenting a list of audio profiles. Select the suitable profile for your needs or edit from the existing one.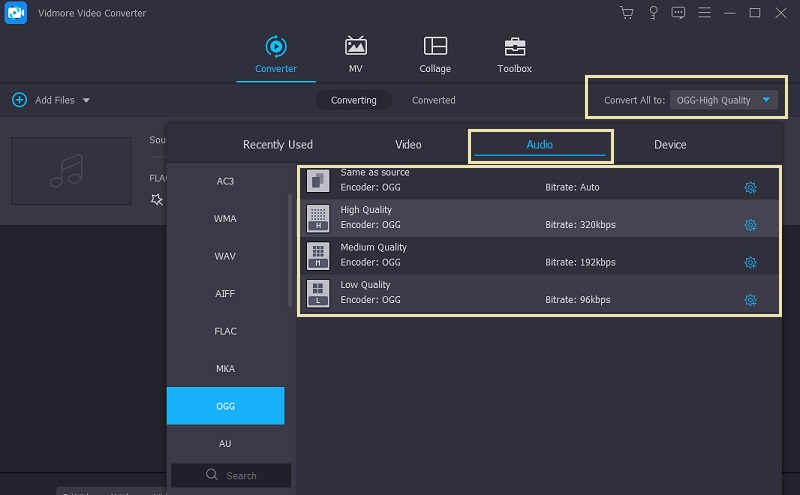 Step 4. Carry out the conversion process
If you are satisfied with the output setting, click on the Convert All button at the bottom right corner. The FLAC to OGG conversion will commence instantly. The folder that will pop up will present the output file.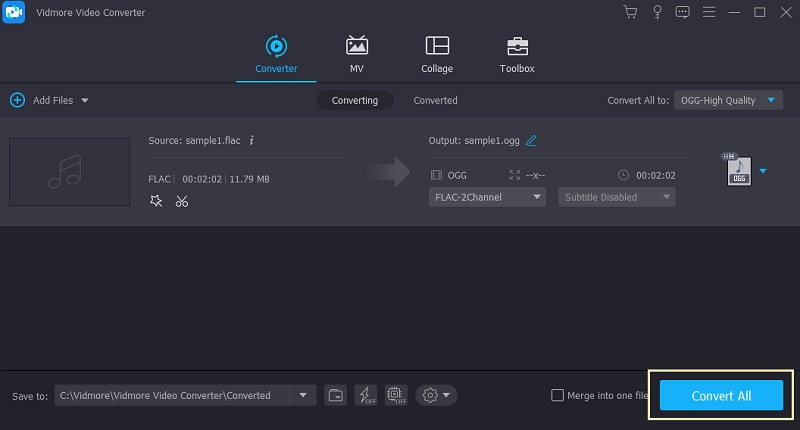 2. FileZigZag
If you wish to convert FLAC to OGG online, you should consider using FileZigZag. It is suitable for both video and audio formats. Furthermore, you can convert files like documents, ebooks, archives, and images. Aside from that, it also integrates batch conversion, just like the program mentioned above. For precise and detailed instructions, take a look at the steps below.
Step 1. Browse the official page
On your browser, visit the website of the tool by entering its web address link. Press the Enter key, and you should get to the main webpage.

Step 2. Add FLAC file
Next, click the Browse for Files button once more and select the FLAC file that you would like to convert. The maximum file size you can upload is 50MB, while the number of converts is 10 per day.

Step 3. Choose an output file format
After uploading an audio file, go to the Target Format option that looks like a Music icon. Then a list of the available audio formats will show up. From here, select OGG.

Step 4. Begin the conversion process
Finally, carry out the conversion process by clicking on the Start Converting button. Wait for the conversion to finish, then hit the Download button to get a copy of the converted file.

Part 3. FAQs of FLAC to OGG
How to play FLAC on an Android device?
FLAC supports mobile devices, including Android smartphones. As long as your Android device runs on version 3.1 and above, you should have no problem playing them on your device.
Can Audacity convert FLAC to OGG?
Yes. Audacity supports FLAC files. You can edit and access various helpful editing tools along with the converting function.
Is FLAC or OGG better?
It depends on the use case. If you are into storing many files yet enjoying a better audio quality, OGG is your go-to format. Meanwhile, if your concern solely regards the quality, FLAC is a better option.
Conclusion
This guidepost recommends the best FLAC to OGG converter covering both offline and online methods. So under the circumstances of changing FLAC to OGG for the purpose of getting a portable size of audio, you will find the above tools helpful. True enough, online programs are convenient since you don't have to install an application because you can directly convert from the webpage. Yet, for long-term usage and without limitations, the desktop program is the best choice.