Edit OGG Metadata, Properties, or Tags Using Best Music Editors
You've been meaning to edit your OGG files but still wondering what tools that you will use to help you out. This is a need especially if you want to make mashup songs or cut audio to shorten the audio file. At the same time, you may want to adjust the volume, speed, or apply effects to make the audio file sound professional. Whatever the reason is, there is always an app that is fit for this kind of need. Here we will have a detailed overview of an excellent program along with its instructional guide. Additionally, you will discover an online solution that will also help you edit OGG files quickly and easily.

Part 1. Useful OGG Editor Solution
Vidmore Video Converter is a highly functional tool that supports different formats and devices. Apparently, this app helps you to convert audio/video files to other formats. Yet aside from this capability, you can also edit your audio files like OGG with this tool allowing you to split a track into multiple tracks in an instant. You may remove some of the irrelevant tracks and preserve those that you need. Furthermore, you may select the portion of the audio that you want to keep and save the selected portion by using the music handlebars. For a high-precision cutting, you can alternatively enter the start and end points in seconds. Take the steps below to learn more about this app, to edit OGG files as well.
1. Split a track into multiple segments
This audio editor for Windows and Mac enables you to split, cut, or trim audio files with great ease. You can take advantage of its Fast Split feature that instantly slices sound files to your desired number of cuts. You can split the sound file by defining the duration. It will indicate how many segments it will produce out of the sound file.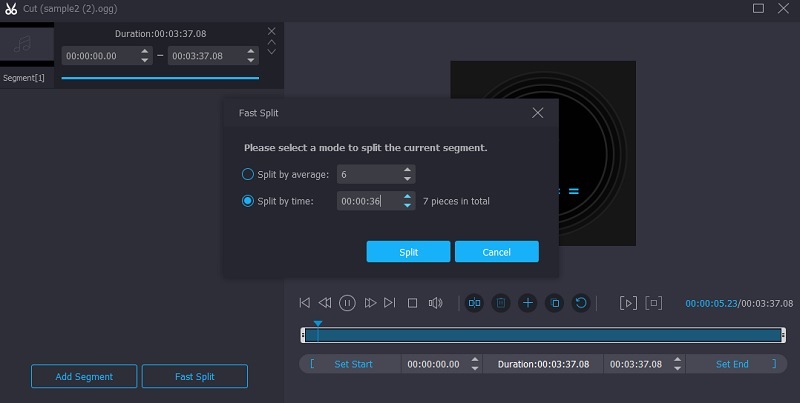 2. Manage recorded audio by adding ID3 tags
Aside from splitting sound files, this program also lets you edit OGG metadata of your audio files granting you access to modify the filename, title, artist, album, genre, and more. Even better, you can add comments to the song or thumbnail to easily recognize the song.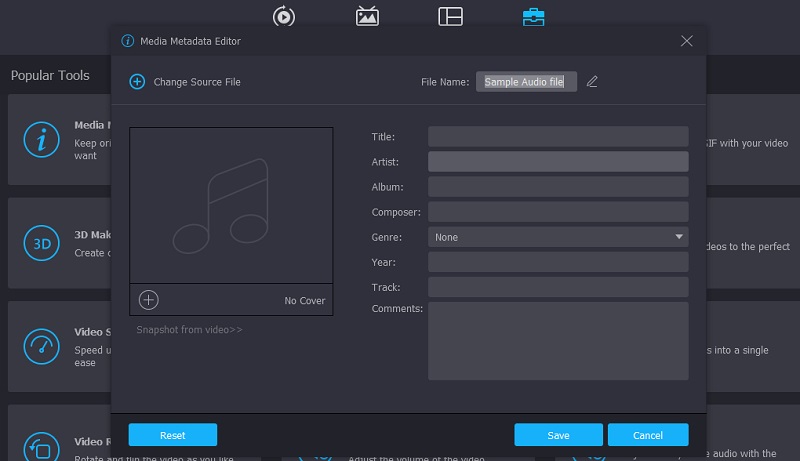 3. Play edited audio files in real-time
Once you are done with all the changes with the OGG file, you can always listen to the playback using its built-in media player. That means you don't need to install a separate software to get the audio playback. In addition, you can access basic playback controls like play, pause, forward, backward, stop, and many others.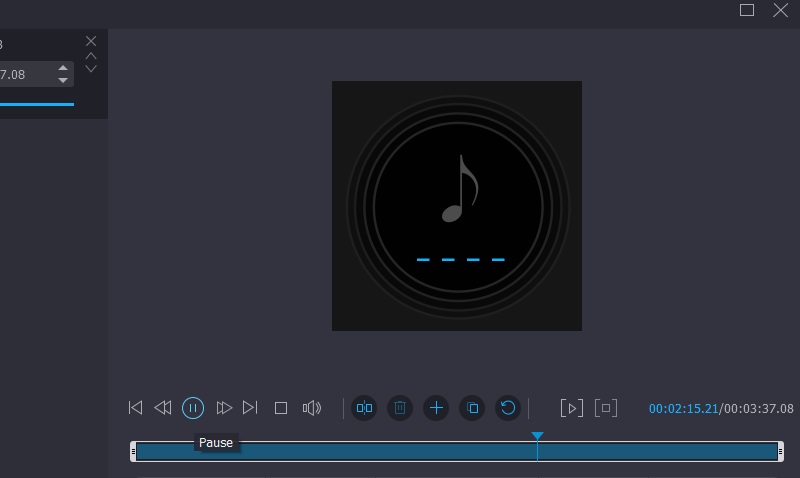 4. Combine or join several songs in one
You can also utilize the app's song merger where you can combine two or more songs into one in an instant. Hence, if you have multiple songs that you want to join together to create a playlist, you can do so using Vidmore Video Converter.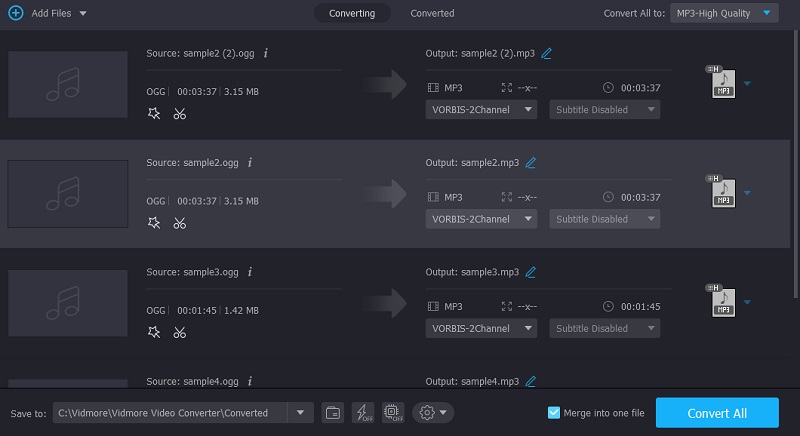 Part 2. How to Edit OGG on Windows and Mac
In the following readings, you will discover the best tools for editing OGG files. There are two different methods namely online and offline solutions so you could choose what fits your preference most. You may also find an app as the best way to edit OGG tags from the below programs. Along with this are their instructional guides to learn how these tools work. Without any further discussion, take a look at the tools reviewed underneath.
1. Kapwing
Kapwing is a video and audio editor that works on browsers allowing you to manipulate media files from the website directly. There are basic audio editing tools including the ability to split the audio file to remove the unwanted beginning portion. You can also add layers of songs to produce mashups and make them sound professional. Not to mention you can add multiple layers of songs or tracks if you need to insert different sound effects to the audio clip. If you are interested in using this program, follow the step-by-step guide below.
Step 1. First, navigate the official website of the tool using any browser on your computer. It will then bring you to the main interface. Click on the Start editing button and it will take you to the music studio.
Step 2. To add an OGG file, click the Add Media button on the left upper section of the interface followed by the Click to upload then select the target audio to edit. You can alternatively drag and drop the file to conveniently upload a media file.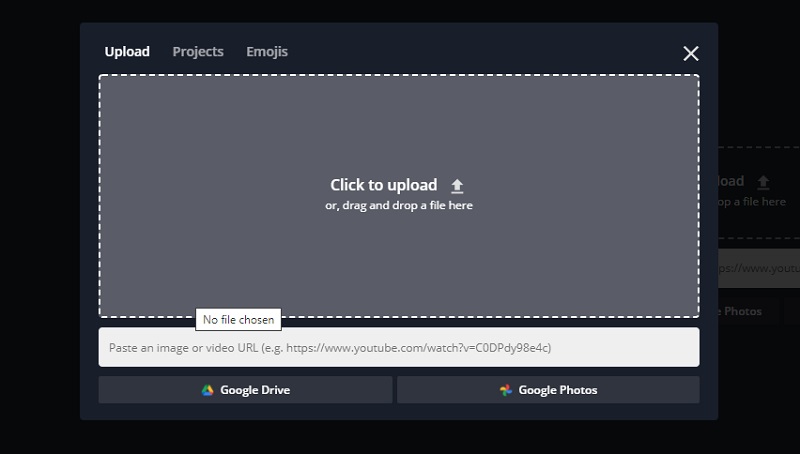 Step 3. At this point, drag the OGG file from the Media file section onto the editing interface and the tool will display the audio file in the timeline panel. This is located at the bottom of the interface. To split the audio, select a portion to cut and click the Split button. You can also adjust the volume using the slider, increase or decrease the audio speed, and more on the right section of the page.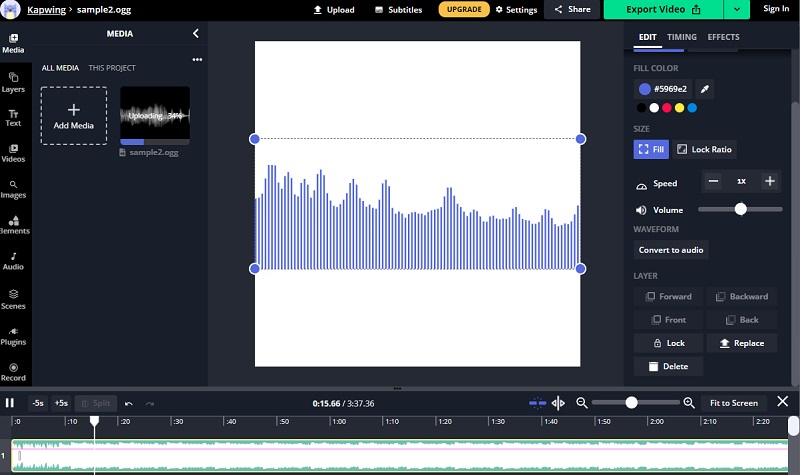 Step 4. Click on the Export dropdown and select your preferred format for the file. Apparently, it only supports MP3 for its audio export option. After processing the click on the Download button to save it on your computer.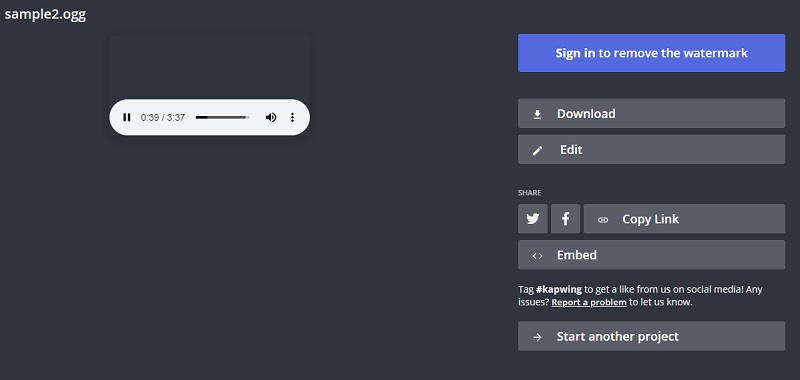 2. Vidmore Video Converter
If you find it unsecure to upload and edit audio files online, you can opt for an offline solution. One of the recommended solutions for editing audio is Vidmore Video Converter. It is available for Windows and Mac users to handle almost all audio and video workaround including the ability to cut, split, trim, merge files. On top of that, you can quickly convert files to any of your desired formats without any restriction with regard to the length of the file. See the steps below to learn how to use this program.
Step 1. Get the app's installer
To attain the app's installer, click on the Free Download button that corresponds to your computer operating system. Open the file extension and install the program on your computer. Run the app afterwards.
Step 2. Upload an OGG file
Next, click on the Plus sign button to upload an OGG file into the app or drag and drop files that you choose to edit.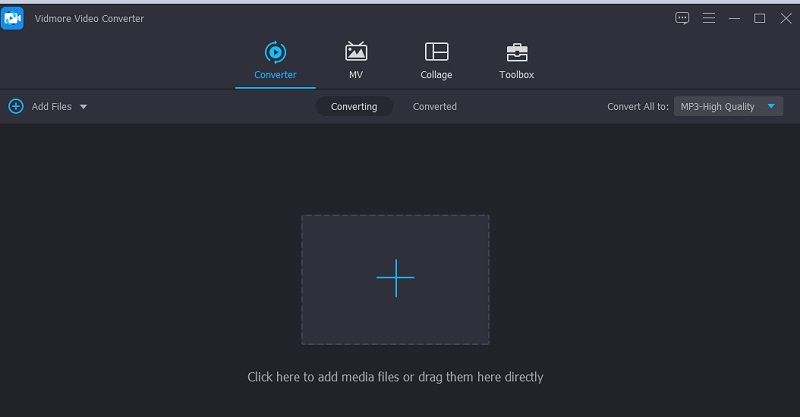 Step 3. Edit your audio file
Now that the OGG file, it's time to begin editing your audio file. Click on the Cut button attributed with the audio and it will take you to its music editor. If you want to split it into multiple segments, click the Fast Split button and enter the number of cuts. Click the Split button to start cutting the audio.
On the same window panel, you can trim the beginning parts of the audio or save the selected portion of the audio using the handlebars. Click the Save button to confirm the changes. If you wish to increase or decrease the volume, you can do so using the same tool.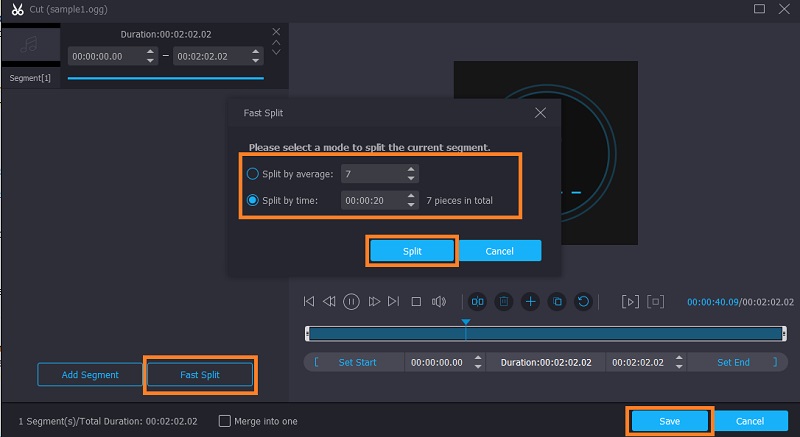 Step 4. Export edited OGG file
After you've edited your OGG file to perfection and are ready to process your work, go back to the Converter tab. Next, select an output format for your file. Open the Profile menu and select OGG file to keep the format unchanged. You may also export it to another format according to your needs.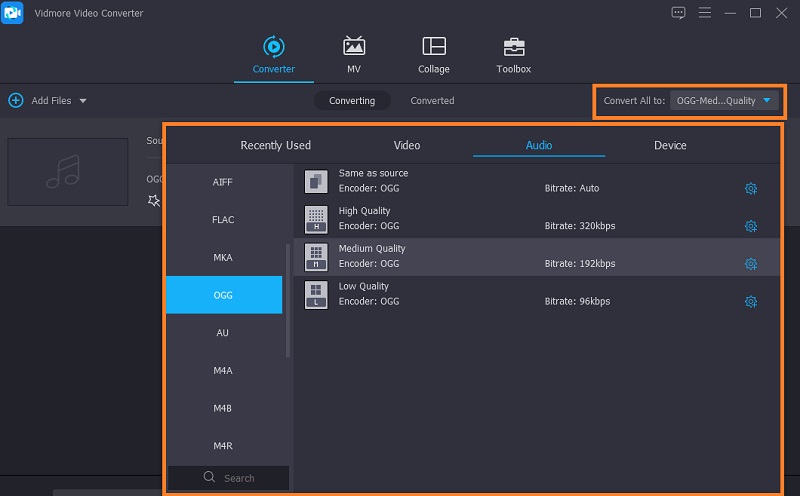 Part 3. FAQs of Editing OGG
How do I open OGG on my mobile phone?
Various iOS and Android mobile apps can play OGG files. This includes VideoLAN VLC, File Viewer, antvplayer Media Converter, and so on.
Can audacity edit OGG?
Yes, you can also edit your OGG files into perfection using Audacity. In the first place, Audacity is a solid audio editor that Linux, Windows, and Mac users can utilize for audio workaround.
How do I convert an OGG file?
As mentioned, Vidmore Video Converter is primarily designed to convert audio files including OGG. Hence, if you need to convert it to another format like MP3 for flexible enjoyment, you can do so using this app.
Conclusion
With the tools reviewed in this post, you can edit OGG metadata, file properties, and even add tags. For maximum and flexible enjoyment you can also convert it to another format. That means you will be able to play it on different devices.