5 Best Free WAV to FLAC Converters Windows and Mac Computers
WAV files are the main format used on Windows computers for raw and uncompressed audio. It is regarded as a lossless audio format that can retain high sound quality. The only thing though is that it is relatively large in storage. FLAC, on the other hand, compresses audio files without losing quality while in relatively smaller storage than the WAV lossless file.
Moreover, FLAC features flexible metadata that offers support to ID3 tags, the cover art of albums, cue sheets, and many more. Taking these into consideration, you may want to convert WAV to FLAC. Then here we will list the best WAV to FLAC converters that will be well capable of getting this conversion task done.

Part 1. How to Convert WAV to FLAC with Software
1. Vidmore Video Converter
First on the list of best methods to turn your WAV files to FLAC is Vidmore Video Converter. It comes with a hardware acceleration feature to achieve fast conversion through the help of AMD graphics, Intel CPU, and the like. No matter how long or large the size of the audio is, you will easily get the converted file in instant. Plus, you can convert multiple files at the same time without having any problem and still get the files converted in a very short period of time. There are also some affiliated features that you will surely find helpful. Say you want to edit videos, you may use the app's video editor. If you are wondering and asking how you can convert WAV to FLAC, here are the steps you should follow.
Step 1. Install the app
First off, click on the Free Download button presented below to get the installer of the app. Make sure to choose the appropriate OS that your computer is running. Boot up the program afterwards.
Step 2. Upload a WAV file
Next, load the WAV file that you wish to convert. To do this, click the Plus icon in the middle of the interface and choose your WAV file. For your convenience, you may alternatively drag and drag the file onto the interface of the app.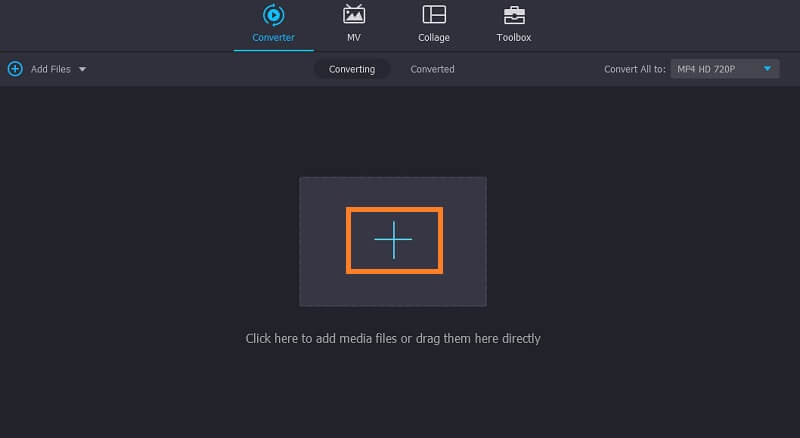 Step 3. Choose FLAC as output format
After that, open the Profile menu and select the Audio tab. From here, you will be presented with various audio files. On the left section, choose FLAC format.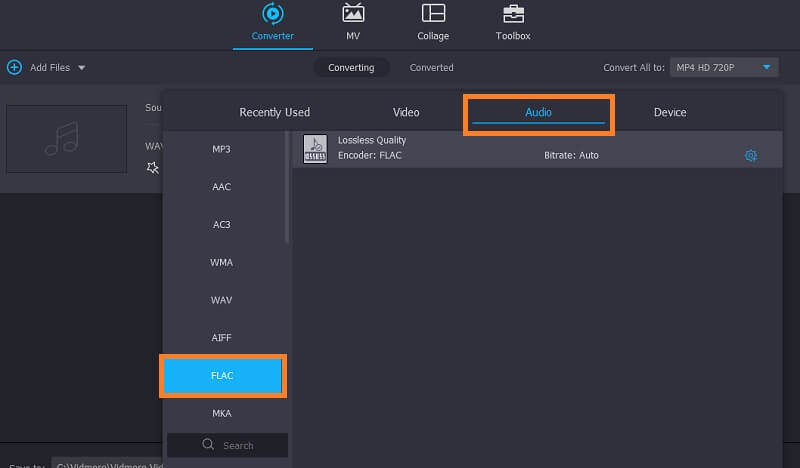 Step 4. Start the conversion process
To commence the conversion process, simply hit the Convert All button. Once done, you should see the converted audio in a folder that will pop up.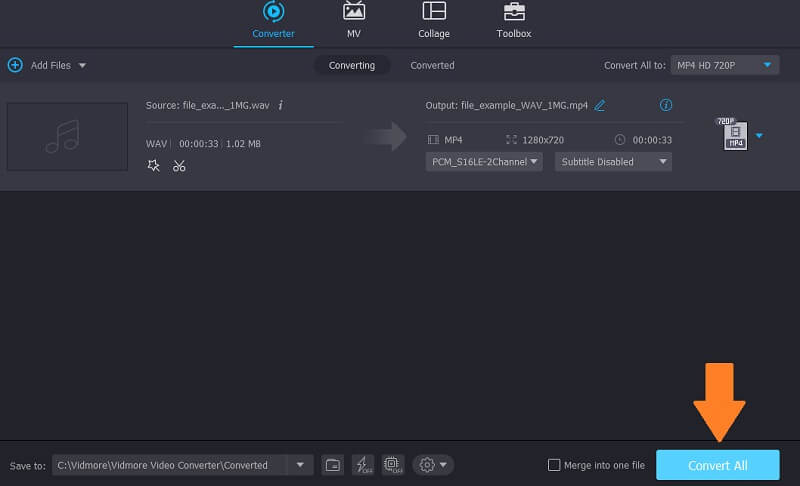 2. Freemake Audio Converter
Another application that you can apply for this conversion need is Freemake Audio Converter. It offers support to common audio file formats like WAV, WMA, FLAC, M4R, M4A, OGG, and so much more. Aside from that, you can also modify the quality of the converted file as you like. Unfortunately, this app is only available in Windows systems. Nevertheless, let's take a look at how you can convert WAV to FLAC using this tool.
Step 1. Download and install Freemake Audio Converter on your desktop PC and launch it.
Step 2. Click the Audio button at the top left corner to upload your WAV file.
Step 3. Now, click the to FLAC button at the bottom menu bar. Before the conversion starts, you may adjust some quality output according to your requirements.
Step 4. Set a file folder to where you want to save the file and hit the Convert button. The conversion process should commence afterwards.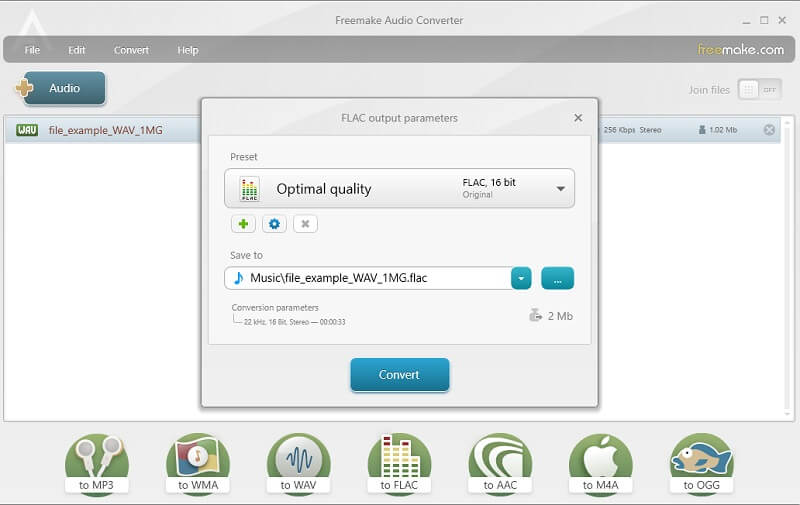 3. FFmpeg
Another method that you can employ for this conversion task is FFmpeg. This helps you quickly convert media files including audio allowing you to convert WAV to FLAC very easily. Just take note that this is not your usual converter as it uses a command-line tool in executing operations. Hence, many users prefer to use it as a way to convert WAV to FLAC on Linux. To use FFmpeg to convert WAV to FLAC, you may refer to the steps below.
Step 1. Get the installer of the app. Install the program to your computer system afterward.
Step 2. Now open the Command Prompt and run FFmpeg to verify if the program is successfully installed.
Step 3. After verifying the app, navigate to the folder where your WAV file is located using CMD. Then type this command ffmpeg -i input.wav output.flac and hit Enter key. You may also apply the same procedure to convert WAV to FLAC in Ubuntu Linux.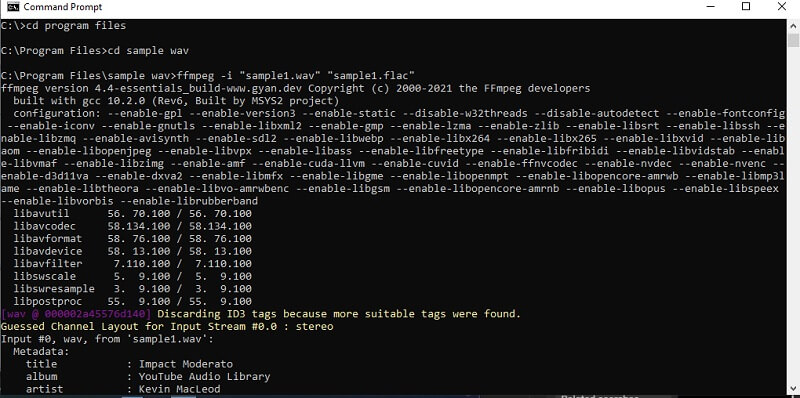 Part 2. How to Convert WAV to FLAC Online
At times that you don't want to install an audio converting program. As a result, you may opt for online solutions. Here we will discuss some programs that will allow you to convert from the website directly.
1. Vidmore Free Video Converter
One of the best WAV to FLAC converters online is Vidmore Free Video Converter. This online application enables you to convert audio/video to any of your desired formats. What's amazing about this tool is that it enables you to convert two or more audio files consecutively. There is also no need for you to install anything or sign up before you can use it. Provided you have a stable internet connection and a browser, you are good to go. To explore more, the steps below will help you navigate the tool.
Step 1. Visit the website of the app and then install its launcher on your computer system.
Step 2. To load a file, click the Add files to convert in the main interface and it will open your file explorer. Select your target file from the folder.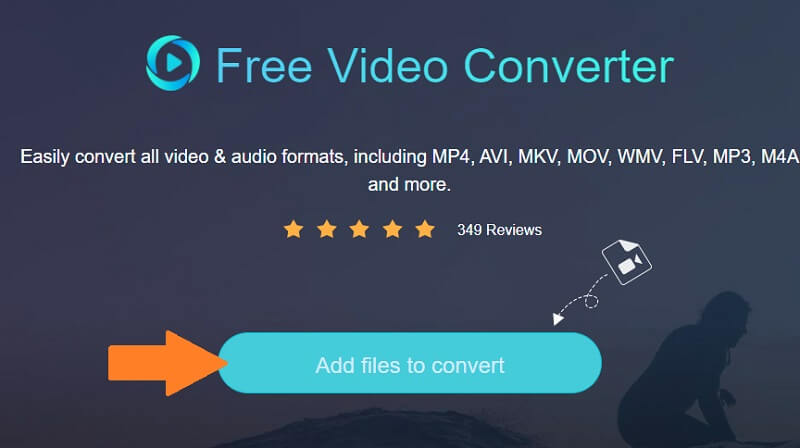 Step 3. Click on the music icon at the bottom right portion and tick on FLAC.
Step 4. Now, hit the Convert button to select an output folder and start the conversion process.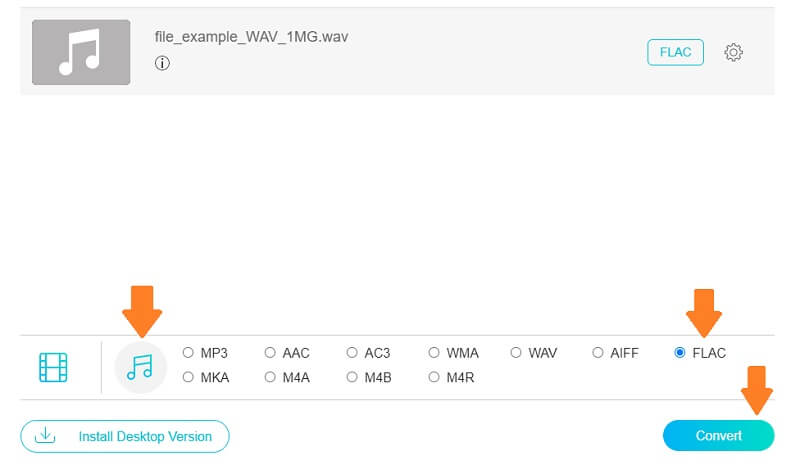 2. FileZigZag
Another program that does not need any installation is FileZigZag. Aside from converting media files, this also works as an image converter, archive, webpage, document, and a lot more. Needless to say, it is a flexible converter that you can apply to almost any file or document. To use this WAV to FLAC converter online, the guide below should help you out.
Step 1. Launch FileZigZag using any browser to reach the main page.
Step 2. From there, drag and drop the WAV file that you wish to convert.
Step 3. Set the Target Format to FLAC and then hit the Start Converting button.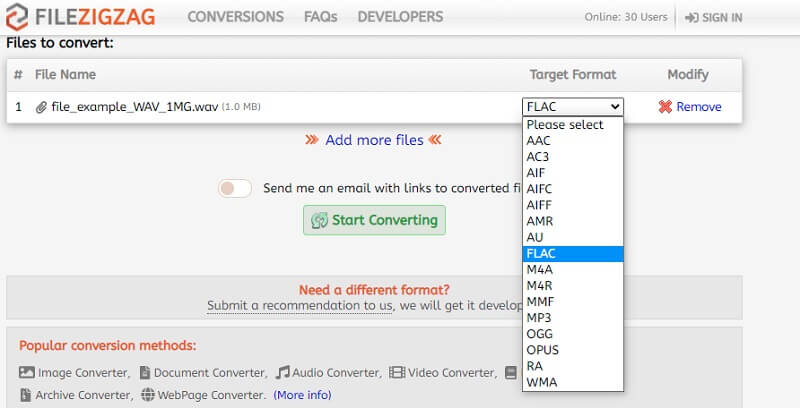 Part 3. FAQs of WAV to FLAC
How to convert WAV to FLAC on EAC or Exact Audio Copy?
EAC is a software application that you need to download to convert WAV to FLAC. This is perfect for those who want to rip audio from CDs wherein copies of audio files are in WAV. Then you just have to put a checkmark on FLAC to get this done.
How to convert WAV to FLAC on Linux?
You may use FFmpeg to help you convert your WAV file to FLAC on Linux. However, if you are not into text-based operations, you may use some GUI apps like Fre:ac.
Are online converters safe?
There's nothing much to worry about the online converters. It will only be suspicious once it asks for your personal or bank account details.
Conclusion
Now you can enjoy your WAV files in the highest quality possible while retaining a relatively small storage space requirement. This is done through the help of the WAV to FLAC converters mentioned above. Hence, if you are looking for one, there are a lot of available programs that you can use. Presented in this content are some of the most effective choices.