How to Convert Video Files to WAV with Best Video Converters
You may have a pile of good music videos stored in your computer drive or cloud. You enjoyed watching and listening to them. But what if you want to convert them to WAV files so that you can listen to them while doing other tasks or riding a train. Just like how you are listening to your favorite music while riding a train. You can't watch and listen at the same time in such places.
Gladly, there are great tools for you to get this task done with so much ease. Here we will tackle the best video to WAV converters for mobile devices and desktops. Read along and find out the most suitable way for yourself.

Part 1. Why Convert Video to WAV
There are a number of reasons why you want to convert video to WAV. It could be that you want to save some space storage for media files. Hence, you want to remove the visuals and retain the audio alone. Might also be that the videos you have downloaded are music videos and you only want to listen to them instead of streaming both the video and audio.
In some cases, you want to keep a specific part of the video that you will need to convert to audio and integrate to another video. In which case, converting video to WAV has become imperative for a lot of different and necessary reasons. On the other hand, many find it important to learn which tool for this kind of need. With that being said, we came up with a list of video to WAV converter apps converting mobile and desktop platforms.
Part 2. How to convert video to WAV on iPhone/Android
1. Timbre
One of the apps that provide useful features for converting audio and video is Timbre. This tool supports many file formats including WAV, FLAC, AAc, WMA, and MP4, FLV, AVI, MPEG for video. Aside from that, Timbre is also integrated with the MP3 cutter in which you can cut portions of audio and remove the unnecessary parts. This app uses the FFmpeg library allowing it to accept a wide variety of media types. Not to mention you can edit and edit the quality of your songs and videos through the FFmpeg console built upon this program.
Pros
Provides support to all major file extensions
Easy and fast conversion speed
Cut and trim videos/audios
Cons
Contains ads that might interrupt users from operating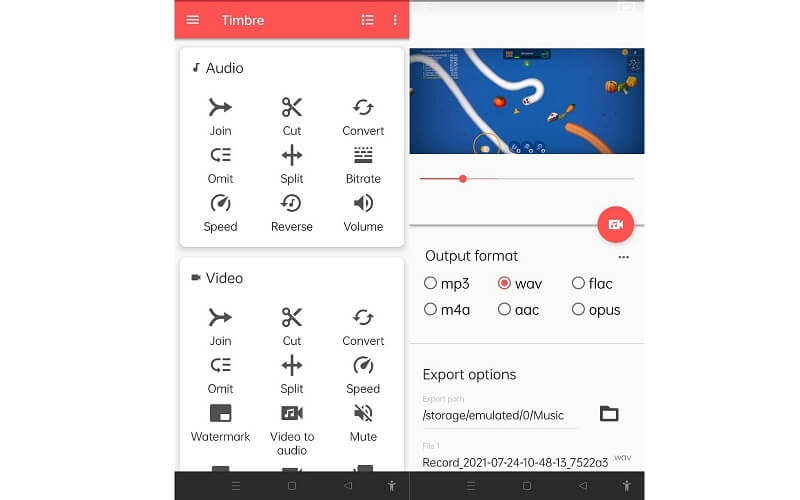 2. MP3 Converter- Audio Converter
Another video to WAV converter free app that you can use is MP3 Converter- Audio Converter. This lets you detach audio from your video that is compatible with both iPhone and iPad. Likewise, it supports almost all major video and audio formats. with it, you will be able to convert video to WAV in no time. Apart from that, it also features audio post-processing which is beneficial for those who need to fine-tune audio quality. This includes voice removal, bass enhancement, equalizer, and so much more. On top of that, you may quickly create and set ringtones with the help of this video to the WAV converter app. But similar to most mobile apps, you may find some annoying ads. If you don't mind this, then MP3 Converter -Audio Extractor is your go-to app.
Pros
Audio post-processing feature
Available on iPhone and iPad devices
Audio splicers and clippers
Cons
Takes a lot of storage space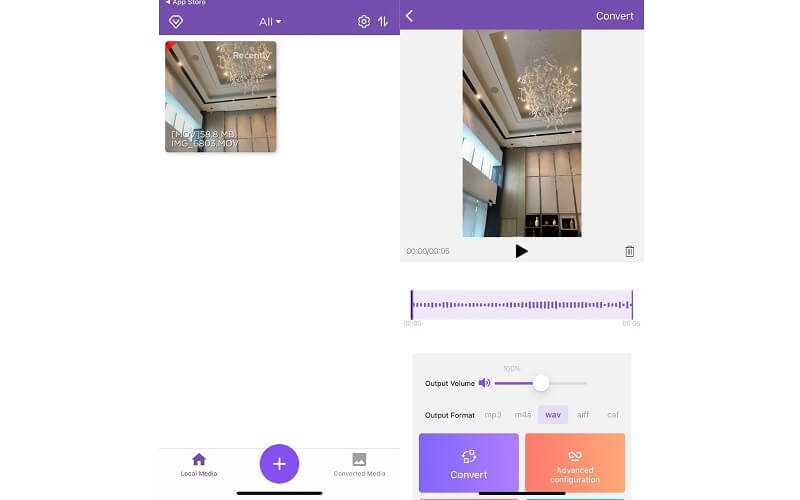 3. Media Converter
Media Converter is also worth mentioning as one of the best video to WAV converters for mobile devices. This program provides support to MP4, MOV, AVI, FLV, and 3GP for videos. As for audio files, you will be able to export video or audio as WAV, FLAC, WMA, MP3, and many other audio formats. Aside from the aforementioned features, this also comes with the ability to crop video size as well as clip video suitable for removing unwanted parts from the video. The best part is it enables you to adjust the output settings before the conversion process starts. With it, you are entitled to modify the volume, sample rate, bit rate, etc.
Pros
Customize output settings
Supports a wide range of audio output formats
Supports a wide range of audio output formats
Cons
Flashes ads while using the program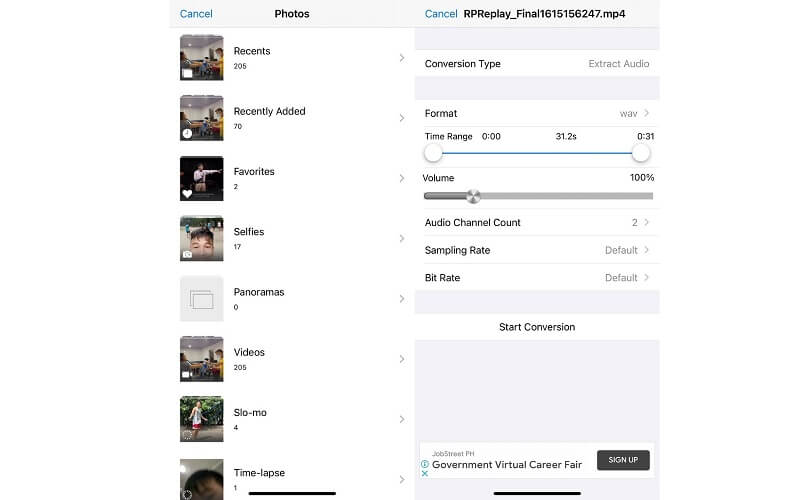 Part 3. How to Convert Video to WAV with Professional Software
There are also cases when you need a desktop method for this kind of conversion. Vidmore Video Converter is a powerful media converter that runs on both Windows and Mac computer systems. It lets you convert from video to audio without tweaking any complicated settings. Whatever video format you intend to convert, the tool can surely work it out for you. On top of that, there is no limitation to the number or size of your converts. That means you can convert as many as your heart desires without worrying about the size. See the detailed steps below to see how this amazing video to WAV converter software works.
Step 1. Acquire the software
First things first, download and install Vidmore Video Converter. As presented below, you may choose between the OS which is appropriate for the system you are running.
Step 2. Add a video clip
Now add the video clip that needs to be converted. You may simply drag and drop it onto the interface of the tool or click the Plus icon and locate the file.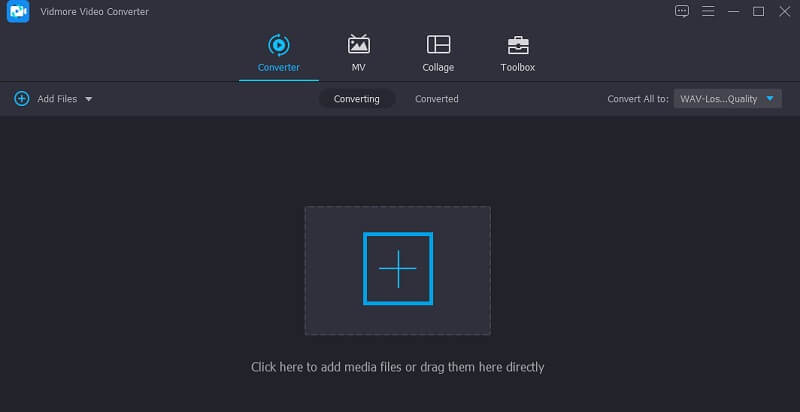 Step 3. Select WAV as the output format
After that, go to the Profile menu. From here, select the Audio tab and choose WAV format on the left section.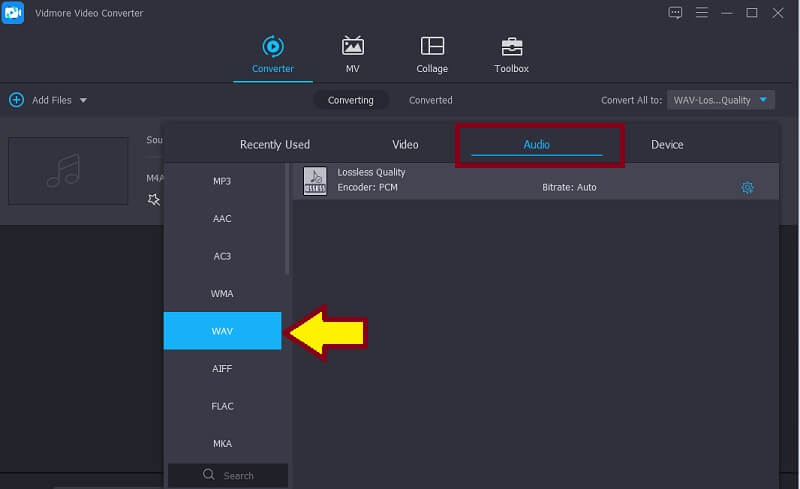 Step 4. Start the conversion
Once all set, you can now start converting from video to WAV. You may set the file location according to your liking or settle with the default output location. Then click the Convert All button for the conversion process to take place.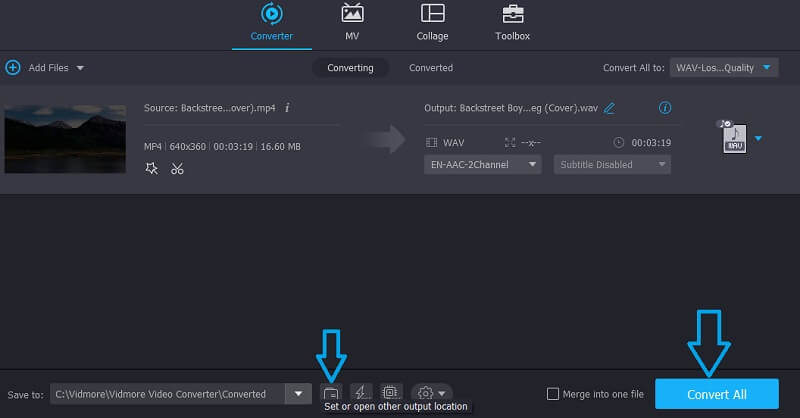 Part 4. FAQs of Video to WAV
How to change video to WAV online?
Online means using a web browser and does not require app installation for converting files. To do this, you may use online tools like Clideo which is a completely free app and equipped with other useful audio and video editing tools.
Is it possible to remove the visuals from a video?
Yes. This is the same idea as converting a video to audio so you will only keep the audio of the video instead of having both.
Do WAV files have good audio quality?
One of the major advantages of WAV files is their high fidelity that enables you to listen to the same sound quality from the original even after a series of conversions.
Conclusion
That is how easily you can convert a video to a WAV file. These tools may also work for ripping audio from any video. The best part is you can do that whether you are using a desktop or just a smartphone.