M4A to AU Converter: Tried and True Tools to Transform M4A to AU
M4A audio is compressed sound files in the MPEG-4 container. Apple popularized it after using it as its official file extension for iPod and iTunes songs. Moreover, the audio file uses Advanced Audio Coding or Apple Lossless to distinguish it from other MPEG-4 audio files. Needless to say, this is exclusive for iTunes and Apple devices.
Meanwhile, there will be instances when you need to edit your audio files to make necessary changes. And, you have chosen Audacity to be your audio editor to edit your sound files. However, you can not directly import M4A files unless the app supports the file. Luckily, converting M4A to AU is possible with the feasible software. To this end, we sorted out the best M4A to AU converters to help you quickly achieve this conversion task. Acquire the needed information after the jump.

Part 1. Differences between M4A and AU
M4A is regarded as the successor of the MP3 compression format generated and maintained by Apple Inc. What is so good about this format is that it takes less than storage yet preserves the higher quality of the sound. For instance, you need to save a lot of songs with high sound quality. M4A is a suitable format for your needs. In fact, it performs better than MP3 files even in a low bitrate at or below 128Kbps.
On the other hand, AU audio files are usually associated with Audacity, an open-source and free audio editor. This is, in fact, an Audacity audio block file. Technically speaking, it comprises three data parts: header, a variable annotation block, and the actual audio data. Meanwhile, to freely edit your M4A files in Audacity, you need to convert M4A to AU. You can dig deeper into these formats by looking at the comparison chart below.
| | | | | |
| --- | --- | --- | --- | --- |
| Description | File Extension | Store Content | Compression | Compatibility |
| Represents audio file in MPEG-4 | .m4a | Can handle songs, podcasts, and audiobooks | Uses AAC or ALAC | iTunes and Apple devices |
| Audio file created by Audacity | .au | Header, variable annotation block, and actual audio data | Uncompressed sound recording | Compatible with Audacity, Adobe Audition, Java, and QuickTime |
Part 2. How to Convert M4A to AU
1. Vidmore Video Converter
As far as the quality is concerned, Vidmore Video Converter is the best tool to convert audio/video files without compromising quality. The tool uses advanced technology responsible for protecting the audio file's quality. You can expect a fast and lossless conversion even when converting in bulk in different formats and file sizes. Best of all, users can customize the audio profile allowing you to modify the audio channel, bitrate, and sample rate. To use this M4A to AU converter, here are the steps you need to take.
Step 1. Install the M4A to AU Converter
First off, grab the program's installer by ticking the Free Download that corresponds to your computer OS. After downloading, install the app and launch it to get to the main interface.
Step 2. Open M4A files
Now, click on the Plus sign button to open your file folder. Locate the audio file you wish to convert and select it to upload. Alternatively, you may drag and drop the M4A files from the folder to the upload area of the software.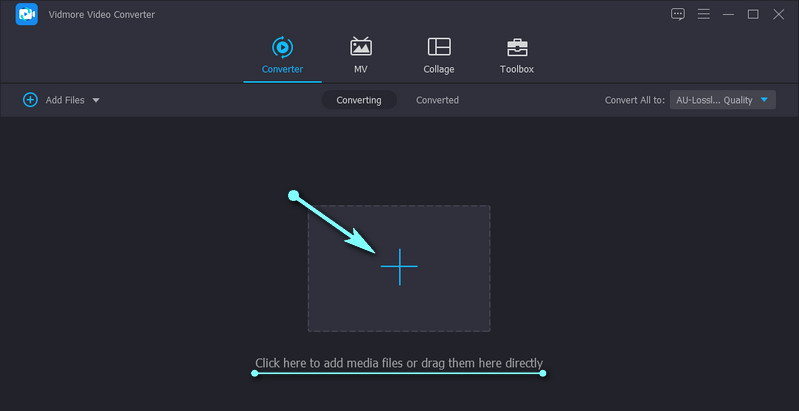 Step 3. Set output format
At this point, set the output format for the conversion task. Click on the Profile menu drop-down menu from the main interface to see the list of available audio formats. Then, go to the Audio tab and choose AU from the left side menu. You can use the search bar field to type and look for the output format.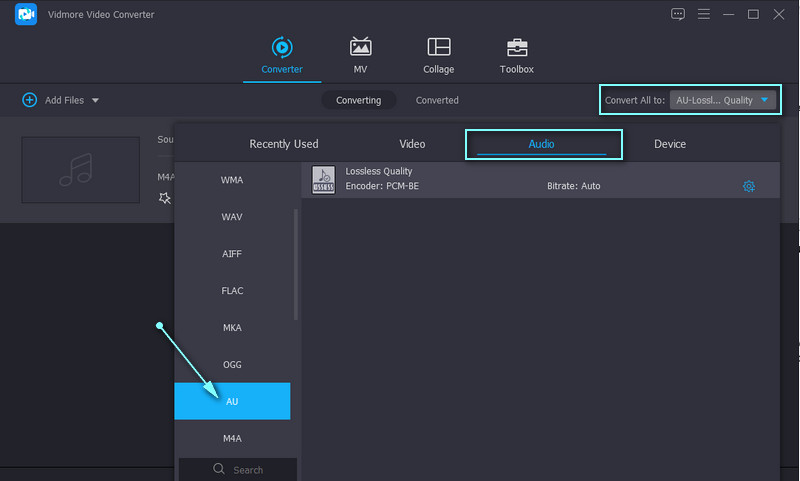 Step 4. Convert M4A to AU
This time, click on the Folder icon to select a file folder to save the result. After that, click the Convert All button at the bottom area of the interface to convert M4A to AU.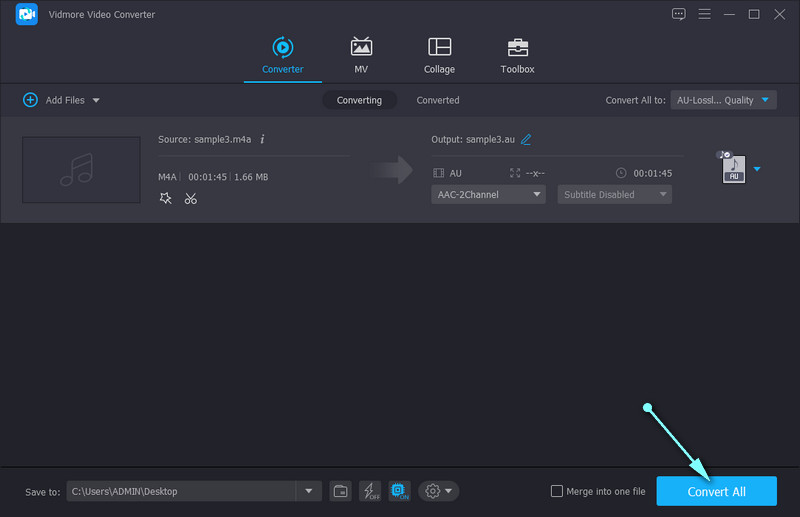 2. Switch Audio Converter
Another program you can utilize to convert M4A to AU is the Audio Converter by Switch. It comes with advanced functions allowing you to convert audio into multiple audio formats like AU, MP3, OGG, AAC, etc. Furthermore, it allows you to record audio from the internet. On top of that, this also enables you to import and manipulate files from CDs. Now, here is a breakdown of steps on how to convert M4A to AU using this program.
Step 1. Install and launch Switch Audio Converter on your computer.
Step 2. Click the Add File(s) button to add a media file to the program. Simply browse and upload your target M4A file.
Step 3. After that, open the Output Format drop-down to set an output format. Lastly, hit the Convert button at the bottom right area to finish the process.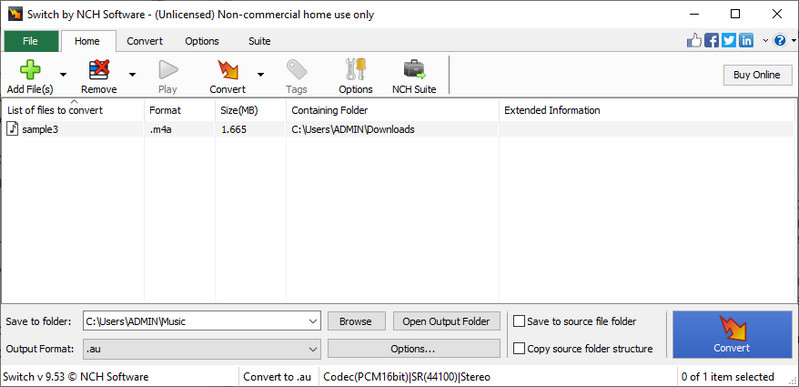 3. Foobar 2000
Foobar is an audio player that lets you convert files for free tailored for Windows systems. The tool supports a wide selection of audio formats with extra capabilities you can utilize. This tool is so good because it enables you to rip files from a CD. The only drawback you might encounter is its outdated interface. Follow the steps underneath to learn how to use this M4A to AU converter.
Step 1. Install the Foobar2000 audio converter on your Windows PC.
Step 2. Next, open the M4A audio file you like to convert. Right-click on the uploaded audio and choose Convert.
Step 3. Then, select an audio format and hit the Convert button to commence the process.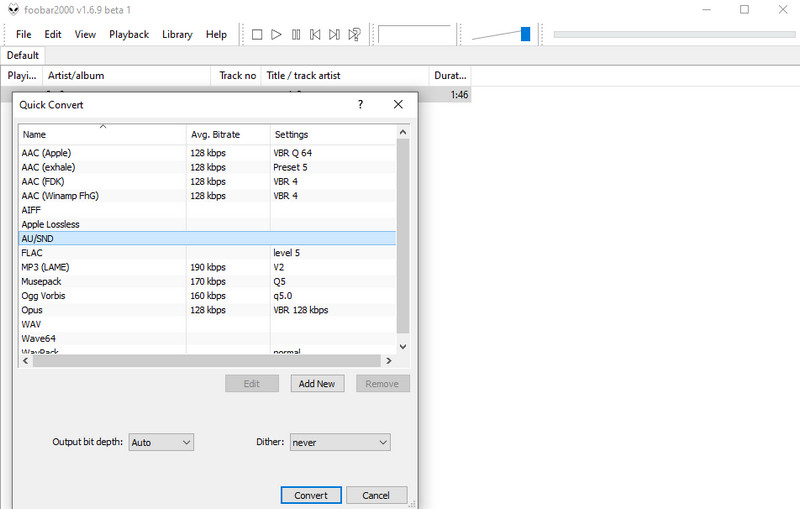 4. Aconvert.com
Aconvert.com is an online tool that could assist you in converting M4A to AU files. It lakers you convert in bulk in an easy-to-use interface. Aside from that, you can also merge multiple audio files into one bigger file. In this way, you are creating a playlist of audio files. To help you convert M4A to AU, please follow the steps below.
Step 1. Open a browser and visit the website of Aconvert.com.
Step 2. Navigate to the Audio section, upload your target M4A file, and choose an output format.
Step 3. Lastly, click the blue Convert Now! button to transform your M4A files to AU.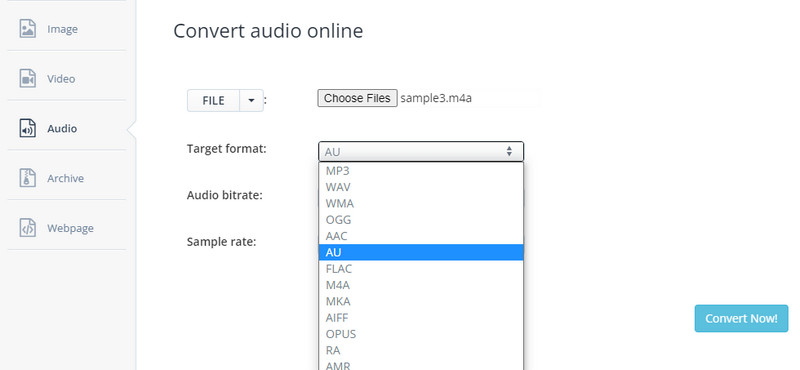 Further Reading:
Top 5 Free M4A Players to Play All Your M4A Files
Edit M4A Files on Windows PC, Mac, and iPhone in Effortless Ways
Part 3. Comparison of Different Converters
So, which audio converter should you use? You can choose the best tool depending on your conversion needs. Hence, we listed some of the key aspects in a table to help you decide.
Tools

Vidmore Video Converter

Switch

Foobar

Aconvert.com
| | | | |
| --- | --- | --- | --- |
| User-friendly | Platform | Conversion speed | Batch conversion |
| | Windows and Mac | Fast | Supported |
| | Windows and Mac | Fast | Supported |
| A bit complicated | Windows only | Fast | Not supported |
| | Web | Depends on the network status | Supported |
Part 4. FAQs of M4A to AU
What is an M4A audio file?
M4A files are file extension exclusive for Apple devices, and iTunes authorized applications. It uses either AAC or ALAC as its compression scheme.
What is an AU file?
An AU file is an audio file generated by Audacity. Moreover, this format is saved in the proprietary format, which means you can only open or view the audio file format using Audacity.
How to open an AU audio file?
As mentioned, you can open AU files with the help of Audacity. Besides, the program is fully workable in both Windows and Mac systems. Therefore, you won't have a problem playing this audio file on your computers.
Conclusion
Those are some great tools you can use to convert M4A to AU with less human intervention. However, if your concern is about the audio quality, Vidmore is suitable for your needs. It suits you well since there are extra tools you can use aside from converting.