Change M4A to M4B with Simple and Practical Audio Converters
M4A is a file extension that represents the compressed audio file type in the MPEG-4. You will find it frequently on iOS devices like iPhone and iPod. Meanwhile, M4B is also a MPEG-4 file type that is usually used for audiobooks.
You may want to convert M4A to M4B if you wish to create audiobooks out of your M4A files. One of the highlights of M4B is that it allows you to listen on your last listening spot instead of repeating the files from the start. Hence, in this post, we will provide the solutions and instructional guide on how to get this job done.

Part 1. How to Convert M4A to M4B on Windows/Mac
1. Vidmore Video Converter
One of the most decent and recommended solutions that you can use for Windows and Macintosh OS is Vidmore Video Converter. This allows you to convert both audio and video to any of your desired formats. Moreover, it provides support to almost all media file types including M4A, M4B, MP3, OGG, FLAC, AAC, and many more. Besides the capability to convert, this also enables you to cut audio files regardless of the file type and length. You can cut a track into multiple segments or trim the unwanted parts of audio as you like. On the other hand, here is how to change M4A to M4B with the help of this effective software.
Step 1. Acquire the M4A to M4B Converter
First things first, download the app on your computer. Simply click any of the Free Download buttons to do this. After downloading the app, install it by opening the file extension and following the setup wizard. Launch the app to begin using it.
Step 2. Load M4A file
From the main interface of the app, click on the Plus icon to upload an M4A file and locate it from the file folder on your computer. You can optionally drag and drop the file that you wish to convert for your convenience.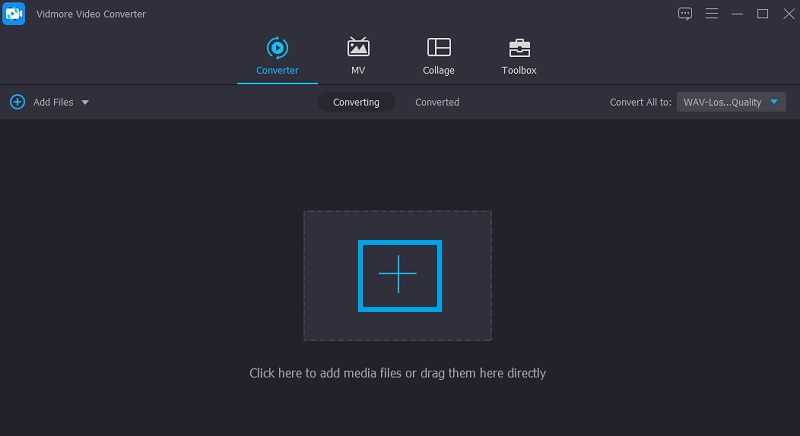 Step 3. Select output format
When you are done uploading an M4A file, open the Profile menu and navigate to the Audio tab. On the left section of the tab, there you will see a list of audio file formats. From here, select M4B or use the search bar to quickly find the format. Choose the output quality from the given presets then convert the file.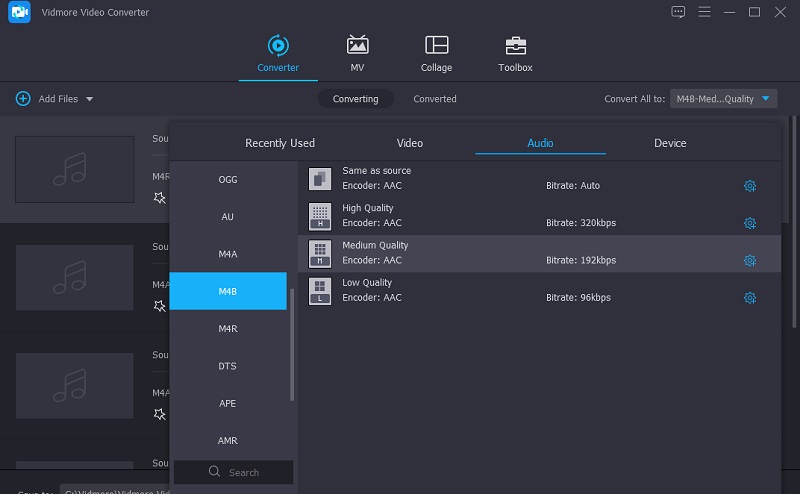 Step 4. Convert M4A to M4B
After selecting the appropriate settings for the resulting file, select an output folder where you would like to save the file by clicking the Open output folder icon and setting a location. Next, click the Convert All button to process the file and get the audio playback.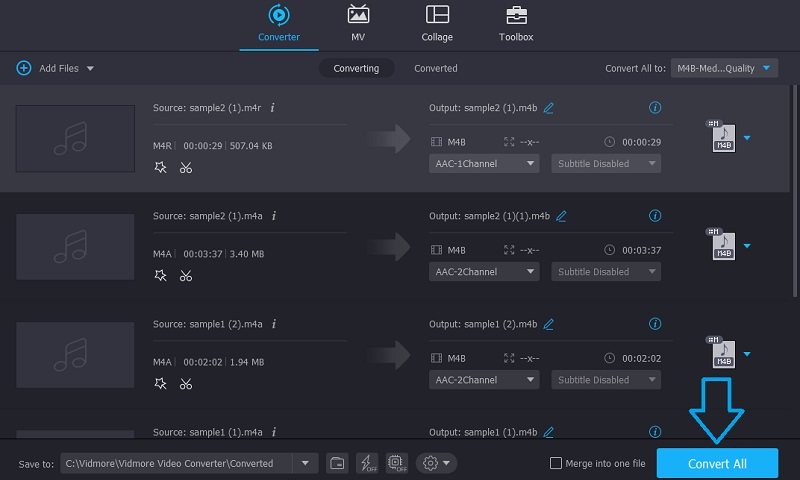 2. Switch Audio Converter
Yet another software that you can use to convert audiobook M4A to M4B is the Audio Converter by Switch. This is a simple audio converting tool that enables you to convert apple music files like M4A, M4B, AAC, etc. You can also use it to convert M4B to M4A as you like. For compatibility and more devices that you can play your M4A files, you may employ the M4A to MP3 conversion of the program. Now to help you convert M4A to M4B on Windows, then follow the step-by-step procedure below.
Step 1. Download the program from its official website and install it on your PC.
Step 2. Open the Switch Audio Converter app and upload an M4A file by clicking the Add Files button at the top left corner of the interface.
Step 3. Now select .m4b from the Output Format dropdown and hit the Convert button at the bottom right corner. It should then start the conversion process.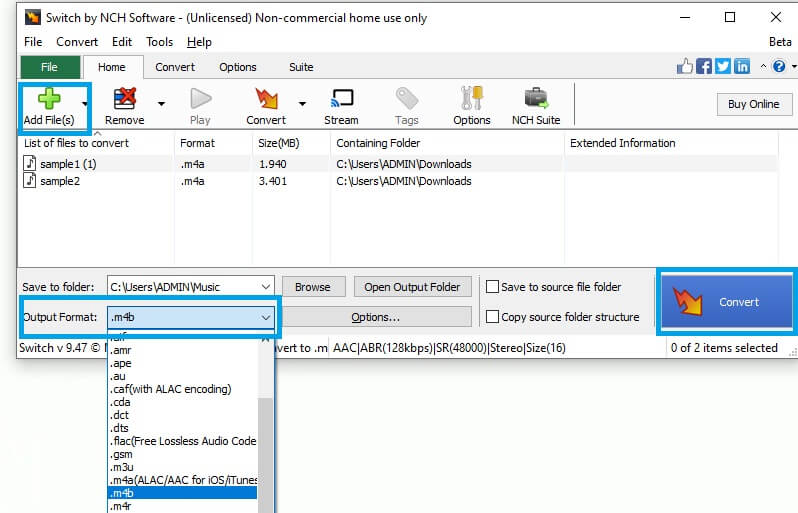 Part 2. How to Convert M4A to M4B Online for Free
Vidmore Free Video Converter is also a superb tool for you to convert your audio streams. This is a web-based program enabling users to change M4A to M4B from the browser directly. So, there is no need for you to download an application whether you are using a Windows or Mac computer. What makes it desirable for others is that it facilitates batch convert M4A to M4B without limitation to the length of the audio file. Converting with this program is as easy as 1, 2, 3. Simply refer to the steps below.
Step 1. On your browser, visit its official website to launch the web application. Once you reach the webpage, click on the Add file to convert button to upload an M4A file. For first-time users, you need to install the launcher on your system and you are good to go. From the dialogue box, simply click the Download button and open the file extension to install it.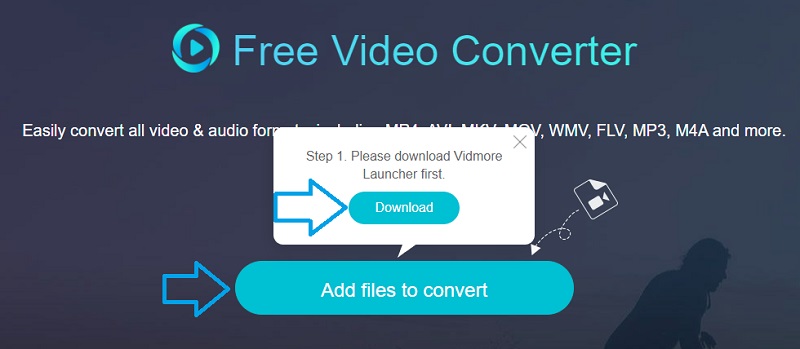 Step 2. Next, select the M4A audio track that you would like to convert from the file folder. Click the Open button to successfully load the file into the program.
Step 3. To start converting, forward to the Music section and it will display a list of audio formats. If you wish to alter some settings, click on the Gear icon and modify the channel, bitrate, sample rate, then hit the OK button for confirmation.
Step 4. Once you are done with modifying the audio settings and you are satisfied, click the Convert button. Select an output folder and then start the conversion process.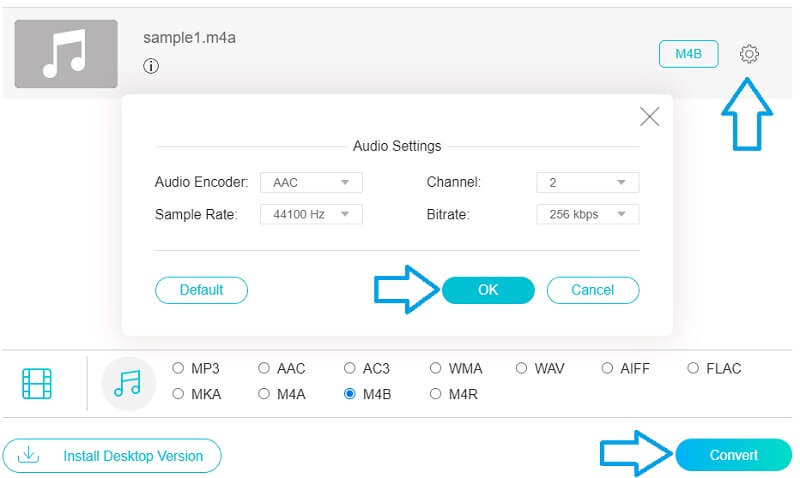 Part 3. M4A vs. M4B
Suppose that you are unsure about the difference between M4A and M4B file formats, you may refer to the illustration below. Here we compared the two formats according to the encoding method, compatibility, DRM protection, and use case.
Encoding Method
Compatibility
DRM Copy Protection
Use case and Application
M4A
Encoded with lossy AAC audio
Compatible with many devices
DRM-free
For digital music distribution
M4B
Encoded with lossless AAC compression
Authorized devices via iTunes can play this format
DRM-protected
For audiobooks and podcasts
Part 4. FAQs of M4A to M4B
Is it possible to play M4B files on Android?
By default, M4B files are not supported by Android. However, you can download apps that support M4B files. Consider the likes of Sirin Audiobook Player.
How can I put an audiobook on my iPhone?
Apple devices like iPhone has built-in apps designed to open books as well as audiobooks. This is Apple Books. With it, you can open and play your favorite audiobooks.
Can I play M4B files on Mac?
Mac computers have an application called Apple Books, which you can use to open M4B files.
Conclusion
The post mainly reviews the best and effective ways to change M4A to M4B. Whatever OS your computer is running, your M4A files can be effortlessly converted with the help of the above-mentioned programs.