Ultimate Guide to Convert from M4A to MP2 Using Top Audio Converters
M4A is the audio stream format used for MPEG-4 files. This format stands for MPEG-4 Audio. Moreover, it uses AAC as the audio encoding scheme to compress more efficiently yet delivers exceptional performance and quality. The online drawback of this format is that M4A files cannot be played on DVD players. MP2, on the other hand, allows you to enjoy a superb quality with excellent support for DVD players.
As a matter of fact, this format is popular among radio and television broadcasting. As a result, you can play your M4A files on your favorite DVD players. Also, you can create audio that is utilized for digital broadcasting and radio. Today, allow us to share with you some of the leading solutions for converting M4A to MP2.

Part 1. Differences Between M4A and MP2
For instance, you are still deciding which format you want to use. You may refer to the comparison below to help you in decision-making. In this table, you will be able to compare the two audio formats in terms of different aspects, most importantly compatibility. That would be helpful if you need to play it on a different player.
| | | | |
| --- | --- | --- | --- |
| Definition | File Extension | Compression | Compatibility |
| MPEG-4 Audio | .m4a | Lossy compression | iTunes, iPod, PC, and Apple devices |
| MPEG-1 Audio Stream, Layer II | .mp2 | Lossy compression | DVD player, radio and television broadcasting |
Part 2. How to Convert M4A to MP2
There are various ways to convert M4A to MP2. This varies depending on your personal preferences. That is why we listed some of the different audio converters you might consider using. Get to know more about these programs below.
1. Vidmore Video Converter
Vidmore Video Converter is the first tool you can utilize for both Windows and Mac users. This desktop program features an easy-to-operate interface supporting almost all kinds of audio and video formats. Moreover, it provides fast conversion speed while delivering high-quality output files. Besides this, the tool supports batch conversion allowing you to upload many files and convert them all at once. The best part is that it will enable you to customize the audio parameters like sample rate and bit rate to achieve a professional output file. Here is the step-by-step instruction for going through how to convert M4A to MP2 using this application.
Step 1. Launch the M4A to MP2 software
First off, download the audio converter by clicking any of the Free Download buttons provided underneath. Open the file extension and follow the setup wizard to install the program. Once done, launch the program on your computer.
Step 2. Upload M4A audio file
To upload your target M4A file, click the Plus sign button to load the File Explorer. From here, locate the M4A file and import it into the application.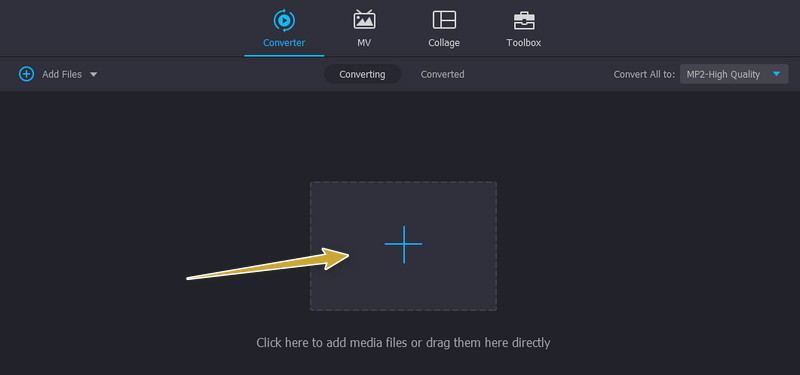 Step 3. Select output format and quality
Next, drop down the Profile tray at the upper right portion. Go to the Audio tab and select MP2 as the output format on the left side menu. After that, choose the output quality for the output file.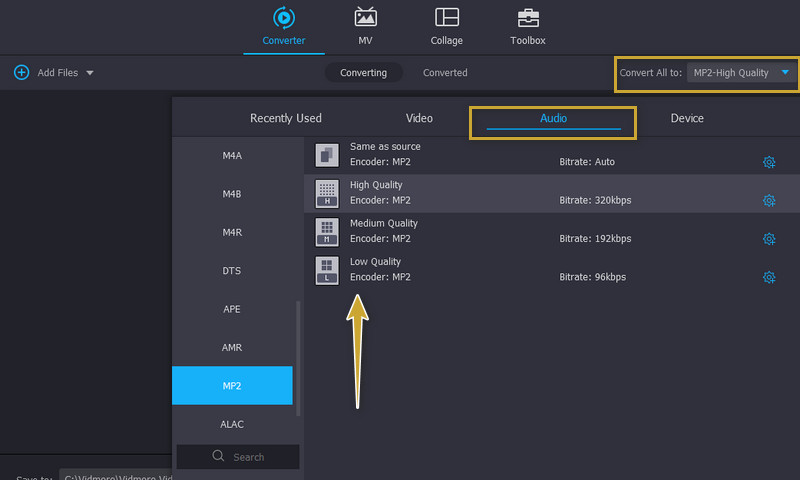 Step 4. Start the conversion process
At this point, you are now ready to convert M4A to MP2. To do so, click the Convert All button at the bottom right corner to begin the process. You can preview the processed file on the Converted tab. Hit the Open Folder icon to open the folder where the file is saved.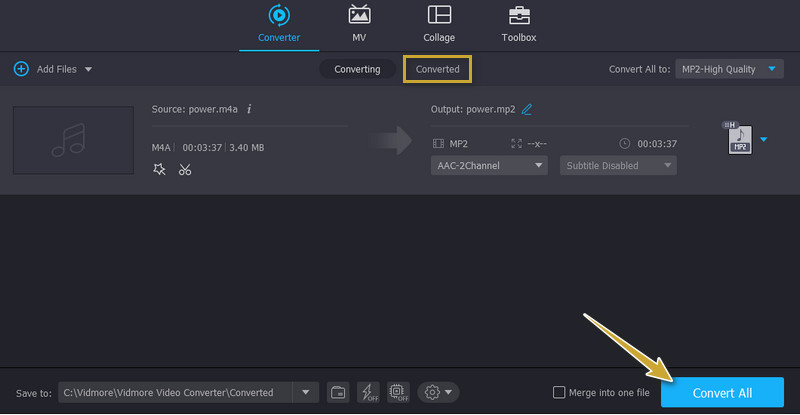 2. FFmpeg
FFmpeg is a powerful and valuable command-line tool that effectively converts media files. It can perform video and audio conversion, including converting M4A to MP2. Also, it works across different platforms supporting Windows, Linux, and Mac. To learn how to use this tool, follow the steps below.
Step 1. Download and install FFmpeg on your computer. When installing the app, you need to add its folder path to the environment variables to work correctly. After that, open CMD, type ffmpeg, and hit Enter to ensure that the app is installed in the system.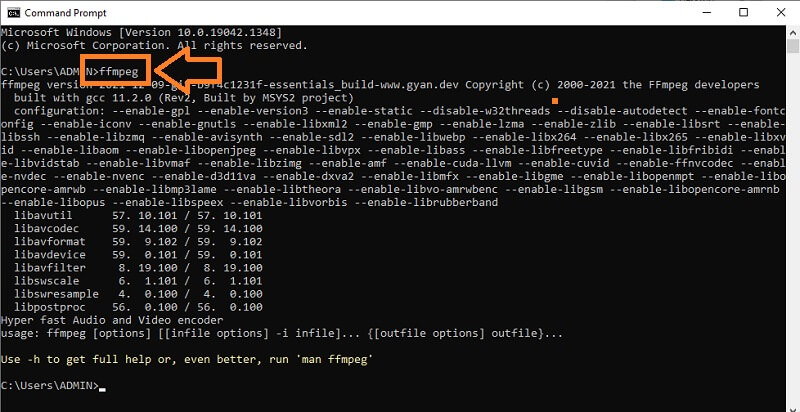 Step 2. Now go to the folder where the M4A file is saved using the File Explorer on your computer. Then, on the file path, type in cmd and press Enter. It should load CMD afterward.
Step 3. To convert M4A to MP2, type ffmpeg -i 'input.m4a' 'output.mp2'. The converted file will be automatically saved on the respective folder.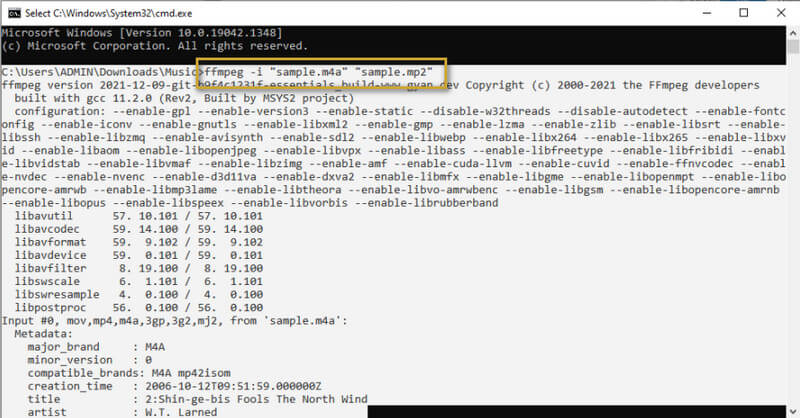 3. ConverterTools
Another capable program you can use to convert audio files is ConverterTools. It offers many converting operations for audio, including M4A to MP2, AAC to AIFF, AAC to MP3, AAC to OGG, FLAC to MP3, and more. Furthermore, it can convert documents, images, fonts, and even ebooks. The steps on how to convert WMA and M4A to MP2 are as follows:
Step 1. Access the ConverterTools' website and select a converting operation using any browser.
Step 2. Click the option for Audio and look for WMA to MP2 or M4A to MP2. You can easily locate these operations using the Control + F method. Just press the combination keys of Control and F.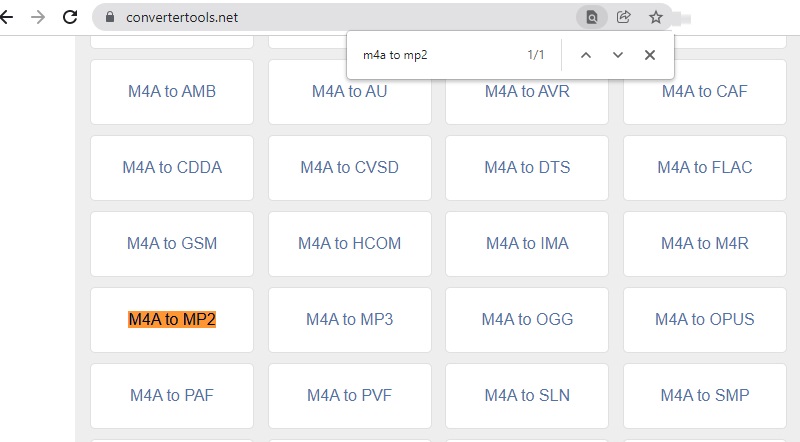 Step 3. Type the conversion you want to execute and select it from the options. Then upload the M4A you like to convert. Hit the Convert button underneath the upload area to convert M4A to MP2.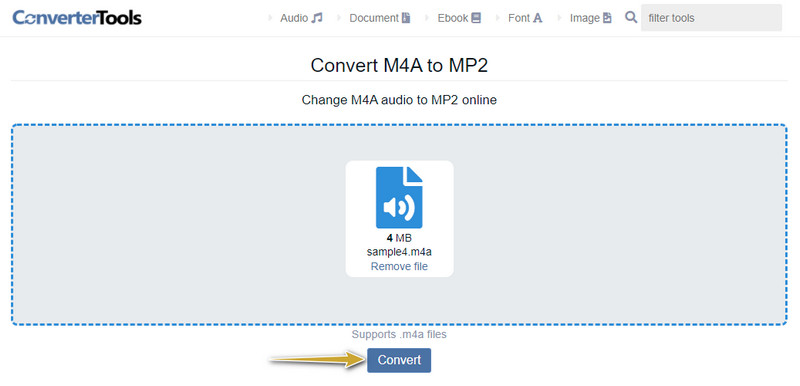 Part 3. Comparison of Different Converters
Refer to the comparison below for more details about the programs mentioned above.
Ease of use: For obvious reasons, the Vidmore Video Converter and ConverterTools are easy to operate than FFmpeg. That is because FFmpeg uses a command line to communicate with the app and execute operations. But if you are codebase inclined, FFmpeg is likely the app for you.
Platform: FFmpeg is fully compatible with Linux, Windows, and Mac OS. The desktop and online programs also offer support to Windows and Mac platforms.
Conversion speed: Every tool converts quickly without any noticeable latency. However, for online tools like ConverterTools, it would depend on how stable the internet connection is.
Part 4. FAQs of M4A to MP2
Is there any quality loss when converting from M4A to MP3?
M4A can be lossless or lossy depending on the encoder used. The key thing to remember is that converting lossy to lossy may just aggravate the sound or low sound quality. As we know, MP3 is lossy. Thus it might not be a good idea.
What is the difference between M4A and MP4?
M4A refers to the audio file saved in MPEG-4 format, while MP4 is a file container that often stores audio and video.
What is the difference between MP3 and MP2?
MP3 is derived from MP2. Hence it is regarded as the improved compression scheme of MP2. In other words, MP2 is the older compression audio.
Conclusion
Now, you don't need to worry about unsupported files, especially when listening to your M4A files on a DVD player. You can convert M4A to MP2 using the effective methods reviewed above. For advanced users, you may use FFmpeg, or you want to explore a new approach. On the other hand, Vidmore and ConverterTools are suitable for green-hand users.