Ultimate FLAC to MP2 Approaches to Convert Audio Files Easily
FLAC or Free Lossless Audio Codec is a compressed audio coding format that can preserve the sound quality of the original recording. This is a prevalent format, especially for music lovers. The only drawback of this format is that FLAC files cannot be played or viewed on standard DVD players.
On the other hand, MP2 is a famous audio format in DVD, making it a potential rival to Dolby Digital. Moreover, it is a standard format for radio and television broadcasting because of its high resilience attribute. On that note, you might like to enjoy your FLAC files on your favorite DVD player. Better yet, convert it to MP2. This post will walk you through the steps to convert FLAC to MP2.
Part 1. Reason to Convert FLAC to MP2
MP2 is a layman format for those who are not into the television and radio production industries. This format is designed to compress audio files reducing the overall file size. At the same time, it remains faithful to the original quality. Although the ubiquitous MP3 format replaced it, many prefer the MP2 format, especially when viewing them on DVD players or integrating them into audio broadcasting.
Hence, if you desire to enjoy playing your FLAC files on DVD players and want to incorporate them into the radio broadcast and television industry. On top of that, it features higher error resilience and improves performance at 256kpbs and above.
Below are practical ways that will help you convert FLAC to MP2.
Part 2. How to Convert FLAC to MP2 on Desktop
Suppose you want to convert audio or video files at high speed in a user-friendly interface. In that case, Vidmore Video Converter is the absolute app. You would not see much difference because the quality is preserved when converting using this program. Moreover, it supports audio/video formats including MP2, MP3, AAC, M4R, M4A, etc. In other words, you can convert FLAC to MP2 or AAC as you wish. Besides, you can choose the audio profile to fit your needs. All these and more can be done whether you are using Mac or Windows PC. That means you could also convert FLAC to MP2 on Mac and Windows. Now, here is how to transform media files using this software.
Step 1. Install FLAC to MP2 Converter
Click on any of the Free Download buttons below to get the latest version of the program. Follow the setup wizard to install the app properly. Afterward, launch it on your computer.
Step 2. Load a FLAC file
Now, click on the Plus button from the main interface to import FLAC files to the program. You may alternatively drag and drop your target FLAC file to upload.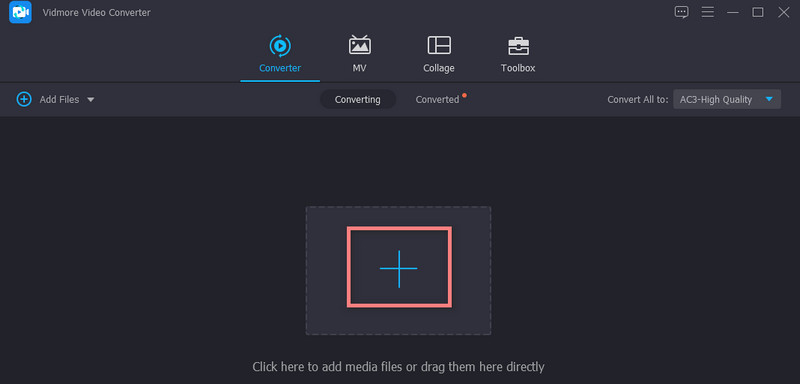 Step 3. Open the Profile list and select output format
This time, click the drop-down menu of Profile. Select Audio and choose MP2 on the left sidebar. Then, select an audio setting that suits your preferences.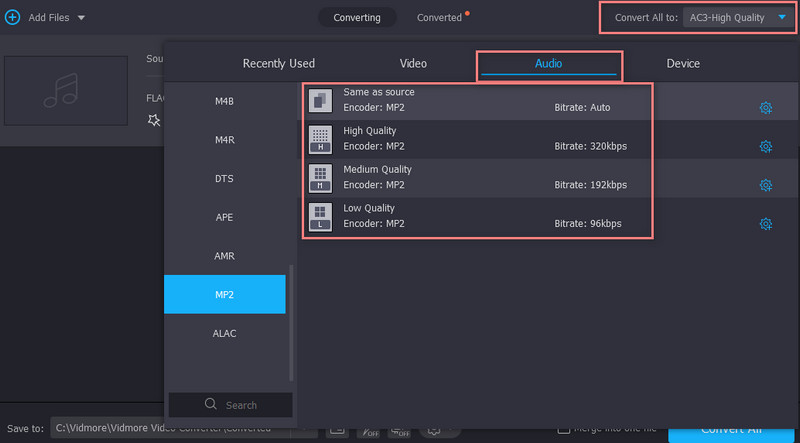 Step 4. Carry out the conversion
Once you are through with all the configurations, hit the Convert All button at the bottom right corner. The tool then will start converting FLAC to MP2. From the pop-up folder, you will see the output file.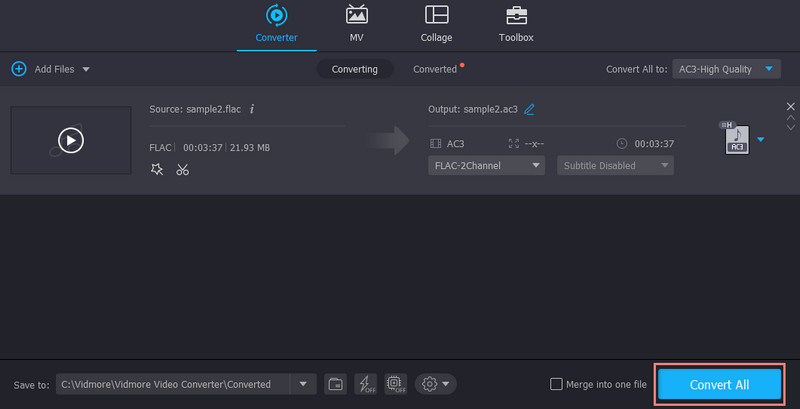 Part 3. How to Convert FLAC to MP2 for Free
For basic audio and video online conversion, Audio Converter by 123Apps is one of the best applications. Likewise, the tool comes with an intuitive interface that allows you to finish the conversion process immediately. Even if it is your first time visiting the page, you will be able to maneuver the program very quickly. It also integrates functions like custom profile settings where you can edit the sample rate, bit rate, and channels of the audio file. Aside from that, it enables you to edit the track info to modify the audio title, artist, year, genre, etc. To handle this app, please refer to the steps below.
Step 1. First and foremost, open a browser on your computer and visit the main webpage of this application.
Step 2. Load a FLAC file by clicking the Open files button once more. From the folder that will pop up, browse the file that you wish to convert. Then add it into the program. You may also import files from Google Drive, Dropbox, or via the audio file link.

Step 3. At this point, select an audio format by clicking the drop-down more from the format options. You should see a list of audio formats that can convert into and choose MP2. Move the slider to the quality of your choice. Or, hit the Advanced settings button to access more settings or add audio effects. You may also edit the track info. Just enter the necessary information.

Step 4. The last step for this free online convert FLAC to MP2 files is to hit the Convert button at the bottom-most part of the conversion panel.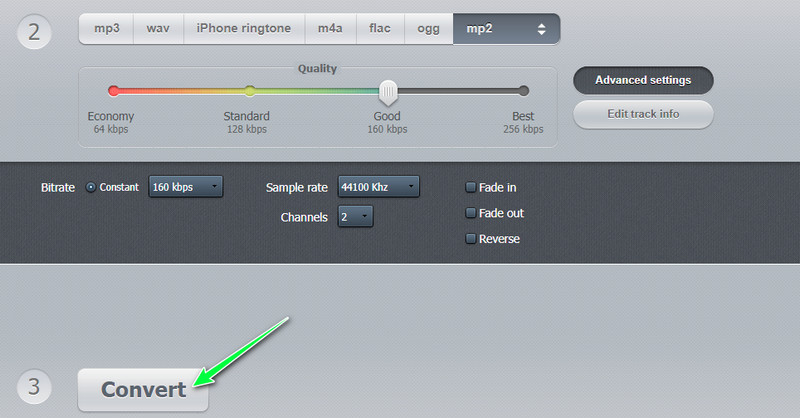 Part 4. FAQs of FLAC to MP2
What is MP2?
MP2 represents the MPEG-1 Audio Stream, Layer II. This format is common for the industries of television and radio production. This format aims to produce a portable file size of the original audio ready to play on DVD players and for integration on radio and television industries.
Is MP2 better than MP3?
MP2 might be unfamiliar to you because it has a specialized use. Unlike MP3, which only produces portable audio files and offers high compatibility, MP2 is suitable mainly for radio stations.
How do you play MP2 files?
MP2 does not support playback on many devices, but there are players that can help you view this format. These are Apple iTunes, Quicktime Player. Windows Media Player, and so on.
Conclusion
These are the programs that can help you change FLAC to MP2. When making simple file conversion, the online tool is enough. Yet, suppose you are looking for a stable, fast, and offers other practical tools. In that case, Vidmore Video Converter is the app for you.