Remarkable M4B to M4A Converter Software Programs You Should Use
M4B and M4A files are both audio formats that are mostly found on iOS devices. They may look very identical but as a matter of fact, M4B is used for audiobooks and podcasts. It has a special feature that allows listening to the last spot where the listener left off. This is especially helpful if you don't want to repeat the audio file all over again.
The only downside is that it does not allow playing on most players and devices. Unlike M4A, which is compatible with many devices and hardware. Therefore, given the fact that you want to listen to your M4A files on other media players, it's imperative to use an M4B to M4A converter for flexible enjoyment. Read along to learn about the best converters that you can rely on.

Part 1. Commendable M4B to M4A Converters
1. Vidmore Video Converter
There are many converting tools that provide the feature of converting M4B to M4A files and vice versa. One of the most recommended programs is Vidmore Video Converter. This tool packs the essential and helpful features for your converting needs. It has a high processing speed allowing you to save time from hours of waiting while keeping the file's original quality.
Furthermore, there is no limit to the number of files and file size of the audio that you can convert when using the tool. Not to mention it enables you to convert as many files as you want in a batch at a rapid speed. On top of that, parameters are configurable allowing you to change the sample rate, bitrate, channel, etc. To help you change M4B to M4A, have a glance at the instructions below.
Step 1. Grab the app's installer
Before anything else, acquire the installer of the app. Just click the Free Download button provided below and have it installed by opening the file extension. It will show a series of prompts to quickly install it. Then launch it on your computer.
Step 2. Add M4B file to the program
On the next step, upload an M4B file by clicking the Plus sign button on the main interface of the app. Alternatively, you can drag and drop the audio files to load them into the program.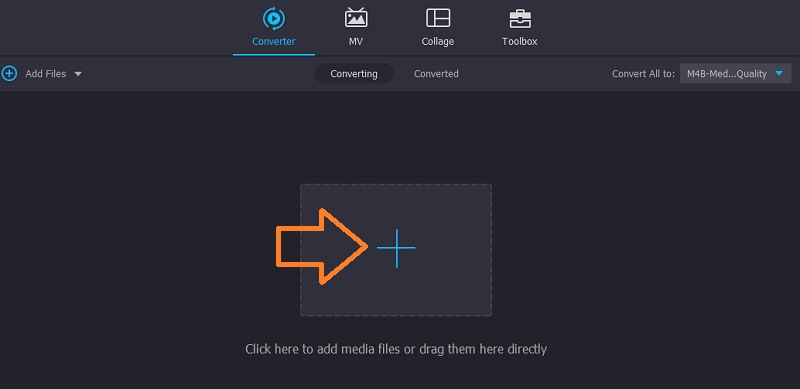 Step 3. Select output format
After that, open the Profile menu and forward to the Audio tab. It will then show a selection of audio formats to choose from. On the left section, look for M4A and select the appropriate audio settings according to your requirements.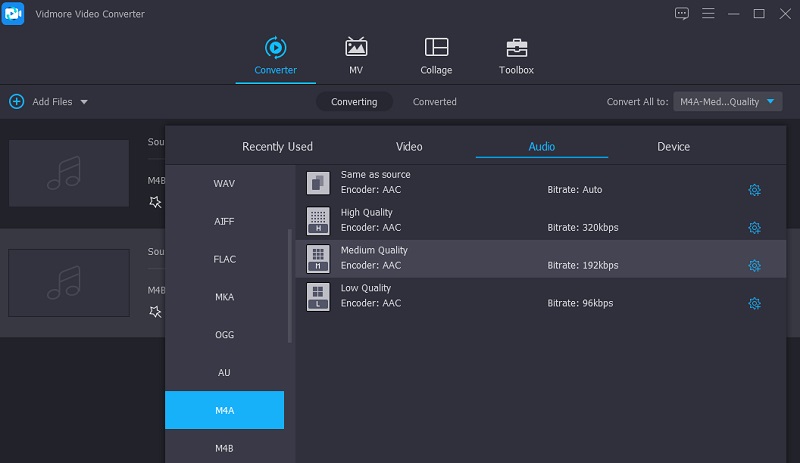 Step 4. Convert M4B to M4A
Now that you are done with the changes, select a folder where you would like to save the result file and click the Convert All button to finally process the file.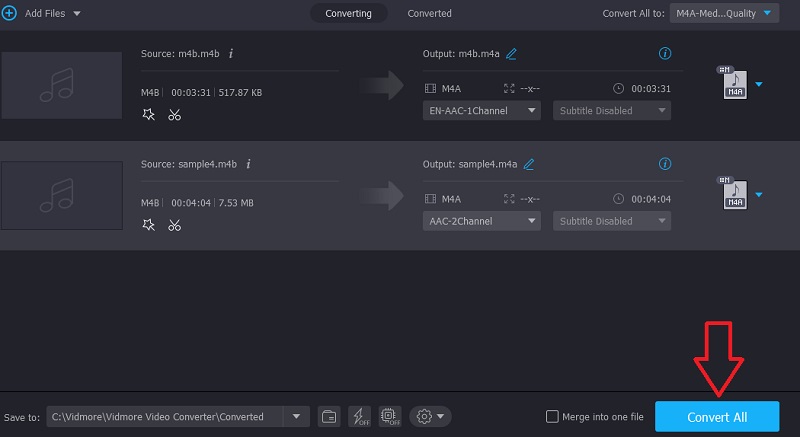 2. Switch Audio Converter
If the above solution does not suffice, we would like to introduce another program that has the feature to convert M4B to M4A on Windows PC. The app is called Switch Audio Converter. This desktop app comes with a simple and clear user interface that allows you to convert multiple files simultaneously. With it, you will also gain access to features like editing audio tags. This enables users to add and edit the title, artist, or genre of the song. Witness how this tool works by referring to the steps given below.
Step 1. First off, get the app from its official webpage then have it installed on your computer.
Step 2. Access the tool's main interface by launching the app and then upload an M4A file that you desire to change the format. Simply click the Add Files button at the top left portion of the window.
Step 3. Once the M4B is uploaded successfully, open the Output Format option and choose the .m4a format. Click the Convert button to finally begin the converting process.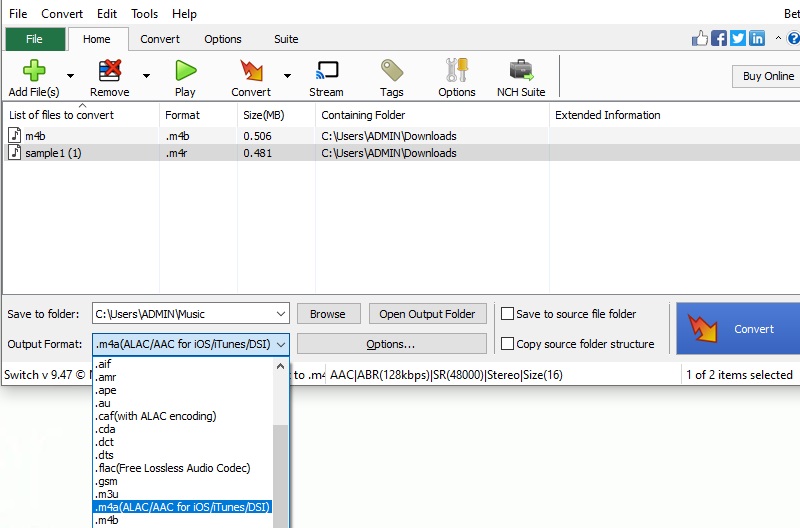 3. Freemake Audio Converter
Freemake Audio Converter is a recommended app that can effectively change M4B to M4A with ease. Aside from converting to M4A, you can also convert it to other audio formats like MP3, WMA, WAV, FLAC, AAC, and OGG. Plus, you are entitled to modify output settings to suit your requirements. To use it, see the steps presented underneath.
Step 1. Download and install Freemake Audio Converter. Then open the app on your computer.
Step 2. Click on the Audio file that has a plus icon and upload your target M4B file.
Step 3. Now choose the to M4A option from the menu bar located at the bottom of the interface. A pop-up window will appear. From there you have the capability to change the quality and make additional adjustments according to your requirements. Hit Convert to confirm the changes.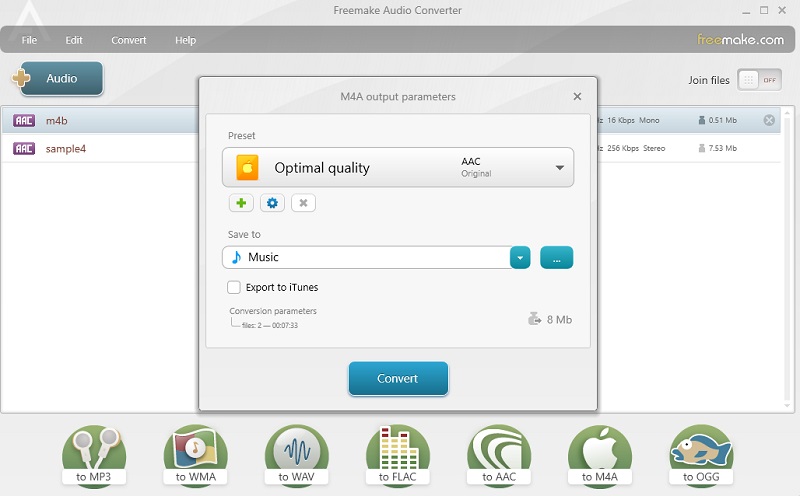 4. Anyconv
Anyconv also belongs to the group of tools that can assist you in converting your M4B files to M4A. This web application is designed to convert files including ebooks, documents, images, audio, and video. Unlike similar programs, it can upload and convert files in a quite fast and easy manner. Most of all, it is fully compatible with all major web browsers so you can convert M4B to M4A on Mac and Windows without downloading an extra app. On the other hand, here is an instructional guide to use it.
Step 1. First, you need to access the website of the program. You can do this using any browser available on your computer.
Step 2. You should see a button that says CHOOSE FILE click it and upload the M4B file that you would like to convert. Optionally, you can drag and drop the file to the upload area.
Step 3. Click on the format drop-down and choose M4A and tick the Convert button to initiate the conversion process.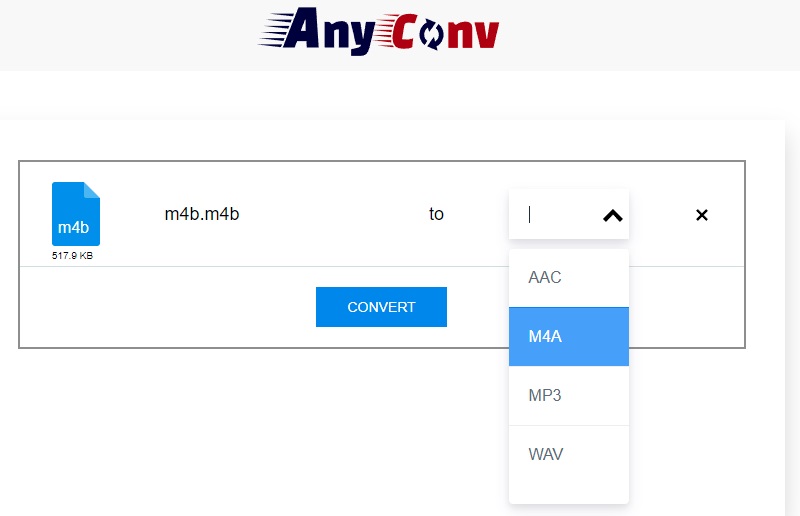 Part 2. FAQs of M4B to M4A
What is the difference between M4B and M4A?
The two audio formats are almost identical since both are Audio-only MPEG-4 files. But one of their huge differences is the DRM copy protection. While M4A files are DRM-free, M4B is DRM-protected using FairPlay DRM.
How to convert M4B to MP3?
You won't have trouble converting it using an appropriate app. For this, you may use Vidmore which is intended for converting audio/video files.
How can I open MB4 files?
If you are a Mac user, you can use a native app named Apple Books. For Windows users, you can open the M4B file using the Windows version of iTunes.
Conclusion
Those are the M4B to M4A converters that you can employ for a maximum and flexible listening experience. Among these, Vidmore Video Converter is probably the best choice. The app is feature-rich and does not offer complicated settings so you can accomplish your converting task in no time.