Convert MKA to FLAC Using a Reliable Program for All Platforms
MKA is a free standard container used for storing songs or albums. The format enables dividing audio tracks into chapters that will help you easily locate a certain song. Another advantage of using the MKA format is it supports lyrics embedding in SRT format. As cliche as it goes, every bean has its black. MKA format is not highly playable on many devices that is why many users are having difficulty accessing the audio file. To solve this problem, you may convert MKA to FLAC to rip the audio files along with its properties with no quality loss.

Part 1. Why You Need to Convert MKA to FLAC
You might be wondering why FLAC format is the most suitable format to convert MKA files to. This is because FLAC files use open-source lossless audio codecs, which means they can keep the original quality of sound files while compressing the file's size. There's no surprise that audio files in this format are of good quality while managing to be relatively small in file size. Most importantly, most media players support FLAC format. Whether you are using a Macintosh or Windows, you may choose to play them directly or via third-party software. To cut to the chase, refer below to learn how you can turn MKA to FLAC.
Part 2. How to Convert MKA to FLAC with High Quality
Converting audio with the support to a wide range of formats, Vidmore Video Converter should be on the top of your list of choices. This program is available for Windows and Mac computers. Using this tool, you will be able to convert as many audio files as you want without being restricted with the number of converting files as well as the size of the files. In addition, it employs hardware acceleration which facilitates lightning speed conversion even when converting in batch. Aside from that, you can also easily circumnavigate its features and functions through its user-friendly interface. Find out how it can convert MKA to FLAC and what this tool is more capable of doing by following the steps below.
Vidmore Video Converter for Mac and Windows PC
Convert MKA to FLAC, MKV, FLAC, MP3, and other audio/video formats needed.
Include powerful editing features such as splitting, cutting, cropping, merging, and many more.
Keep, add, or edit media metadata information of an audio/video file.
Increase/Decrease the volume according to your requirements.
Configure parameters of audio including channel, sample rate, bitrate, etc.
Work on Windows and Mac and support device formats for iOS and Android.
Step 1. Install the MKA to FLAC Converter
First off, download the app by clicking any of the following Free Download buttons above. Have it installed on your computer and then launch the program.
Step 2. Upload an MKA file
Now click on the Add button on the main interface of the tool or drag and drop the MKA file that you wish to convert to FLAC on the upload area. Alternatively, you can press the Spacebar on your computer keyboard to import media files from the file folder.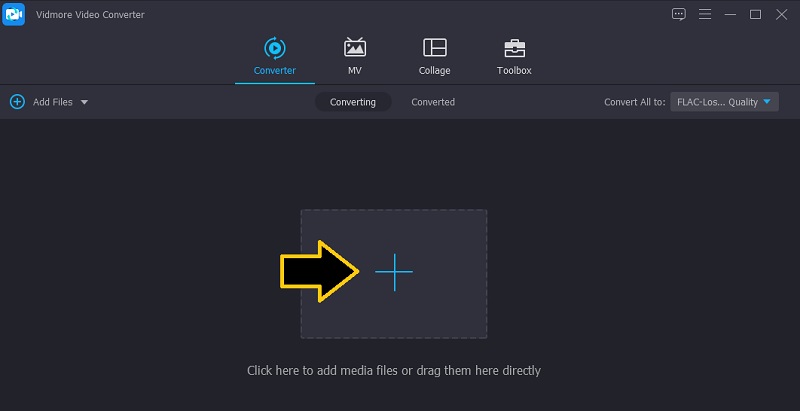 Step 3. Select output format and customize audio settings
After that, choose FLAC as the output format by opening the menu for the Profile. From the menu, forward to the Audio tab and then click on the FLAC format on the left section of the window. Next, choose from the audio preset that suits your needs.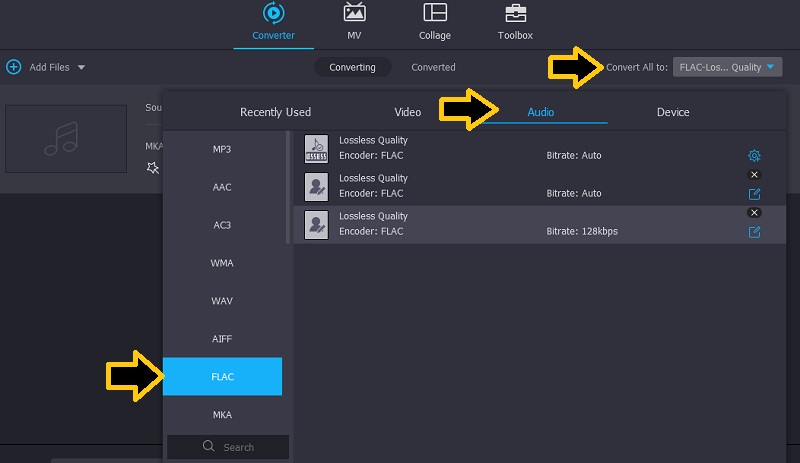 To change the audio settings according to your preference, simply click the Custom Profile icon that looks like a Gear. Then modify the sample rate, bitrate, channel, and hit the Create New to save the new profile.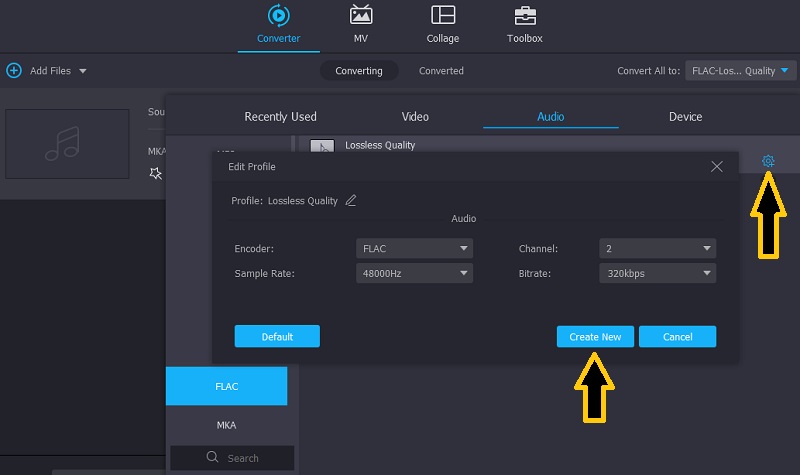 Step 4. Convert MKA to FLAC
Once done, set a file destination for the final version of the file. Click on the drop-down of Save to: option then choose Browse and Select Folder. Finally, hit the Convert All button to start the conversion process.
Part 3. Comparison Chart
It can be difficult to determine with just general knowledge about these formats. So to have an in-depth understanding of the audio formats, we have come up with a table illustration.
Definition
Use Case
Encoding
Compatibility
MKA
Matroska multimedia container format for audio files
Used to store songs that can be divided into chapters
Lossless compression
A limited number of players
FLAC
Type of audio file developed by Xiph.Org Foundation
Compress audio files without losing quality in a small file size
Lossless compression
Highly compatible with media players and audio editors
Part 4. FAQs of MKA to FLAC
How can I convert MKA to FLAC in Audacity?
Unfortunately, you can not directly convert MKA to FLAC in Audacity. This is because Audacity does not support importing MKA files. In a way, you will be needing another audio converter to convert.
How can I convert MKA to FLAC on Linux OS?
One of the feasible and effective ways you can use to turn your MKA to FLAC is by using FFmpeg. This program can be used on all platforms. Just take note that you will be interacting with the app using a command prompt.
How can I play FLAC on Mac?
If you need to open FLAC files on your Mac, you may use VLC as your multimedia player. All you got to do is to install the app and launch it. Play FLAC files just how you would normally do on Windows PC.
Conclusion
This post mainly provides the best program that will guarantee to help you to convert MKA to FLAC with less effort. Plus, it comes with other useful features suitable for different needs. Specifically, you can edit audio files by splitting, merging, aside from the converting capability.