Review of Best MKA to MP3 Converter Online and Offline
MKA is an audio format container that can hold supported audio compression formats including AAC, MP2, MP3, Vorbis, PCM, and many others. Furthermore, this can have music albums and subtitle tracks of Karaoke. Even better, it can contain JPEG and lyrics attachments.
Despite these advantages, MKA is an unusual format that has poor compatibility. Complaints arise regarding how they can play MKA files on their iPad or iPhone, or unrecognized file format on some devices and players. Meanwhile, MP3 is widely used for music and highly compatible with many media players and devices. Therefore, we looked for the best tools to convert MKA to MP3 effectively. Find out which method works for you best.

Part 1. Four MKA to MP3 Converter Software
1. Vidmore Video Converter
Vidmore Video Converter is a converting software equipped with a variety of tools that enable you to edit audio files. From cutting, merging, adding and editing metadata, to adjusting the volume. The tool can work them out for you. The best part is you don't need to bother about the length and size of the audio. With it, you will be able to convert your MKA files quickly and easily without any limitations. Apart from the aforementioned features, you can also customize the audio profile that will help you achieve the best possible output.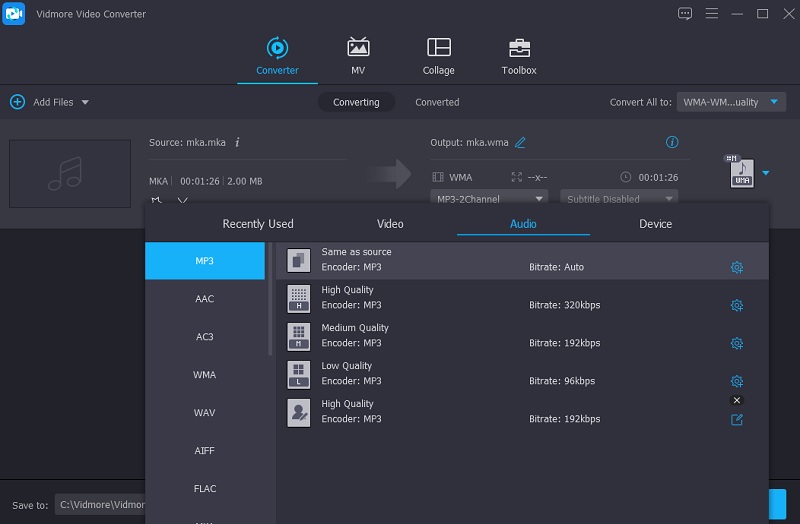 2. FFmpeg
If you don't like the GUI or you want to try something new, FFmpeg is worth using. Unlike most converters, FFmpeg runs on command prompt. In other words, it uses text as a way to interact with the tool. Nevertheless, you can turn MKA to MP3 using this tool effectively. Aside from audio, it can also facilitate video converting processes. All you need to do is to install the app on your computer system and run Command Prompt on your computer. Then you can start converting multimedia files as you like.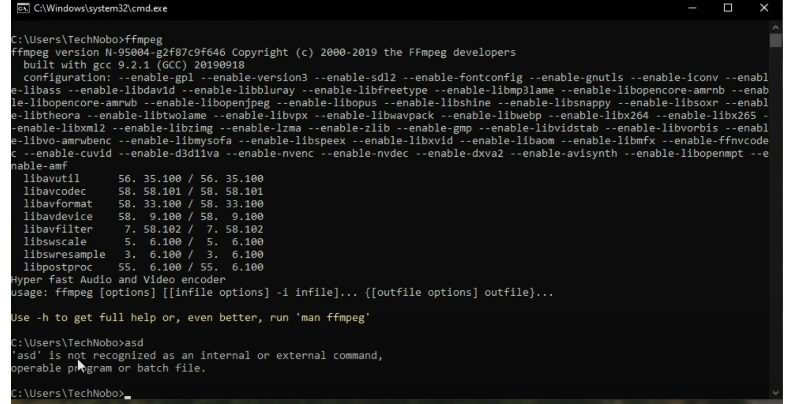 3. Aconvert
You may also opt to Aconvert in case you want to convert files using your browser. This is an online program that can be used on both Windows and Mac platforms. Plus, you don't need to install anything. You just have to upload your target MKA files and immediately process the files. As long as you have a stable internet connection, you will be able to convert MKA to MP3 for free. Besides, you are given access to other affiliated tools including the ability to merge several sound files. Also, you can cut the best part of the audio files according to your liking. On top of that, it can accommodate other conversion processes. If you've got documents that need to be converted, an archive, webpage content, or video, Aconvert should come in handy.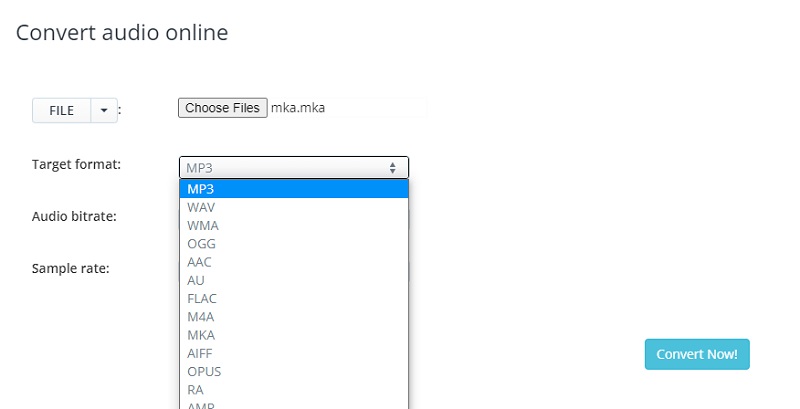 4. ConvertFiles
In the same way, you can transform MKA to MP3 with the help of another MKA to MP3 converter online named ConvertFiles. This online application works on any web browser on your Windows PC and Macintosh OS. Besides converting MKA to MP3, it is capable of converting MKA to other audio formats such as AAC, M4A, OGG, WMA, WAV, and so many more audio file formats. Once the conversion process finishes, you can optionally send a download link to your own email and download it.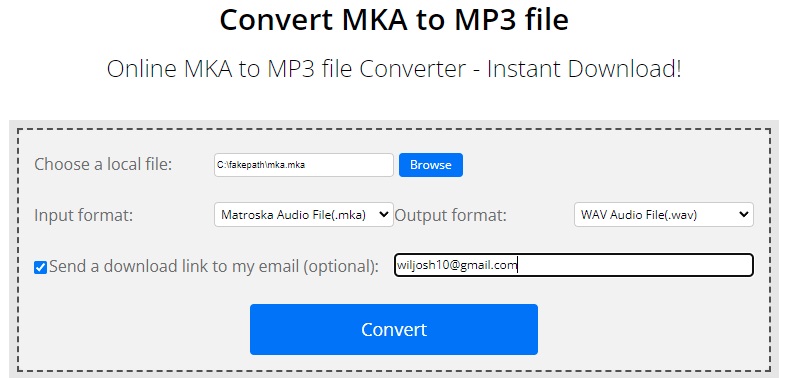 Part 2. How to Convert MKA to MP3
If you are quite unsure which tool you are going to use, Vidmore Video Converter is a superb program that enables you to convert various audio file formats including MKA, WMA, AAC, FLAC, or audiobooks like M4B. What's so good about this app is it empowers users to convert multiple files in a batch. Now here are detailed instructions on how to use it.
Step 1. Obtain the MKA to MP3 Converter
First of all, acquire the tool's installer. Just tick on any of the Free Download buttons presented below. Then follow the onscreen set up to have the program installed on your computer. Launch the tool to see its running interface.
Step 2. Add MKA file
Click the Plus sign bottom in the middle main interface of the tool to upload the MKA file that you are attempting to convert. Or tap the Spacebar on your keyboard to quickly launch the File Explorer and select the MKA file.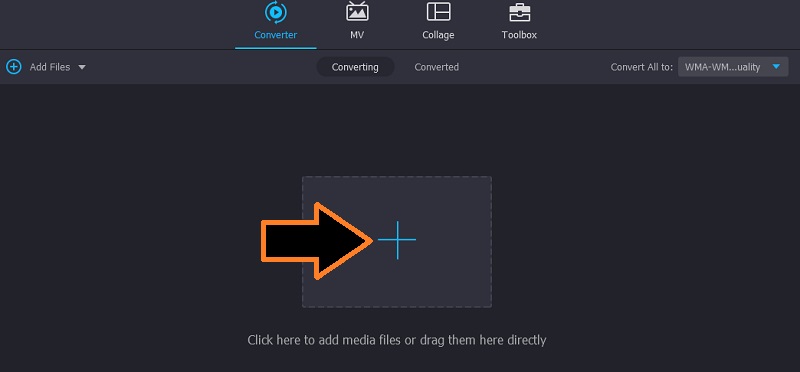 Step 3. Select output format
Next is to choose the output format. To do this, click the Profile menu at the upper right portion of the interface. Now forward to the Audio tab and select the MP3 format.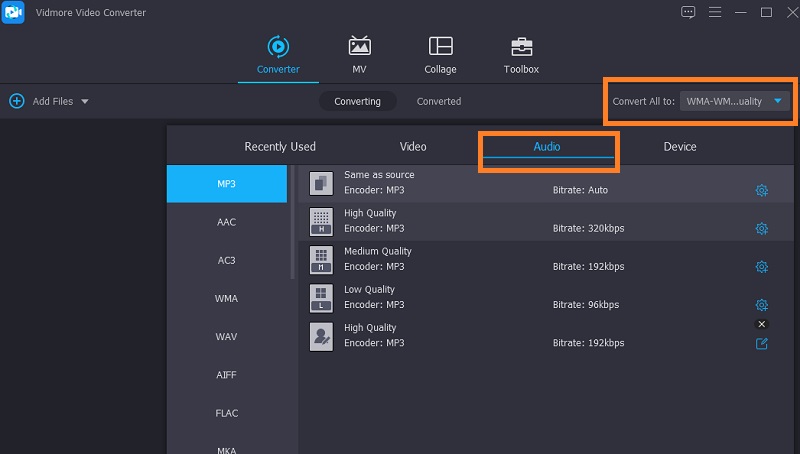 Step 4. Convert MKA to MP3
Once you are done selecting the appropriate file format, click on the Convert All button to start the process of conversion. In a few seconds, the converted files should be done and automatically be saved on the destination folder.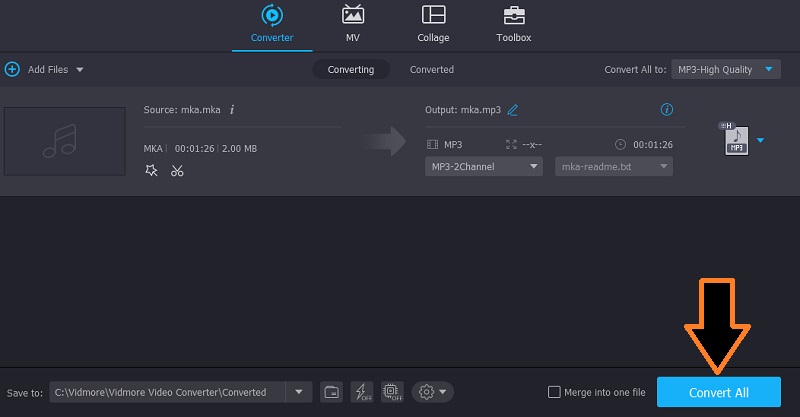 Part 3. MKA vs. MP3
Here we will tackle the differences between MKA and MP3. Specifically, we'll have a quick review of their file size, compatibility, quality, and compression.
File Size
Compatibility
Quality
Compression
MKA
Depends on the bit rate
Supports very few devices and players
Better
Supports different audio compression algorithms
MP3
Depends on the bit rate
Supports almost all players
Better
Uses lossy compression
Part 4. FAQs MKA to MP3
What is MKA used for?
MKA files are specifically designed for storing songs and complete albums.
Is MKA the same as MKV?
MKA is used as an audio container while MKV is related to the video.
How to open MKA format?
You can find audio players to open MKA files on your Windows and Macintosh computers. You can play MKA files using Groove Music in Windows. In macOS, you can consider using applications like MPlayer.
Conclusion
Indeed, there are various alternative solutions that will help you convert MKA to MP3. From the tools mentioned above, you will notice that there are programs designed for GUI users, command line-text, as well as for online.