Convert WMA to MP3 Online and Offline with Best Audio Converters
With WMA, you can get high-quality sound effects while enjoying the benefit of lower storage requirements. This is because WMAs are designed to perform well at a lower bit rate yet produce a good sound quality. But the incompatibility issue of this format left the users unhappy because not all media players offer built-in support to WMA files. In this case, you can convert WMA to MP3 and listen to them on your chosen device or with different media players. Outlined below is a list of the best audio converters that aid in turning your favorite WMA files into MP3.

Part 1. How to Convert WMA to MP3 for Free
1. Vidmore Free Online Audio Converter
Free Online Audio Converter by Vidmore is a web-based tool that is capable of converting your media files into any format of your choice. Upon using this program, you will be able to have your WMA files converted to MP3 in no time. It supports famous audio formats like WMA, MP3, M4A, WAV, and many others. Moreover, you can customize various output settings allowing you to adjust the sample rate and bit rate in accordance with your preference. Besides, it can process two or more files without any limitation. Indeed it is the best free WMA to MP3 converter. Refer to the steps below to convert WMA to MP3 for free.
Step 1. Visit the webpage of the tool, then download and install the launcher of the program by clicking the Add to files to Convert button.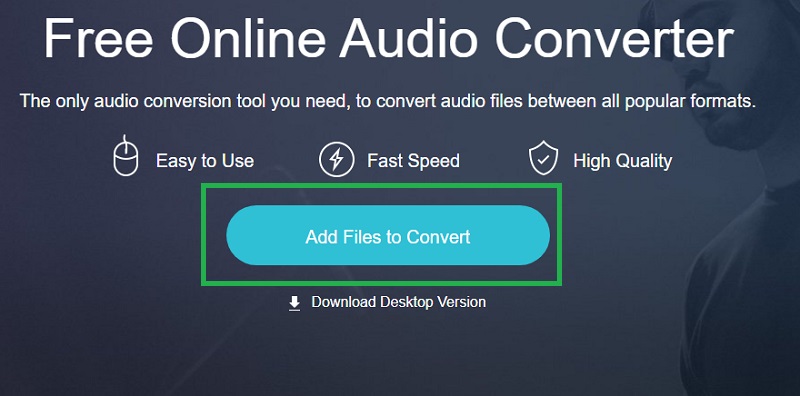 Step 2. Next, locate the WMA file from your computer drive and load the audio file into the program.
Step 3. Select MP3 then modify other settings by clicking the Gear icon associated with the audio thumbnail. Click the OK button if you are happy with the output settings.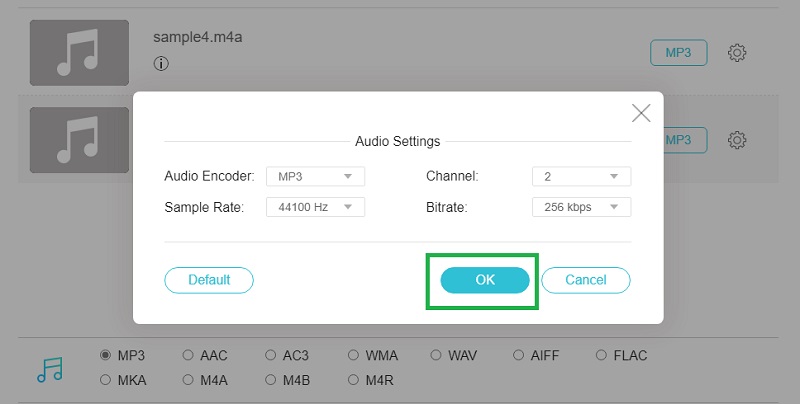 Step 4. Finally, to convert WMA to MP3 online, click the Convert button and then set a destination folder where you can easily locate the converted file. The conversion process should be done in less than 2 seconds and it should be ready to be played.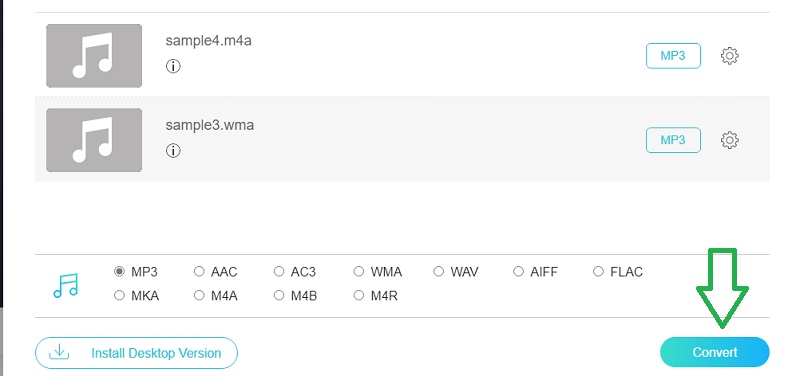 2. Cloud Convert
Cloud Convert is another online program that you can use to convert video and audio files with the help of a browser alone. You don't need to install anything on your computer so you can focus more on your task of converting files. Whether you need to convert WMA to MP3 on Mac or Windows 10, this can do the job. Also, this program poses a good reputation to many online users since it can upload files from cloud storage including OneDrive, Dropbox, and Google Drive. Convert WMA to MP3 on Windows 10 or MAC using this app by following the steps below.
Step 1. Launch Cloud Convert by typing its https://cloudconvert.com/ on the address bar of your browser.
Step 2. From the main page, click the Select File button or drop-down the menu to see more options for uploading files. Next, import your WMA file into the online app.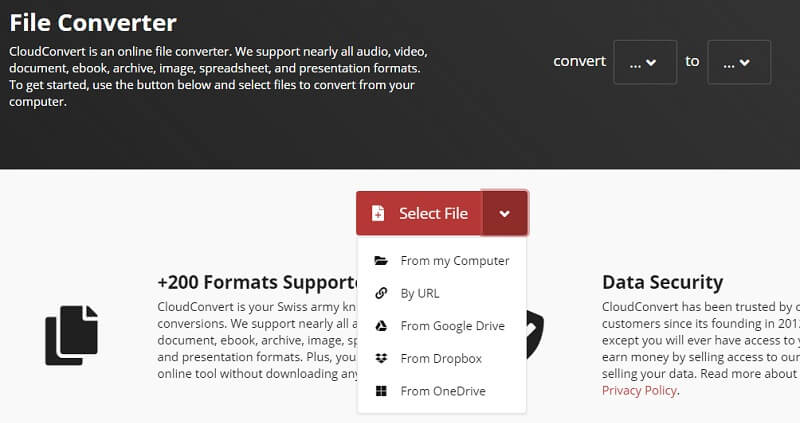 Step 3. Now click the Profile menu and choose MP3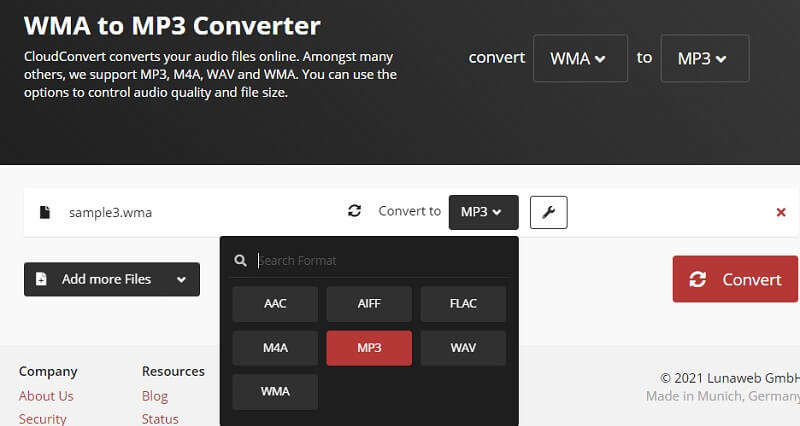 Step 4. Once done, hit the Convert icon at the right section and the conversion process will be set in motion. Right after the task, you can download your file and save it on your local computer drive.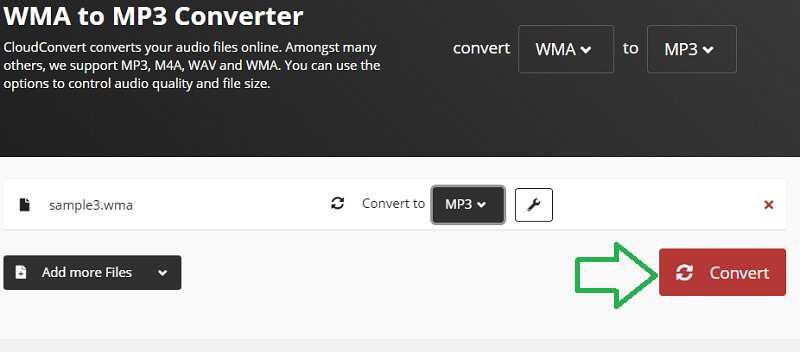 3. FFmpeg
FFmpeg is not your usual audio/video converting tool. This does not belong to the family of online converters but is guaranteed to accomplish the task of converting WMA to MP3 audio files. What's odd about this tool is that unlike the other programs it works on a CLI-based interface; the text is your means to communicate with the application. Hence, if you want to convert on a text-based interface, FFmpeg is your best WMA to MP3 converter. If you find it interesting to convert a media file, then look at the steps on how to use this program.
Step 1. Install FFmpeg on your computer system and run ffmpeg.exe path to the system.
Step 2. Press the Windows key on your computer keyboard and type CMD to run the command prompt.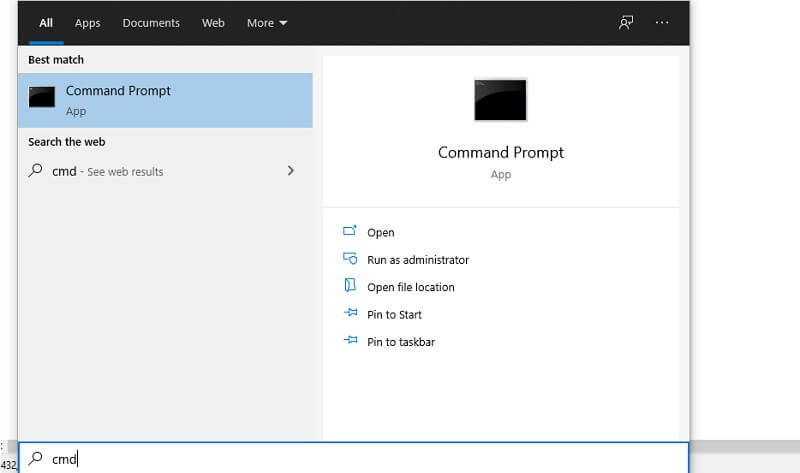 Step 3. Navigate to the folder where the WMA file is located using the cd command. Then type in the following command ffmpeg -i input.wma -vn -ar 44100 -ac 2 -b:a 192k output.mp3 and press the Enter key.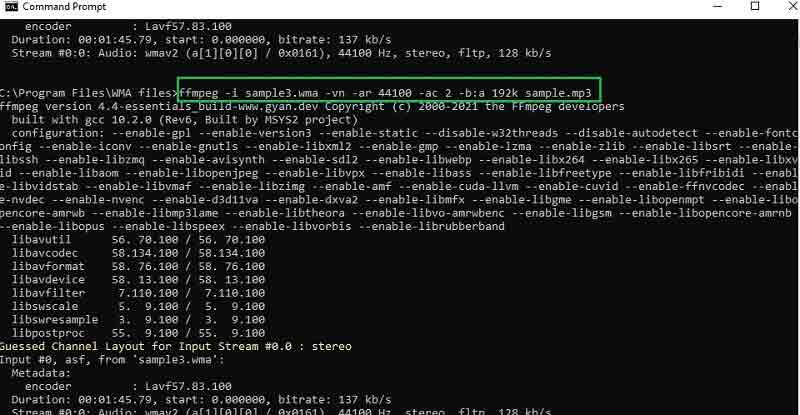 4. Windows Media Player
If you are using Windows PC, you can employ Windows Media Player to convert WMA to MP3 music. This is a media player that is native to Windows PC for streaming audio and video. Besides MP3, it supports other export formats like WAV, ALAC, and FLAC. Therefore, if you need to rip your WMA files like MP3, just follow the given instructions.
Step 1. Plug the CD into the disc drive of your computer and then open the Windows Media Player.
Step 2. Click the Organize button at the top left menu and select Options. In the next window, click the Rip Music and choose a file location where you want to save the extracted files.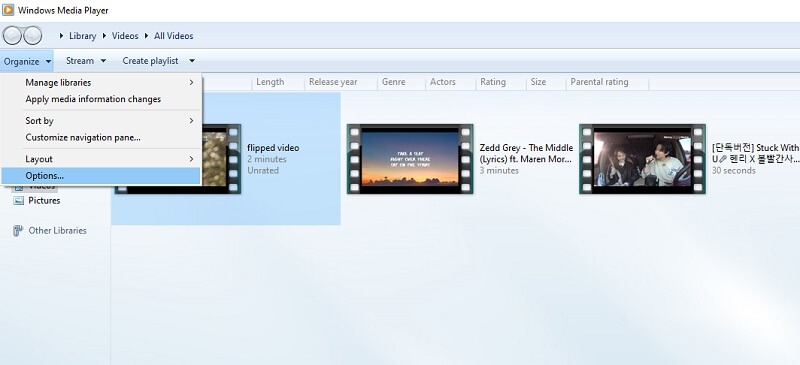 Step 3. Now drop down the Format menu and select MP3.
Step 4. Once everything is set, resume to the main interface and hit the Rip CD button.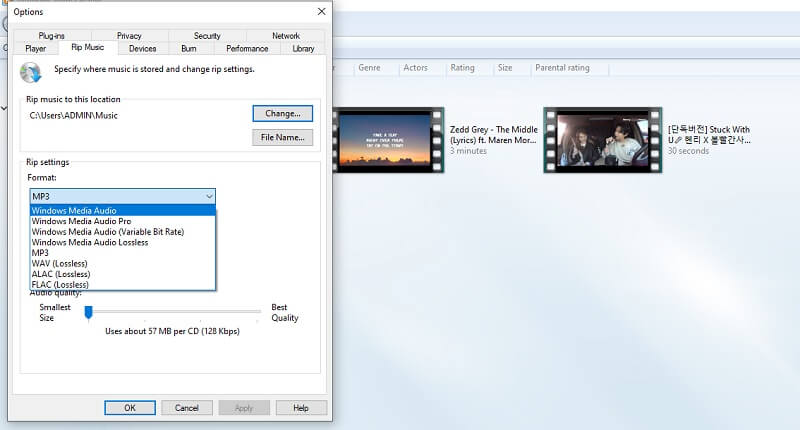 Part 2. Best Way to Convert WMA to MP3 for PC or Mac
One of the best tools to help you convert WMA to MP3 is Vidmore Video Converter. Compared to the previously mentioned solutions, this app does not need an internet connection to work. Apart from that, it features a user-friendly and modern design interface for maximum user experience. With it, you can convert WMA to MP3, and works as an MP3 to WMA converter as well. What is more, every user is entitled to set some audio quality preference allowing them to adjust the bitrate and sample rate as they like. There's also no limitation when it comes to the number of files you can convert. You can change music from WMA to MP3 as much as you want. On top of that, the conversion is fast while preserving the original quality of the original file. See the detailed steps below for complete guidance.
Step 1. Install the WMA to MP3 converter
Click the Free Download button above. Ensure to get the right installer according to your computer OS.
Step 2. Upload the WMA file
You can upload your chosen WMA file by clicking the Plus icon in the middle of the interface. If you wish to convert multiple files at once, select all your target WMA files then drag them to the tool's interface and release the left-click mouse to drop the files.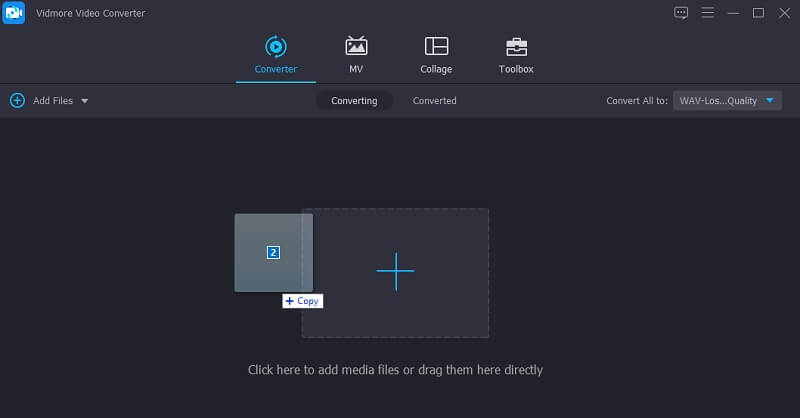 Step 3. Choose MP3 as the output format
After that, expand the Profile menu and select MP3 to export your WMA files as an MP3 file format.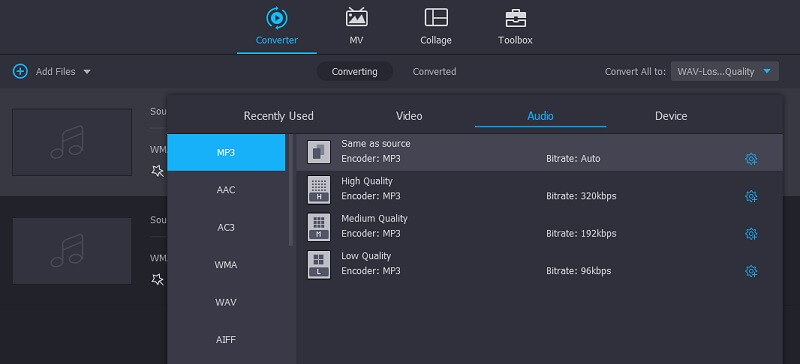 Step 4. Save the final audio file version
For the final touch, click the Convert All button. By then, you will be able to play your WMA files as MP3 and enjoy listening to them on your favorite media player or device.
Part 3. WMA vs. MP3
WMA and MP3 are popular audio file formats. But for those of you who don't know, WMA was originally developed to vie with MP3. To set things straight we will take a look at some of the major differences between the two famous audio files; helping you find the best audio file based on your requirements. WMA performs well at a lower bit rate. Specifically, it can play quality sound at a 128k bit rate. That means you get a satisfactory listening experience while having the benefit of low storage demand. This also makes it also widely adopted by websites and even portable players.
But as you know it, WMA, short for Windows Media Audio, only chooses the media player where it can be played. On the other hand, you will get a better sound quality when the bit rate reaches higher than 128k. At 192k bitrate, there you will see a significant difference between the two where MP3 has better sound effects. What's more, you can use MP3 to play your music collection on almost any media and portable player. Say you want to play with your Apple gadgets like Mac, iPhone, or iPad. Then you can convert WMA to MP3 on Mac with the free software mentioned above.
Part 4. FAQs of WMA to MP3
Can I play WMA files on my iPhone?
No. iPhone does not support WMA files so you need to export the WMA as MP3 first and transfer the exported file to iPhone through iTunes.
Popular media players where I can play WMA?
By default, you will be able to play WMA on Windows Media Player. Besides, Spotify can also play WMA files but most individuals did not discover this yet. By the way, you can upload your local media files to Spotify including your WMA files.
Which is better WMA or MP3?
If you want good quality with relatively small file size, WMA has no rival. Yet as far as compatibility and popularity are concerned, MP3 is superior.
Conclusion
Those are just some of the approaches we find helpful in terms of converting WMA to MP3. For users who are always on the go, online solutions are great options. If you need to convert more than one file, you should go for the desktop app.