Best MP3 to MP2 Audio Converters for Windows and Macintosh
MP2 remains the standard audio format for digital television broadcasting and digital radio. As a matter of fact, it is the predecessor of the ubiquitous MP3 for compression. Furthermore, people would prefer it over MP3 owing to the fact that it makes better sound quality when the bitrate is 256kbps and above. In addition to that, MP2 is characterized as high-resilient audio that is why it is famous in broadcasting.
Perhaps you want to make MP2 out of your MP3 files for these merits and advantages. Below we will discuss some of the best MP3 to MP2 converters free of download, freeware, and premium. Continue reading to learn more.

Part 1. Best Way to Convert MP3 to MP2
Vidmore Video Converter is a professional tool that allows you to convert MP3 to MP2 that works even without an internet connection and converts at high speed. What's so good about this program is that it enables you to modify the audio parameters. You can choose among your preferred qualities, including high, medium, and low profiles. You can also facilitate bulk file conversions through this app that will help you save time when you have multiple files to convert. Aside from that, you can add MP3 to the end of another MP2 using the merge feature of the program. Now, take a look at the steps below to learn how to use this application.
Step 1. Launch the MP3 to MP2 Audio Converter
First off, get the program downloaded on your computer. The tool is available in both Windows and Mac. Click on the Free Download button corresponding to your computer platform and install the app. After that, run the program to start using it.
Step 2. Upload an MP3 file
At this point, click the Plus sign button in the tool's main interface to upload an MP3 file. It will load the folder on your computer to locate your target audio file. You may also drag and drop the file that you wish to convert.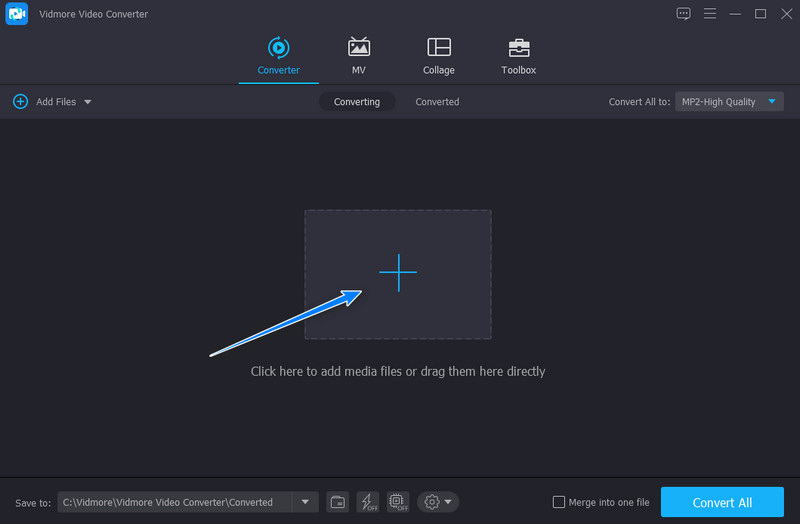 Step 3. Choose an output format
After uploading a file, open the Profile tray to see all the available output formats. From here, select the Audio tab and choose MP2 among the options on the left side panel. Next, select an audio profile according to your preferred output.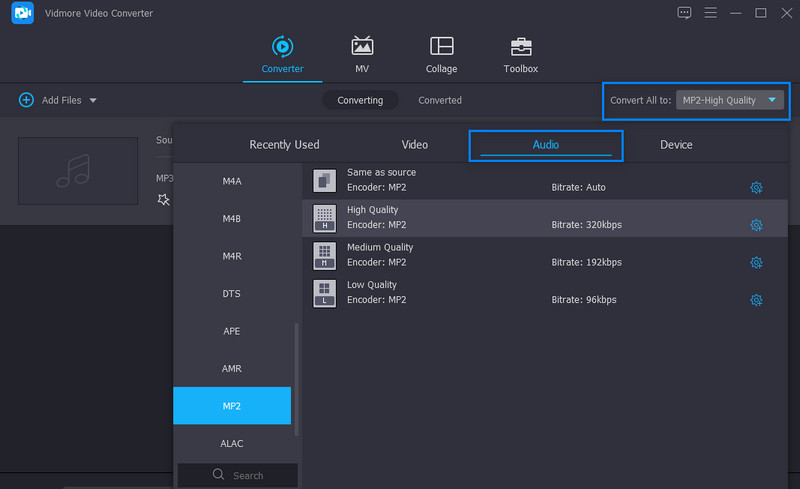 Step 4. Convert MP3 to MP2
Once you are satisfied, click the Convert All button to wait for the process to finish. The tool will instantly open the folder to locate and preview the output file.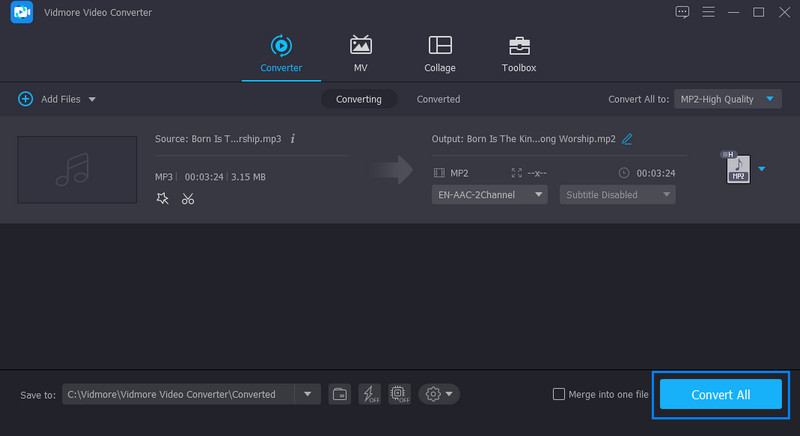 Part 2. How to Convert MP3 to MP2 for Free
1. FFmpeg
FFmpeg is an open-source media file converter that runs on any operating system supporting Mac, Windows, and Linux. There are also a great number of file inputs and outputs this program supports. You can convert from AAC, MP1, MP2, WMA, MP3 to AAC, MP2, MP3, PCM, and many other formats. Indeed, it is a robust audio file converter, and it is completely free. The only factor you should consider is if you know how it operates. Consider the likes of audio codecs, codebases, and containers. You must have a good understanding of the terms mentioned earlier. Nevertheless, here is a simple guide that might help you convert MP3 to MP2 freeware.
Step 1. Download FFmpeg from its official website. Unzip the file and head over to the bin folder where the .exe files are saved to install the program properly. After that, create a folder in your drive to save these files. Then copy and paste the .exe files into the folder you just created.
Step 2. Next, add the program into the system by adding its file path folder. You may check if it is working by opening the CMD. Type in ffmpeg and hit Enter. You should see a bunch of text coming from the ffmpeg binary.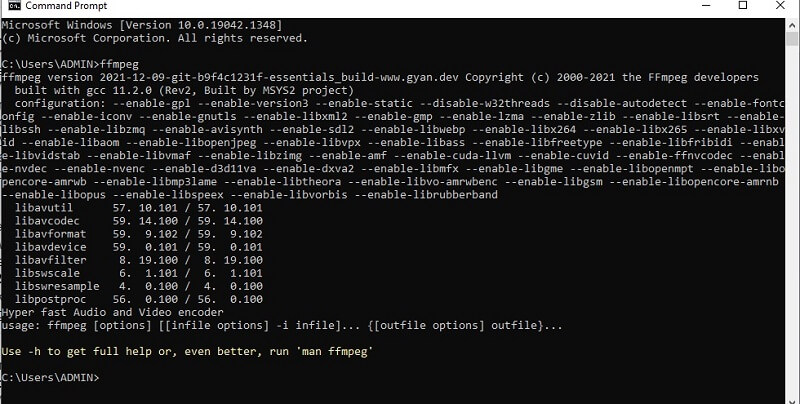 Step 3. Now that you have successfully installed the program, you can convert files.
Step 4. On your File Explorer, go to the folder where your MP3 file is saved. Click on the folder path, type in cmd, and hit the Enter key. From the CMD window, type in ffmpeg -i 'input.mp3' 'output.mp2' and press Enter. This will immediately process the file and convert it from MP3 to MP2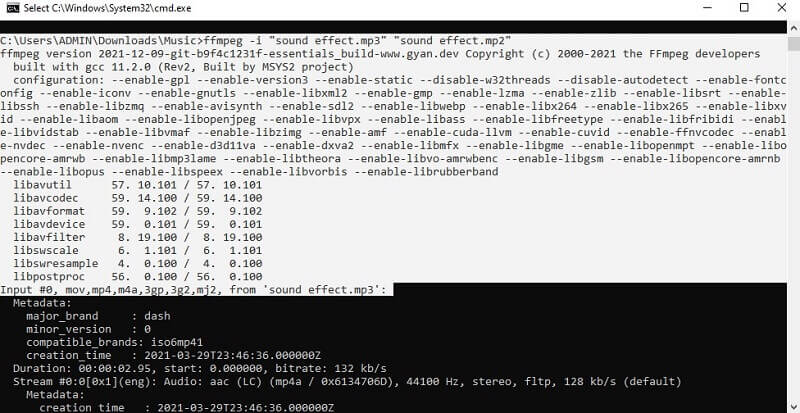 2. Online Audio Converter
If you are looking for another free and good converter alternative, Online Audio Converter could be of great help. The tool runs on a browser, allowing you to directly convert from the web page. What's so good about this program is that it can recognize many file formats. In addition, it incorporates the uploading of files in different methods. That includes uploading from Google Drive, Dropbox, or via URL. The process to convert MP3 to MP2 online is as follows.
Step 1. Launch a browser on your computer and visit the program's official site.
Step 2. Drag and drop the MP3 file you wish to convert or click the Open Files from the main page to open a folder and locate the file.
Step 3. This time, underneath the audio thumbnail, click on the more option and select MP2. You may adjust the quality or modify the settings according to your preference.
Step 4. Finally, click the Convert button at the bottom to begin the process of converting files.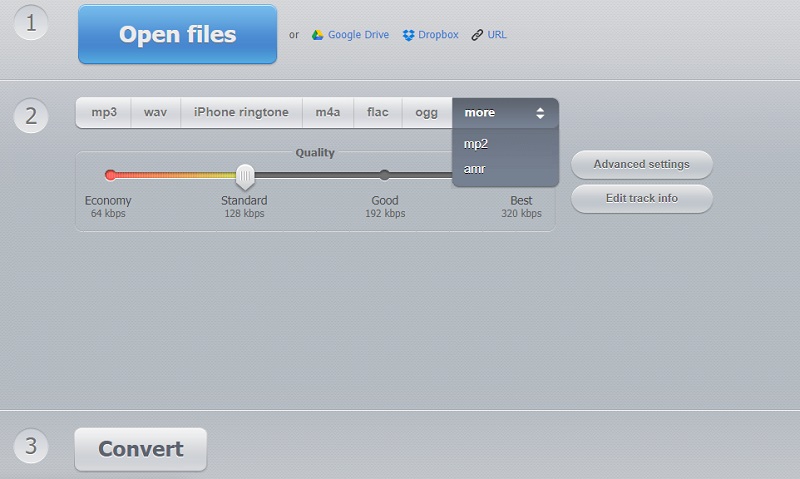 Part 3. FAQs of MP3 to MP2
Can VLC play MP2?
Yes. MP2 is among the audio formats that the VLC media player supports. The best part is this program is compatible with different platforms allowing you to play them across different devices and platforms.
How do you open MP2 files?
For Windows users, you can open an MPEG2 file on Windows Media Player, while Mac users can play it using Apple QuickTime Player.
Which is better, MP3 or MP2?
MP3 was actually developed from MP2. Although they are both lossy audio formats, MP2 features greater error resilience than MP3. Hence, MP2 sounds better than MP3.
Conclusion
Those are the best MP3 to MP2 audio converters that you can use. If you are a tech-savvy person with good knowledge and understanding of codes, FFmpeg is an excellent choice. Yet, if you are looking for a professional tool to convert files offline, Vidmore is a superb option. On the other hand, you can choose the online program to convert without installing anything.