Best and Free MP3 to WMA Converter Online and Offline Methods
Many people believe that MP3 has poor performance at low bitrates. The truth is that WMA is the opposite of MP3 because WMA can produce high audio quality. In particular, it makes better sound than MP3 files in 128k and lower bitrate. Not only that, but it also uses less storage space than MP3. Therefore, this is a good performance if you consider a high-quality audio file without requiring much disk space.
On top of that, this format has been fully compatible with the Windows platform since Microsoft created it. This means that it can natively play WMA files, especially if you use Windows Media Player to listen to your favorite music. On such occasions, you may like to convert MP3 to WMA. On that note, we will offer the solutions to accomplish this conversion task.

Part 1. Ultimate Software to Convert MP3 to WMA
Vidmore Video Converter is one of the ultimate solutions that effectively convert one audio format to another. This desktop program is compatible with Windows and Mac with or without a cyber connection to perform a quick conversion among WMA, MP3, FLAC, OGG, and other files. Besides this, it is also designed to convert media files to device-compatible formats supporting iPhone, Samsung, Xiaomi, etc. On top of that, it can convert multiple files simultaneously faster than many other converters.
This will help you save time, especially when converting many MP3 files to WMA. More importantly, it retains the sound quality of the original source. In addition, you can customize the audio parameters to achieve your desired output. The process to convert MP3 to WMA with software is as follows.
Step 1. Launch the MP3 to WMA Converter
There are Free Download buttons underneath. Pick the right version for your computer to download the program. Then install and launch it to see its main interface.
Step 2. Import MP3 files
Once the app is launched, you will see a Plus icon in its main interface. Click on it to import an MP3 file. You can add more MP3 files by clicking the Add Files button in the upper left portion. Optionally, you can drag and drop the MP3 files you like to convert to WMA.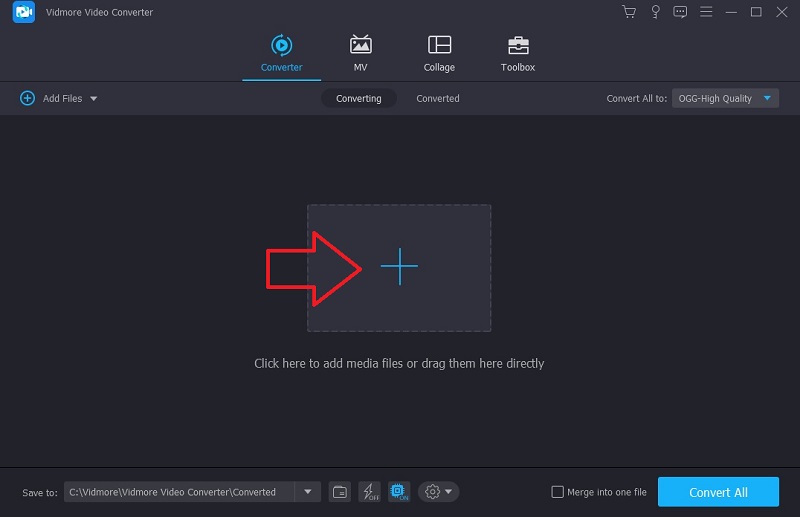 Step 3. Select the output format
Next, open the tray of Profile option at the upper right portion of the interface. Go to the Audio tab and select WMA on the left side menu. After that, you can choose the output from the presets available.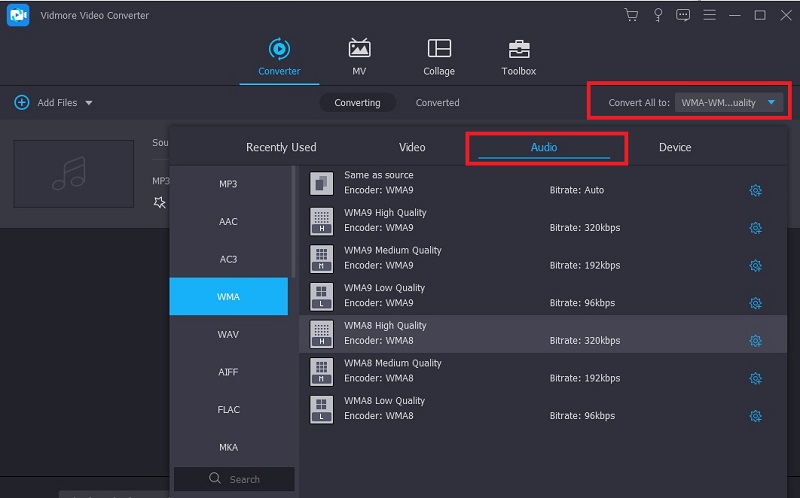 Step 4. Activate the conversion process
Click the Convert All button at the bottom right corner to activate the conversion process. You can preview the output file in its corresponding folder when it finishes converting files.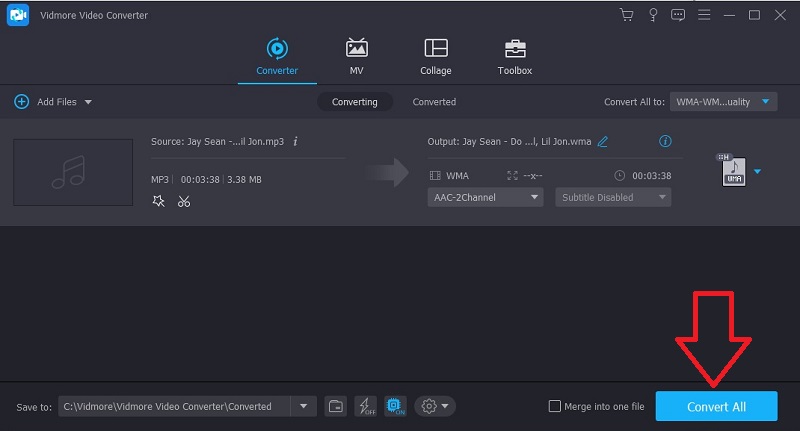 Part 2. How to Converter MP3 to WMA with Freeware
1. Windows Media Player
You can also learn how to convert MP3 to WMA in Windows Media Player. This is the duly method for Windows users who want to extract their MP3 files and save them as WMA on their Windows PC. It is compatible with Windows version 7 and above. With that being said, here is how to convert MP3 to WMA in Windows 7 and 10.
Step 1. Run the Windows Media Player app on your computer and insert the CD in the DVD drive or CD ROM on your PC.
Step 2. Open the MP3 files in the app and go to Menu. Click on the Organize button and select Options from the drop-down menu.
Step 3. From the appearing tab, click on Rip Music. Change the Format to Windows Media Audio and then hit OK to process the file.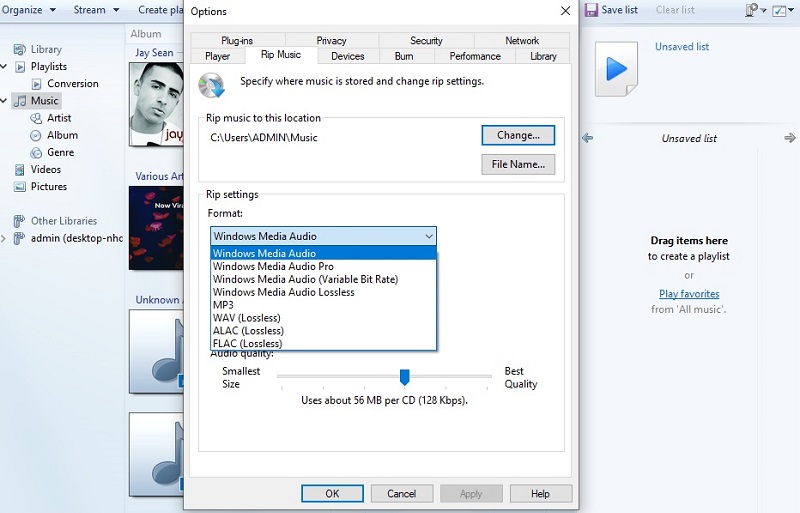 2. MediaHuman Audio Converter
MediaHuman Audio Converter is the leading media file manager for Macintosh. The tool comes with various functions, including a converter, voice recorder, photo collage, and a lot more. Similarly, it facilitates single and batches conversion for your desired output format. Equally important, the app's interface is very user-friendly, allowing you to finish the conversion in a matter of seconds. To help you understand how it works, here is a step-by-step guide for MP3 to WMA conversion.
Step 1. Download and install MediaHuman Audio Converter. Then run the program on your Mac or PC.
Step 2. From the tool's main interface, click the Plus icon to locate and add the MP3 file you wish to convert.
Step 3. Unfold the Format tray and choose WMA from the selection. You can also choose the stereo setting according to your desired output.
Step 4. Finally, click the Start conversion button to begin converting MP3 to WMA.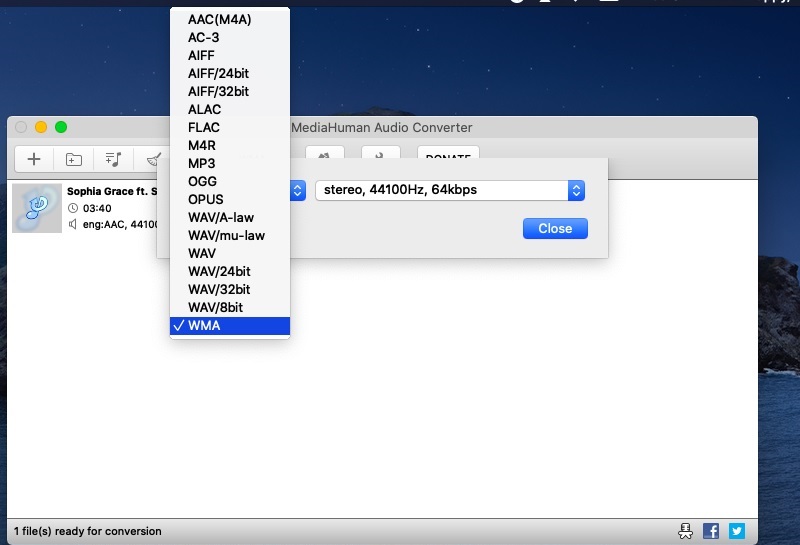 Part 3. How to Convert MP3 to WMA Online
With Vidmore Free Video Converter, you don't need to install a desktop application on your computer. It is a free web-based application that works for both Windows and Mac systems. As long as you have an internet connection, you can use this free MP3 to WMA converter online. Furthermore, converting files at one time is possible using this app. Beyond that, it allows you to edit audio parameters such as channel, codec, bitrate, and sample rate.
Step 1. Access the Vidmore Free Video Converter website and click the Add files to convert button to download the program's launcher. This is only applicable to first-time users. If you use it for the second time, it will let you add the MP3 file.
Step 2. After adding an audio file, you will see its thumbnail on the conversion panel of the application.
Step 3. Now, choose an output format by clicking the Audio format option. Then tick on the WMA radio button to set it as the output format for the file. Finally, click the Convert button to initiate the conversion process.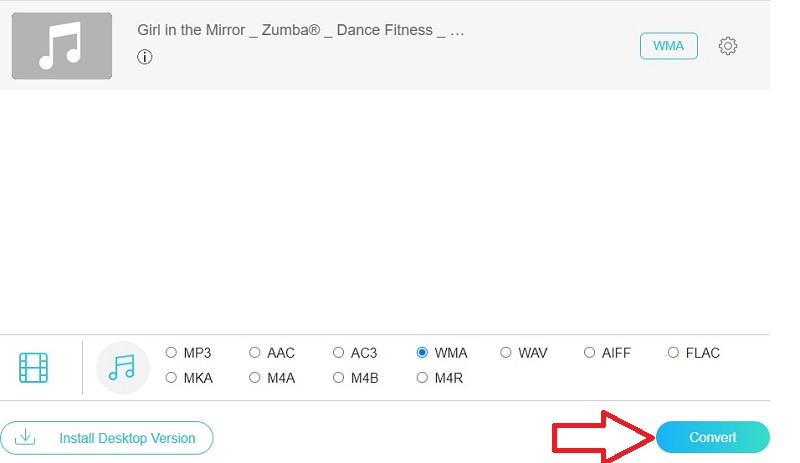 Part 4. FAQs of MP3 to WMA
Can iTunes convert MP3 to WMA?
Unfortunately, iTunes does not support WMA. Although you can upload an MP3 file, it can only convert audio files to MP3, AAC, AIFF, Apple Lossless, and WAV.
Can you convert MP3 to WMA in Windows 10?
Yes. However, we don't recommend using Windows Media Player to convert files because of the complicated process. Better yet, switch to Vidmore for a more straightforward procedure.
Is WAV better than WMA?
WAV is a lossless file format that does not lose data after mastering, which is important for creating original recordings. WMA is suitable for storing music files like MP3.
Conclusion
These are the tools that can assist you in converting MP3 to WMA. All of them are effective solutions and worthy of trying. Among them, Vidmore Video Converter is highly recommended for its straightforward conversion process and practical tools for managing audio files.