5 WMA to FLAC Incredibly Useful Converters Online and Offline
WMA, short for Windows Media Audio, is a well-known audio format for producing a balance of quality and file size. It enables you to enjoy a wonderful performance at the low bit rate that it meets no rival lower than 128k. This is perfect for those who are into storing lots of music while having the benefit of excellent audio quality.
Unfortunately, when it comes to compressing with this audio format, there will be certain data loss in the process. That means if you are very particular with sound quality, WMA is not quite ideal. But you can try FLAC formats that use the lossless compression technique. For you to keep your WMA files, you can do some workaround like converting WMA to FLAC. On that note, read on to learn how to get this task done.

Part 1. How to Convert WMA to FLAC for Free
Looking for a free way to convert WMA to FLAC? Vidmore Free Video Converter can certainly help you out. This tool is a web-based program that grants users the capability to convert audio and video files from the webpage directly. Coupled with that, you can access all its features. This lets you perform the single and bulk operations without any registration. There are also output settings where you can edit frame rate, bitrate, channels, or your media file. Plus, a reasonable amount of supported audio and video files. Now here are the instructions for you to convert WMA to FLAC for free.
Step 1. Install the Launcher app
First and foremost, access the website program via a web browser available on your computer. Once you get to the main page, click on the Add files to convert button. A pop-up will show a Download button that you will need to click in order to get the Launcher. Next, install it on your computer system.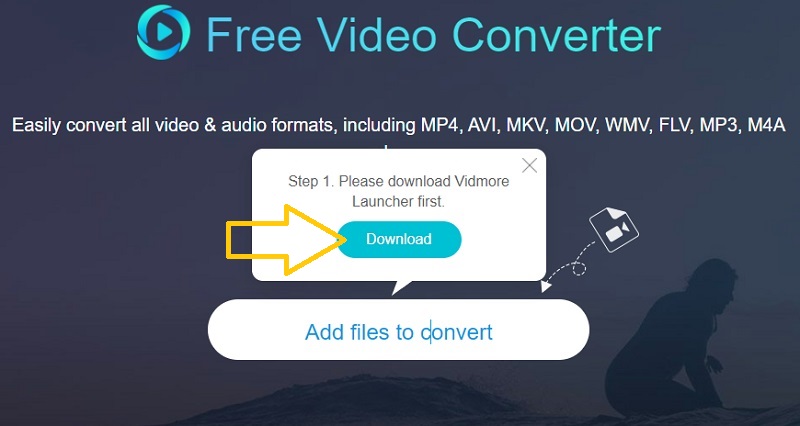 Step 2. Add a WMA file to the program
Once the Launcher runs, select the WMA file that you would like to convert and upload it into the program. You can click the Add File button from the Conversion tab to add more files or convert multiple files at the same time.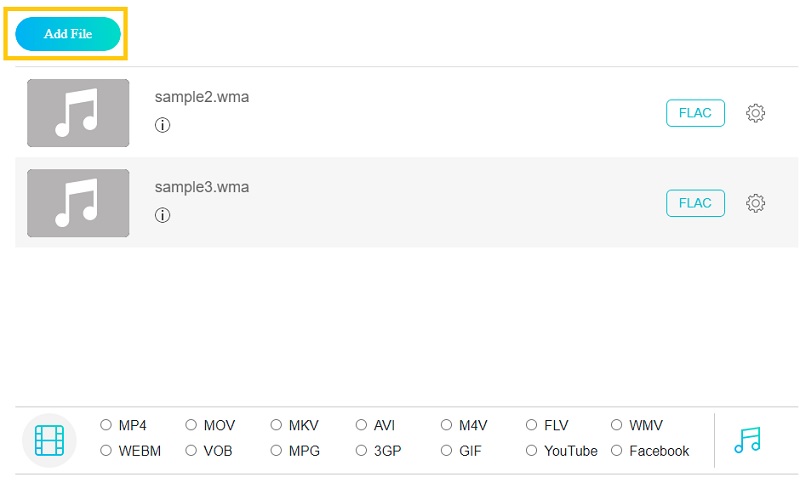 Step 3. Select an output format and convert
Once done, go to the Audio format option by clicking the Notes icon at the lower right-hand side of the interface. After that, select FLAC. For multiple files uploaded, select one-by-one and choose FLAC format for each WMA file that you are attempting to convert. By then, you can start converting these files. Simply click on the Convert button at the lower right corner.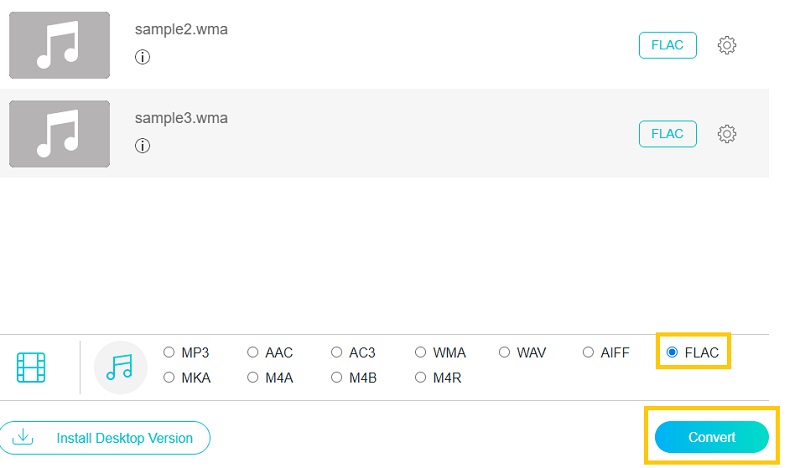 Part 2. How to Convert WMA to FLAC Offline
1. Vidmore Video Converter
Converting lossless at a swift speed is exactly what you will experience upon using the tool Vidmore Video Converter. Because the tool integrates GPU-accelerated processing, converting files is supposedly done in a matter of seconds. Even better, this is possible even when processing multiple files at the same time. Apart from that, the tool can also help you in editing the parameters to achieve your desired audio output. In case you are wondering, the tool is capable of editing the metadata of an audio and video file allowing you to modify the title, artist, genre, year, composer, etc. On the other hand, here is a list of steps you can follow to use this best WMA to FLAC converter.
Step 1. Acquire the WMA to FLAC Converter
To get started, click on any of the Free Download buttons below. Make sure to choose the button that corresponds to the operating system your computer is running. Install and run the program afterward.
Step 2. Load a WMA file
On the main interface of the program, you will see a Plus sign button. Click on it to upload a file or drag and drop the file that you wish to convert.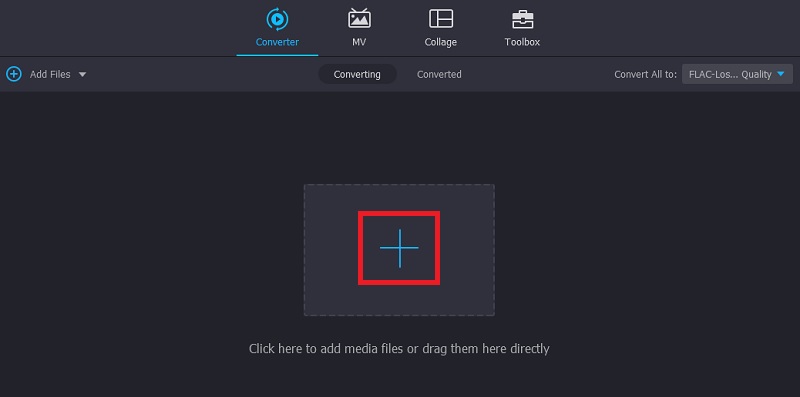 Step 3. Select FLAC as the output format
Once you are done uploading your target file, open the menu for Profile. Next, head over to the Audio tab. On the left section, select FLAC and then choose the audio profile that you prefer.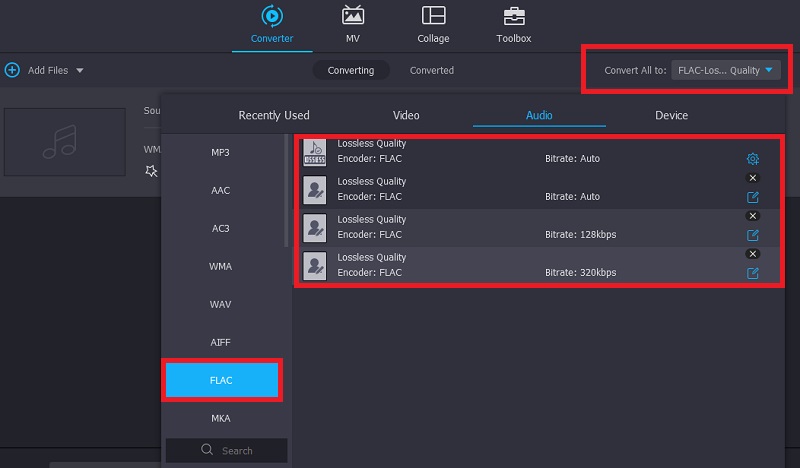 Step 4. Convert WMA to FLAC
To begin the conversion process, set an output folder to where you would like to save the converted file. After that, click the Convert All button located at the bottom right corner of the interface. By then, the app will start converting WMA to FLAC files.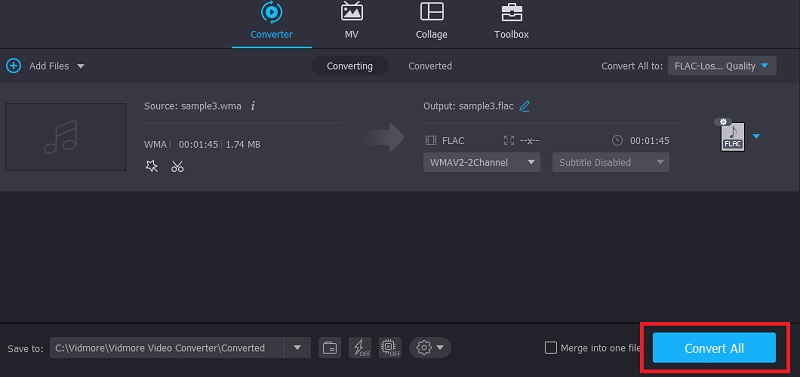 2. Freemake Audio Converter
From the title itself, Freemake Audio Converter is a free program that supports flexible settings where you can change audio conversion parameters. You may edit the sample rate, sample size as well as channels. To use this free WMA to FLAC converting tool, take the steps below.
Step 1. On your computer, download and install Freemake Audio Converter by going to its official website.
Step 2. This time, upload the WMA file that you would like to convert to FLAC. To do this, click the Audio button at the upper left corner, then select the WMA track.
Step 3. Select the to FLAC option from the menu. Select from the preset available or make your own. Finally, click the Convert button to commence the conversion.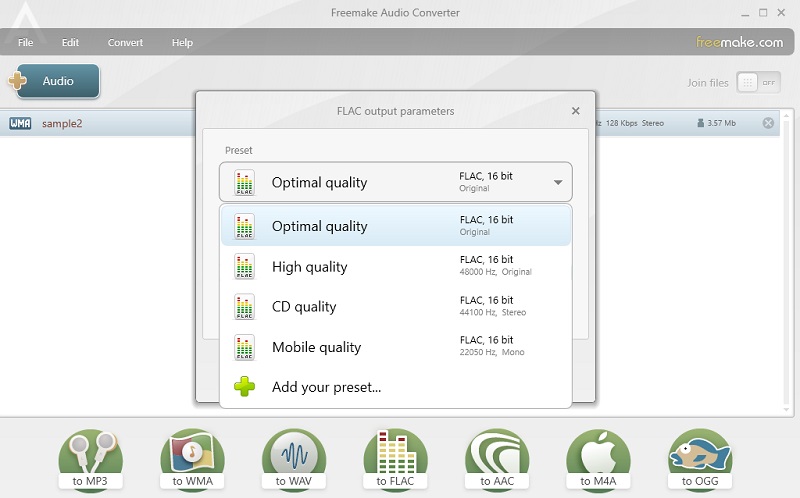 3. MediaMonkey
MediaMonkey is a program solely developed as a digital media player and library to organize and stream audio. It can also handle small and large media collections. Besides that, you can download podcasts or rip CDs using this tool. Does this tool interests you? Then take a look at the steps to learn how to convert WMA to FLAC.
Step 1. Have the app installed on your PC and then launch to see the running interface of the app.
Step 2. Go to the File menu and select Open URL or File… From the dialogue box, you may copy and paste the URL of the WMA file or click the Browse button to upload from the local drive.
Step 3. The WMA file should appear on the right side of the tool's interface. Right-click on the audio track and select the Convert format option. Now unfold the Format menu and select FLAC. Finally, click the OK button to initialize the conversion process.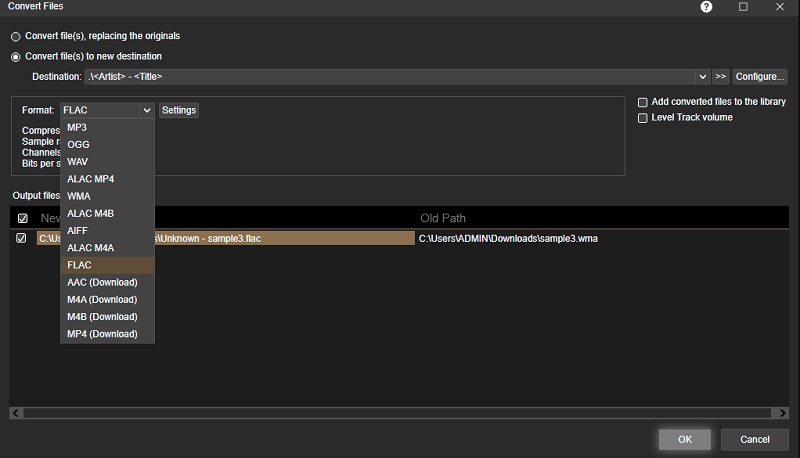 4. Foobar2000
Just like the previous programs, Foobar2000 packs a bunch of useful features aside from the conversion capability. With support for a wide selection of formats, you will be able to convert WMA to FLAC, AAC, OGG, WAV, Opus, and a lot more formats. One exceptional feature is its tagging capabilities to add and predict the tag of audio tracks enabling you to edit the title, album, artist, genre, etc. See the simplified steps below to learn how to convert WMA to FLAC using this tool.
Step 1. First off, download the program and install it on your PC.
Step 2. To add a WMA file, click on the File menu and locate the file that you wish to convert.
Step 3. Now, right-click on the uploaded audio track, choose Convert followed by the Quick Convert option. From audio format options, select FLAC and then hit the Convert button. Then it will start converting WMA to FLAC.
Part 3. FAQs of WMA to FLAC
Do WMA files have high quality?
WMA files deliver better sound quality in low bitrates like 64KBS and perform better than non-lame MP3 with high-frequency details.
Which is better between WMA and FLAC?
Knowing that WMA and FLAC files are lossless, both will sound better and maybe identical in most cases. But when it comes to compression, WMA lossless files are smaller than FLAC.
What is FLAC best for?
FLAC files come with better sound quality for compressing and archiving audio files. It's safe to say that this is the best format for compressing files while enjoying a better audio quality.
Conclusion
Here we talked about the best tools for converting WMA to FLAC on Mac, Windows, and online. One determining factor in choosing the best tool is the speed of conversion. In most cases, desktop apps stand out since they do not rely on an internet connection. But when you need to save space and don't want to download an additional program, an online tool would be a more convenient option.