MPA to WAV Converter Software Programs You Did Not Know Exist
MPA files are compressed audio files associated with MPEG-2 files that only contain audio. This compression profile enables the file to have a small file size while preserving the quality with very minimal quality loss. Formerly, it was based on the MPEG-1 standard of audio coding and has been updated to MPEG Layer II.
MPA audio files are not frequently used on Windows systems. Many Windows users would want to play their MPA files on their Windows PC. One of the standard PC audio formats is WAV. It preserves information like file number, sample rate, bit depth, etc. It goes without saying, converting MPA to WAV is achieved without affecting the information from the original file. If you wish to achieve this conversion, you may look at the tutorial using the reliable programs below.

Part 1. Differences Between MPA and WAV?
What is MPA
MPA is the filename for the audio file in the MPEG files such as MPEG-1 and MPEG-2 Layer II files. As we know, MPEG-1 Layer II is a lossy audio file. Hence, MPA is considered a compressed digital audio file.
What is WAV
On the other hand, WAV files may contain compressed and uncompressed audio. But most of the time, WAV files are in lossless audio format. That means it preserves the high sound quality of an audio file. Moreover, it supports storing information like stereo and mono property, bit depth, number of tracks, and bit depth. Therefore, if you wish to convert MPA to WAV, you may refer to the apps below and their guides.
Part 2. How to Convert MPA to WAV Quickly
It can be pretty challenging to look for a reliable tool with many options to choose from. If you would like to discover effective and efficient ways for converting MPA to WAV, read on.
1. Vidmore Video Converter
Vidmore Video Converter is the recommended utility app for the best MPA to WAV converter. It supports almost any input and output audio format. Plus, you can upload multiple files and convert them simultaneously at high speed. Not to mention, you can upload different formats and convert them to your desired audio format. Aside from that, you can adjust audio parameters to get the desired quality.
With this tool, customizing the profile quality of the audio file is possible, allowing you to tweak sample rate, channel, bitrate, etc. Furthermore, you can use it to cut audio files into segments or trim unwanted parts. Nevertheless, here is how to convert MPA to WAV using this converter.
Step 1. Download and install Vidmore Video Converter
First, have the program downloaded on your computer by clicking on the Free Download buttons below. Install and launch the program afterward. Now, get acquainted with the tool's interface and functionalities.
Step 2. Add an MPA audio track
Upon launching the tool, you will see the main interface that shows a big Plus sign button. Click on it and browse through your computer folder. Double-click on your target audio to upload the file.
Step 3. Select WAV as the output format
After that, expand the Profile menu at the upper right-hand side portion. Head over to the Audio tab and select a format on the left side panel. From the selection of audio formats, select WAV, then customize the profile as you like by clicking the settings icon.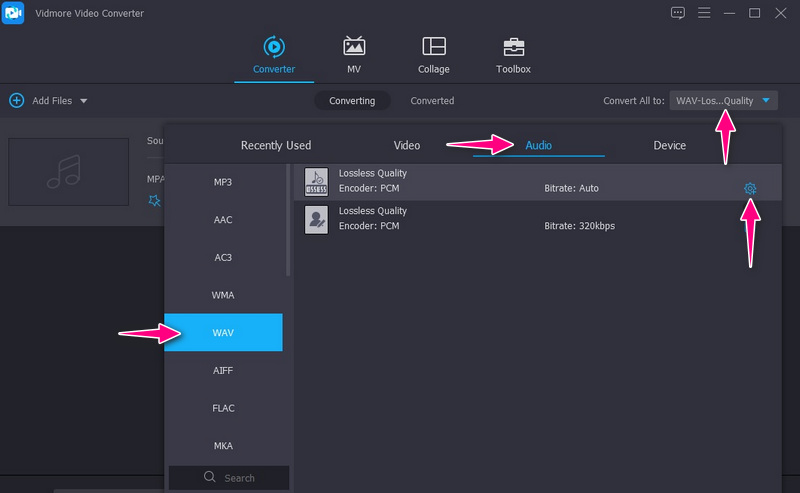 Step 4. Convert MPA to WAV
After configuring the parameters, set a file destination where you wish to store the converted file. Simply click on the saving path at the bottom of the interface. Finally, click the Convert All button to convert your MPA file to WAV.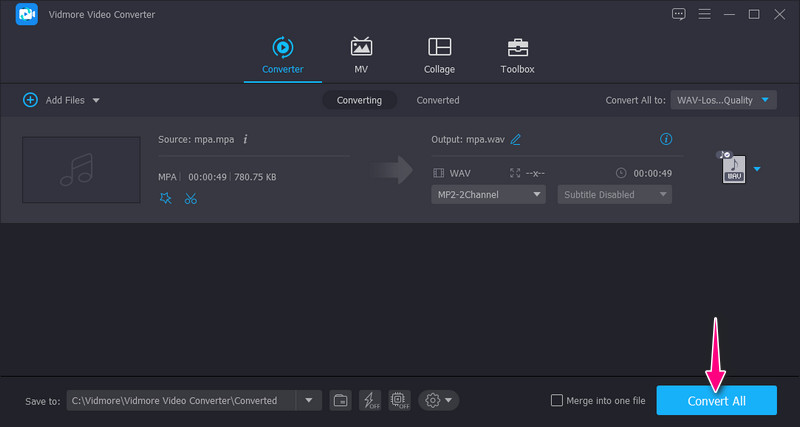 2. Online-Convert
Using Online-Convert, you can convert MPA to WAV from the webpage directly. Meaning you do not have to download an application on your personal computer. The tool is free and safe. This program is so good because you may import files using the URL of the audio, from cloud storage services, or from your local file storage. Besides, you can also edit optional settings like bit resolution, audio frequency, audio channels, etc. But the uploading process is relatively slow. Meanwhile, here are the steps to operate this program:
Step 1. Search Online-Convert Convert Audio to WAV using any browser. Then, load an audio file, by clicking the Choose File button from the main page.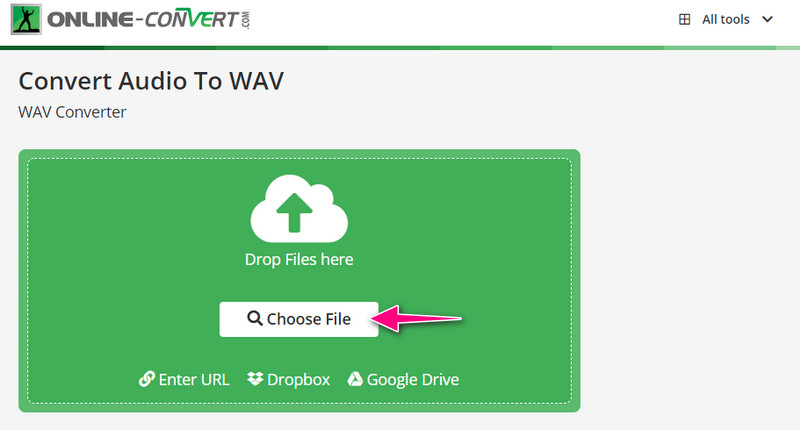 Step 2. Edit the optional settings according to your needs. Scroll down below the page and customize them accordingly.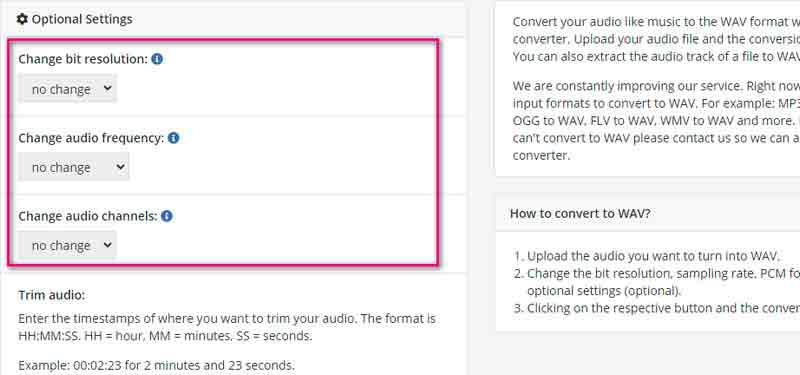 Step 3. This time, click the Start button to begin the conversion process.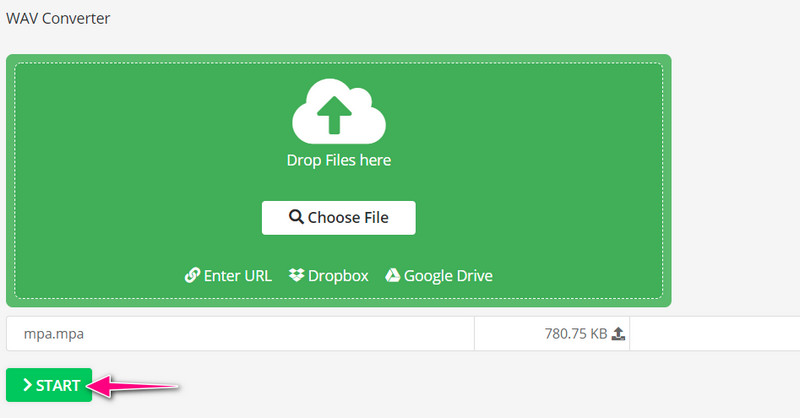 Step 4. Right after the conversion process, the converted file will show up. Then, you will be given options whether to upload to the cloud or download to your local drive.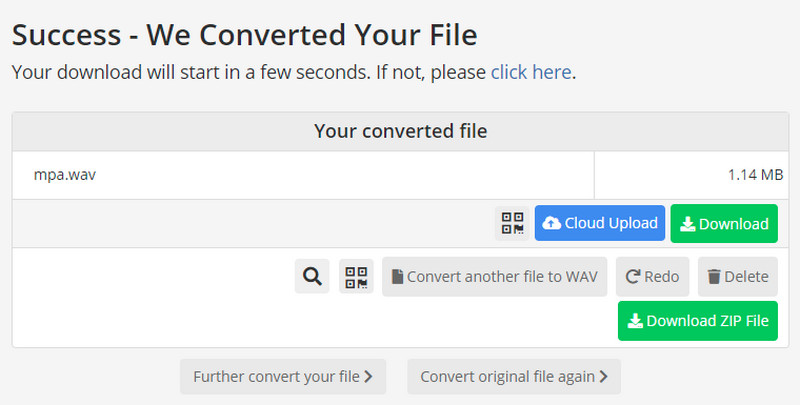 Part 3. Comparison of the Two Converters
There is no denying these two programs can convert MPA to WAV effectively. However, if you are unsure which program to use, here are some aspects of the programs you can consider helpful. Each program features unique utilities and functionalities. The choice is yours now which tool works best based on your preferences.
Tools

Vidmore Video Converter

Online-Convert
| | | |
| --- | --- | --- |
| Supported Platform | Fast-Conversion | Edit Audio Profile |
| Windows and Mac | Supported | Supported |
| Web | Depends on internet status | Supported |
Part 4. FAQs on Converting MPA to WAV
Can I convert MPA to MP3?
Yes. Simply select a converter that supports MPA as the input format and MP3 as the output format. You can consider the likes of Vidmore Video Converter to achieve this conversion.
Is WAV a good quality?
When it comes to professional and high-fidelity recording applications choices, WAV is a suitable quality format. Moreover, it can produce accurate and lossless copy results.
Does WAV have disadvantages?
One, it is uncompressed, so it will eat up big disk space. Another is that it cannot restore the full sound quality when converting from compressed to WAV files.
Conclusion
The content aims to show two of the most effective and efficient tools for converting MPA to WAV. By following the step-by-step guide, you can successfully achieve this conversion task. You have to choose the right method according to your needs. If you wish to convert in bulk quickly and easily, you should go with Vidmore Video Converter. On the other hand, you should pick Online-Convert if you only convert a handful of audio files.
Meanwhile, this post also provided a comparison chart to help you decide with clarity which is the best tool for you. We believe it would be much easier for you to choose the right fit program.