Highly Recommended Tools to Convert OGG to AIFF on Mac and Windows
If you enjoy listening to different tracks and wish to play them on your high-end device, such as a Mac, you won't be able to do so because certain tracks are in OGG format, which has limits, especially when used on a non-Windows device. As a result, you'll require a tool to assist you in converting OGG to AIFF.
No need to search for the most appropriate application to install on your device to help you lighten your mood because we have gathered OGG to AIFF converter for free! Please see the list of details below.

Part 1. How to Convert OGG to AIFF on Mac/Windows
Having a file converter is essential nowadays because there are times where we will need a tool to convert our most loved audio tracks and transfer it to another device such as phones, media players and many more. And if you are looking for a professional software that you can install, Vidmore Video Converter is the best! This application is a professional one as it is both available on Windows and Mac.
Aside from that, it is not time consuming unlike other software. Vidmore Video Converter offers 50x faster speed conversion on both audio and video. What makes it more helpful is its user-friendly interface that allows every user to navigate the tool easily. And to better help you, you can also modify the quality of your audio by controlling the bitrate, sample rate and channel.
Here's a guide below on how to use this application.
Step 1: Get the OGG to AIFF Converter
Before you begin, you need to click one of the Download buttons below and install it. After you install it, launch it on your device.
Step 2: Add your Audio Tracks
Next step, open the tool and then click the Add Files on the left upper part of the screen or you can just tap the Plus icon you can see at the center then add your OGG files.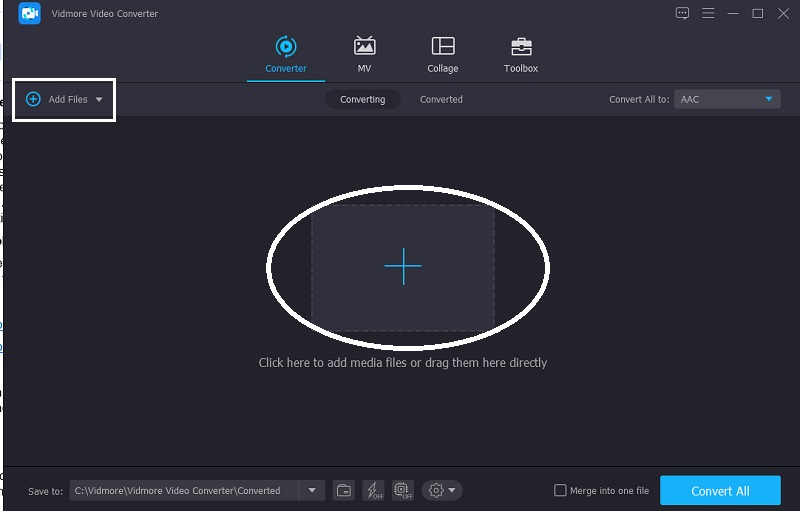 Step 3: Choose the AIFF Format
After adding the audio track you want to convert, change the format by clicking the dropdown Profile on the right side of the audio. Then, tick the Audio and search for the AIFF format.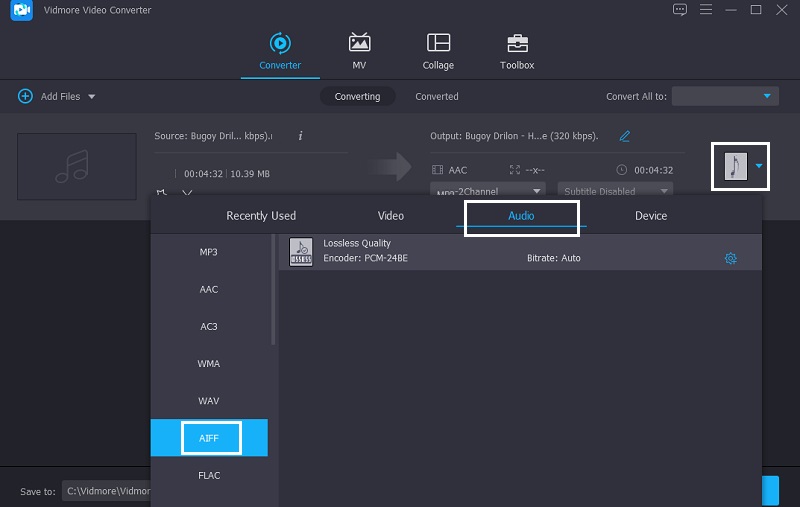 Next thing you can do is to modify the quality of your audio. Click the Settings at the right side of the format then tap the drop down arrow of the Bitrate, Sample Rate and Channel. Once you are done, click the Create New tab and apply it on your audio track.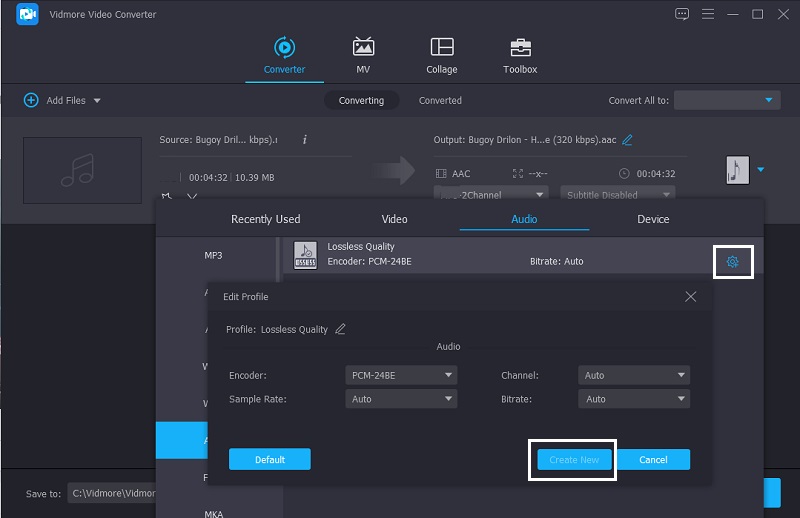 Step 4: Convert into AIFF
After doing all the modifications on your audio files you can now convert it by clicking the Convert All button on the right lower part of the tool and wait for a few seconds for the conversion process.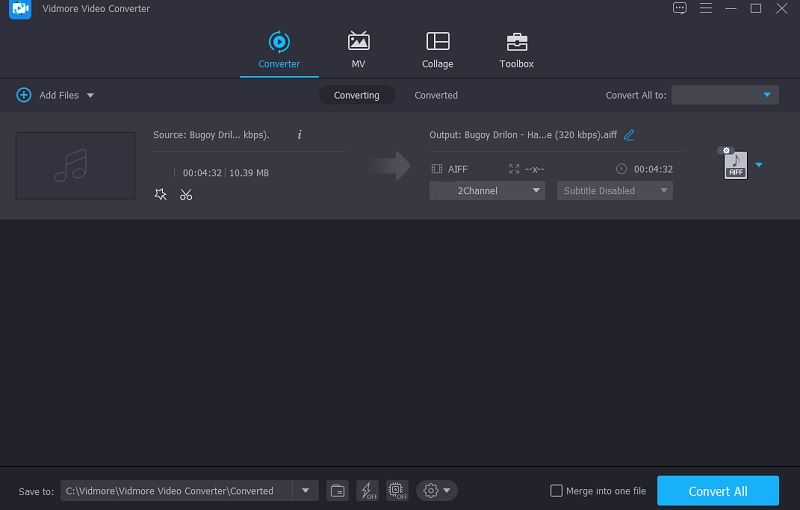 Part 2. How to Convert OGG to AIFF Online
The following are the tools that can help you convert your OGG file into different formats are web-based apps. See which one you prefer.
1. Vidmore Free Video Converter
First and the most recommended browser-based application that you can use to convert OGG to AIFF is the Vidmore Free Video Converter. This app doesn't differ from other downloadable tools as it doesn't have a limitation when converting files. You also don't have to worry if you are a beginner as it has a friendly interface. What's more amazing about this online tool is, it saves your time! Imagine converting an audio track with a large file size in just a few seconds. Sounds convenient right? With that, you can follow the instructions below.
Step 1: Look for the official page of Vidmore Free Video Converter and download its launcher by clicking the Add files to convert.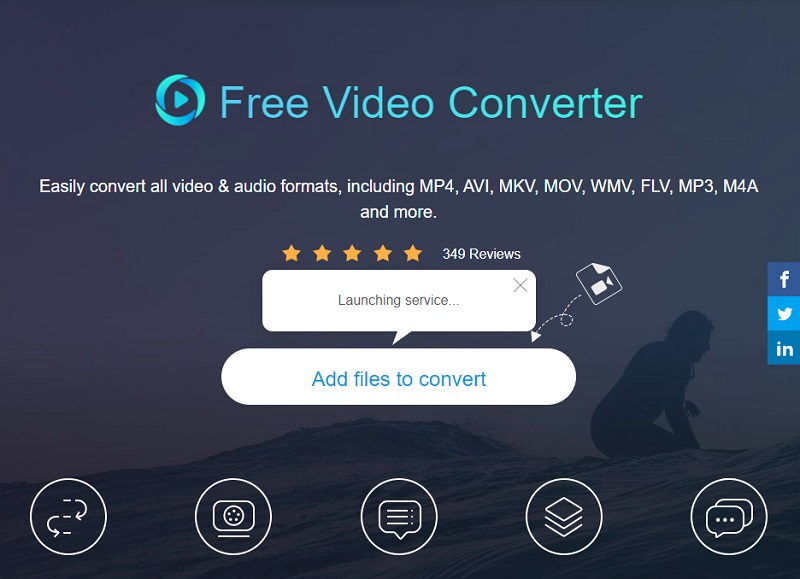 Step 2: After you download the launcher of the web-based tool, you can now add your OGG files by clicking the Add files to convert again. And if you want to insert another audio file, simply click the Add file.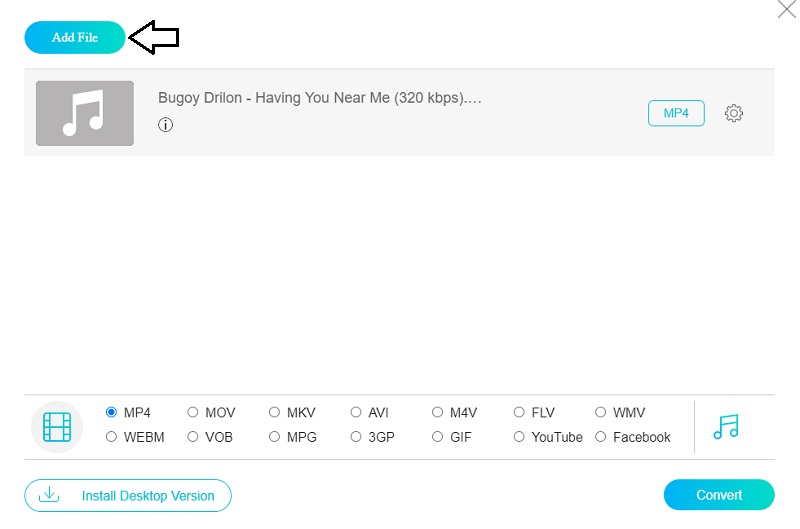 Step 3: Next step, change the format of your OGG track by clicking the Music icon at the right side of the screen. Then, choose the AIFF from the given formats below.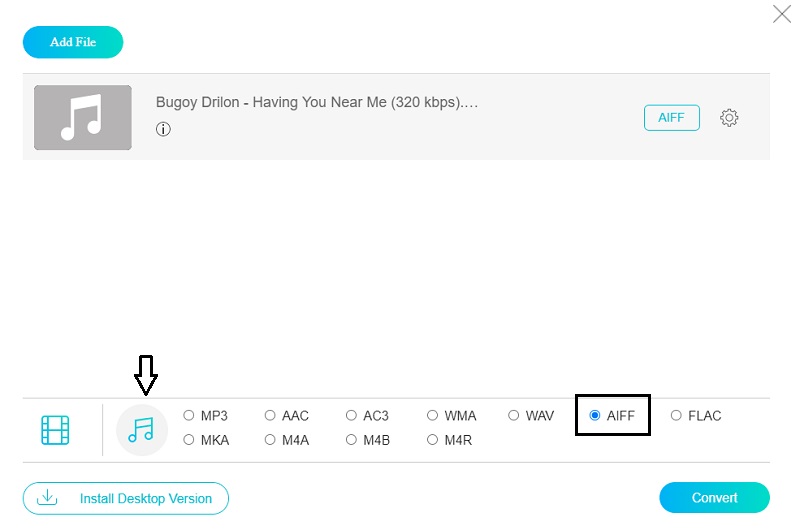 Another thing you can do on your OGG file is to adjust the Audio Settings. By these adjustments, you can control the quality of your audio files. Just click the Settings at the right side of the screen and navigate the Bitrate and Sample Rate of your audio tracks. Then click the OK button once you are finished.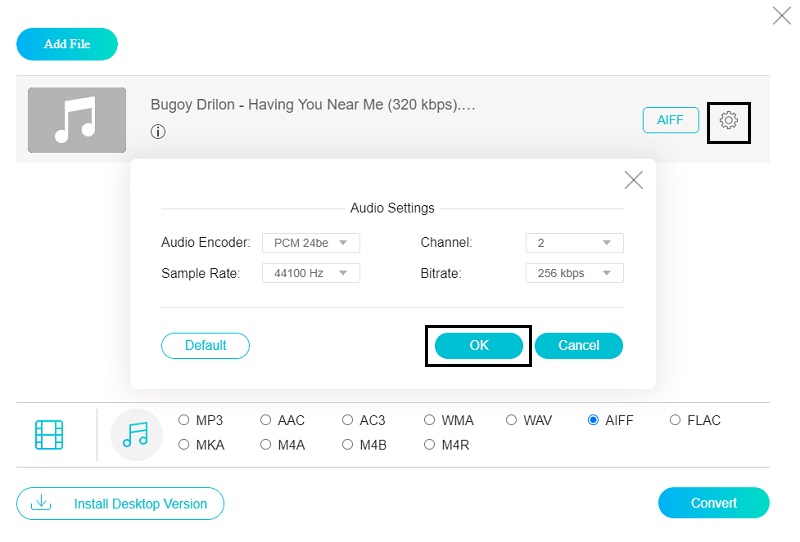 Step 4: To successfully apply the modifications, you can now click the Convert button and choose the file's location once a folder appears. Just click the Select Folder and wait for a few seconds to get the converted audio track.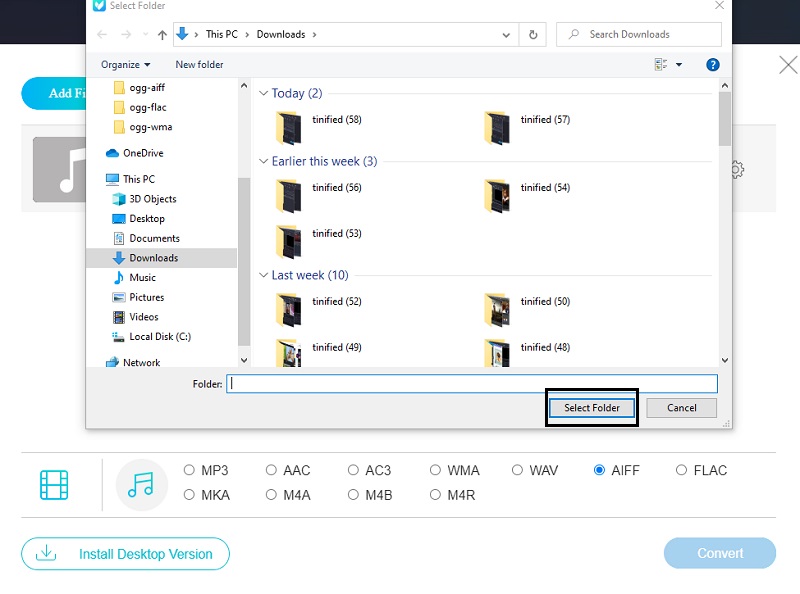 2. Zamzar - OGG Converter
If you're looking for an online audio converter, Zamzar is another choice. This web-based tool was developed to allow users to convert audio and video files for free. It also offers a user-friendly interface and handles a wide range of file formats. Zamzar is capable of converting files up to 50MB in size. This online software has a step-by-step guide on how to convert OGG to AIFF.
Step 1: Open your browser and search Zamzar Online File Conversion into the search bar. After it takes you to the app's official page, click Add Files.
Step 2: After you've uploaded the file you want to convert to AIFF, it'll take you to the second step automatically. Simply click the Convert To tab, and it'll show you the available formats based on the file you submitted.
Step 3: After you've chosen the audio format you want, you'll be taken to the final step. Simply click the Convert Now option and wait for the conversion to complete.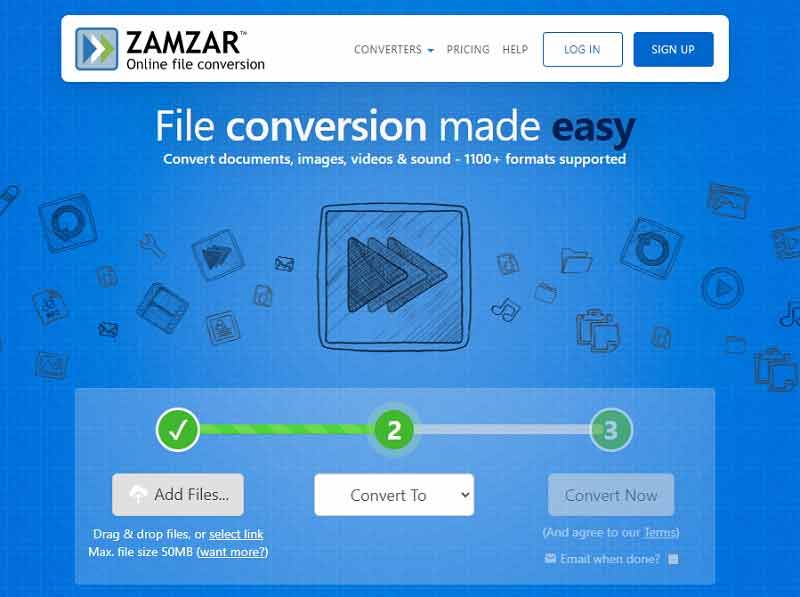 3. Convertio
Convertio is an excellent choice if you're seeking for an online audio converter that's easy to use. This web-based utility is compatible with a variety of devices, including Windows and Mac. It's also simple to convert as there aren't many technicalities. Aside from that, you have the option of selecting a certain file format. And, to give you a heads-up on how to use this online tool to convert your file, here is the textual navigation procedure.
Step 1: Search for Convertio using your preferred web browser. Then, under the Choose Files page, select the files you want to use. Then, using the options provided by this app, download the file.
Step 2: After you have finished adding your target file, click the dropdown arrow and select the AIFF as format.
Step 3: Simply click the Convert button once you've decided on a format for your audio file and wait a few moments for it to properly convert.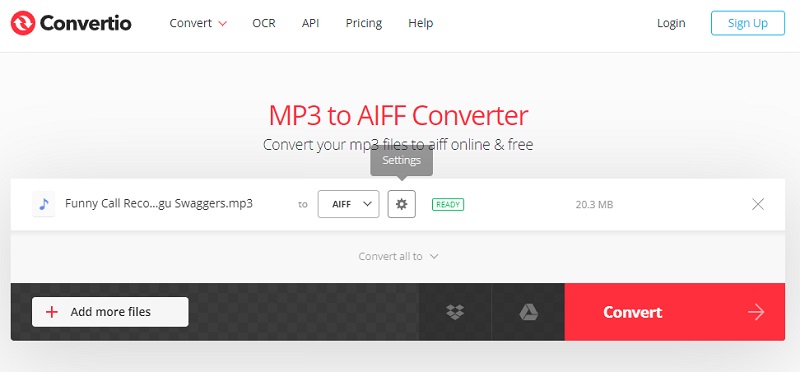 Part 3. FAQs on How to Convert OGG to AIFF
1. What is the advantage of converting a file into AIFF?
The advantage of an AIFF file is that it produces high-quality sound.
2. Which is better, AIFF or FLAC?
Usually AIFF is better than FLAC since AIFF is a high-quality audio format. FLAC is compressed, lowering its quality, although it is still better than MP3.
3. Does AIFF have higher quality than WAV?
Actually, WAV and AIFF have the same exact quality. Usually WAV is mostly used on PCs while AIFF is being used on Mac.
Conclusion
The above posts are the OGG to AIFF converters online and offline. You can try those tools in Part 2 and you won't have to download an app before you can fully convert your files. But if you prefer using software, you can count on the professional tool in Part 1.